June 30 Peace Love Art Activism
BLACK HISTORY
Cincinnati Prevents Black Residents
June 20, 1829: Cincinnati, Ohio officials issued a notice requiring Black residents to adhere to laws passed in 1804 and 1807 aimed at preventing "fugitive slaves" and freed Black people from settling in Ohio.
The 1804 law had required every Black person in Ohio to obtain proof of freedom and to register with the clerk's office their county of residence. It also prohibited employers from hiring a Black person without proof of freedom, imposed a fine on those who hid "fugitive slaves," and provided to any person asserting "a legal claim" to a Black person a procedure for "retaking and possessing his or her Black or mulatto servant."
The 1807 amendments to the law required Black people seeking residence in Cincinnati to post $500 bond guaranteed by two white men. In addition to increasing fines for employing a Black person without proof of freedom and assisting "fugitive slaves," the 1807 amendments prohibited Black people from testifying in court against white people. [EJI article] (next BH, see Aug 15)
Dred Scott
June 30, 1847: in a trial before the St. Louis Circuit Court Scott lost because of a technicality—he was suing Irene Emerson for his freedom but he had no witness who could prove she now owned him. (BH, see July 26; see Scott for expanded story)
Dyer Anti-Lynching bill
June 30, 1922: the Senate Judiciary Committee, to the surprise of the Senate, voted 8 to 6 to favorably report the Dyer Anti-Lynching bill, which would permit the Federal Government to assume prosecution of lynchings when States fall or neglect to prosecute. It was fully understood that the Senate would allow this bill to die because it stirred up so much feeling during its progress in the House. (see Aug 14)
Jump Jim Crow
June 3, 1933: minstrel show creator Thomas Dartmouth "Daddy" Rice introduced the song, "Jump Jim Crow." Decades later, the term "Jim Crow" came to describe racial discrimination against African Americans. (next BH, July 5)
NAACP v. Alabama
June 30, 1958, the U.S. Supreme Court ruled the NAACP was not required to release membership lists to continue operating in the state. For the NAACP, the ruling was a great victory, enabling them to continue operating in Alabama. [Oyez article] (see Jan 6)
George Whitmore, Jr.
June 30, 1966: on DA Aaron Koota's motion, Kings County Supreme Court Justice Hyman Barshay dismissed the indictment against Whitmore in the Minnie Edmonds murder case. (see Whitmore for expanded story)
Alberta Williams King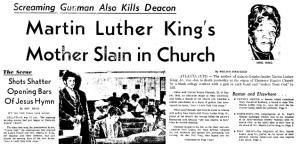 June 30, 1974: six years after the assassination of Martin Luther King Jr., his mother, Alberta Williams King, was shot to death as she played "The Lord's Prayer" on the organ at Ebenezer Baptist Church. Her killer, a 43-year-old black man named Marcus Wayne Chenault, told a judge he acted out of his hatred for Christians.  [Atlantic article] (see July 25)
Miller v. Johnson
June 30, 1995: the U.S. Supreme Court ruled that gerrymandering based on race was unconstitutional. [Oyez article] (BH, see Oct 12; Voting, see July 12, 2012)
Rainey Pool murder
June 30, 1999: a Humphreys County jury found Dennis Newton not guilty of murdering Rainey Pool (April 12, 1970). [Northeastern U article]  (see August 2)
137 SHOTS
June 30, 2015: Cuyahoga County prosecutor Tim McGinty announced that the misdemeanor trial for five white Cleveland police supervisors accused of failing to control a high-speed car chase that led to two unarmed black people being killed in a 137-shot barrage of police gunfire would be held in a predominantly black suburb, not in county court.
McGinty said officials in East Cleveland, where the November 2012 car chase ended and the shooting occurred, contacted his office about trying the case in that suburban city after a judge acquitted a white Cleveland patrolman last month on felony manslaughter charges for his role in the shooting deaths of driver Timothy Russell and passenger Malissa Williams.
McGinty said the same misdemeanor charges against the supervisors will be filed in East Cleveland and county prosecutors will help try the case, which had been set for trial in county court on July 27. (see July 1)
Church Burning
June 30, 2015: a fire broke out at Mount Zion African Methodist Episcopal Church in Greeleyville, a town located about 65 miles north of Charleston, South Carolina. The church had previously been burned down by arsonists with ties to the KKK 20 years ago.  [follow-up article] (BH, see July 5; CB, see July 15)
Technological Milestone
June 30, 1948: Bell Laboratories demonstrated a prototype transistor radio. (next TM, see March 31, 1949; see Transistor for expanded story)
June 30 Peace Love Art Activism
June 30 Music et al
Frankie Lymon & The Teenagers
June 30, 1956:  a concert by Frankie Lymon & The Teenagers at the Asbury Park, NJ Convention Hall ended prematurely when a fistfight in the audience erupted into a full scale riot. Three people were stabbed and Mayor Roland J. Hines threatened a city-wide ban on rock and roll performances. The ban never came to pass. (see July 9)
The Beatles
June 30, 1966, The Beatles' perform at Budokoan, Japan. (see July 9)
Setlist

Rock & Roll Music
She's A Woman
If I Needed Someone
Day Tripper

Baby's In Black
I Feel Fine
I Feel Fine
Yesterday
I Wanna Be Your Man
Nowhere Man
Paperback Writer
I'm Down
June 30 Peace Love Art Activism
INDEPENDENCE DAY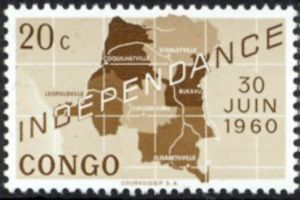 June 30, 1960:  Democratic Republic of Congo independent from Belgium. [BBC profile] (see July 1)
June 30 Peace Love Art Activism
Fair Housing
June 30, 1961: Title V of the Housing Act was amended to make nonfarm rural residents eligible for direct housing loans from the Farmers Home Administration. These changes extended the housing program to towns with a population of up to 2,500. [JFK Library article] (see November 20, 1962)
June 30 Peace Love Art Activism
Vietnam
July 30, 1966
on Route 13, which links Vietnam to the Cambodian border, American forces are brutally assaulted by the Vietcong. Only American air and artillery support prevented a complete disaster.

116 US military aircraft for the first time dropped bombs on the port at Hanoi. Virtually all of North Vietnam's oil storage facilities were destroyed. (see July 1)
Troop strength
June 30, 1967: 448,400 US troops in Vietnam. (see July 2)
Cambodian Invasion
June 30, 1970: President Nixon announced the withdrawal of U.S. troops from Cambodia but warns that if necessary he will continue to bomb Vietnamese troops and supply lines there. He expresses hope that Hanoi will now agree to serious negotiations. (see Aug 24)
Pentagon Papers
June 30, 1971: in New York Times Co. v. United States, the U.S. Supreme Court ruled that the Pentagon Papers may be published, rejecting government injunctions as unconstitutional prior restraint. (see DE/PP for expanded story; next Vietnam, see July 5)
June 30 Peace Love Art Activism
Feminism
National Organization for Women
June 30, 1966: Betty Friedan and a small group of her friends attending a women's conference in Washington, D.C. became so disgusted at the lack of action on women's rights that they decided to form a national advocacy organization for women. Thus was born NOW, the National Organization for Women. It was formally chartered on October 29. [NOW site]
Equal Rights Amendment
June 30, 1982: the deadline for ratification of the Equal Rights Amendment passed with only thirty-five of the needed thirty-eight states approving the amendment. Opposition to the amendment is strongest in the South and Southwest. (see February 7, 1983)
MADSEN et al. v. WOMEN'S HEALTH CENTER, INC., et al
June 30, 1994: the Supreme Court ruled that judges can bar even peaceful demonstrators from getting too close to abortion clinics.  [Oyez article] (see July 29)
June 30 Peace Love Art Activism
Native Americans
United States v. Sioux Nation of Indians
June 30, 1980: the US Supreme Court upheld an award of $15.5 million for the market value of the land guaranteed to the Sioux by the Treaty of Fort Laramie., along with 103 years worth of interest at 5 percent, for an additional $105 million. The Lakota Sioux, however, refused to accept payment and instead demanded the return of their territory from the United States. [Oyez article]
Indian Mineral Development Act of 1982
In 1982 The Act  provided Indian tribes with flexibility in the development and sale of mineral resources.  Foremost among the beneficial effects of IMDA was the opportunity for Indian tribes to enter into joint venture agreements with mineral developers. The contractual relationships permitted by IMDA were designed to meet two objectives: First, to further the policy of self-determination and second, to maximize the financial return tribes can expect for their valuable mineral resources. [text]
American Indian Movement
In 1985 AIM  established a security camp  on Navajo land near Big Mountain, Arizona, to support the traditional Dine elders in their resistance to forced relocation. (see Dec 14)
June 30 Peace Love Art Activism
AIDS
Ryan White
June 30, 1985:  though Ryan White felt strong enough to return to school, Superintendent James O. Smith denied White admittance for "everyone else's own protection." White's parents challenge decision. see White for expanded story)
June 30 Peace Love Art Activism
LGBTQ
June 30, 1969: the NY Times reported that "a mob of some 20 local men [had] descended on the southern edge of Flushing Meadows Corona Park. Using power saws and axes, they leveled a grove of trees that was known as a gay cruising spot… 15 dogwood trees, 11 London planes, a number of wild-cherry trees and other greenery" were felled. The parks department estimated the trees would cost $15,000 to replace — more than $100,000 today. All while police officers reportedly stood by. (see Aug 5)
Bowers v. Hardwick
June 30, 1986: the U.S. Supreme Court ruled 5-4  that homosexual activity between consenting adults in the privacy of the home was not protected by the Constitution. [Cornell Law article] (LGBTQ, see Oct 1; LGBTQ Supreme Court, see June 26, 2003)
"No Gays Allowed"
June 30, 2015: Jeff Amyx removed the "No Gays allowed" sign (June 29) and replaced it with a sign that says: "We reserve the right to refuse service to anyone who would violate our rights of freedom of speech & freedom of religion." [ABC article] (see July 1)
Transgender/Military
June 30, 2016: Defense Secretary Ashton B. Carter removed one of the final barriers to military service by lifting the Pentagon's ban on transgender people serving openly in the armed forces.
"Effective immediately, transgender Americans may serve openly," Mr. Carter said. "They can no longer be discharged or otherwise separated from the military just for being transgender." (see July 21; military, see January 22, 2019)
Texas Supreme Court
June 30, 2017: the Texas Supreme Court ruled that the right to a marriage license did not entitle same-sex couples to spousal benefits under employee insurance plans. [Texas Tribune article] (LGBTQ, see July 21; Texas, see Dec 4)
Freedom of Speech
June 30, 2023: the Supreme Court sided with a web designer in Colorado who said she had a First Amendment right to refuse to design wedding websites for same-sex couples despite a state law that forbids discrimination against gay people.
Justice Neil M. Gorsuch, writing for the majority in a 6-3 vote, said that the First Amendment protected the designer, Lorie Smith, from being compelled to express views she opposed.
"A hundred years ago, Ms. Smith might have furnished her services using pen and paper," he wrote. "Those services are no less protected speech today because they are conveyed with a 'voice that resonates farther than it could from any soapbox.'"
The case, though framed as a clash between free speech and gay rights, was the latest in a series of decisions in favor of religious people and groups, notably conservative Christians. (next LGBTQ+, see Sept 25)
June 30 Peace Love Art Activism
CLINTON IMPEACHMENT
Linda Tripp
June 30, 1998: Linda Tripp appears before the grand jury for her first day of testimony, accompanied by her children. She says that she did not trick Monica Lewinsky when she taped conversations with her former friend.
Law license
June 30, 2000: an Arkansas Supreme Court panel filed suit to strip Bill Clinton of his license to practice law. The Arkansas State Supreme Court Committee on Professional Conduct recommended in May that Clinton's Arkansas law license be withdrawn, in the wake of accusations he gave misleading testimony under oath in the Paula Jones case. Clinton has 30 days to respond. (see Clinton for expanded story)
June 30 Peace Love Art Activism
Judicial Milestone
Affordable Care Act
June 30, 2014: The Supreme Court issued its opinion, Burwell v. Hobby Lobby, which declared one section of the Affordable Care Act ("Obamacare") in violation of the religious liberty of privately held corporations, and created a potentially serious civil liberties problem with respect to the free exercise of religion. The Court ruled that Hobby Lobby Stores, Inc., was exempt from the ACA because its owner objected on religious grounds to the law's requirements regarding some Women's Health devices.
The decision marked the first time that the Court had ruled that private corporations had religious rights. The ruling was limited to "privately held" corporations, excluding publicly held ones that are owned by stockholders. Hobby Lobby is owned entirely by the founder and his family. The Court did not base its ruling on the Free Exercise Clause of the First Amendment, but rather on the Religious Freedom Restoration Act (RFRA). [Oyez article] (JM, see June 18, 2015; ACA, see March 9, 2015)
June 30 Peace Love Art Activism
SEPARATION OF CHURCH AND STATE
Ten Commandments monument
June 30, 2015: the Oklahoma Supreme Court ruled that a Ten Commandments monument placed on State Capitol grounds must be removed because the Oklahoma Constitution bans the use of state property for the benefit of a religion.
The 6-foot-tall (1.8-meter) stone monument, paid for with private money and supported by lawmakers in the socially conservative state, was installed in 2012, prompting complaints that it violated the U.S. Constitution's provisions against government establishment of religion, as well as local laws.
In a 7-2 decision, the court said the placement of the monument violated a section in the state's constitution, which says no public money or property can be used either directly or indirectly for the "benefit, or support of any sect, church, denomination, or system of religion." [Washington Post article] (next Separation, see July 27)
ESPINOZA  v. MONTANA DEPARTMENT OF REVENUE 
June 30, 2020: the NY Times reported that the Supreme Court ruled  that states must allow religious schools to participate in programs that provide scholarships to students attending private schools.
The decision was the latest in a series of Supreme Court rulings that the free exercise of religion bars the government from treating religious groups differently from secular ones. It opened the door to more public funding of religious education.
Chief Justice John G. Roberts Jr. wrote the majority opinion in the 5-to-4 ruling. The court's four more liberal members dissented.
"A state need not subsidize private education," Chief Justice Roberts wrote. "But once a state decides to do so, it cannot disqualify some private schools solely because they are religious." (next Separation, see  July 8)
June 30 Peace Love Art Activism
The Cold War & Nuclear/Chemical News
June 30, 2019:  President Trump became the first sitting American commander in chief to set foot in North Korea as he met Kim Jong-un, the country's leader, at the heavily fortified Demilitarized Zone, and the two agreed to restart negotiations on a long-elusive nuclear agreement. [NYT article] (next CW, see Aug 2; next N/C, see July 1)
June 30 Peace Love Art Activism
Immigration History
June 30, 2023:  the Supreme Court rejected a Republican-led challenge to a Biden administration policy that prioritizes the deportation of immigrants who are deemed to pose the greatest risk to public safety or were picked up at the border.
The justices voted 8-1 to allow the long-blocked policy to take effect, recognizing there is not enough money or manpower to deport all 11 million or so people who are in the United States illegally. [AP article] (next IH, see Sept 13)
June 30 Peace Love Art Activism