Simon Garfunkel Bookends
Billboard #1 album May 25, 1968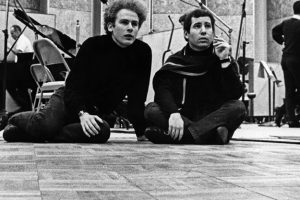 By the spring of 1968 we had had the groundbreaking albums Rubber Soul, Pet Sounds, and Sgt Pepper's Lonely Hearts Club Band. 
The realization that an album did not have to be a collection of singles had allowed artists to present a set of songs as pieces of a whole. In fact, Sgt Pepper's didn't even have a "single" on it.
For we late-teen Boomers, Bookends opened with the worrisome lines:
Time it was
And what a time it was, it was
A time of innocence
A time of confidences
Long ago it must be
I have a photograph
Preserve your memories
They're all that's left you.

Simon Garfunkel Bookends
Youthful nostalgia
As the emerging adults in a society teeming with counter-cultural prospects, we "thought" we understood the lyrics' nostalgia.
Of course in 1968 we had no idea how intense nostalgia could actually be decades later. How was 28-year-old Paul Simon so perspicacious?
Simon Garfunkel Bookends
Pieced together
Simon and Garfunkel did not record the album as a unified whole.  Some of side two's songs evolved out of their work for the film The Graduate. That soundtrack album, released January 21, 1968,  had reached Billboard's #1 album spot on April 6, 1968 and stayed there for six weeks. The Bookends album followed it for three weeks followed by The Graduate again for two weeks followed again by Bookends for four weeks. Simon and Garfunkel were trending!
Despite the recording schedule's discontinuity, the album smoothly runs along its side one and again along side two. How many of us who first knew the album as a vinyl record know long before side one ends that we have to get up to flip the record?
Simon Garfunkel Bookends
Hooks and salients
And there are so many wonderful hooks and salients along the way. That soft 33-second acoustic opening pierced by the sharp beginning of "Save the  Life of My Child." Hand-clapping. Background chorus. Conversational talk. A flashback to "Sounds of Silence."
Simon Garfunkel Bookends
America > exhale > Voices
Following the lesson of segueing songs, "America" softly enters. Images we still hold close. Cigarettes. Magazines. Rising moon. The New Jersey Turnpike. And not a rhyme. We've gone from childhood to hitting the road.
A match lights a cigarette. Exhale. The game is over. We've heard rumblings of a Beatle-break up. Is this other Paul hinting? In any case, we've learned about love from the other side. "Overs."
Simon Garfunkel Bookends
Old Friends
Upon your first listen,  did "Voices" confuse you? Who are these people? Not a song, no lyrics, but a sad short story. "And I maintain, I maintain strongly to this minute, I don't think it's an ordinary cold." And if that wasn't enough, we "Old Friends" end side one sitting on a park bench, newspapers blowing, lost in our overcoats.
         Simon Garfunkel Bookends
Flip the record. Please!
Side two opens with music that sounds like the end of something. "Fakin' It." If side one was from cradle to grave, Side two talks about hypocrisy and struggling to get by. Playing roles and wondering why. "I'm not really makin' it" sound like the end of "I Am the Walrus."
"Wish I was a Kellogg's corn flake" is "Punky's Dilemma." That and being a "Citizen of boysenberry jam fan." The struggle continues and includes falling down the basement stairs.
Simon Garfunkel Bookends
Mrs Robinson
We all know "Mrs Robinson." We've all seen Mrs Robinson and maybe, like Dustin Hoffman, falling a bit in lust with her. When opportunity knocks, eh? "We'd like to know a little about you for our files." Are those eyes really sympathetic? And where did you go, Joltin' Joe?  In 1969, "Mrs Robinson" became the first rock song to win the  Grammy Award for Record of the Year.
The worried pessimism continues as we skip into a "Hazy Shade of Winter" with its leaves of brown and the sound of the Salvation band.  Ha!
Simon Garfunkel Bookends
Oh those animals!
Paul Simon, the New York kid, the only living boy in New York, closes with "At the Zoo." We didn't know those animals felt that way. Now we do and wonder about the others.
Thom Jureck's All Music review closed this way:  In just over 29 minutes, Bookends is stunning in its vision of a bewildered America in search of itself.
           Yup.
Simon Garfunkel Bookends