Dead Barton Hall 1977
Getting the Dead
While this blog typically orbits around the Sun of the 60s, obviously there is much noteworthy beyond that famous decade centuries before and decades after.
Full disclosure:  in the beginning, I liked the Dead, but didn't get the Dead. I bought  Workingman's Dead and American Beauty.  All the songs seemed accessible.
Dead Barton Hall 1977
My first opportunity to see the Dead was in 1969 at the Woodstock Music and Art Fair. If Barton Hall 1977 is considered an apogee of live Dead, then many think of Woodstock as a nadir.
I could not tell you as I fell asleep for the Woodstock Dead. My excuse is that I'd gotten up around 6 AM Friday, went to my summer construction job, got home, drove to Monticello, slept a few hours in my friend's car, hiked 8 miles, found no food, and simply fell asleep.
Dead Barton Hall 1977
East Rutherford
In 1991 the Dead were playing at Giant Stadium in East Rutherford, NJ. Our 15-year-old son wanted to go. So his 41-year-old parents went to their first Dead concert. Interesting and good, but no conversions.
Dead Barton Hall 1977
Internet Archives
Around 2004, George, my brother-in-law and early-60s Deadhead aficionado, told me about the Internet Archive site: free legal downloads of live music. He'd gotten a lot of Dead from there.
By the way, as of May 2018, the Grateful Dead live recordings at the IA site have been viewed nearly 131 million times!
Anyway, free has always been an attractive word and I started to listen.
Dead Barton Hall 1977
Epiphany
I finally got it. The Dead did albums contractually. The Dead did shows enthusiastically. The show was the thing. The whole show. And while there may be great songs within any one show, the way the Dead played with each song (not just played each song) was where the anticipation and wonder emanated from.
Dead Barton Hall 1977
In for a penny...
At first I selected shows based on comments and ratings by listeners. I learned the differences between AUD, SBD, BBD, and Matrix. I learned that certain audience tapers like Jerry Moore and Charlie Miller were considered gold and that the goddess Betty Cantor's soundboard recordings were the best.
Dead Barton Hall 1977

1977
I gradually discovered the esteem that many Deadheads held 1977 and that within that revered year, May was held high and within that sacrosanct month, May 8 was held highest.
Dead Barton Hall 1977
Sauseach their own
I do love 1977 and May 8 certainly is a great show. The greatest? I'm not sure how to make that decision.
Having said that, in 2011 the  National Recording Preservation Board included the concert in its National Recording Registry as part of its mission to  demonstrate " the range and diversity of American recorded sound heritage in order to increase preservation awareness."
Dead Barton Hall 1977
Jerry Moore
It was a cassette recording by Jerry Moore that first circulated. Keep in mind, this was well before the internet era when word of mouth and who you knew meant so much in discovery.  Copied and recopied, the show began its journey to the top.
Dead Barton Hall 1977
Betty Cantor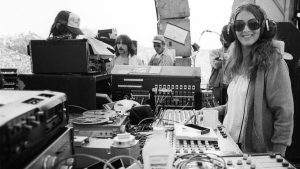 Betty Cantor was one of the Dead's recorders and held many of her reel-to-reel tapes until the mid-1980s when they were sold at an auction.  May 8, 1977 was among them.  Eureka!
Dead Barton Hall 1977
Millions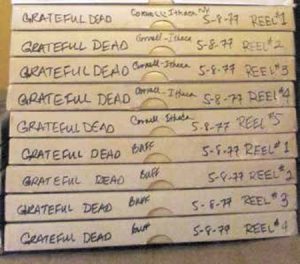 How many different recordings of Barton Hall are available? Deadlists shows the following: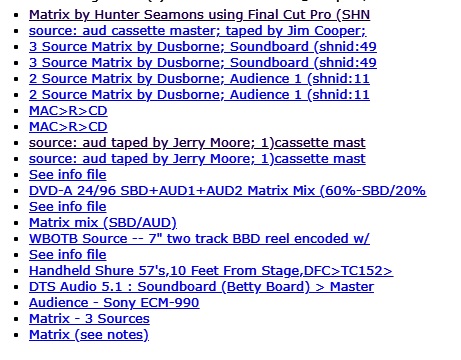 How many times has the show been downloaded? Blair Jackson's Golden Road blog states, " I added up the numbers beside each version: 928,006 as of May 23 ! I'm guessing that adding in all the copies that were made (tape and digital) in the years when the Grateful Dead was actually around, and when collecting was at its apex, the number could easily reach 2 million. Incredible for a so-called bootleg recording!
Dead Barton Hall 1977
1,029,157 Views
Fans have "viewed" (listened to and/or downloadable) Rob Eaton's creation more than a million times. I write creation because I've copied and pasted his notes below:
Freshly remastered Betty Board with AUD splices, by Rob Eaton;
Betty Board Portion — Master 7″ Nagra reels 1/2 track @ 7.5ips>Sony PCM 501. Playback on Sony PCM 701>DAT (Digital Transfer) — Rob Eaton DBX Decoding (Spring '99) Playback on Panasonic 4100 DAT>DB 924 D/A>Dolby 361's w/dbx K9-22 Cards>DB 124 A/D>Neve Capricorn (Digital mixing console)>DB 300S>Panasonic 4100 DAT>DAT>Digi Coax Cable>Tascam CD-RW 700>CDR (x1)>SHN (Rob Eaton remaster)
Audience Portion — Steve Maizner's Sony ECM-990>Sony TC-152 aud master>First Gen Reel>played directly to hard drive. The excellent aud splices were normalized and patched using ProTools by Karen Hicks.
And you thought Dead Heads were too high to do anything?
Dead Barton Hall 1977
Now it's your turn
See what I mean.
I suggest you open this Pandora's box of golden eggs and enhance your life.
Dead Barton Hall 1977