All posts by Woodstock Whisperer
Internationales Essener Pop & Blues Festival
In the Grugahalle in Essen, West Germany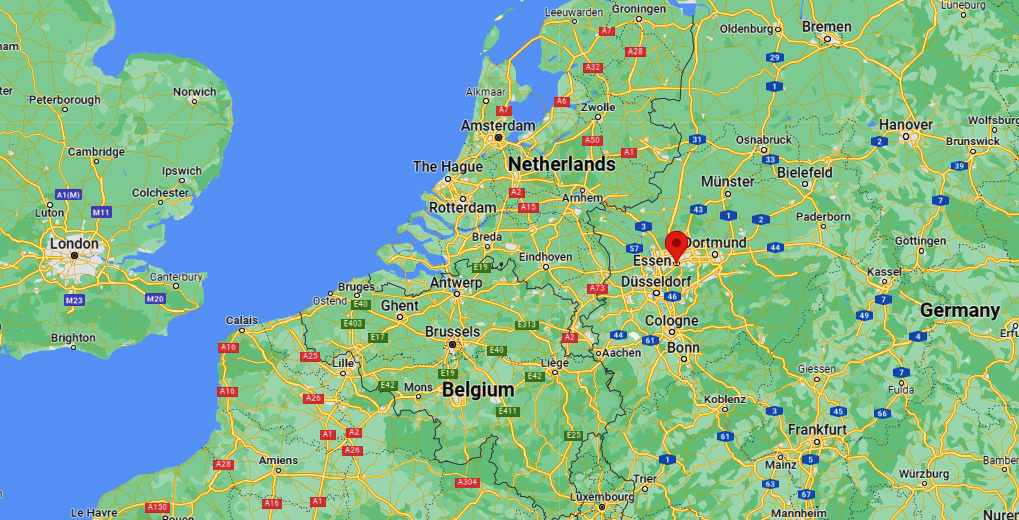 October 9-11, 1969
1969 festival #46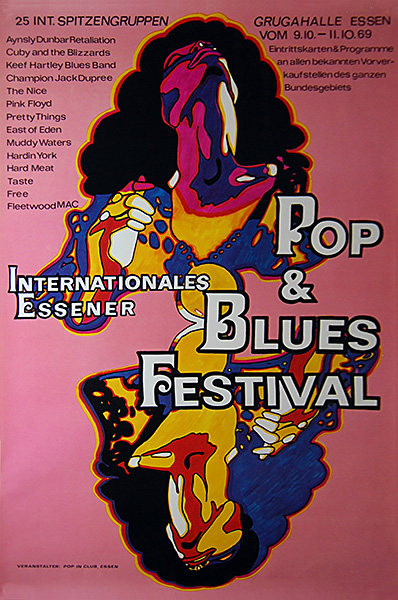 Bands (listed on the poster): Aynsley Dunbar Retaliation, Cuby & the Blizzards, Keef Hartley Blues Band, Champion Jack Dupree, The Nice, Pink Floyd, Pretty Things, East of Eden, Muddy Waters, Hardin & York, Hard Meat, Taste, Free, Fleetwood Mac.
Bands that performed
October 9, 1969: Fashion, Keef Hartley Band, The Pretty Things, Yes, Warm Dust, Fleetwood Mac, Free, Spooky Tooth, Hard Meat.
October 10, 1969: Amon Duul II, Hardin & York, Keef Hartley Blues Band, Champion Jack Dupree & Shades, The Aynsley Dunbar Retaliation, Alexis Korner & New Church, Steamhammer, Muddy Waters, Taste, Shades.
October 11, 1969: Tulliver's Brain, Taste, Cuby's Blues Band, Keef Hartley Blues Band, Livin Blues, Deep Purple, Amon Duul II, The Nice, Tangerine Dream, Pink Floyd, Ekseption, Aynsley Dunbar Retaliation, Xhol Caravan, Hardin & York.
Tangerine Dream performed at this festival, but is not listed on the poster.
Tangerine Dream's drummer, Klaus Schulze, also played with Amon Duul II at this festival, when Amon Duul's drummer couldn't play after he took some bad LSD.
Internationales Essener Pop & Blues Festival
German Music Festivals
The Internationales was not the first German festival and not the first German rock festival in 1969.
Here's the list with links to posters and the shows' basic information.
1967

1968

1969
It is sometimes a challenging decision whether or not to include a 1969 festival on my list. I tend to include only multi-day festivals (continuous days) or festivals that took place on single days over several weeks.
So I am including this festival as well as the Teenage Fair
Konrad Mallison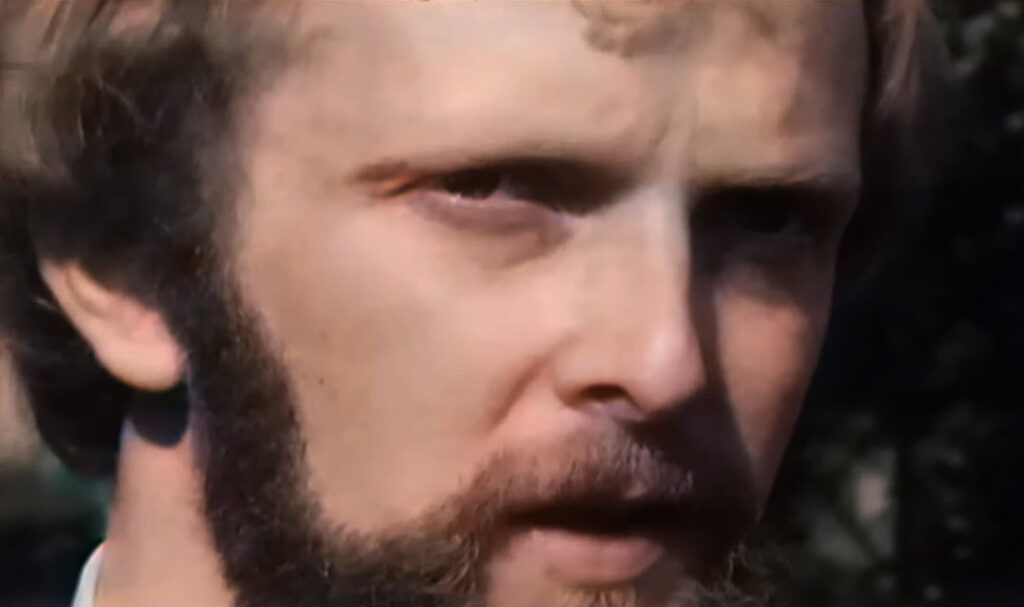 Konrad Mallison organized the festival (as well as the 1970 festival).
The October 23, 2020 edition of the It's Psychedelic Baby magazine interviewed Mallison. Here are some excerpts from that interview
In 1967 he and a friend established a discotheque called Pop-In in Essen, West Germany.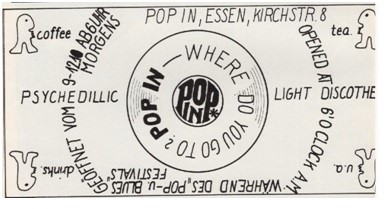 There we played music by groups like Tangerine Dream, Can, Xhol Caravan, but also Canned Heat, Crosby, Stills, Nash & Young, Grateful Dead, Jefferson Airplane, Janis Joplin, Joe Cocker etc. The underground scene in Germany in 1968 really arose through the influence of flower power from San Francisco, the musical HAIR, and also somewhat through the politicized '68 movement throughout Europe. People wore longer hair and showed their peaceful inner attitude to the outside. The youth welfare office of the city of Essen even organised the "Essener Song-Tage" in 1968, a first big, but somewhat politicized song festival with top-of-the-bill Mothers Of Invention with Frank Zappa, Alexis Korner, Guru Guru Groove, Soul Caravan, Amon Düül, Julie Driscoll, Brian Auger & The Trinity. Because of the politicization there were unfortunately some small excesses, this song festival was not repeated by the city of Essen.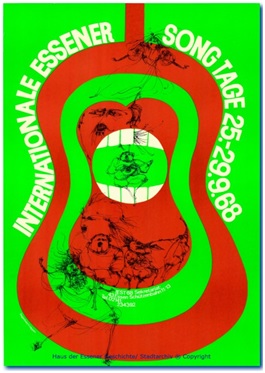 Internationales Essener Pop & Blues Festival
Bath Festival of Blues
In June 1969, he and his discotheque's  DJ visited England and whle there saw posters for the Bath Festival of Blues.  In his words, "This festival with its sensational gigs, also with Jethro Tull / Ian Anderson, who were not mentioned on the poster, created a spark in me, so that I decided to do everything to organize a similar festival in the Grugahalle in Essen in October 1969."
Internationales Essener Pop & Blues Festival
Back in Essen
Back home, he received permission from the town to hold the festival in its Grugahalle despite the Lord Mayor's concerns that there might be issues as happened at a politically-based festival in 1968 that turned out badly. He had to employ a certain number of security guards to ensure peace and order.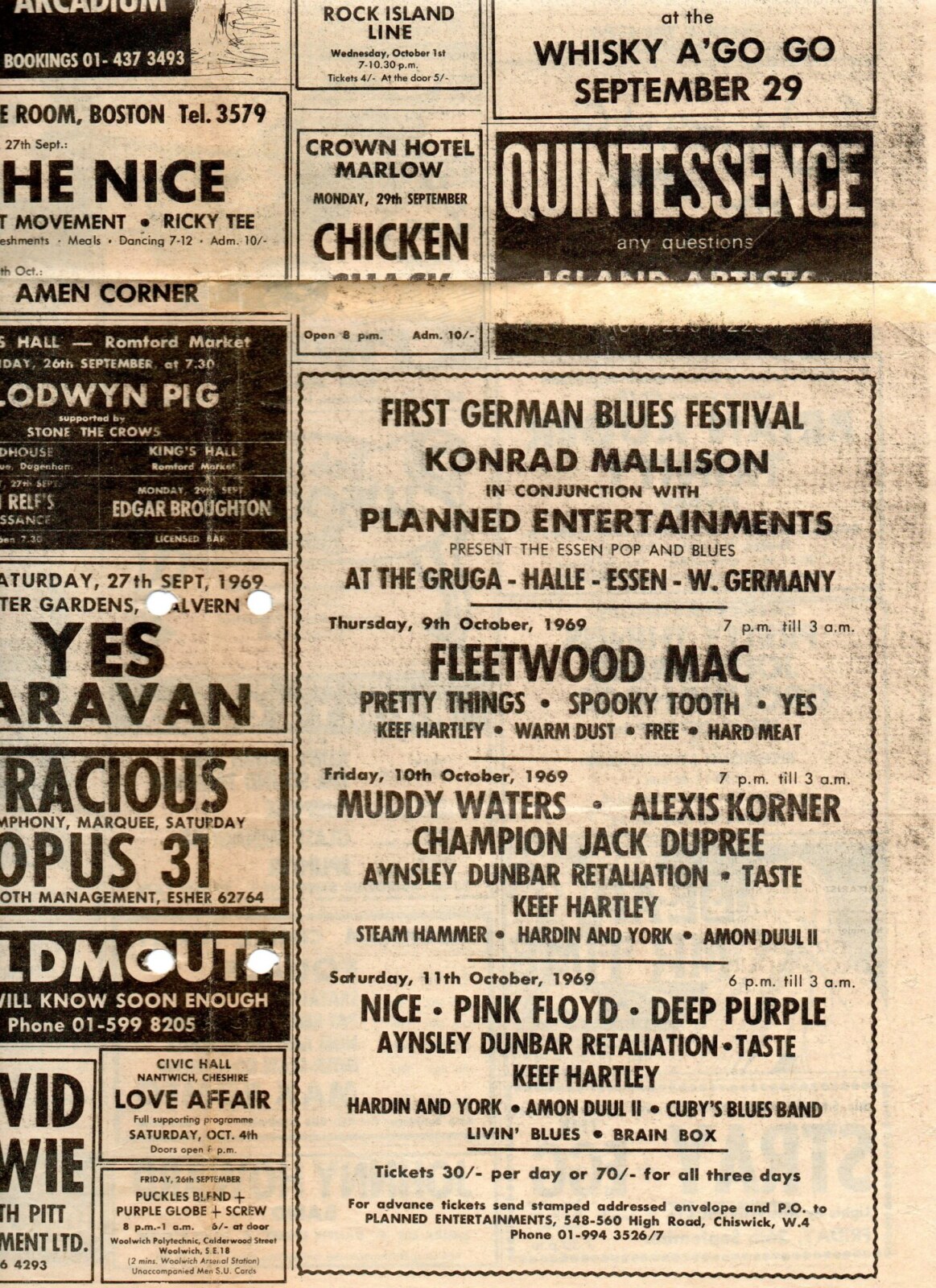 He organized a staff. Here is a photo of the management team shortly before the start of the festival in the empty Grugahalle, taken by a reporter from WAZ.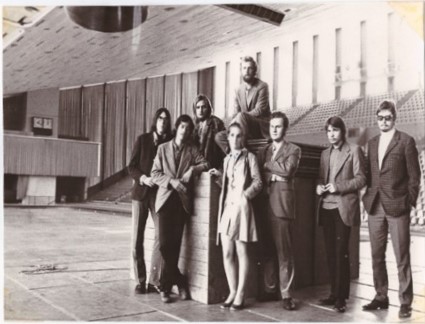 He succeeded in getting the WDR television station interested in the festival and signed a contract for recording rights
Internationales Essener Pop & Blues Festival
Film
Here's the excellent hour and a half (!)  colorized concert film, the groups in the film and when/what they played"
00:28

Warm dust – ?

02:37

Taste – I Feel So Good

08:36

Deep Purple – Wring That Neck

15:36

Keef Hartley Blues Band – Sinnin 'For You

21:00

The Nice – Hang on To A Dream

28:25

Pink Floyd (Careful With That Axe Eugene)

34:39

Aynsley Dunbar Retaliation – Down, Down, and Down

42:18

The Nice – Jazz Improvisation

47:42

The Nice / documentary part

57:28

Deep Purple – Mandrake Root Part 2

01:00:52

Keef Hartley Blues Band – Rock Me Baby

01:08:23

The Nice – Rondo

01:12:40

Aynsley Dunbar Retaliation – Let It Ride

01:16:33

Deep Purple – Mandrake Root Part1

01:23:39

Pink Floyd – A Saucerful Of Secrets
In Conclusion
I am happy and satisfied, also a little proud, that I was able to organize the first Pop & Blues Festival in Germany in 1969. The success of this festival was visibly so great that in 1970 a festival euphoria took place nationwide and similar festivals were held in almost every major city.
Next 1969 festival: Raccoon Creek Rock Festival
Dead Bust Outs
The Grateful Dead are famous for many things. Among them, the length of their shows, letting shows be taped, and the variety of setlists.
And of course their fans. The Deadheads.
Many Deadheads kept setlists during the show. And some of them occasionally and ecstatically found a diamond: the Dead played a song that they hadn't played for a long time. Often years.
These occasions came to be called "bust outs" and here are some of the famous ones. There are others, but I thought these ten were a nice selection.
Enjoy
Box of Rain
Look out of any windowAny morning, any evening, any dayMaybe the sun is shiningBirds are winging or rain is falling from a heavy sky
On 20 March 1986 when the Dead closed their first set at the Hampton Coliseum (Hampton, VA) with "Box of Rain" it was the first time they'd played the song in 13 years or 777 shows!
Listen to the crowd's reaction when they realize what's being played.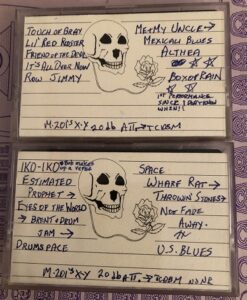 So what was the show thirteen years before? Non other than Watkins Glen on  the 28 July 1973.
Attics of My Life
In the attics of my lifeFull of cloudy dreams; unrealFull of tastes no tongue can knowAnd lights no eye can seeWhen there was no ear to hearYou sang to me
Maybe there was something about the Hampton Coliseum, but on 9 October 1989 the Dead played Attics for the first time in 17 years…or in Dead terms, 1,082 shows!  This time as the show's encore. The crowds realization is a bit delayed until the vocals begin, but then it is definitely reacted to.  And love the ticket!
The previous time was on Saturday 28 October 1972 at the Cleveland Public Hall, Cleveland, OH.  They played it in the middle of the second set.
Here is a link to the whole show:
Grateful Dead, 10/28/72…Cleveland Public Hall
Black Throated Wind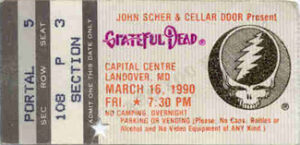 Bringing me downI'm running agroundBlind in the light of the interstate carsPassing me byThe buses and semisPlunging like stones from a slingshot on Mars
On Friday 16 March 1990 at the Capital Centre in Landover, MD. the Dead play "Black Throated Wind." It was the first time in 16 years or 981 shows.
The previous time was in the middle of the first set on October 19,. 1974 at the Winterland Arena in San Francisco. Here is the link to the whole show:
Black Throated Wind, Winterland Arena, 19 October 1974
St Stephen
Wishing well with a golden bell, bucket hanging clear to hell,Hell halfway twixt now and then,Stephen fill it up and lower down and lower down again
Lady finger, dipped in moonlight, writing what for?Across the morning sky.Sunlight splatters, dawn with answer,Darkness shrugs and bids the day good-bye.
As much as "St Stephen" may be associated with the Dead, there were long stretches that the song was absent.They played it on 9 June 1976 at the Boston Music Hall for the first time in 5 years…
The previous time was during the second set at the Ohio Theatre in Columbus, Ohio on 31 October 1971. The song is not available separately. Here is a link to the whole show.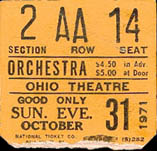 Grateful Dead @ the Ohio Theatre 31 October 1971
…and when they played it on 11 October 1983 , it was the first time in 4 years.
Four years earlier, at the Nassau Coliseum  at the Nassau Veterans Memorial Coliseum in Uniondale, NY on 10 January 1979.
Ripple
If my words did glow with the gold of sunshineAnd my tunes were played on the harp unstrungWould you hear my voice come through the music?Would you hold it near as it were your own?
For such a great and well-loved song, one would think the Dead would play it all the time.  Not only did they not play it all the time [only around 40 times total!], but there were both spurts and gaps. They had first played it live on 19 August 1970.
Twice in 1970, they played it over different nights at the same venue: 8/18 & 1/19 at the Fillmore West, 9/17 & 9/20 at the Fillmore East, and 11/7 & 11/8 at the Capitol Theater in Port Chester, NY.
When they played it on 25 September 1980 at the Warfield Theatre in San Francisco it was the first time in 9+ years AND between that date and slightly more than a month later on 31 October at Radio City, they would have played it 25 times!
29 April 1971, Fillmore East, NYC
25 September 1980, Warfield Theatre, San Francisco
Then when they played it on…
16 October 1981, Melkweg, Amsterdam, Netherlands
…it would not be until 459 shows later on 3 September 1988 that they'd play it again.
3 September 1988
Not only was the the last song of the 2-song encore, it was be the last time that the Dead played the song.
Bird Song
All I know is something like a birdWithin her sangAll I know she sang a little whileAnd then flew onTell me all that you knowI'll show you snow and rain
The  Dead must have been in a nostalgic mood on 25 September 1980, because they played"Bird Song" for the first time in 7 years.
They'd played at at the Providence Civic Center on 15 September 1973
They opened their September 25, 1980 show at the Warfield with Bird Song.
New Speedway Boogie
Please don't dominate the rap, JackIf you? ve got nothing new to sayIf you please, go back up the trackThis train's got to run today
I spent a little time on the mountainI spent a little time on the hillI heard someone say better run awayOthers say better stand still
From the
Song Facts site
: 
In his book of collected lyrics (A Box Of Rain), Dead lyricist Robert Hunter wrote that he penned "New Speedway Boogie" in reply to "an indictment of the Altamont affair" by rock critic Ralph J. Gleason, hence the lead-in lyrics, "Please don't dominate the rap Jack, if you've got nothing new to say."
Altamont was only 9 months earlier when the Dead played it at the Fillmore East on 20 September 1970. The show is only available via streaming
It would not be until 19 February 1991, 1,371 shows later, at the Oakland Coliseum Arena that the dead played it again.
Cryptical Envelopment 
23 September 1972  – 16 June 1985 [791 Shows]
From a Glide Magazine article: The studio version of That's It For The Other One on Anthem of the Sun contains four sections, one of which is sung by Jerry Garcia and called Cryptical Envelopment. The Dead would play Cryptical into and out of The Other One from the late '60s through the early '70s, at which point the tune disappeared from the rotation until a fateful evening in 1985 at the legendary Greek Theater in Berkeley. The group performed Cryptical four more times that year and then never again.
23 September 1972
Palace Theatre, Waterbury, CT 
16 June 1985
Greek Theatre, University of California
Cryptical Envelopment > The Other One > Cryptical
Casey Jones
Once again, on would think that such a great song as Casey Jones would appear at least a few times during tours. Not so with "Casey Jones.
Played on 2 November 1984 and then not again unt 20 June 1992, 549 Shows!
2 November 1984
Berkeley Community Theatre, Encore
20 June 1992
RFK Stadium, Washington, DC
Here Comes Sunshine
23 February 1974 – 6 December 1992 [1,213 shows]
Again from Glide Magazine: The future of the Grateful Dead was in doubt after Jerry Garcia became ill following Summer Tour 1992. The group canceled their fall tour to allow their leader to heal and returned for a few shows in early December. At one of these December shows, the Dead dusted off the beautiful Here Comes Sunshine with a new arrangement. While I'm not a fan of the arrangement, I – and if you listen to the audience, plenty of Deadheads in attendance – was thrilled to see the song return to the fold.
23 February 1974
Winterland Arena, SF, CA
6 December 1992
Compton Terrace Amphitheatre, Chandler, AZ
Open the show with…
Dead Bust Outs