Erie Canal Soda Pop Festival
aka, the…
Labor Day Soda Pop Festival
September 2, 3, & 4, 1972
Labor Day Weekend
Bull Island on the Wabash River, Illinois
Mills Brothers, "On the Banks of the Wabash (Far Away)"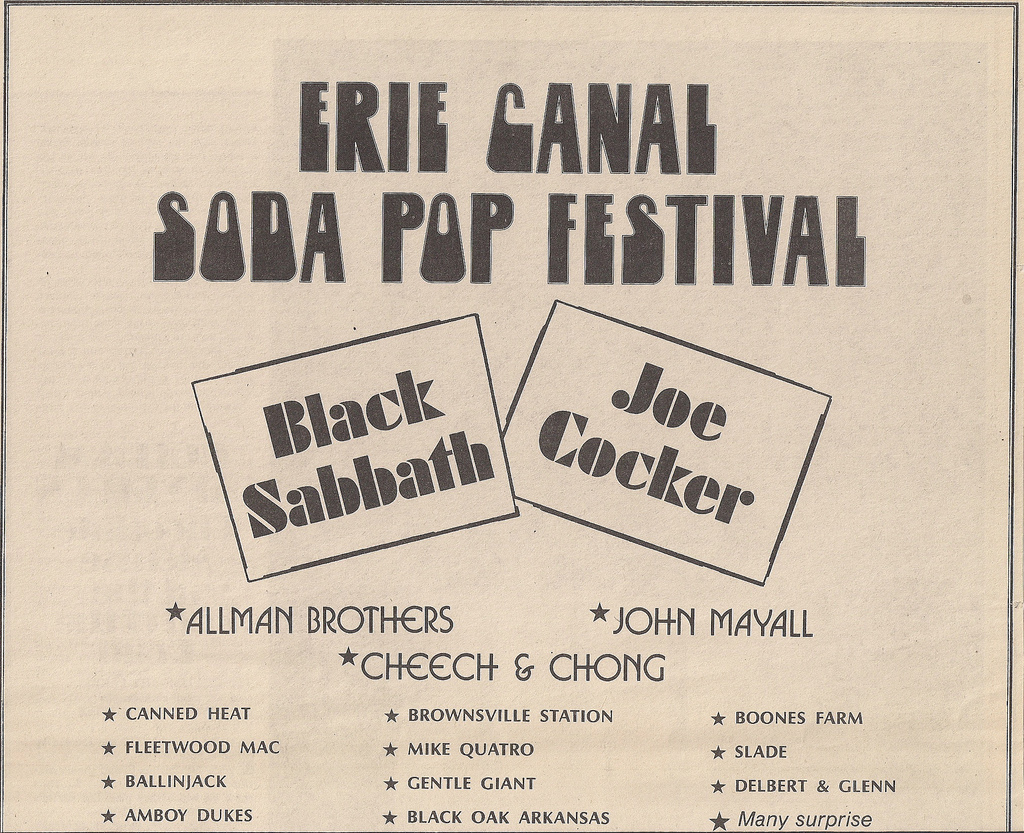 Not 1969
While waiting for the next 1969 festival to arrive, I thought I'd mention one that has a great name. Unfortunately, it did not turn out well.
First of all…
Erie Canal Soda Pop Festival
Why the Erie Canal Soda Pop Festival?
The Erie Canal runs from Albany, NY on the Hudson River to Buffalo, NY on Lake Erie. Thus the name. The Erie Canal Soda Pop Festival was on Mud Island (though not quite an island) on the Wabash River. Nowhere near the Erie Canal. The Wabash River's head is in Ohio, runs across Indiana, and eventually forms the southern border between Indiana and Illinois before running into the Ohio River at mile 491.
Why the above explanation? Because I cannot discover why Bob Alexander and Tom Duncan, the Erie Canal Soda Pop Festival organizers, called it that. Perhaps at one time the Wabash was a piece of the route that got to the famous Canal?
Background
The month before, on July 2, Alexander and Duncan had organized the relatively successful Bosse Field Freedom Fest in Evensville.
Approximately 30,000 people came. Some of the performers were Ike and Tina Turner, Edgar Winter, Dr. John, Howlin' Wolf. and John Lee Hooker.
Though financially a success, Evansville, Indiana Mayor Russell Lloyd was not happy and did not want a repeat.
Festival Wallkilled
48 hours before the scheduled start of the Erie Canal Soda Pop Festival , Alexander and Duncan had no site. Local opposition wall-killed the Chandler Raceway, their original choice. Other local legal actions prevented most other choices.
They had already spent $700,000.
Chicago's powerful radio station WLS began to follow, and thus promote, the story.
100s of fans started to arrive in the area more than a week before. Alexander and Duncan kept silent (other than radio interviews) thinking if they don't announce where the event will be, locals can't start proceedings to stop it.
Bull Island
Rumors began to mount. Bull Island. Bulldozers were seen there. Workers digging wells.
Thursday 31 August 1972: Bob Alexander met with Evansville, Indiana Mayor Russell Lloyd. He didn't want the event, but knew as more and more fans arrived something he had to do something.
Bull Island ("island") was along the Wabash straddling Indiana and Illinois. Lloyd was able to get Illinois to approve Bull Island as a site. The festival was on.
Erie Canal Soda Pop Festival
now the…
Labor Day Soda Pop Festival
Saturday 2 September
Thousands arrived. Interstate 64 came to a standstill. Thousands abandoned their cars. Some set up "shop" and one stretch along the festival site became known as "Alice in Wonderland Avenue."
Late starts and restlessness. Joe Cocker never showed. Black Sabbath, with Ozzy Osbourne, refused to play unless paid more. No more was to be had.
Sunday 3 September
Tow trucks removed cars from I-64. Food ran out. Destruction by fans of trucks on site. Fires.
Ravi Shankar played first on Sunday. Canned Heat. Black Oak Arkansas.
The Faces, featuring Rod Stewart, fearing the site's mood, refused to appear. Promoters had paid them $100,000 in advance.
By day's end perhaps 200,000 and 250,000 people were on site. Gates that still existed were opened. It was a free concert.
Monday 4 September
Like Woodstock, but completely unlike Woodstock, fans left after the second day. Not because of weather and lack of food so much as because of a lack of music.
By Monday only 20,000 people remained. The festival lost $200,000.
Not Woodstock.
In fact, Ozy dot com refers to it as "the worst festival in history." Everfest dot com simply asks the question.
Erie Canal Soda Pop Festival