Donovan Sunshine Superman
Released July 1, 1966
Hit the Billboard #1 on…
September 3, 1966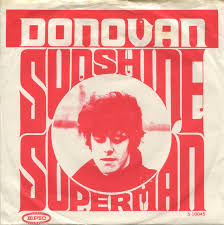 Donovan Sunshine Superman
Ear Worm
Donovan's "Sunshine Superman" is one of those songs whose first few notes are immediately recognizable. And after those first few notes we realize we are singing along, Sunshine came softly a-through my…window today.
It may also be of interest to note two of the personnel for the song: Jimmy Page and John Paul Jones. A Led Zeppelin cover of the song would have been interesting.
In a Guardian newspaper piece, Donovan said that, "'It's primarily a love song – but I was also trying to get to the invisible fourth dimension of transcendental superconscious vision." 
Donovan Sunshine Superman
Linda Lawrence
According to Donovan in the love interest was Linda Lawrence. When he first saw her she was the recently ex-girlfriend of Rolling Stones' Brian Jones and Linda did not want another spotlight boyfriend. Too many paparazzi. She moved to LA.
Four years later Donovan rented his house to two Americans, one of them called Lorey. Lorey went to a party at Eric Clapton's house, met Linda Lawrence there, and invited her to her rented cottage. Who did Linda happen to meet there? Who did Linda happen to marry a few weeks later? Who is she still married to? Donovan is the answer to all three questions.
Here is the link to the Guardian piece: Guardian
And perhaps you'd like to listen again and follow along?
Sunshine came softly a-through my a-window today
Could've tripped out easy a-but I've a-changed my ways
It'll take time, I know it but in a while You're gonna be mine,
I know it, we'll do it in style 'Cause I made my mind up you're going to be mine
I'll tell you right now Any trick in the book a-now, baby, all that I can find
Everybody's hustlin' a-just to have a little scene
When I say we'll be cool, I think that you know what I mean
We stood on a beach at sunset, do you remember when?
I know a beach where, baby, a-it never ends
When you've made your mind up forever to be mine
Hmm, hmm, hmm, hmm, hmm I'll pick up your hand and slowly blow your little mind
'Cause I made my mind up you're going to be mine
I'll tell you right now Any trick in the book a-now, baby, that I can find
Superman or Green Lantern ain't got a-nothin' on me
I can make like a turtle and dive for your pearls in the sea, yep
A-you you you can just sit there while thinking on your velvet throne
'Bout all the rainbows a-you can a-have for your own
When you've made your mind up, forever to be mine
Hmm, hmm, hmm, hmm, hmm I'll pick up your hand and slowly blow your little mind
When you've made your mind up, forever to be mine I'll pick up your hand,
I'll pick up your hand
Donovan Sunshine Superman
novan Sunshine Superman, Donovan Sunshine Superman, Donovan Sunshine Superman, Donovan Sunshine Superman, Donovan Sunshine Superman, Donovan Sunshine Superman,