Remembering Brother Gene Dinwiddie
"Take This Winter Out of My Mind" by Full Moon (1972)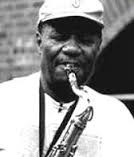 September 19, 1936 –  January 11, 2002
I was one of those white suburban kids growing up in a very white suburban neighborhood that I didn't realize was whites-only because no real estate agencies and owners would rent or sell to non-whites. Segregation northern style. Quiet but omnipresent.
We white suburban kids did not realize we were listening to our own American blues when we heard Eric Burdon sing "House of the Rising Sun" or Mick Jagger sing "You Better Move On."
British bands like the Animals and Rolling Stones reinterpreted American blues, but bands like the Paul Butterfield Blues Band were revitalizing or simply continuing the blues tradition.
Remembering Brother Gene Dinwiddie
Gene Dinwiddie
Gene Dinwiddie, or Brother Gene Dinwiddie as he was often known, was part of that tradition.
He had already been playing in bands for 10 years when he joined Butterfield which presented him the opportunity to record. The American music scene was typically as segregated as my home town. Whether it be exclusionary tactics by record companies, recording studios, publishers, or venues, black musicians faced barriers at each entry. I certainly cannot speak for Gene Dinwiddie or any black musician, but I could understand the inclination of joining a band led by a white musician with hopes that the white musician would have access that he did not.
Remembering Brother Gene Dinwiddie
Paul Butterfield Blues Band
He joined Paul Butterfield Blues Band in mid-1967 in time for the group's appearance at the Monterey Pop Festival.
"Love March" became the band's best known song because of its inclusion on the Woodstock album. It was Dinwiddie and drummer Phillip Wilson who lead on that song.
The longer Dinwiddie was in the band, the more he influenced its sound. The band ended in 1971, but a few of its members including Dinwiddie formed Full Moon.
Brother Gene Dinwiddie also played as a session musician with BB King, Melissa Manchester, Jackie Lomax, and Gregg Allman.
His most visible appearance on record in the 1990s was playing tenor sax on Etta James' album Stickin' to My Guns.
Remembering Brother Gene Dinwiddie