Swan Beatles She Loves You
US release September 16, 1963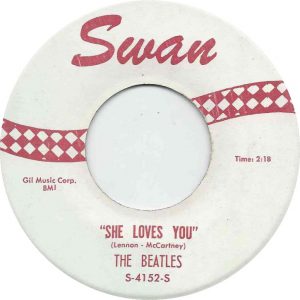 Ed Sullivan's supercharge
Americans typically consider the Beatles starting point in the US as their debut on the Ed Sullivan Show on February 9, 1964. That so many people watched that evening is a great demonstration that the Beatles' popularity already existed. The show supercharged that popularity.
Swan Beatles She Loves You
Crickets at US start
The Beatles recording presence in the United States had begun in 1963, but to little acclaim. The UK release of "Please Please Me" had been on January 11, 1963. It hit #1 there on February 22.
The US release was on February 7, but the single hardly charted. It only reached No. 35 on the local WLS-AM (Chicago) music survey in March and did not chart at all on Billboard. The Vee Jay label even misspelled their name.
From a slow first release to…
…a slower second release
When Vee Jay signed an agreement to release "Please Please Me" it also got the right to first refusal. Even though the song did poorly, Vee Jay chose to release "From Me To You" and did that on May 27, 1963. It did even more poorly. By the end of June, "From Me to You" had sold fewer than 4,000 copies and had failed to chart anywhere.
At least Vee Jay spelled the band's name correctly.
Swan She Loves You
Brian Epstein chose "She Loves You" for the next release. Vee Jay declined. EMI was the Beatles UK label; Capital Records EMI's US counterpart. Capital refused.
Persistent, Brian Epstein licensed the song to Swan Records, a Philadelphia-based label. Few US radio stations picked it up.
The song's poor US showing was definitely a surprise. EMI had released the song in the UK on August 23, 1963.  It had what would become their trademark "Yeah, yeah, yeah." It contained their equally famous trademark of the high pitched "Whoooo."
In the UK, it had had 500,000 advanced orders. It hit #1 on September 14 and was on the charts for 31 consecutive weeks,  It was the best-selling single of 1963. "She Loves You" built Beatlemania.
Swan Beatles She Loves You
NBC News
NBC news had a piece on the Beatles on November 18, 1963. It may have helped light the US Beatlemania fuse, but even such national coverage didn't tip things their way. The link below does work despite its appearance.
Swan Beatles She Loves You
CBS News
CBS broadcast a piece about the Beatles the morning of November 22, 1963 intending to rebroadcast it that evening. Obviously, the assassination of President Kennedy cancelled that broadcast.
Swan Beatles She Loves You
Jack Parr Show
On January 3, 1964 the Jack Paar program showed film footage of The Beatles performing "She Loves You," but Jack Parr's demographic did not reach out to those Baby Boomer buyers. It is interesting to note Parr's claim to have been the first to show the band on American TV. Apparently his fact-checkers, if they existed, missed the two November news reports.
Swan re-release
Swan re-released "She Loves You." It hit Billboard #1 on March 21 and remained there until April 3 when the now-wiser Capital Record release, "Can't Buy Me Love," replaced it. [Beatles Again site story of various labels]
Swan Beatles She Loves You