Electric Dylan Crashes
Bringing It All Back Home
March 27, 1965: released Bringing It All Back Home, his fifth studio album. Recorded January 13–15, 1965 and produced by Tom Wilson.
It was 1965 and pop music, Dylan and the Beatles had suddenly created mature rock: lyrics that we had to think about, instrumentation with more than the standard structure, and permission to experiment.
The album's cover photographed by Daniel Kramer featured Sally Grossman (wife of Dylan's manager Albert Grossman) lounging in the background. There are also artifacts scattered around the room, including LPs by The Impressions (Keep on Pushing), Robert Johnson (King of the Delta Blues Singers), Ravi Shankar (India's Master Musician), Lotte Lenya (Sings Berlin Theatre Songs by Kurt Weill) and Eric Von Schmidt (The Folk Blues of Eric Von Schmidt). Dylan had "met" Schmidt "one day in the green pastures of Harvard University" and would later mimic his album cover pose (tipping his hat) for his own Nashville Skyline four years later.
And the Far Out magazine site quotes Jerry Garcia about the Bringing It All Back Home album's influence: "I never used to like Bob Dylan until he came out with electric music," he once explained when noting a selection of his favourite albums of all time. "And I'm not sure why I like that more. I sure liked it a lot more. Boy, when Bringing It All Back Home came out. Yeah, lovely. Very fine guitar player. [Bruce Langhorne] It just all of a sudden had something going for it." The guitarist continued, "Beautiful, mad stuff. And that turned us all on; we couldn't believe it."
April 12, 1965: The Byrds released their first single, Mr Tambourine Man. 
They will make their TV debut on NBC's Hullabaloo on May 11 and their song become Billboard #1 on June 26.
Electric Dylan Crashes
MTV
May 8, 1965: while filming of what would become the documentary "Don't Look Back", Bob Dylan had the idea to make a short film of his song "Subterranean Homesick Blues," featuring him standing in an alley next to London's Savoy Hotel.
Dylan was simply surrounded by friends Allen Ginsberg and Bob Neuwirth, flipping giant cue cards with the lyrics of the song on them.
In a sense, one of the first "music videos," it became an iconic rock moment. The cards were painted by Alan Price of The Animals and Joan Baez.
June 14, 1965: The Byrds release their second single, All I Really Want to Do, another Dylan composition. It will reach #40 on Billboard.
Electric Dylan Crashes
Like a Rolling Stone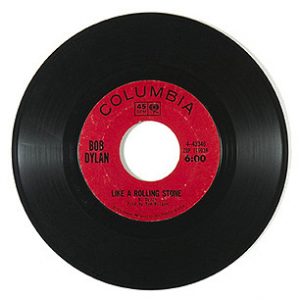 June 15, 1965: Dylan recorded "Like a Rolling Stone" at Columbia Studios in NYC. Mike Bloomfield played lead guitar. Guest Al Kooper sneaks behind Hammond organ uninvited. Dylan and producer Tom Wilson disagree about the organ, but Dylan insists the instrument be brought forward in the mix.
Columbia released the single on July 20, It is considered by some to be the greatest rock and roll song ever.
Byrds promote Dylan
June 21, 1965: the Byrds' debut album, Mr. Tambourine Man, marked the beginning of the folk-rock revolution. In just a few months, the Byrds had become a household name, with a #1 single and a smash-hit album that married the ringing guitars and back-beat of the British Invasion with the harmonies and lyrical depth of folk to create an entirely new sound.
Electric Dylan Crashes
Sara Lownds & Newport
Hi Lo Ha
In July 1965:  Dylan and Sara Lownds purchased eleven-room mansion in the Arts and Crafts Movement Colony of Byrdcliffe named Hi Lo Ha on Camelot Road one mile from Woodstock, NY.
Newport '65
July 25, 1965: Dylan played Newport Folk Festival. Many in the audience booed his performance for playing an electric set with an impromptu band made up of Mike Bloomfield (guitar), Al Kooper (organ), Barry Goldberg (piano), Jerome Arnold (bass), and Sam Lay (drums)
Electric Dylan Crashes
1965 Touring
Forest Hills
August 28, 1965: from The College of Rock and Roll Facebook page: Dylan kicked off his tour at NYC's Forest Hills Tennis Stadium. This show is legendary, and for anyone who doubts that 1965 audiences heaped great scorn on Bob Dylan and his electric crew, all they need to do is listen to a a tape of the concert to hear the audience's point of view. There was so much hostility directed toward the stage that it's frightening. Coming as it does after the shocking Newport appearance with members of the Paul Butterfield Blues Band, the audience for the Forest Hills show pretty much knew what to expect, and the majority showed extreme displeasure during the electric half.
The first set, which was acoustic, was very well received. The crowd was quiet and respectful for the 45 minute opening set, which followed a typical top-40 disk jockey introduction more appropriate for a Dave Clark Five concert than a Bob Dylan concert. This show featured the debut of "Desolation Row", from the Highway 61 album which was yet to be released (only a few days away, in fact). It's a great performance and it went over very well with the crowd, who laughed appreciatively at the lyrics. It must have been amazing to sit there and hear a brand new masterpiece like "Desolation Row".
 After the well received acoustic half came to an end with "Mr. Tambourine Man", the band set up for the second half. No doubt the crowd was gearing up for the hostility that was to follow. The crowd is so loud and belligerent at times that it becomes extremely hard to hear the music, but what can be heard is awesome. Levon lays down a muscular beat that drives the music forward and Robbie plays tough blues licks as only he can. Al Kooper pretty much plays the way only Al Kooper can.
The Hawks
September 24, 1965: Dylan kicks off a national tour in Austin, TX. The Hawks are his back up band. The electric songs are typically booed. Levon Helm, unable to deal with the constant booing, left the tour at the end of November and went to work as a deckhand on oil rigs in the Gulf of Mexico.
Marriage
November 22, 1965:  during a break on his tour, Dylan married Sara Lownds in a secret ceremony on Long Island, NY. The only guests were manager Albert Grossman and a maid of honor for Sara.  A son, Jesse Byron Dylan, will be born on January 6, 1966.
Opines on drugs
Nat Hentoff had interviewed Bob Dylan in the fall of 1965. That interview appeared in the February issue of Playboy magazine. In it Hentoff asks Dylan: "…do you think that experimentation with such drugs [hallucinogenics] should be part of the growing up experience for a young person? Dylan responded: "I wouldn't advise anybody to use drugs – certainly not the hard drugs; drugs are medicine. But opium and hash and pot – now, those things aren't drugs; they just bend your mind a little. I think everybody's mind should be bent once in a while. Not by LSD, though. LSD is medicine – a different kind of medicine. It makes you aware of the universe, so to speak; you realize how foolish objects are. But LSD is not for groovy people; it's for mad, hateful people who want revenge. It's for people who usually have heart attacks. They ought to use it at the Geneva Convention."
Electric Dylan Crashes
Blonde on Blonde
Recorded Jan, Feb, and March, 1966, on May 16, 1966 Columbia released Blonde on Blonde, his 7th.
Dylan recorded the album in Nashville, against the strict wishes of manager Albert Grossman.
That Dylan would record there gave "permission" to other rock groups to follow in his footsteps and opened Nashville recording to a much wider range of musicians than the country groups that had dominated its studios until then.
The cover shows Dylan in front of a brick building, wearing a suede jacket and a black and white checkered scarf. The jacket is the same one he wore on his next two albums, John Wesley Harding and Nashville Skyline.
Photographer Jerry Schatzberg, described how the photo was taken: I wanted to find an interesting location outside of the studio. We went to the west side, where the Chelsea art galleries are now. At the time it was the meat packing district of New York and I liked the look of it. It was freezing and we were very cold. The frame he chose for the cover is blurred and out of focus. Of course everyone was trying to interpret the meaning, saying it must represent getting high on an LSD trip. It was none of the above; we were just cold and the two of us were shivering. There were other images that were sharp and in focus but, to his credit, Dylan liked that photograph.
Electric Dylan Crashes
Crash
July 29, 1966: Dylan was involved in a motorcycle accident. The seriousness of the accident is still unknown. Dylan's biographers have written that the crash offered him the much-needed chance to escape from the pressures that had built up around him. Dylan confirmed this interpretation of the crash when he stated in his autobiography, "I had been in a motorcycle accident and I'd been hurt, but I recovered. Truth was that I wanted to get out of the rat race." In the wake of his accident, Dylan withdrew from the public and, apart from a few select appearances, did not tour again for almost eight years.
Dylan stayed at the house of Dr Ed Thaler in Middletown, NY for 6 weeks following the accident as insurance for even more isolation.
Electric Dylan Crashes