Zimmerman Becomes Dylan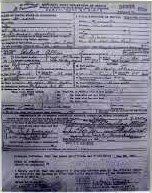 May 24, 1941: at 9:05 PM Beatty Zimmerman gave birth to a baby boy at St Mary's Hospital in Duluth, Minnesota. Abe Zimmerman was the father.
In Hebrew the baby's name was Shabtai Zisel ben Avraham. His everyday name was Robert Allen Zimmerman.
Zimmerman Becomes Dylan
Early musician
Golden Chords
March 1, 1958: Bob Dylan's Golden Chords played at the National Guard Armory in Hibbing, MN. It was the first time he was paid to perform on Stage.
Spring 1958: Robert Zimmerman decided that his stage name will be Bob Dylan. While spelled like Dylan Thomas, a poet Robert Zimmerman read and liked,  as with many things in Bob Dylan's history, the exact origin of the name remains unclear.
Folk hits mainstream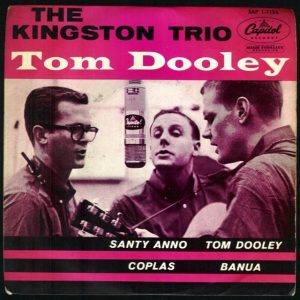 November 17, 1958: the Kingston Trio's "Tom Dooley" hit #1 on the Billboard pop chart. While not a protest song, protest folk probably owed its commercial success to the Kingston Trio, three guys in crew cuts and candy-striped shirts who honed their act not in Greenwich Village cafes, but in the fraternities and sororities of Stanford University in the mid-1950s. Without the enormous profits that the Trio's music generated for Capitol Records, it is unlikely that major-label companies would have given recording contracts to those who would challenge the status quo in the decade to come. Joan Baez and Bob Dylan, for instance, may have owed their musical and political development to forerunners like Woody Guthrie and Pete Seeger, but they probably owed their commercial viability to the Kingston Trio.
Buddy Holly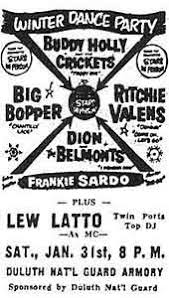 January 31, 1959: Dylan attended a Buddy Holly concert  in Duluth, MN. Holly was a big favorite of Dylan. He stood right at the stage and was sure that at a point during the concert Holly looked down and made eye contact. That Holly died only two days later made the event even more memorable.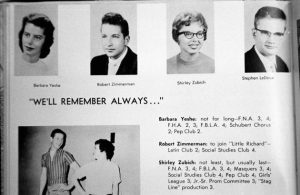 June 5, 1959: Dylan graduated from high school. One of his uncles left some records by Leadbelly. Dylan found the music and lyrics more meaningful than the songs he'd been covering and began to learn how to play folk music.
Marijuana
In March – April 1960: while a student at University of Minnesota, Dylan is introduced to  marijuana at parties held at the home of David Whitaker.
Zimmerman Becomes Dylan
To NYC
Mid-December 1960: Dylan left  Minnesota for New York. He will stop at a number of places along the way.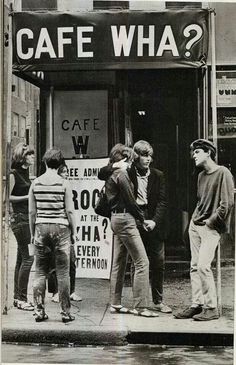 January 24, 1961: Dylan first arrived in New York City. He caught a subway down to Greenwich Village and to the Cafe Wha? in a flurry of snowflakes. It was hootenanny night and the place was half-empty. Dylan asked the owner, Manny Roth, if he could perform — and he did, playing a short set of Woody Guthrie songs. In the following weeks, Dylan would appear occasionally at the coffee-house, playing harmonica ("blowin' my lungs out for a dollar a day" is how he put it in his early song, Talkin' New York) behind Mark Spoelstra and Fred Neil, writer of Dolphins and Everybody's Talkin'.
Woody
January 29, 1961: Dylan visits Woody Guthrie
Gigs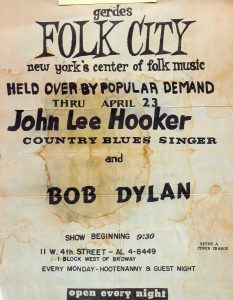 April 11, 1961: Dylan played his first solo live gig in New York City at Gerde's Folk City, opening for John Lee Hooker.
April 24, 1961: Harry Belafonte recorded "Midnight Special". Bob Dylan played harmonica on the recording. It was Dylan's first official recording and he received a $50 session fee.
Zimmerman Becomes Dylan
Suze
July 29, 1961: after seeing him play at a folk music day at the Riverside Church. Suze Rotolos became an enthusiastic fan. The Rotolos family lived above the Cafe Society Downtown, a little theatre in Greenwich Village. She lived with her mother, Mary, a widow, and her sister Carla, Above the Rotolos, on the fourth floor, lived Miki Isaacson, whose living room was a permanent crash pad for folk singers, including Dylan, who was pleased to be staying near Suze. The two soon became an item.
At about the time she met Dylan, Rotolo began working full time as a political activist in the office of the Congress of Racial Equality and the anti-nuclear group SANE. It was not until they met that Dylan's writing began to address issues such as the civil rights movement and the threat of nuclear war.
Unfortunately the love affair was doomed thanks to Dylan's many philandering escapades.
Zimmerman Becomes Dylan
Columbia
September 14, 1961: Dylan met John Hammond at a rehearsal session for Carolyn Hester at the apartment shared by Hester and her then-husband, Richard Fariña. Hester had invited Dylan to the session as a harmonica player and Hammond approved him as a session player after hearing him rehearse, with recommendations from his son, musician John P. Hammond, and from Liam Clancy.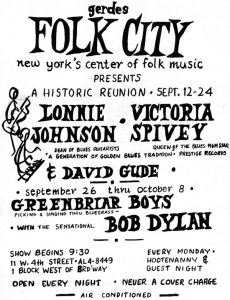 September 26, 1961: Dylan started as opening act for the Greenbriar Boys. He stayed two weeks.
NYT praise
September 29, 1961: Robert Shelton of the New York Times reviewed Dylan's Gerde's performance. With the headline: A Distinctive Folk-Song Stylist, Shelton wrote, "A bright new face in folk music is appearing at Gerde's Folk City. Although only 20 years old, Bob Dylan is one of the most distinctive stylists to play in a Manhattan cabaret in months."
October 25, 1961: Dylan and Columbia Records drew up a contract. It was a 5-year contrct that gave Dylan a small advance against 4% royalties. Columbia would release one album and then decide whether he merited a second.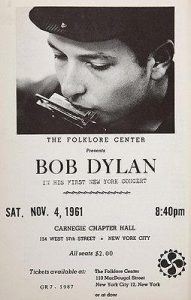 November 4, 1961: Dylan played a concert at Carnegie Chapter Hall, a smaller room than the famous bigger room. There are varying reports on how many people attended the concert. The number ranges between 47 and 53, pretty much all friends and family.
Zimmerman Becomes Dylan
Recordings
November 20 and 22, 1961: Dylan recorded his first album at Columbia Records.
In mid-December 1961 Dylan moved into his first rented apartment in the middle of West Fourth Street, a tiny, scruffy place above Bruno's Spaghetti Shop, and persuaded his girlfriend, Suze Rotolo, to move in with him.
In January 1962: Dylan wrote  "Talkin' John Birch Paranoid Blues"
March 11, 1962: Dylan played tunes on NYC radio station WBAI-FM. Mentions that he "stole" melody for "Death of Emmett Till" tune from Len Chandler.
March 19, 1962: Dylan (20 years old) released first album: Bob Dylan.
Sold only 5,000 copies in its first year
Side one
"You're No Good"  Jesse Fuller
"Talkin' New York"
"In My Time of Dyin'"  arr. Dylan
"Man of Constant Sorrow"  arr. Dylan
"Fixin' to Die"  Bukka White
"Pretty Peggy-O" arr. Dylan
"Highway 51" Curtis Jones
Side two
"Gospel Plow"  arr. Dylan
"Baby, Let Me Follow You Down"  arr. Eric von Schmidt
"House of the Risin' Sun"  arr. Dave Van Ronk
"Freight Train Blues"  , Roy Acuff
"Song to Woody"
"See That My Grave Is Kept Clean"  Blind Lemon Jefferson
Zimmerman Becomes Dylan
Blowin' In the Wind
April 16, 1962: Dylan debuted his song "Blowin' in the Wind" at Gerde's Folk City in New York.
April 25, 1962: Dylan recorded "Let Me Die in My Footsteps" a song  inspired by the construction of fallout shelters.
June 8, 1962: Suze Rotolo left for Europe and, in effect, left Bob Dylan. Often despondent missing her, he will write "Don't Think Twice, It's All Right."
July 9, 1962: Dylan recorded "Blowin' In the Wind" A few weeks earlier when he performed it live he stated, "This here ain't no protest song or anything like that, 'cause I don't write no protest songs" while onstage at Gerde's Folk City in Greenwich Village, talking about a song he claims to have written in just 10 minutes.
July 30,1962: "Blowin' In the Wind" was copyrighted to M Witmark & Sons. Albert Grossman signed a deal the same day with Witmark giving Grossman 50% of of Witmark's share of the publishing income generated by any songwriter he brought to the company. This agreement gave Grossman an even larger slice of Dylan's profits in addition to Grossman's management slice.
August 2, 1962: Robert Zimmerman changed his name to Bob Dylan.
For the next phase of Bob's early history, see Dylan Becomes Dylan.
Zimmerman Becomes Dylan