Ustad Alla Rakha
April 29, 1919 – February 3, 2000
Docents on a Bethel Woods Museum tours  are sometimes asked: "Who was the youngest performer?" Country Joe talks about how Santana drummer Michael Shrieve was only 17–but Shrieve had turned 20 in July. The likely answer is Sha Na Na's Henry Gross who was 18, but if Greg Reeves birthday is actually April 7, 1955 (uncertain), then he is the answer for sure.
No one has ever asked me, "Who was the oldest performer?" That distinction goes to Ustad Alla Rakha. He's nearly the oldest person associated with the festival on site that weekend. And that person wasn't Max Yasgur (born December 15, 1919), but likely cameraman David Myers  born on May 8, 1914.
Ustad Alla Rakha
Indian youth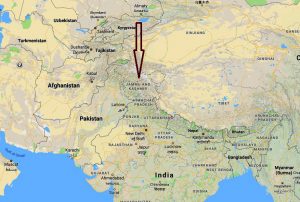 Alla Rakha was born in the Indian state of Jammu and Kashmir. He was the oldest of seven sons and his father opposed Alla's desire to learn music.
When he was 12 Alla ran away and studied at the Punjab school of classical music. While he did have many years of training as a vocalist, he never lost his love of the tabla.
As a young adult, he worked for a theatre company and later at a radio station. In 1940 he moved to Mumbai and worked with Pandit Ravi Shankar.
He also began to compose music for some Hindi films.  Alla had five children in his first marriage, two daughters and three sons. His daughter Razia remained close to him throughout his life.
Ustad Alla Rakha
West Influenced
As the Beatles–particularly George Harrison–became interested in Indian philosophy and music, so did thousands of young westerners. Both Ravi Shankar and Alla Hakha had played in the United States before the Monterey Pop Festival in 1967, but the fame, film, and soundtrack of their performance there set up many other invitations to play at other non-traditional concert venues. Of course the most famous was Woodstock.
Ustad Alla Rakha
Woodstock
Shankar was disappointed with Woodstock. He eschewed the use of drugs and felt that they got in the way of truly becoming one with music.
He said in a 1999 NPR interview with Terry Gross's "Fresh Air": Monterey was something which I liked because it was still new, fresh. And there was some – in spite of the drugs and everything, when these young girls and boys, they showed these two fingers like that, like a V, and said peace and love and offered you a flower, there was some innocence. There was some beauty which touched me so much. But Woodstock was a time which was almost two, three years later. And believe me, by then I thought that this thing is not going to live anymore because it was far gone. Music was just an incidental music to them. They were having fun. It was a fun place, picnic party. They were all stoned. It was raining. It was in mud. And as I said in my book, it reminded me of these water buffaloes we see in India who are, you know, they feel very hot and they sit there, get so – so dirty, but they enjoy it. So I mean that was the thing I felt. But because it was a contractual thing, I couldn't get out of it. I had to go through it. But I was very unhappy.
Ustad Alla Rakha
Bangladesh Concert
Alla Rakha also played with Shankar at the famous (filmed and recorded) Concert for Bangladesh that Shankar and George Harrison had organized for the relief for the refugees of then East Pakistan (now Bangladesh).
Ustad Alla Rakha
Teacher
Ustad is an honorific given to a master musician and teacher. From Britannica: Alla Rakha…was also a devoted teacher. In 1985 he founded the Alla Rakha Institute of Music in Bombay, which further helped to elevate and popularize the tabla. Alla Rakha's three sons—Zakir Hussain, Fazal Qureshi, and Taufiq Qureshi—all became tabla players, Zakir acquiring the most international recognition and Fazal eventually managing and expanding the work of their father's institute. In honour of his contribution in the field of performing arts, Alla Rakha received two of India's most prestigious awards: the Padma Shri (1977) and the Sangeet Natak Akademi Award (1982).
Ustad Alla Rakha
Death
On February 3, 2000 a spokesman for Moment Records and Zakir Hussain Management announced that Rakah had a heart attack when he learned of the death of his daughter, Razia, during cataract surgery. [NYT obit]
Chandrashekhar Nair directed this 12-minute documentary on Rakha in 1970.
Ustad Alla Rakha