Cannabis Activist Dennis Peron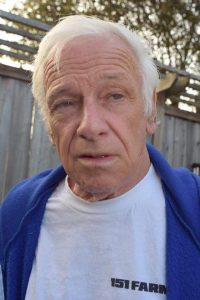 April 8, 1945 – January 27, 2018
Father of Medical Marijuana
A 2014 headline in a San Francisco Gate article summed it all up:
Why you can thank a gay, hippie Vietnam veteran for legal medical and recreational marijuana today
Dennis Peron was born in New York City and grew up on Long Island, NY and served in the Air Force in Vietnam.
Of his time in Vietnam he said, ""[During the Tet Offensive,] it was a perfect storm. They [the Vietcong] brought the war home to Saigon. They [the Air Force] got even with me. They put me on the morgue for 30 days and I'm 20 years-old. I've never seen a dead person. That month I saw 25,000 dead people. I came out of my closet and found out who I was."
After the war, he moved to San Francisco's Castro District. During World War II, if the armed services discovered that a soldier was gay, it discharged him. Often this would happen just before the soldiers shipped out and San Francisco was a primary port during the war.
Some of these soldiers settled in San Francisco and later the Castro District became a primarily gay neighborhood.
Cannabis Activist Dennis Peron
Smoke-ins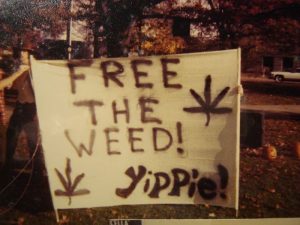 Peron joined the Youth International Party ( Yippies!) , the radical side of hippies which promoted various anti-authoritarian ideas, such as promoting the use and legalization of cannabis.
Toward that end, Peron helped organize smoke-ins.
Cannabis Activist Dennis Peron
Medical Marijuana
He also sold cannabis from storefronts in the Castro and advocated for medical cannabis as the scourge of AIDS grew in the 1980. His partner, Jonathan West died of AIDS in 1990.
In 1991, Peron founded the San Francisco Cannabis Buyers Club at the height of the U.S. drug war in 1991.  He gave out cannabis to AIDS patients along with Brownie Mary.
Also in 1991, Peron organized for the passage of San Francisco's Proposition P, a resolution calling on the state government to permit medical cannabis, which received 79% of the vote.
That same year, he co-founded the San Francisco Cannabis Buyers Club, the first public cannabis dispensary. The club, which served 9,000 clients, was closed by a San Francisco Superior Court judge in 1998.
In 1993, Peron and Brownie Mary jointly released a cookbook with recipes for cannabis edibles.
Cannabis Activist Dennis Peron
Proposition 215
In 1996, Peron coauthored California Proposition 215, which sought to allow the use of medical cannabis.
Dan Lungren, the Attorney General of California, ordered a police raid of Peron's club a month before the election, arresting Peron.
Proposition 215 was passed soon thereafter, which allowed the club to reopen. Later in 1996, the Grassroots-Legalize Cannabis Party of Minnesota fielded Peron as their nominee, their first, in the U.S. presidential election.
In 1998, Peron ran in the Republican primary for California governor against Lungren, who won the primary and lost the election to Gray Davis.
Peron voiced support for decriminalization of all marijuana use, believing that it is medicinal. He opposed medical marijuana use for children.
Dennis Peron wrote in his 2012 book, "Memoirs of Dennis Peron," that he was just a "gay kid from Long Island who joined the Air Force to get away from home."
Cannabis Activist Dennis Peron
Anti-recreational
Peron opposed California Proposition 19 in 2010, which would have legalized recreational cannabis, because he did not believe that recreational use exists, as all people who use marijuana are using it medicinally. He opposed California Proposition 64 in 2016 (approved adult use marijuana) because for the same reason. Voters approved the proposition 57.13% to 42.87%.
In 2013 he published his memoirs: Memoirs of Dennis Peron.
Peron spent some of his last years on a 20-acre farm he owned and operated in Lake County [CA] growing and giving away medical marijuana.
Cannabis Activist Dennis Peron
Accolades
San Francisco's Board of Supervisors recognized Peron, who was suffering with late-stage lung cancer, with a certificate of honor in 2017. Supervisor Jeff Sheehy called Peron "the father of medical cannabis".
On January 27, 2018, aged 72, Peron died of lung cancer at the Veteran's Administration Health Center in San Francisco.
"The city and the country has lost a cannabis leader who lived life on the edge," Terrance Alan, a member of the city's Cannabis Commission, told the Chronicle, "He lived his whole life on the edge, and that's what allowed us to lead in cannabis."
Cannabis Activist Dennis Peron