Palm Beach Music Art Festival
November 28 – 30, 1969 (Thanksgiving weekend)
West Palm Beach, FL
1969 festival #48
From the "Palm Beach Pop Festival" short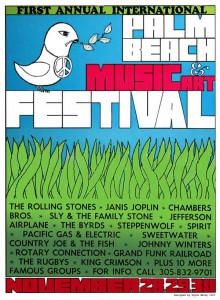 Palm Beach Music Art Festival
Palm Beach
For many people, the only festivals in 1969 were the famous Woodstock Music and Art Fair and the infamous Altamont Speedway Free Festival. There were many more: none larger than Woodstock, all more peaceful than Altamont.
The Palm Beach Music & Art Festival was one of the last that year. It was the 38th of the year.
It ran on Thanksgiving weekend, November 28 – 30, 1969.  Like most of those many other 1969 festivals, little can be found about them. Organizers didn't record nor film them. Occasionally someone's hand held movie or recording pops up.
Palm Beach Music Art Festival
Documentary
But over all, the Palm Beach Music & Art Festival remains unknown. There are some still pictures and a group is trying to collect anything anyone has to create a documentary:
Palm Beach Music Art Festival
Sheriff Bill Heidtman
There is a 2009 Palm Beach Post article: Then-Palm Beach County Sheriff Bill Heidtman vowed to make life miserable for the free-loving, pot-smoking, anti-establishment youngsters who were coming to the Palm Beach Pop Festival. He threatened to herd alligators toward the crowd, gathered on a grassy field at the Palm Beach International Raceway. And he promised to dig out fire ant colonies and relocate them at the venue.
Palm Beach Music Art Festival
Palm Beach Music & Art Festival
The Festival was at a drag strip outside of West Palm Beach. Among others, Grand Funk played three nights also. The show featured Iron Butterfly, King Crimson (Robin Fripp and Greg Lake), Jefferson Airplane, Rotary Connection (Minnie Ripperton), PG&E, Rolling Stones, Vanilla Fudge, Janis Joplin and Her Full Tilt Boogie Band, Johnny Winters, and others.
On the third night, Winters played, then Vanilla Fudge, followed by Janis Joplin. Afterwards, the announcer said, Johnny wants it, Janis wants it, and the Fudge wants one. All three bands came out on stage and jammed. Winters jammed with the guitar players and scatted with Janis.
Wavy Gravy was there in his WW2 pilot helmet or whatever it was, guiding a car backwards trying to help them and backed them into the pond. We'd like to think he knew it was the police in an unmarked car and put them in the pond on purpose since we know he didn't do drugs.
2014 Palm Beach Post retrospective article 
Palm Beach Music Art Festival
Next 1969 festival: Altamont