Grateful Dead 30 Days Dead
They're BACK!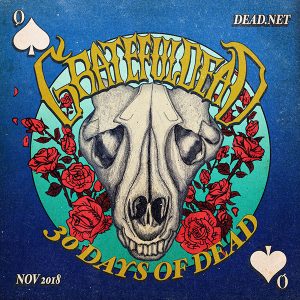 From the Grateful Dead site:
It's that magical time of year again where we make miracles every day. Yessiree, 30 Days Of Dead is back! 
As a token of our appreciation for making 2018 an epic year, we're giving away a high-quality 320Kbps MP3 download every day this month. That's 30 days of unreleased Grateful Dead tracks from the vault, selected by Dead archivist David Lemieux! Intrigued? We're also going to put your knowledge to the test and give you a chance to win prizes, not to mention bragging rights. 
Here's the drill: 
You know your Ables from your Bakers from your C's, but can your finely tuned ears differentiate the cosmic "comeback" tour from a spacey 70's show? Each day we'll post a free download from one of the Dead's coveted shows. Will it be from that magical night at Madison Square Garden in '93 or from way back when they were just starting to warm it up at Winterland? Is that Pigpen's harmonica we hear? Brent on keys? Step right up and try your hand all November long. 
Guess the venue and date correctly and you'll be automatically entered to win the prize of the day – a 2019 Grateful Dead Wall Calendar. Each day a winner will be selected at random, so take your time and make your best guess! Answer correctly, and you will also be automatically entered for our PACIFIC NORTHWEST '73-'74 THE COMPLETE RECORDINGS boxed set. 
Grateful Dead 30 Days Dead
NOW!
China Cat Sunflower>I Know You Rider kicks off the 2018′ first free download.
When and where?
Well, if you want, you can enter the contest and guess or simply wait for the answer tomorrow. Until then, you can listen to 2017's first 8 minutes and 58 seconds of what will be, I'm sure, another great November of free Dead music courtesy of their archives. Enjoy!
Keep in mind that these are high quality live recordings and if you are only familiar with the song's studio recording, live is where it's at.   Of course, there will be the seques like this China/Rider.
And even if you are familiar with a live version, remember how songs evolved, left a tour's setlist for a few years, and came back renewed.
You can' go wrong. 2017's 30 downloads yielded a total of 6 hours and 17 minutes worth of previously unreleased Dead recordings. That's right!
And so far (2010 – 2016) the site has given away over 38 HOURS of music. 
Climb aboard!
Please follow and like us: