George Harrison Wonderwall Music
December 2, 1968: the US release of George Harrison's Wonderwall Music, the first solo album by any Beatle.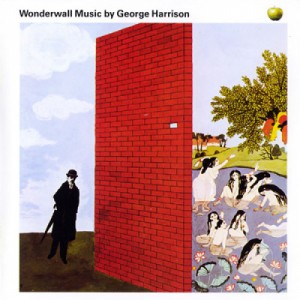 It was also the  the first Apple album and quite a contrast to the Beatle movie's Magical Mystery Tour's soundtrack. The music reflected Harrison's continued involvement with Indian music. There are splashes of Western sounds, too, like "Drilling a Home" or  "Cowboy Museum." George Harrison himself did not actually play or sing on any tracks
George Harrison Wonderwall Music
Harrison's influence
Keeping in mind Harrison's Beatle compositions (such as Flying) and you'll hear his influence. Wonderwall Music also used the production method common at the time of sending sound back and forth between the left and right channels.
Eric Clapton and Ringo Starr make appearances. Clapton, credited as Eddie Clayton, plays lead guitar on 'Ski-ing', while Starr (Richie Snare) plays drums.
Also, Peter Tork of the Monkees plays banjo on the album. He and Harrison became friends when the Monkees visited the U.K.
Harrison's follow up to Wonderwall Music would be his Electronic Sound which taught listeners that George Harrison's musical tastes were wide and deep.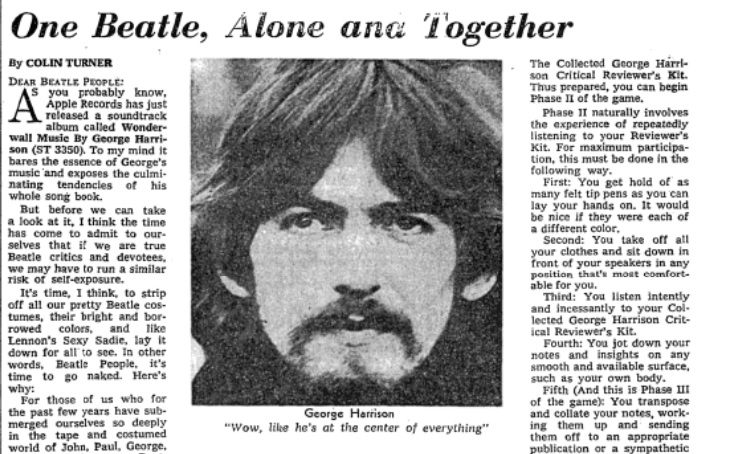 Reaction
The NY Times reviewed the Wonderwall album on February 9, 1969. Colin Turner wrote, To my mind it bares the essence of George's music and exposes the culminating tendencies of his whole song book.
In 2015, Rolling Stone magazine included the album on a list the magazine called: 20 Terrible Debut Albums by Great Artists. The lead sentence of the description read, "The best thing you can say about Wonderwall Music is that it's probably more historically significant than the LP of experimental twaddle John Lennon released a month later – after all, Oasis never wrote a hit song called Two Virgins."
George Harrison Wonderwall Music
Wonderwall Music
George Harrison Wonderwall Music
Delaney & Bonnie
Interestingly, exactly a year later, on December 2, 1969, Harrison joined Delaney and Bonnie on stage in Bristol, for his first stage appearance since The Beatles' final concert on 29 August 1966.
Freed from the attentions of Beatlemania, he was able to be a largely anonymous band member, although he did sing songs including Everybody's Trying To Be My Baby on at least one occasion.
Harrison stayed on the tour for six dates until it ended. They played two shows each night, in Bristol, Birmingham, Sheffield, Newcastle, Liverpool and Croydon.
The Movie
And in case you were wonder(wall)ing: Wonderwall was a 1968 film by first-time director Joe Massot that starred Jane Birkin, Jack MacGowran, and Iain Quarrier. Neither the movie nor the album are considered worthwhile by most.
Here's the trailer:
George Harrison Wonderwall Music