Guitarist Jorma Kaukonen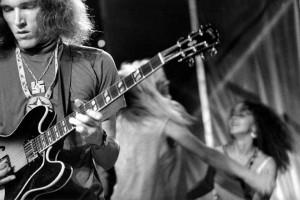 ---
Jorma Kaukonen was born on December 23, 1940 and did not have ambitions to be a rock star.
---
He and Washington, DC friend Jack Casady briefly formed a band before Kaukonen attended Antioch College and later transferred to Santa Clara University where he also gave guitar lessons. One famous session was with Janis Joplin.
---
---
In 1967, Paul Kantner invited Kaukonen to join the Jefferson Airplane, and despite his preference for acoustic blues, the emerging electric technology pulled Jorma into the psychedelic sounds of the Airplane. Ironically, one of the best known Airplane songs is his acoustic "Embryonic Journey."
---
---
Famous for their Sunday sunrise performance at the Woodstock Music and Art Fair, those same acoustic roots still held Jorma Kaukonen's love. In 1970 he and Jack Casady formed Hot Tuna.
---
Hot Tuna and more
---
---
With Kaukonen and Casady the core members, dozens of other musicians have been part of Hot Tuna's history. The band has released more than 20 albums.
---
In 1974, Kaukonen released, Quah, the first of his 11 solo albums.
---
In 1978, during a Hot Tuna haitus, he formed the band Vital Parts.
---
At a 1988 Hot Tuna performance at the Fillmore Auditorium, that Grace Slick joined the performance. Marty Balin was in the audience. The "reunion" resulted in a brief Airplane tour and record in 1989.
---
Fur Peace Ranch
With his wife Vanessa, Kaukonen operates the Fur Peace Ranch in Ohio.  The site states, in 1989, "Jorma and Vanessa Kaukonen looked at a piece of land in Meigs and conceived what Jorma calls "a ranch that grows guitar players." Not a fantasy camp, but this would be a place where both budding and seasoned musicians could immerse themselves for several days, and emerge with renewed inspiration and tangible progress in their music."
---
Guitarist Jorma Kaukonen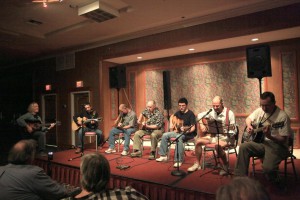 ---
And in this age of virtual instruction, Kaukonen also offers on-line lessons for guitar enthusiasts. The site is called Breakdown Way. You can even Skype lessons. 
---
Please follow and like us: