Guitarist Jorma Jerry Kaukonen
Happy birthday and thanks!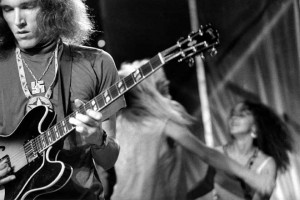 Jorma Kaukonen was born on December 23, 1940 and did not have ambitions to be a rock star. At the time, there was no rock.
Guitarist

Jorma Jerry Kaukonen
Early on
Though born in Washington, DC, with a dad who worked in the Foreign Service, Jorma's childhood was a well-traveled one. His dad had used Jerry as a nickname, the name Jorma during World War II being mistakenly viewed as German and thus un-American.
At the same time, Jorma recounts that some of his Ann Arbor base-mates decided he was not American enough and tried to string him up as a spy. Jorma became Jerry also and remained so for many years. [When he first moved to Ohio in the late 80s, the -o- at the end of his name again became an issue and people started called Jorma "Norm."]
Guitarist

Jorma Jerry Kaukonen
With Jack Casady
Jorma attended Woodrow Wilson High School in Washington DC. He fell in with guitar enthusiasts there at a time when sax, drums, and piano were the  "cool" instruments.
So from the start, Jorma found himself on the fringe.
Jorma was in school with Jack Casady's older brother and one day Jorma visited the Casady household. Jorma and Jack formed a musical friendship, one that has lasted more than 60 years
They briefly formed a band, The Triumphs, and as Jack recalls, "I played lead guitar, Jorma played rhythm guitar and sang. The PA system was a Wollensac tape recorder put in the monitor mode so Jorma's vocals were coming through a 3-inch speaker. It was kind of raw but it was fun while it lasted."
Guitarist

Jorma Jerry Kaukonen
Ohio > California
Kaukonen graduated high school and attended Antioch College in Ohio. While there, he "discovered" the music of the Reverend Gary Davis. Davis's music became and remains a part of Kaukonen's life.
Jorma later transferred to Santa Clara University where he also gave guitar lessons. One famous session was with Janis Joplin.
In 1967, Paul Kantner invited Kaukonen to join a band Kanter was formed and despite Jorma's preference for acoustic blues, the emerging electric technology pulled Jorma into the psychedelic sounds.
Jorma half-seriously suggested a band name: Jefferson Airplane. Obviously, the serious half won out.
Ironically, one of the best known electric-based Airplane songs is his acoustic "Embryonic Journey."
Famous for their Sunday sunrise performance at the Woodstock Music and Art Fair, those same acoustic roots still held Jorma Kaukonen's love. In 1970 he and Jack Casady formed Hot Tuna.
Guitarist

Jorma Jerry Kaukonen
Hot Tuna and more
With Kaukonen and Casady the core members, dozens of other musicians have been part of Hot Tuna's history. The band has released more than 20 albums.
In 1974, Kaukonen released, Quah, the first of his 11 solo albums.
In 1978, during a Hot Tuna haitus, he formed the band Vital Parts.
At a 1988 Hot Tuna performance at the Fillmore Auditorium, that Grace Slick joined the performance. Marty Balin was in the audience. The "reunion" resulted in a brief Airplane tour and record in 1989.
The band continues to perform regularly.
Guitarist

Jorma Jerry Kaukonen
Fur Peace Ranch
With his wife Vanessa, Kaukonen operates the Fur Peace Ranch [it's a fur piece from anywhere] in Ohio.  The site states, in 1989, "Jorma and Vanessa Kaukonen looked at a piece of land in Meigs and conceived what Jorma calls "a ranch that grows guitar players." Not a fantasy camp, but this would be a place where both budding and seasoned musicians could immerse themselves for several days, and emerge with renewed inspiration and tangible progress in their music."
Guitarist

Jorma Jerry Kaukonen
Virtual lessons
And in this age of virtual instruction, Kaukonen also offers on-line lessons for guitar enthusiasts. The site is called Breakdown Way. You can even Skype lessons.
Guitarist

Jorma Jerry Kaukonen
Been So Long
On August 28, 2018, St Martin's Press published Jorma's memoirs, Been So Long, My Life & Music.  Grace Slick wrote the forward; Jack Casady wrote the afterward. The title comes from the song of the same name.
The Kirkus review described the work as, "An honest personal portrait but also one where the author could have revealed more—and written less."
I'm sure fans won't mind the extra bits.
Guitarist

Jorma Jerry Kaukonen
Quarantine
From a 2021 PSAudio article: During quarantine Jorma has been hosting a weekly free concert from his Fur Peace Ranch on its YouTube channel. The New York Times recently said it was among the top online concerts launched during COVID-19. Out of these sessions has come the inspiration behind a new record, The River Flows, tied to his long-standing collaborations with John Hurlbut. The River Flows was produced by Jorma at the ranch in Meigs County, Ohio and mixed by three-time Grammy winner and Hot Tuna drummer Justin Guip. Together they have made a record filled with fantastic takes on songs made famous by artists they admire, along with a few originals. It's a celebration of great music, tremendous acoustic guitar work, and a close friendship that began almost 40 years ago.
Guitarist

Jorma Jerry Kaukonen