James Timothy Tim Hardin
Remembering Tim Hardin on his birthday
December 23, 1941  – December 29, 1980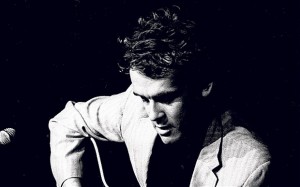 Bob Dylan's oft-quoted statement that Tim Hardin was "the greatest songwriter alive" does little to enshrine Hardin other than for those he's an already-enshrined singer-songwriter.
James Timothy Tim Hardin
Birthday
Born James Timothy Hardin in Eugene Oregon on December 23, 1941, he dropped out of high school and joined the Marines. In his words, the move was "a legal loophole that allows the prisoner to sign himself into another prison, from parental care to the military."
After the Marines, Hardin arrived in Greenwich Village in 1961 to study at the American Academy of Dramatic Arts. He became part of the Village's folk scene and became part of a circle that included Fred Neil, Mama Cass, Karen Dalton and John Sebastian.
Hardin is best known for his simple, romantic songs made popular by other artists, most notably, Bobby Darin's "If I Were a Carpenter" and Rod Stewart's "Reason to Believe."
He released Tim Hardin 1, in July 1966. Lisa Law, Hog Farm member and photographer took the album's cover photo and all the photos on the back.
His Woodstock story is that he was scheduled to be the very first performer. 500,000 stomach butterflies prevented that, but opened the door for Richie Haven's famous start. Hardin did perform later after Bert Sommer and before Ravi Shankar.
---
James Timothy Tim Hardin
Post Woodstock
During the years following Woodstock, Hardin moved between England and the U.S.
Due to ongoing drug and health problems, as well as a scarcity of new material, he did not complete any albums after 1973. Hardin died of a drug overdose in 1980.
He is not in the Rock and Roll Hall of Fame.
James Timothy Tim Hardin
---
2013 Rolling Stone magazine article on Hardin.
2013 Telegraph article on Hardin.
James Timothy Tim Hardin