February 28 Peace Love Art Activism
BLACK HISTORY
Slave Revolt: 

Newton, Long Island
---
February 28, 1708: seven white people were killed in Newton, Long Island. Following the rebellion, two black male slaves and an Indian slave were hanged, and a black woman was burned alive.
Slave Revolt: Virginia
In 1709 : a plot involving enslaved Indians as well as Africans spread through at least three Virginia counties—James City, Surry, and Isle of Wight. Of the four ringleaders, Scipio, Salvadore, Tom Shaw, and Peter, all but Peter were quickly jailed. (see April 20 (Easter) 1710)
Republican Party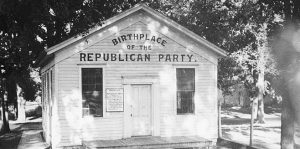 February 28, 1854: about 50 slavery opponents met in Ripon, Wis., to call for creation of a new political group that became the Republican Party. (see Apr 29)
Detroit rebellion
February 28, 1943: the Detroit rebellion occurred. At 9 a.m Black renters, having signed leases and paid their rent, attempted to enter their homes. Many  left the area fearing trouble.
Fighting began when two blacks in a car attempted to run through the picket line. Clashes between white and Black groups continued into the afternoon when 16 mounted police attempted to break up the fighting. Tear gas and shotgun shells were used. Officials announced an indefinite postponement of the move. Detroit newspapers, union leaders, and many other whites campaigned for the government to allow the Black workers to move into the homes.
---
In April, 1,100 city and state police officers and 1,600 Michigan National Guard troops were mobilized and sent to the area to allow the renters to enter homes. (see Apr 17)
Columbia Tennessee riots continue
February 28, 1946: (see Feb 26 & 27 for preceding story) Columbia, Tennessee policemen killed two black prisoners in custody. During an interrogation of James Johnson, William Gordon, and Napoleon Stewart, the police reported that two of the prisoners grabbed guns from white officers and began shooting. In defense, the police retaliated, killing two and wounding the third suspect.
A federal grand jury was convened to investigate the charges of misconduct by the white policemen, but the local all-white jury absolved the police of any wrong doing. Eventually, twenty-five blacks were tried in for the shootings of the white officers during the riot. Two of the accused were found guilty but were never retried due to lack of evidence. The one valid conviction came in a second trial at Columbia in November. Lloyd Kennedy was found guilty and served time in jail for shooting at a white highway patrolman. (BH, see Apr 18; RR, see Aug 10)
George Whitmore, Jr
February 28, 1972: The U.S. the Supreme Court refused to disturb Whitmore's conviction for the attempted rape and assault of a practical nurse Elba Borrero almost eight years earlier. (next BH, see June 4; see Whitmore for expanded story)
Ben Chester White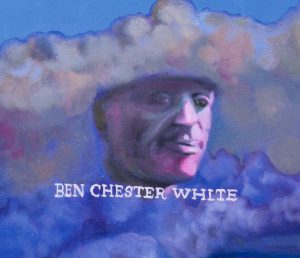 ---
February 28, 2003: on June 10, 1966 three Klansmen had approached Ben Chester White at his home near Natchez, Mississippi and asked for him help in finding a lost dog. White, a 67-year old sharecropper, was then driven to the Homochitto National Forest, where they shot White repeatedly, then dumped over him over a bridge into a creek bed below. Three men, Ernest , Claude Fuller, and James Lloyd Jones, had allegedly killed White in an attempt to lure Martin Luther King, Jr. to Natchez, Mississippi.  Ernest Avants was tried in 1967 but acquitted.
In 2003, the New York Times described Chester this way: Ben Chester White used twists of wire to hold the soles on his shoes, patched his own clothes with scrap and said "yes, sir," to white men, and when he made a little money, he wrapped the $1 bills in wax paper so they would not be ruined by his own sweat. He was not registered to vote, and had never fought against the segregation that was as much a fact of life for him as a hoe handle or cotton sack.
On this date, because Homochitto National Forest was federal property,  the federal government could retry Ernest Avents for White's murder. Allan Kornblum, the FBI agent who investigated the crime in 1967 testified that Mr. Avants said that his lawyer had told him that he would not be convicted in that case:
---
" 'Because you can't be convicted of killing a dead man.' "
" 'Yeah, I shot that nigger,' " Mr. Kornblum said Mr. Avants told him. But Mr. Avants said that by the time he shot Mr. White, another man had shot Mr. White several times — investigators have said about 16 times — with an automatic carbine.
" 'I blew his head off with a shotgun,' " Mr. Avants told him, Mr. Kornblum said. But by then, Mr. Avants told him that day, there was no life left in Mr. White.
"It's been 37 years," said Paige Fitzgerald, a trial lawyer with the United States Department of Justice. "How do you remember?"
Mr. Kornblum answered, "It's one of those singular events in a person's life…It's burned in my memory,"
At that time, Agent  Kornblum was legal adviser to the United States Foreign Intelligence Surveillance Court and had a national security clearance that is higher than top secret. (see Mar 1)
George Whitmore, Jr
February 28, 2014: from an article in The Paris Review by Sabine Heinlein. I mailed a copy of my book Among Murderers, about the struggles three men faced when they returned to the world after several decades behind bars, to Richard Robles.
Robles wrote back:
Remorse is a tough subject. It's complicated by the human desire to avoid pain and punishment, which is actually stronger, I think. It includes feelings of shame and guilt. Then there's the drive to rehabilitate oneself and change. It is complex and confusing. One has to take an honest look at himself and get rid of that "bullshit ego."
He added:
I found it [the book] very honest and real. I think it will be an eye opener for those who have the misconception that parole is freedom. I'd like to see it as mandatory reading for all first offenders because they often think "parole is freedom" and are quickly, very negatively struck with profound disappointment when reality smacks or kicks them in the face.
Along these lines I would have liked to see more about the unrealistic expectations prisoners fantasize about in prison—and how fantasies inhibit reform/rehabilitation efforts. I think you tried to portray that but I'm not certain the average reader could get it. You portray a prisoner as saying "Expect the unexpected." I'd rephrase that to "Expect to be disappointed in every dream you conjure in prison." (next BH, see Mar 21; see Whitmore for expanded story)
February 28 Peace Love Art Activism
Native Americans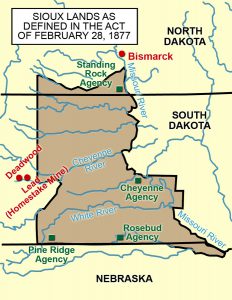 February 28, 1877: the US Congress ratified the Manypenny Agreement with the Lakota Sioux, under which the United States took control of 900,000 acres of the Black Hills.
The Lakota argue to this day that the Agreement was illegal, was obtained by coercion associated with starvation, and that the Black Hills should be returned to them. (see May 5)
February 28 Peace Love Art Activism
US Labor History
---
February 28, 1898: Holden v. Hardy, the Supreme Court of the United States upheld a Utah state law limiting the number of work hours for miners and smelters as a legitimate exercise of the police power. The majority held that such a law was legitimate, provided that there was indeed a rational basis, supported by facts, for the legislature to believe particular work conditions were dangerous. The court was quick to distinguish this case from other cases of the era which imposed universal maximum hour rules, which it held unconstitutional under the Due Process Clause of the 14th Amendment. (law dot jrank article) (see April 29, 1899)
February 28 Peace Love Art Activism
Feminism
International Women's Day
February 28, 1908:  the first International Women's Day observed. In NYC, about 15,000 women marched demanding shorter hours, better pay, and the right to vote.  (see July 21)
Violence Against Women Act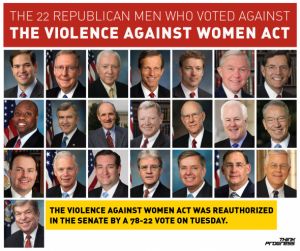 February 28, 2013: after the House plan endorsed by conservatives was defeated, the House or Representatives gave final approval to a renewal of the Violence Against Women Act, sending a bipartisan Senate measure to President Obama. (DoJ article) (see March 13)
February 28 Peace Love Art Activism
Nuclear/Chemical News
February 28, 1943: nine Norwiegian saboteurs successfully blew up Hitler's heavy water plant, a critical part of his nuclear program. [NYT story] (see April 17, 1945)
February 28 Peace Love Art Activism
Technological Milestone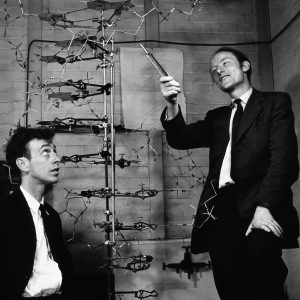 ---
February 28, 1953:  Cambridge University scientists James D. Watson and Frances H.C. Crick announced that they had determined the double-helix structure of DNA, the molecule containing human genes. (see March 26)
February 28 Peace Love Art Activism
February 28 Music et al
The Beatles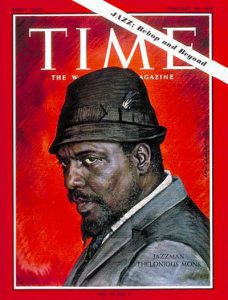 February 28, 1964: despite the arrival of "Beatlemania" Time magazine featured musician Thelonious  Monk on its cover reflecting the continued importance and popularity of jazz in the US. (see Mar 21)
February 28 Peace Love Art Activism
The Road to Bethel and the Woodstock Festival
February 28, 1969: Joel Rosenman, John Roberts, and Michael Lang signed the contract creating Woodstock Ventures and its plan for 1) a recording studio in Woodstock, NY and 2) a festival in Saugerties, NY. Artie Kornfeld could not sign the contract because he was still under contract with with Capital. Michael Lang agreed to hold Kornfeld's share until the Capitol contract expired. (see Mar 29)
February 28 Peace Love Art Activism
Watergate Scandal
February 28, 1973: confirmation hearings begin for confirming L. Patrick Gray as permanent Director of the FBI. During these hearings, Gray revealed that he had complied with an order from John Dean to provide daily updates on the Watergate investigation, and also that Dean had "probably lied" to FBI investigators.(see Watergate for expanded story)
February 28 Peace Love Art Activism
Irish Troubles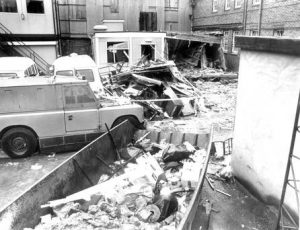 February 28, 1985:  the Provisional Irish Republican Army carried out a mortar attack on the Royal Ulster Constabulary police station at Newry, killing 9 officers in the highest loss of life for the RUC on a single day. (see Nov 15)
February 28 Peace Love Art Activism
The Cold War &  Nuclear/Chemical Weapons News
---
February 28, 1987:  in a surprising announcement, Soviet leader Mikhail Gorbachev indicated that the USSR was ready to sign "without delay" a treaty designed to eliminate U.S. and Soviet medium-range nuclear missiles from Europe. (CW, see June 12; NN, see Nov 24)
February 28 Peace Love Art Activism
Dissolution of Yugoslavia
February 28, 1994, US F-16s shot down 4 Serbian J-21s over Bosnia and Herzegovina for violation of the Operation Deny Flight and its no-fly zone. (see Aug 4)
February 28 Peace Love Art Activism
Pledge of Allegiance
February 28, 2003: the 9th U.S. Circuit Court of Appeals, which ruled that the addition of "under God" to the The Pledge of Allegiance was unconstitutional, refused to reconsider its ruling, saying it would be wrong to allow public outrage to influence its decisions. (NYT article) (see Mar 4)
February 28 Peace Love Art Activism
Iraq War II
February 28, 2006:  The Washington Times reported that the Bush administration never drew up a comprehensive plan for rebuilding Iraq after the March 2003 invasion. (see Mar 19)
February 28 Peace Love Art Activism
Crime and Punishment
February 28, 2017: in a one-paragraph memo, Attorney General Jeff Sessions rescinded the previous directive to the Bureau of Prisons to either reduce or decline to renew private-prison contracts as they came due.  "The memorandum changed long-standing policy and practice, and impaired the Bureau's ability to meet the future needs of the federal correctional system," Sessions wrote. "Therefore, I direct the Bureau to return to its previous approach." (see May 11)
February 28 Peace Love Art Activism
Please follow and like us: