March 13 Peace Love Art Activism
US Labor History
Rat
---
March 13, 1830: the term "rat," referring to a worker who betrays fellow workers, first appears in print in the New York Daily Sentinel.  The newspaper was quoting a typesetter while reporting on replacement workers who had agreed to work for two-thirds of the going rate (see January 29, 1834)
---
March 13 Peace Love Art Activism
Cultural Milestones
Uncle Sam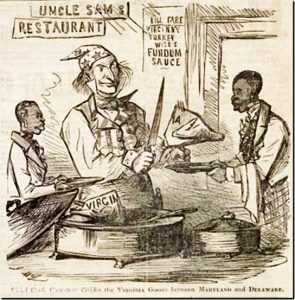 ---
March 13, 1852: the first illustration of 'Uncle Sam' was published in a political cartoon by satirist Frank Bellew in the 'New York Lantern'. (see May 16, 1966)
---
Encyclopedia Britannica
---
March 13, 2012: after 244 years of publication, Encyclopedia Britannica announced it would discontinue its print edition. (Guardian article)
---
March 13 Peace Love Art Activism
Vietnam
Dien Bien Phu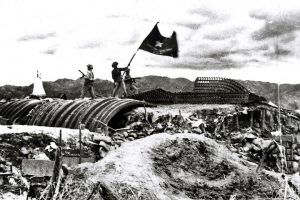 ---
March 13, 1954: a force of 40,000 Viet Minh with heavy artillery surrounded 15,000 French troops at Dien Bien Phu. French General Henri Navarre had positioned these forces 200 miles behind enemy lines in a remote area adjacent to the Laotian border. He hoped to draw the communists into a set-piece battle in which he hoped superior French firepower would destroy the enemy. He underestimated the enemy. (NPR story) (see Mar 20)
---
Campaign 275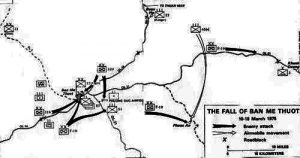 ---
March 13, 1975: Ban Me Thuot, capital of Darlac Province in the Central Highlands, fell to North Vietnamese troops. In late January 1975, just two years after the cease-fire established by the Paris Peace Accords, the North Vietnamese launched Campaign 275. (see Mar 24)
---
March 13 Peace Love Art Activism
BLACK HISTORY
Clinton Melton murder
---
On December 3 Otis Kimball killed Clinton Melton in cold blood. On March 13, 1956 an all-white, all-male jury acquitted Otis Kimbell, despite the weight of the testimonial and physical evidence contradicting Mr. Kimbell's claim that he acted in self-defense. (nuweb article) (see March 22)
---
Freedom Rider
---
March 13, 1961: Congress of Racial Equality [CORE] announced Freedom Ride. (BH, see Mar 29; Freedom Riders, see May 4)
---
Albany Movement
---
March 13, 1963: Blacks resumed a 16 month fight against segregation in Albany, GA, embittered by the realization that a seeming victory was only a legal maneuver. (BH, see Apr 4;  see Albany for expanded story) 
---
March to Montgomery
---
March 13, 1965:  President Johnson met with Alabama's Governor Wallace to decry the brutality surrounding the protests and ask him to mobilize the Alabama National Guard to protect demonstrators.  (BH & MM, see Mar 14)
---
March 13 Peace Love Art Activism
The Beatles
Eight Days a Week
---
March 13 – 26, 1965: "Eight Days a Week" #1 on the Billboard Hot 100. (see April 13)
---
Mary Poppins soundtrack
---
March 13 –19, 1965: the Mary Poppins soundtrack is the Billboard #1 album.
---
---
March 13, 1974: when John Lennon arrived in LA in 1973, he looked up Nilsson, a prodigious drinker who also did cocaine.
---
According to May Pang, John…"loved his energy; he loved his writing. What he loved in Harry was the beauty of his friendship and relaxed personality. That's what he saw. Harry drank, a lot. But Harry was the type of guy that if you go out drinking with him, he'd be sure at the end of the night that there would be a big brawl and that you are the one who's in trouble, even though he started it. Harry would keep feeding John drinks until it was too late."
---
On March 13 at the Troubadour during a show by the Smothers Brothers. Lennon, drunk on Brandy Alexanders, disrupted the comedians' act with relentless heckling. Smothers' manager Ken Fritz said, "I went over and asked Harry to try to shut up Lennon. Harry said, 'I'm trying – don't blame me!' When Lennon continued, I told him to keep quiet. He swung and hit me in the jaw." Lennon and Nilsson were hustled out of the Troubadour, knocking over a few tables in the process. "It was horrendous," Tom Smothers recalled. (see Mar 28)
---
March 13 Peace Love Art Activism
ADA
Student Rights
---
March 13, 1988: after students, faculty, and the community at Gallaudet University in Washington, D.C. organized a week-long protest called "Deaf President Now" on campus demanding the selection of a deaf president for the university, the trustees of Gallaudet University, the nation's only institution of higher learning for the hearing impaired,  picked I. King Jordan, Dean of the Gallaudet college of arts and sciences, to be the eighth president of the 2,200-student institution. The 124-year-old university had never before had a deaf president. (Gallaudet article) (ADA,  see Sept 13; SR, see September 1989)
---
March 13 Peace Love Art Activism
Environmental Issues
Valdez oil spill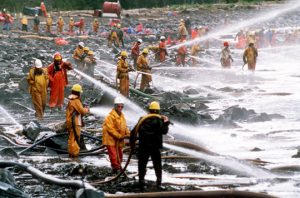 ---
March 13, 1991: the US Dept of Justice announced that Exxon had agreed to pay $1 billion for the clean-up of the Exxon Valdez oil spill in Alaska. (see June 13, 1994)
---
March 13 Peace Love Art Activism
CLINTON IMPEACHMENT
---
March 13, 2000: Whitewater Independent Counsel Robert Ray began filing a series of final reports that detail the office's six-year investigation of President Bill Clinton and first lady Hillary Rodham Clinton. (see Clinton for expanded story)
---
March 13 Peace Love Art Activism
Marijuana
---
March 13, 2007: New Mexico's Senate Bill 523 "The Lynn and Erin Compassionate Use Act" was approved by the House (36-31) and the Senate (32-3) on Mar. 13, 2007 and took effect on July 1, 2007. The act removed state-level criminal penalties on the use and possession of marijuana by patients "in a regulated system for alleviating symptoms caused by debilitating medical conditions and their medical treatments." The New Mexico Department of Health was designated to administer the program and register patients, caregivers, and providers. (see February 15, 2008)
---
March 13 Peace Love Art Activism
---
March 13, 2009: a report by the Federal Reserve said that U.S. families lost a record 18% of their wealth in 2008.
---
March 13 Peace Love Art Activism
Kandahar massacre
---
March 13, 2012:  the soldier suspected in the Kandahar killings was moved to Kuwait. President Barack Obama said that the military would conduct a thorough investigation into the rampage. He said he has told Afghan President Hamid Karzai that the United States "takes this as seriously as if it was our own citizens and our own children who were murdered." (see Mar 16)
---
March 13 Peace Love Art Activism
Feminism
Sgt. Rebekah Havrilla
---
March 13, 2013: former Army Sgt. Rebekah Havrilla, an Army rape victim, testified about how a military chaplain told her the alleged rape "was God's will" and was intended to "get my attention so I would go back to church." Havrilla a key witness at a Senate Armed Services Committee hearing focusing on sexual assault in the military. Havrilla told the military personnel subcommittee she delayed filing formal charges for an alleged rape by a fellow soldier in Afghanistan because she did not trust the system, and that after she finally reported it nothing happened. (NYT article) (see July 11)
---
March 13 Peace Love Art Activism
Affordable Care Act
---
March 13, 2017: the House Republican plan to repeal and replace the Affordable Care Act would raise the number of people without health insurance by 24 million within a decade, but would trim $337 billion from the federal deficit over that time, the nonpartisan Congressional Budget Office said.
---
Republicans had been bracing for what was almost certain to be a bleak accounting of the legislation's projected effects. The American Health Care Act, as Republicans call their bill, was already facing widespread criticism from providers of health care, some conservatives, and a united Democratic Party. The numbers released Monday will only make it more difficult for Republicans to explain why their legislation would bring positive change to the country's health care system. (see Mar 23)
---
March 13 Peace Love Art Activism
Please follow and like us: