March 29 Peace Love Art Activism
Feminism
Voting Rights
March 29, 1874:  in Minor v. Happersett, Supreme Court ruled that the right to vote "was not necessarily one of the privileges or immunities of citizenship" and therefore "neither the Constitution nor the Fourteenth Amendment made all citizens voters." The decision ended feminists' attempts to secure voting rights under existing constitutional amendments. (Cornell Law article) (see Feminism,  May 8; Voting Rights, see January 10, 1878)
March 29 Peace Love Art Activism
Cultural Milestone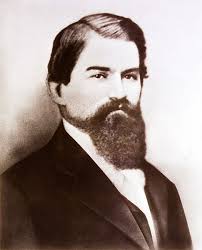 March 29, 1886: Dr. John Pemberton  brewed the first batch of Coca Cola over a fire in a backyard in Atlanta, Georgia. Pemberton had created the concoction as a cure for "hangover," stomach ache and headache. He advertised it as a "brain tonic and intellectual beverage." Coke contained cocaine as an ingredient until 1904, when the drug was banned by Congress. (Coca Cola site article on its history) (next CM, see May 8)
March 29 Peace Love Art Activism
US Labor History
West Coast Hotel Co. v. Parrish
March 29, 1937: the U.S. Supreme Court, in West Coast Hotel Co. v. Parrish, upheld the constitutionality of minimum wage legislation enacted by the State of Washington, overturning a decision in 1923 that held that federal minimum wage legislation for women was an unconstitutional infringement of liberty of contract. The case was brought by Elsie Parrish, a hotel housekeeper who lost her job and did not receive back wages in line with the state's minimum wage for women law. (Oyez article) (see May 26)
"Battle of Wall Street"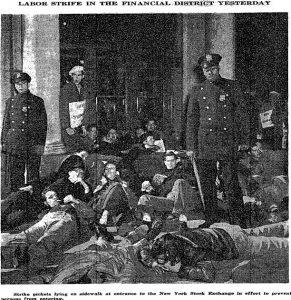 March 29, 1948: "Battle of Wall Street," policed charge members of the United Financial Employees' Union, striking against the New York Stock Exchange and New York Curb Exchange (now known as the American Stock Exchange). Police arrest forty-three workers in what was to be the first and only strike in the history of either exchange. (2010 Huff Post article) (see June 21)
Foxconn
March 29, 2012: responding to a critical report about its factories, Foxconn  pledged to sharply curtail the number of working hours in its Chinese factories and significantly increase wages, a move that could improve working conditions across China. (see Sept 24)
Right to Work
March 29, 2016: the Supreme Court handed organized labor a major victory, deadlocking 4 to 4 in a case that had threatened to cripple the ability of public-sector unions to collect fees from workers who chose not to join and did not want to pay for the unions' collective bargaining activities.
It was the starkest illustration yet of how the sudden death of Justice Antonin Scalia blocked the power of the court's four remaining conservatives to move the law to the right. (see Aug 23)
March 29 Peace Love Art Activism
Japanese Internment Camps
Voluntary evacuation
March 29, 1942:  "Voluntary evacuation" of people of Japanese ancestry from Pacific Coast area ended. Before this date 10,231 moved out of restricted area on their own initiative after Army and newspapers requested this. (see Internment for expanded story)
March 29 Peace Love Art Activism
Cold War
Nuclear/Chemical News
March 29, 1951:  Julius and Ethel Rosenberg were convicted of passing atomic secrets to the Soviet Union. (see Apr 5)
March 29 Peace Love Art Activism
BLACK HISTORY
State Sovereignty Commission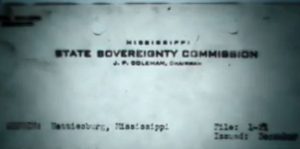 March 29, 1956: The Mississippi legislature established the State Sovereignty Commission as an official agency to fight the Civil Rights Movement — and the racial integration of public schools in particular. The Commission's official purpose was to "do and perform any and all acts deemed necessary and proper to protect the sovereignty of the state of Mississippi and her sister states . . . from perceived encroachment thereon by the federal government . . . ." It was later revealed that the Sovereignty Commission employed private investigators to collect information on civil rights activists, which was used to harass them and civil rights activities. (U of Mississippi Press article)  (see Apr 10)
FREE SPEECH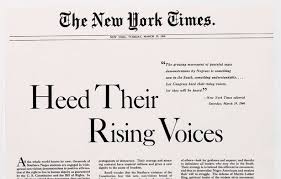 March 29, 1960: the New York Times carried a full-page advertisement titled "Heed Their Rising Voices" which solicited funds to defend Martin Luther King, Jr. against an Alabama perjury indictment. The advertisement described actions against civil rights protesters, some of them inaccurately, some of which involved the police force of Montgomery, Alabama. Referring to the Alabama State Police, the advertisement stated: "They have arrested [King] seven times…" However, at that point he had been arrested four times. Although the Montgomery Public Safety commissioner, L. B. Sullivan, was not named in the advertisement, the inaccurate criticism of actions by the police was considered defamatory to Sullivan as well, due to his duty to supervise the police department. (Archives dot gov text of advertisement) (BH, see Mar 31; FS, see Apr 19)
Police dogs
March 29, 1961: a policeman ordered his dog to attack an demonstrator who was too slow in obeying his order to move away from in front of police court, shortly before nine African-American college students went on trial for sitting-in at a white city library in Jackson, Mississippi. (see Apr 6)
Twenty-third Amendment
March 29, 1961: The Twenty-third Amendment to the US Constitution ratified, allowing Washington, DC residents to vote in presidential elections. (see August 22, 1978)
The amendment had been rejected by Arkansas. The following nine states did not vote to ratify the amendment. (January 24, 1961)
Florida

Kentucky

Mississippi

Georgia

Louisiana

South Carolina

North Carolina

Texas

Virginia
SOUTH AFRICA/APARTHEID
March 29, 1961: Nelson Mandela and his co-defendants were acquitted of treason. Fearing he will be arrested again, Mandela went underground. (see Dec 16)
Attempted Worshipers Arrested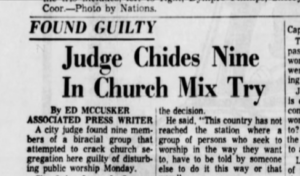 March 29, 1964: several white churches in Jackson, Mississippi barred three Black men—including one minister—from attending Easter Sunday services, forcibly removing them from church or blocking their entrance. Two of the Black men and seven white clergymen who had accompanied them were arrested and jailed after the churches turned them away; their bonds were set at $1,000 each.
The day after their arrests, a judge convicted all nine men of "disturbing public worship" and sentenced them each to six months in jail and a $500 fine.  [EJI article]
Malcolm X
March 29, 1964: Malcolm X spoke at an Organization of Afro-American Unity rally at the Audubon Ballroom, Washington Heights, NYC. He spoke specifically regarding Black Nationalism. [text of speech] (next BH, see Mar 30; next Malcolm X, see Apr 12)
Viola Liuzzo
March 29, 1965: the NAACP sponsored a memorial service for Viola Liuzzo at the People's Community Church in Detroit. Fifteen hundred people attended, among them, Rosa Parks. (see Liuzzo for expanded story)
March 29 Peace Love Art Activism
March 29 Music et al
see Road to Bethel and the Woodstock Festival for much more
March 29, 1969: Michael Lang had found a suitable site in Saugerties, NY right off the NY Thruway. On this date, John Roberts and Joel Rosenman met with a Mr Holmes, the lawyer for the site's owner, Mr Shaler. The lawyer emphatically told Roberts and Rosenman that the site was not for rent for such a purpose. 
Blood, Sweat and Tears
March 29 – April 4, 1969:  the Blood, Sweat, and Tears' Blood, Sweat, & Tears Billboard #1 album. It received a Grammy Award for Album of the Year in 1970. (see July 26)
March 29 Peace Love Art Activism
Vietnam
My Lai Massacre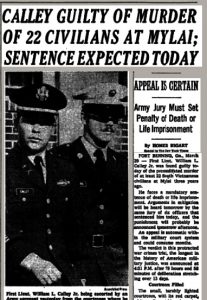 March 29, 1971: Lt. Calley was found guilty of premeditated murder of 22 civilians and sentenced to life in prison. This sentence was extremely controversial and generates a widespread public outcry, as an overwhelming majority of Americans believe that Calley was simply following orders, and condemned the fact that one soldier was serving as the army's scapegoat. Draft board members resign, veterans turn in their medals, and the "Free Calley" movement was born. Georgian governor Jimmy Carter asked his constituency to drive for a week with their lights on in protest, and flags are flown at half-mast in the state of Indiana. (see My Lai for expanded story; next Vietnam, see Apr 1)
U.S. combat troops left South Vietnam
March 29, 1973: two months after the signing of the Vietnam peace agreement, the last U.S. combat troops left South Vietnam as Hanoi freed the remaining American prisoners of war held in North Vietnam ending  America's direct eight-year intervention in the Vietnam War. In Saigon, some 7,000 U.S. Department of Defense civilian employees remained behind to aid South Vietnam.
Of the more than 3 million Americans who had served in the war, almost 58,000 died, and over 1,000 were missing in action. Some 150,000 Americans were seriously wounded. (see August 15, 1973)
March 29 Peace Love Art Activism
Charles Manson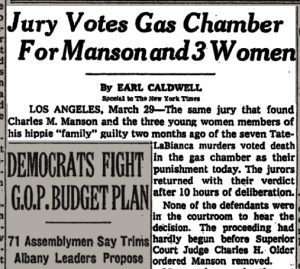 March 29, 1971, a jury in Los Angeles recommended the death penalty for Charles Manson and three followers [Susan Atkins, Patricia Krenwinkel, and Leslie Van Houten] for the 1969 Tate-La Bianca murders (the sentences were later commuted). (see Apr 19)
March 29 Peace Love Art Activism
Native Americans
Wounded Knee II
March 29, 1973: a cease-fire between Indians holding Wounded Knee and the Government forces surrounding the historic Indian site entered its third day as Government negotiators tried to set up a meeting  the next day to resolve the month-long impasse. (next NA & Russell Means, see Apr 18)
March 29 Peace Love Art Activism
AIDS
Ryan White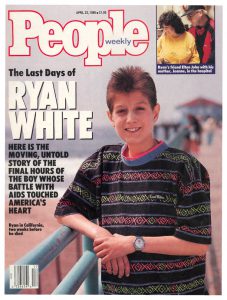 March 29, 1990: several months before his high school class graduated and before his senior prom, White entered Riley Hospital for Children in Indianapolis with a respiratory infection. (see White for expanded story)
March 29 Peace Love Art Activism
Women's Health
James Charles Kopp
March 29, 2001: French authorities arrested James Charles Kopp, the assassin of Dr  Barnett Slepian, in the town of Dinan, Brittany. (see May 9, 2003)
March 29 Peace Love Art Activism
Sexual Abuse of Children
March 29, 2012: a witness in a priest abuse trial told a jury she felt "helpless and trapped" as a 13-year-old because a priest was fondling her when she worked weekends at the rectory. Her testimony came on the fourth day of the child endangerment trial of Monsignor William Lynn, the longtime secretary for clergy in Philadelphia. Lynn was charged with child endangerment after being accused of leaving predators in jobs around children. (see June 22)
March 29 Peace Love Art Activism
Environmental Issues
Pegasus Pipeline
March 29, 2013: the Pegasus Pipeline spill happened and resulted in Canadian heavy crude being released into the community of Mayflower, Arkansas, flowing through yards and streets. Oil entered a creek, wetlands and a cover at Lake Conway. (EI, see January 10, 2014; Mayflower, see April 22, 2015)
March 29 Peace Love Art Activism
Nuclear/Chemical News
March 29, 2017: Westinghouse Electric Company, which helped drive the development of nuclear energy and the electric grid itself, filed for bankruptcy protection, casting a shadow over the global nuclear industry.
The filing came as the company's corporate parent, Toshiba of Japan, scrambled to stanch huge losses stemming from Westinghouse's troubled nuclear construction projects in the American South. Now, the future of those projects, which once seemed to be on the leading edge of a renaissance for nuclear energy, was in doubt.
"This is a fairly big and consequential deal," said Richard Nephew, a senior research scholar at the Center on Global Energy Policy at Columbia University. "You've had some power companies and big utilities run into financial trouble, but this kind of thing hasn't happened." (see Apr 4)
March 29 Peace Love Art Activism
Immigration History
Travel ban blocked
March 29, 2017: Judge Derrick Watson of Federal District Court in Hawaii decided to extend his order blocking President Trump's travel ban. Watson issued the longer-lasting hold on the ban just hours after hearing arguments.
Hawaii said the policy discriminated against Muslims and hurts the state's tourist-dependent economy. The implied message in the revised ban is like a "neon sign flashing 'Muslim ban, Muslim ban,'" that the government didn't bother to turn off, the state's attorney general, Douglas Chin, told the judge.
Extending the temporary order until the state's lawsuit was resolved would ensure the constitutional rights of Muslim citizens across the U.S. are vindicated after "repeated stops and starts of the last two months," the state said. (see Apr 17)
DACA
March 29, 2018: Judge Nicholas G. Garaufis of Federal District Court in Brooklyn ruled that a lawsuit seeking to preserve the Deferred Action for Childhood Arrivals,  a program that protects hundreds of thousands of young undocumented immigrants from deportation' could continue.
Garaufis's order was the strongest sign so far of judicial support for DACA which has for months been the subject of a heated debate in Congress.
Judge Garaufis pointed directly at Trump, noting that his numerous "racial slurs" and "epithets" — both as a candidate and from the White House — had created a "plausible inference" that the decision to end DACA violated the equal protection clause of the Constitution.
"One might reasonably infer," Judge Garaufis wrote, "that a candidate who makes overtly bigoted statements on the campaign trail might be more likely to engage in similarly bigoted action in office." (next IH, see Mar 30; next DACA, see Apr 24)
Children in detention centers
March 29, 2020:  the NY Times reported that Judge Dolly M. Gee of the US District Court in Los Angeles ordered the government to "make continuous efforts" to release migrant children in federal detention facilities from custody due to a concern that the children could be in danger of contracting the coronavirus. .
Gee's order came after plaintiffs in a long-running case over the detention of migrant children cited reports that four children being held at a federally licensed shelter in New York had tested positive for the virus.
"The threat of irreparable injury to their health and safety is palpable," the plaintiffs' lawyers said in their petition, which called for migrant children across the country to be released to outside sponsors within seven days, unless they represent a flight risk.
At that point, there were about 3,600 children in shelters around the United States operated under license by the federal Office of Refugee Resettlement, and about 3,300 more at three detention facilities for migrant children held in custody with their parents, operated by the Immigration and Customs Enforcement agency. (next IH, see Apr 20)
March 29 Peace Love Art Activism
Cannabis
March 29, 2018: Michigan regulators said that they ordered the closure of 210 medical marijuana businesses over a two-week period, largely because their owners had failed to apply for a state license by a mid-February deadline or did not receive authorization from their municipalities.
Most of the shops — 158 — were in Detroit. Authorities also hand-delivered orders to eight businesses in Lansing, seven in Flint, five in Gaylord, three each in Ann Arbor and Battle Creek, and smaller numbers elsewhere.
Shops that did not close immediately could be denied a license down the line if they apply, be referred to local, state or federal law enforcement, or face other penalties or sanctions. (see Cannabis Contrails 2 for expanded chronology)
March 29 Peace Love Art Activism
Right to Die
March 29, 2018: Hawaii lawmakers approved legislation that would make it the sixth state plus Washington, DC, to legalize medically assisted suicide.
The all-Democratic state Senate voted 23-2 to pass the measure that had already cleared the House. It allowed doctors to fulfill requests from terminally ill patients for prescription medication that would allow them to die.
Governor David Ige said he would sign the bill.
The legislation included safeguards intended to prevent abuse, but opponents said it puts the poor, elderly, sick and disabled at risk.  (next R to D, see April 12, 2019)
March 29 Peace Love Art Activism