March 12 Peace Love Art Activism
Immigration History
US Labor History
Exclusion Act
---
March 12, 1888: six years after the Exclusion Act (May 6, 1882) the Chinese government agreed to its fundamental principles. Under pressure from the U.S., the Chinese signed a treaty agreeing not to allow any laborers to immigrate to America. Only in 1943, when China became a valuable ally in the war against Japan, did the U.S. finally abandon this policy. (text of act) (LH, see August 29, 1889; IH, see January 1, 1892)
---
March 12 Peace Love Art Activism
US Labor History
Feminism
---
March 12, 1912: the Lawrence, Mass., "Bread and Roses" textile strike ended when the American Woolen Co. agreed to most of the strikers' demands, (DPLA article) (LH, see June 4; Feminism, see March 3, 1913)
---
Oregon Steel Mills, Inc.
---
March 12, 2004: steelworkers approved a settlement with Oregon Steel Mills, Inc and its CF & I Steel subsidiary, ending the longest labor dispute in the USWA's history and resulting in more than $100 million in back pay for workers. (see Jul 15)
---
March 12 Peace Love Art Activism
Cold War
---
March 12, 1947: in a speech to a joint session of Congress, President Harry S. Truman asked for U.S. assistance for Greece and Turkey to forestall communist domination of the two nations. Historians have often cited Truman's address, which came to be known as the Truman Doctrine, as the official declaration of the Cold War. (text of speech) (see Mar 21)
---
March 12 Peace Love Art Activism
BLACK HISTORY
School Desegregation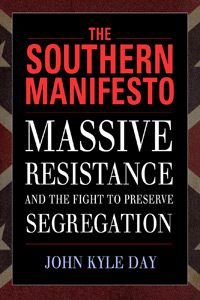 ---
March 12, 1956: ninety-six U.S. congressmen from eleven southern states signed the "Southern Manifesto," a pledge to resist the Supreme Court's Brown v. Board of Education decision, which declared segregated schools unconstitutional (May 17, 1954). Notably, three Southern Senate Democrats did not sign the Manifesto: Sen. Estes Kefauver (D–Tennessee); Sen. Albert Gore, Sr. (D–Tennessee), father of future Vice President Al Gore, Jr.; and most important, Sen. Lyndon B. Johnson (D–Texas). Historians believe that Johnson's refusal to sign was an indication of his ambitions to become president of the U.S. and his need to disavow segregation.  (PBS article) (BH, see Mar 13; SD, see February 20, 1958)
---
Albany Movement
---
March 12, 1963: in Albany, GA, five Black high school-age girls were turned away from two white theaters by the assistant manager of the chain. "We don't want your business," the manager told them. (see Albany for expanded story)
---
Malcolm X
---
March 12, 1964: though remaining a Muslim, Malcolm X left the Nation of Islam. (BH, see Mar 20; Malcolm X, see Mar 29)
---
Mississippi Sovereignty Commission
---
March 12, 1998: many of the long-sealed records of the Mississippi Sovereignty Commission, a state segregationist spy agency, were opened after a federal judge's order. The records showed that the commission infiltrated civil rights groups, smeared African Americans and, at times, cooperated with members of the Ku Klux Klan. (Mississippi Department of Archives and History article) (see May 28)
---
March 12 Peace Love Art Activism
Vietnam
---
March 12 – April 15, 1966:  SSgt Barry Sadler's  Ballad of the Green Beret  the Billboard #1 album. (see Mar 25)
---
Senator Eugene McCarthy
---
March 12, 1968: Senator Eugene McCarthy (D-Minnesota), an outspoken critic of the Johnson administration's policies in Vietnam, polled 42 percent of the vote in New Hampshire's Democratic presidential primary. President Lyndon B. Johnson got 48 percent. A Harris poll later showed that anti-Johnson, rather than antiwar, sentiment provided the basis for McCarthy's surprisingly strong performance. (see Mar 14)
---
First Australian Task Force
---
March 12, 1972,: the last remnants of the First Australian Task Force withdrew from Vietnam. The Australian government had first sent troops to Vietnam in 1964 with a small aviation detachment and an engineer civic action team. In May 1965, the Australians increased their commitment with the deployment of the 1st Battalion, Royal Australian Regiment (RAR). The formation of the First Australian Task Force in 1966 established an Australian base of operations near Ba Ria in Phuoc Tuy province. The task force included an additional infantry battalion, a medium tank squadron, and a helicopter squadron, as well as signal, engineer, and other support forces. By 1969, Australian forces in Vietnam totaled an estimated 6,600 personnel. (see Mar 30)
---
---
March 12 Peace Love Art Activism
March 12 Music et al
Velvet Underground
---
March 12, 1967: the Velvet Underground and Nico release first album.
---
George Harrison and Pattie Boyd
---
March 12, 1969:  the London drug squad raided George Harrison and Pattie Boyd's home. Boyd immediately called Harrison who returned to find his home turned upside down. He is reported to have told the officers "You needn't have turned the whole bloody place upside down. All you had to do was ask me and I would have shown you where I keep everything."
---
Without his assistance, the constables, including Sergeant Pilcher who had directed the drug-related arrest of John Lennon the previous year, had already found a considerable amount of hashish. Harrison and Boyd were arrested and as they were being escorted to the police station, a photographer began shooting pictures of the famous couple. Harrison chased after the photographer, with the cops trailing right behind him down the London street. Finally, the man dropped his camera and George stomped on it before the officers subdued him.
---
Harrison and Boyd were released on bail. A few weeks later, Harrison and Boyd were allowed to plead guilty. Despite the rather large amount of hash recovered from their home, the authorities were satisfied that it was all for their personal use. They were fined 250 pounds each, and even had a confiscated pipe returned to them.          
---
Sergeant Pilcher, the man behind the raid, was convicted of planting drugs in other cases and went to jail in 1972. 
---
Paul McCartney married Linda Eastman
---
March 12, 1969: Paul McCartney married Linda Eastman at Marylebone Register Office. Harrison and Boyd missed the wedding. (see Mar 20)
---
March 12 Peace Love Art Activism
INDEPENDENCE DAY
---
March 12, 1968: Mauritius independent from United Kingdom (see Sept 6)
---
March 12 Peace Love Art Activism
ADA
The Capitol Crawl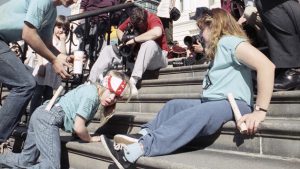 ---
March 12, 1990: The Capitol Crawl: hundreds of people with disabilities gathered at the foot of the Capitol building in Washington to protest the Americans with Disabilities Act bill's slow movement through Congress. Dozens left behind their wheelchairs, got down on their hands and knees, and began pulling themselves slowly up the 83 steps toward the building's west entrance, as if daring the politicians inside to continue ignoring all the barriers they faced. Among the climbers was Jennifer Keelan, an eight-year-old from Denver with cerebral palsy. "I'll take all night if I have to!" she yelled while dragging herself higher and higher. (Mother Jones article) (see July 26)
---
March 12 Peace Love Art Activism
Feminism
Church of England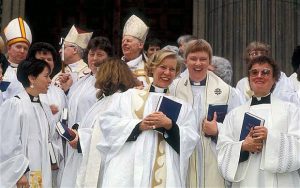 ---
March 12, 1994: the Church of England ordained its first female priests. (next Feminism  see May 22)
---
March 12 Peace Love Art Activism
Iraq War II
Muntader al-Zaidi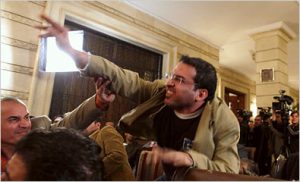 ---
March 12, 2009:  Muntader al-Zaidi, the Iraqi journalist who threw his shoes at President George W. Bush during a news conference in December 2008 was sentenced to three years in jail. Al-Zaidi, had pleaded not guilty, saying at a hearing that he was overcome by passion because of the suffering of the people of Iraq after the American-led invasion six years ago that toppled Saddam Hussein.  (2015 article) (see Apr 7)
---
March 12 Peace Love Art Activism
Westboro Baptist Church
---
March 12, 2014:  U.S. District Judge Fernando Gaitan Jr upheld a Missouri law requiring protesters to stay at least a 100 year away from funeral sites, beginning an hour before they start until an hour after the services end. The ruling capped a nearly eight-year legal fight over Missouri's funeral protest restrictions that were prompted after members of a Kansas church opposed to homosexuality protested at the funeral of a Missouri solider who had been killed in Iraq. (see Mar 19)
---
March 12 Peace Love Art Activism
Please follow and like us: