March 25 Peace Love Art Activism
US Labor History
Anti-Labor Injunction
Mar 25, 1893: a federal court issued the first injunction against a union under the Sherman Anti-Trust Act. The case, brought against the Workingman's Amalgamated Council of New Orleans for interfering with the movement of commerce, hands managers a potent legal weapon. (see June 20)
Coxey's Army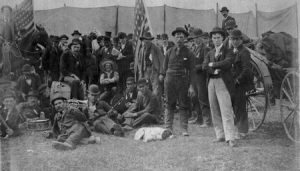 March 25, 1894: during the depression of 1894, Coxey's Army, a group of unemployed set out on a march to Washington, D.C. It was the only one of several groups that had set out for the U.S. capital to actually reach its destination. Led by Jacob S. Coxey, a businessman, it left Massillon, Ohio, on March 25, 1894, with about 100 men and arrived in Washington on May 1 with about 500. Coxey hoped to persuade Congress to authorize a vast program of public works, financed by a substantial increase of the money in circulation, to provide jobs for the unemployed, but, despite the publicity his group received, it had no impact on public policy. The venture came to an ignominious end when Coxey and some of his followers were arrested for trespassing on the lawns at the Capitol. (Ohio History Central article) (see May 11)
March 25 Peace Love Art Activism
US Labor History & Feminism
Triangle Shirtwaist Fire
March 25, 1911: Triangle Shirtwaist Fire, more than one hundred shirtwaist makers (most of them young immigrant women) either died in the fire that broke out on the eighth floor of the factory or jumped to their deaths. Many of the workers were unable to escape because owners had locked the doors on their floors to prevent them from stealing or taking unauthorized breaks. Later, more than 100,000 people participated in the funeral march for the victims. (Cornell University article) (LH, see Apr 8; Feminism, see January > March 1912)
United Farm Workers
March 25, 1972: A New York Times article reported that "a well organized, well-financed campaign has been mounted against the United Farm Workers Union by a loose coalition that included the American Farm Bureau Federation, large corporate growers and shippers, right-to-work committees—and a variety of other conservative organizations. (see May 11 – June 4, 1972)
Pregnancy discrimination
March 25, 2015:  the Supreme Court revived a pregnancy discrimination lawsuit against United Parcel Service, saying that lower courts had used the wrong standard to determine whether the company had discriminated against one of its drivers.
The case concerned Peggy Young, a UPS worker whose doctor recommended that she avoid lifting anything heavy after she became pregnant. The company refused to give her lighter duties to accommodate her and placed her on unpaid leave in 2006.
Ms. Young sued under the federal Pregnancy Discrimination Act, which required employers to treat "women affected by pregnancy" the same as "other persons not so affected but similar in their ability or inability to work."
Her lawsuit was dismissed, with a unanimous three-judge panel of the United States Court of Appeals for the Fourth Circuit in Richmond, Va., saying the pregnancy law does not give pregnant women "a 'most favored nation' status." "One may characterize the UPS policy as insufficiently charitable," Judge Allyson Kay Duncan wrote for that court, "but a lack of charity does not amount to discriminatory animus directed at a protected class of employees."
The Supreme Court, by a 6-to-3 vote, vacated that decision and said Ms. Young deserved another shot at trying to prove that the company had treated her differently from "a large percentage of nonpregnant workers" who may have been offered accommodations.
UPS had since changed its policy to offer light duty to pregnant women. (Labor, see Apr 1; Feminism, see Apr 30)
March 25 Peace Love Art Activism
Cultural Milestone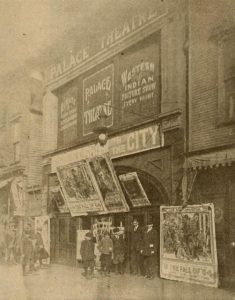 March 25, 1913: the home of vaudeville, the Palace Theatre, opened  in New York City. (see May 9, 1914)
March 25 Peace Love Art Activism
Black History
Scottsboro Nine
March 25, 1931: nine black youths were "hoboing" on a freight train with several white males and two white women. A fight began between the white and black groups near the Lookout Mountain tunnel, and the whites were kicked off the train. The whites complained to authorities. A posse stopped the Southern Railroad train in Paint Rock, Alabama.  Police arrested them on charges of assault.  Rape charges were added against all nine boys after accusations were made by Victoria Price and Ruby Bates, the two girls on the train.
The youths arrested were Olen Montgomery (age 17), Clarence Norris (age 19), Haywood Patterson (age 18), Ozie Powell (age 16), Willie Roberson (age 16), Charlie Weems (age 16), Eugene Williams (age 13), and brothers Andy (age 19) and Roy Wright (age 12). (see Scottsboro for expanded story)
March to Montgomery
March 25, 1965:  following the end of the march by 25,000 civil rights supporters from Selma to Montgomery after four days and nights on the road under the protection of Army troops and federalized Alabama National Guardmen. They were refused permission to give a petition to Governor Wallace which said: "We have come not only five days and 50 miles but we have come from three centuries of suffering and hardship. We have come to you, the Governor of Alabama, to declare that we must have our freedom NOW. We must have the right to vote; we must have equal protection of the law and an end to police brutality."
During the rally that followed the refusal by the Govenor of Alabama, Governor Wallace. Dr. Martin Luther King Jr. stated "We are not about to turn around. We, are on the move now. Yes, we are on the move and no wave of racism can stop us."  The speech became known as the "How long? Not Long" speech or as, "Our God is Marching On." (BH & March, see MM for expanded chronology; MLK, see Mar 30)
Viola Liuzzo and  Leroy Moton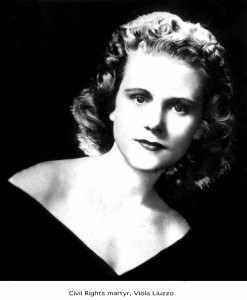 March 25, 1965: Detroit homemaker 39-year-old white Viola Liuzzo and  Leroy Moton, a 19-year-old Black had marched and assisted with the March to Montgomery. After the march, Liuzzo helped shuttle people from Montgomery back to Selma. Leroy Moton went with her. After dropping passengers in Selma, she and Moton headed back to Montgomery. On the way another car  pulled alongside and a passenger in that car shot directly at Liuzzo, hitting her twice in the head, and killing her instantly. Moton was uninjured. Within 24 hours President Lyndon Johnson appeared on national TV  to announce the arrest of Collie Wilkins (21), William Eaton (41) and Eugene Thomas (41) and an FBI informant Gary Rowe (34). Johnson stated, "Mrs. Liuzzo went to Alabama to serve the struggle for justice. She was murdered by the enemies of justice, who for decades have used the rope and the gun and the tar and feathers to terrorize their neighbors." [Rowe was not indicted,and served as a witness.] (see Liuzzo for expanded chronology)
News Music: in 2008, Liuzzo's story was memorialized in a song, "Color Blind Angel" by Robin Rogers. (next NM, see July 28)
George Whitmore, Jr.
March 25, 1965: DA Frank Hogan dismissed first-degree murder charges against two drifters — James Stewart, 24, and R. L. Douglas, 32 — who had been charged with the hammer-slaying of John Walshinsky, a derelict — a crime to which Stewart and Douglas confessed. The men said  that the confessions were beaten out of them.
A year later, on March 25, 1966, Whitmore was convicted for a second time in the Elba Borrero attmpted rape and assault case. (see Whitmore for expanded story)
Clarence David Stallworth
March 26, 1966: the Southern Courier, a newspaper documenting the civil rights movement, reported that, after driving in Beatrice, Alabama, Clarence David Stallworth was beaten and pistol-whipped by a group of whites that included the town mayor.
While  Stallworth, a black man, was driving through the town, a white man in another car signaled for him to stop, saying that the passenger in the white man's car wanted to speak with him. When Stallworth stopped his car and walked around to the passenger side of the other vehicle, Mayor T.A. Black got out and hit him in the head with a pistol while the other men in the car exited and began kicking and beating Stallworth. After the attack, Stallworth was refused medical treatment from several different hospitals before finally being admitted to a hospital in Montgomery, more than eighty miles away.
Members of the black community rallied to force County Probate Judge David Nettles to sign the warrants for the arrest of the men involved in the attack. Nettles initially refused, but relented after organizers threatened to initiate a mass protest in support of Stallworth.
"I honestly feel that I am committing a wrong here," Nettles said when contemplating authorizing the arrests of the men who had beaten Mr. Stallworth. "[But] I'll sign that warrant tomorrow." (see Mar 28)
Linda Brown
March 25, 2018: Linda Brown died. It was her father who objected when she was not allowed to attend an all-white school in her neighborhood and who thus came to symbolize one of the most transformative court proceedings in American history, the school desegregation case Brown v. Board of Education  in Topeka, Kan. She was 75. (see Apr 12)
March 25 Peace Love Art Activism
LGBTQ
"Lavender Scare"
March 25, 1952: the U.S. State Department announced that it had removed 126 "perverts" from employment since the beginning of the year. The actions were part of a wave of homophobia that swept Washington, D.C. and the rest of the government in the 1950s, and has been labeled the "Lavender Scare." Senator Joe McCarthy, in particular, charged there were many homosexuals in the State Department. The New York Times article on the story used the word "perverts" in the headline. President Dwight Eisenhower contributed to the panic by revising President Truman Federal Loyalty Program on April 27, 1953, to include "immoral" behavior and "sexual perversion." (Out History site article)
Dale Jennings
In the spring 1952: police arrested Dale Jennings, a member of the Mattachine Society, for allegedly soliciting a police officer. (see April 1952)
Richard Adams & Anthony Sullivan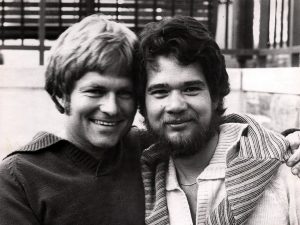 March 25, 1975: in what some people regard as the first same-sex marriage in the U.S., Richard Adams, his partner Anthony Sullivan, and five other gay couples were granted marriage licenses in Boulder, Colorado, on this day. The licenses were  issued by County Clerk Clela Rorex, until the state attorney general ordered her to stop.
Later in 1975, Adams and his partner/spouse Tony Sullivan applied to the Immigration and Naturalization Service (INS) to obtain permanent resident status for Sullivan, who had immigrated to the U.S. The application was denied, and the letter from INS declared that they had "failed to establish that a bona fide marital relationship can exist between two faggots."  (2016 PBS article) (see Sept 16) 
March 25 Peace Love Art Activism
Beat Generation
Free Speech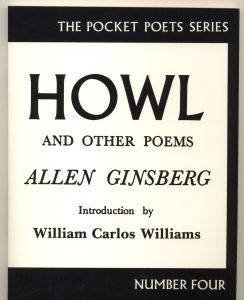 March 25, 1957: U.S. Customs seized 520 copies of Allen Ginsberg's  Howl. 
The publisher of the poem, Lawrence Ferlinghetti and a colleague, were arrested and prosecuted in San Francisco for publishing Howl (see June 3, 1957 for the arrest, and October 3, 1957 for the acquittal).
The offending line in the poem may have been,  " . . . who let themselves be fucked in the ass by saintly motorcyclists, and screamed with joy . . . ."
Howl is now widely regarded as one of the great American poems, and the classic statement of the 1950s Beat Generation. Ginsburg first read Howl publicly on October 6, 1955.
Ferlinghetti was the founder/owner of City Lights Bookstore and the publisher of City Lights Books. City Lights Bookstore is still selling books in San Francisco, and has been designated a historical landmark in the city. Ferlinghetti, moreover, is himself an acclaimed Beat Generation poet. (BG/Howl, see Apr 3; FS, see June 3)
March 25 Peace Love Art Activism
Vietnam
Teach-in
On March 24, 1965 the Students for a Democratic Society had organized the first Vietnam War teach-in at University of Michigan. Two hundred faculty members participated by holding special anti-war seminars. Regular classes were canceled, and rallies and speeches dominated for 12 hours. The next day, March 25, 1965,  there was a similar teach-in at Columbia University in New York City; this form of protest eventually spread to many colleges and universities.
Alice Herz
On March 16, 1965 Quaker Alice Herz, 82, had immolated herself in Detroit in protest of the Vietnam war. On March 25, 1965, she died. (Vietnam, see April; see Immolation for other stories)
Protests
March 25, 1966: anti-Vietnam war protests in NY bring out 25,000 on 5th Ave. Other protests in 7 US cities and 7 foreign cities. (see Mar 31)
MARTIN LUTHER KING, JR
March 25, 1967:  King led a march of 5,000 antiwar demonstrators in Chicago. In an address to the demonstrators, King declared that the Vietnam War was "a blasphemy against all that America stands for." King first began speaking out against American involvement in Vietnam in the summer of 1965. In addition to his moral objections to the war, he argued that the war diverted money and attention from domestic programs to aid the black poor. He was strongly criticized by other prominent civil rights leaders for attempting to link civil rights and the antiwar movement. (Vietnam, see Mar 28, MLK, see Apr 4)
Johnson's "Wise Men"
March 25, 1968: after being told by Defense Secretary Clark Clifford that the Vietnam War is a "real loser," President Johnson, still uncertain about his course of action, decided to convene a nine-man panel of retired presidential advisors. The group, which became known as the "Wise Men," included the respected generals Omar Bradley and Matthew Ridgway, distinguished State Department figures like Dean Acheson and George Ball, and McGeorge Bundy, National Security advisor to both the Kennedy and Johnson administrations. After two days of deliberation the group reached a consensus: they advised against any further troop increases and recommended that the administration seek a negotiated peace. Although Johnson was initially furious at their conclusions, he quickly came to believe that they were right.  (Politico article) (see Mar 31)
Hue Falls
March 25, 1975: Hue, South Vietnam's third largest city fell to the North Vietnamese Army (see April 2)
March 25 Peace Love Art Activism
March 25 Music et al
LSD
Life magazine
March 25, 1966: Life magazine published cover article on LSD. "LSD: The Exploding Threat of the Mind Drug that Got Out of Control." (shroomery dot org article) (see in April)
Acid Test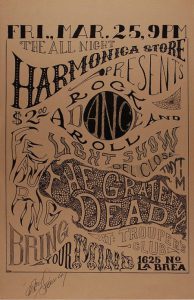 March 25, 1966:  Acid Test at the Troupers Club in Los Angeles. (see in April)
The Who and Cream
March 25, 1967: The Who and Cream made their US concert debuts at the same concert. New York DJ, Murray the K used to put on concerts. On this bill, which would run from March 25 to April 2, there were 5 shows a day, starting at 10am and going well past midnight.
The Who destroyed their instruments at each performance. Pete Townsend said: "We were smashing our instruments up five times a day. We did two songs – the act was twelve minutes long and we used to play "Substitute" and "My Generation" with the gear – smashing it at the end, and then we'd spend the twenty minutes between shows trying to rebuild everything so we could smash it up again." (see June 10 – 11)
Happy Together
March 25 – April 14, 1967: "Happy Together" by the Turtles #1 on the Billboard Hot 100.
"Bed-In"
March 25 – 31, 1969: John Lennon and Yoko Ono host a "Bed-In" for peace in their room at the Amsterdam Hilton, turning their honeymoon into an antiwar event. (Beatles, see Mar 31; Lennon, see May 26; Vietnam, see Mar 26)
Jimi Hendrix
March 25, 1970: release of "Band of Gypsys" LP, It was a live album by Jimi Hendrix and the first without his original group, The Jimi Hendrix Experience. He recorded it at the Fillmore East in New York City with Billy Cox on bass and Buddy Miles on drums. This grouping is frequently referred to as the Band of Gypsys. It contained previously unreleased songs and was the last full-length Hendrix album released before his death. (see Aug 26)
Soul Train
March 25, 2006: TV show, Soul Train, ended after nearly a 35 year run. (see March 13, 2012)
March 25 Peace Love Art Activism
Symbionese Liberation Army
March 25, 1974: Food given away to 30,000 people in P.I.N.'s fifth and final distribution. (see Patti Hearst for expanded story)
March 25 Peace Love Art Activism
CLINTON IMPEACHMENT
March 25, 1998: Marcia Lewis, Monica Lewinsky's mother, failed to persuade a federal judge to excuse her from a third day of testimony. Starr subpoenaed records from Kramerbooks & Afterwords on Monica Lewinsky's purchases at the store. One of her purchases was reportedly Nicholson Baker's "Vox," a novel about phone sex. Jodie Torkelson testified. (see Clinton for expanded story)
March 25 Peace Love Art Activism
Kandahar massacre
March 25, 2012: Afghan and American officials said that the US government had given $50,000 to each of the families of the 16 Afghan villagers killed by Staff Sgt. Rober. (see June 1)
March 25 Peace Love Art Activism
Voting Rights
Alabama
March 25, 2015: the Supreme Court sided with black and Democratic lawmakers in Alabama who said the State Legislature had relied too heavily on race in its 2012 state redistricting by maintaining high concentrations of black voters in some districts.
The vote was 5 to 4, with Justice Anthony M. Kennedy joining the court's four more liberal members to form a majority. Justice Stephen G. Breyer, writing for the majority, said a lower court had erred in considering the case on a statewide basis rather than district by district. He added that the lower court had placed too much emphasis on making sure that districts had equal populations and had been "too mechanical" in maintaining existing percentages of black voters.
The Supreme Court vacated the lower court's ruling and sent the two consolidated cases — Alabama Legislative Black Caucus v. Alabama, No. 13-895, and Alabama Democratic Conference v. Alabama, No. 13-1138 — back to it for reconsideration. (see Apr 6)
March 25 Peace Love Art Activism
Affordable Care Act
American Health Care Act
March 25, 2017: President Donald Trump announced that the House of Representatives would postpone a planned vote on the American Health Care Act. The announcement came while a debate over the bill was still playing out in the House chamber, with GOP leaders realizing they lacked the votes to prevail. It was not clear when or if Congress planned to resume consideration of repeal. (see May 4)
Trump requests complete invalidation
March 25, 2019: the Trump told a federal appeals court that it now believed the entire Affordable Car Act should be invalidated.
In the letter, the Justice Department said the court should affirm a judgment (see December 14, 2018) by Judge Reed O'Connor of the Federal District Court in Fort Worth.
O'Connor said that the individual mandate requiring people to have health insurance "can no longer be sustained as an exercise of Congress's tax power" because Congress had eliminated the tax penalty for people who go without health insurance.
Accordingly, O'Connor said, "the individual mandate is unconstitutional" and the remaining provisions of the Affordable Care Act are also invalid. (next Health-related, see Mar 27; next ACA, see Apr 1)
March 25 Peace Love Art Activism
Cannabis
March 25, 2019: NJ reform advocates experienced a setback after bill to legalize cannabis in New Jersey was pulled from the agenda due to a lack of votes to pass the legislation in the Senate.
The proposal would have allowed adults 21 and older to possess, consume and purchase marijuana from licensed retailers. It included a number of social equity provisions meant to encourage participation in the industry by individuals from communities most harmed by the war on drugs, and it also would've created a pathway for expedited expungements for prior cannabis convictions. (see Mar 27 or see CCC for expanded chronology)
March 25 Peace Love Art Activism
Women's Health
NC law unconstitutionsal
March 25, 2019: U.S. District Judge William Osteen  ruled that a North Carolina law making it harder for women to get an abortion after 20 weeks was unconstitutional.
The law, which had been on the books since 1973, banned abortion after 20 weeks with only certain exceptions to protect the life of the mother. A 2015 amendment tightened those exceptions, criminalizing abortion unless the woman's life or a "major bodily function" were at immediate risk. Pro-abortion rights groups challenged the law, and Osteen sided with them.
"The Supreme Court has clearly advised that a state legislature may never fix viability at a specific week but must instead leave this determination to doctors," Osteen wrote. (see Apr 12)
Clinic burned
March 25, 2022:  Lorna Roxanne Green broke into Wellspring Health Access, poured gasoline on its floors,  and lit it on fire, causing an estimated $290,000 in damage. The clinic's opening would be delayed until April 2 [WyoFile article] (next WH, see Oct 20; next Green, see September 28, 2023).
March 25 Peace Love Art Activism