March 18 Peace Love Art Activism
Native Americans
Cherokee Nation v. Georgia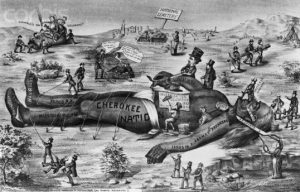 March 18, 1831: Cherokee Nation v. Georgia. The Cherokee Nation sought a federal injunction against laws passed by the state of Georgia depriving it of rights within its boundaries. The Supreme Court held that the United States government had no original jurisdiction in the matter, as the Cherokee were a dependent nation, with a relationship to the United States like that of a ward to its guardian. (Cherokee Nation site article) (see January 16, 1832)
March 18 Peace Love Art Activism
Technological Milestone
Staple Bend Tunnel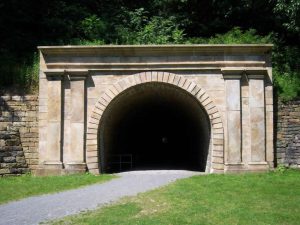 March 18, 1834: the first U.S. railroad tunnel was completed between Hollidaysburg and Johnstown, Pennsylvania. Driven through slate, the Staple Bend Tunnel was 901 feet long, 25 feet wide and 21 feet high and lined throughout with masonry 18 inches thick. It was for the Allegheny Portage Railroad, the first railroad to go west of the Allegheny Mountains. The project engineer was Solomon White Roberts. Construction had begun on April 12, 1831.
Today it is part of a trail. (see January 6, 1838)
March 18 Peace Love Art Activism
BLACK HISTORY
American Colonization Society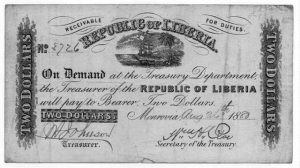 March 18, 1895:  200 former African slaves left Savannah, Georgia for Liberia. Much of the aid for this came through the American Colonization Society (ACS).
The society also committed itself to fostering a public-school system in Liberia, promoting more frequent ships between the U.S. and Liberia, collecting and circulating more reliable information about Liberia, and enabling Liberia to depend more on itself. Future colonists were to be selected with a view to the needs of Liberia and not to their own situations.
William Henry (Harrison) Heard led the group who used money, purchased land, and built the first African Methodist Episcopal Church in the city of Monrovia, Liberia. This church stands now as the Elias Turner Memorial Chapel. (PBS article) (see July 29)
Claudette Colvin
March 18, 1955: a jury convicted Claudette Colvin of refusing to move to the back of the city bus and having assaulted the policeman who removed her from the vehicle. (see Claudette Colvin for expanded story)
March to Montgomery
March 18, 1965: a federal judge ruled that SCLC had the right to march to Montgomery, AL to petition for 'redress of grievances'. (see March to Montgomery for expanded story)
March 18 Peace Love Art Activism
Feminism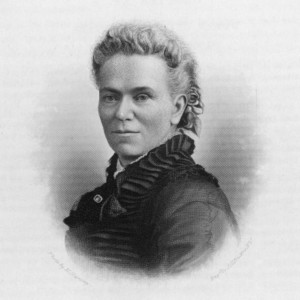 Matilda Josyln Gage
March 18, 1898: Gage died in Chicago at the home of her daughter, Maud Gage Baum. Gage was 72. Her gravestone reads:
THERE IS A WORD
SWEETER THAN MOTHER
HOME OR HEAVEN
THAT WORD IS LIBERTY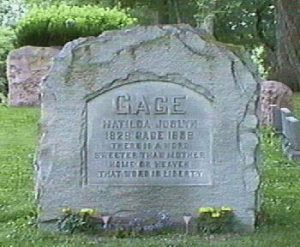 (see Gage for expanded story; next Feminism, see May 17, 1900)
March 18 Peace Love Art Activism
US Labor History
Woolworth clerks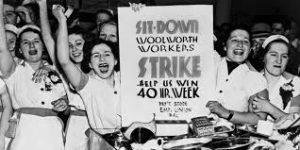 March 18, 1937: New York City police evicted and arrested striking Woolworth clerks occupying stores and demanding a 40-hour workweek. Police were met with huge protests at the stores and the precinct where the workers had been taken. Once freed, the clerks returned to the stores and re-occupied them and, in the end, they won a one-year union contract, an eight-hour day, six-day workweek, and a 32.5 cent per hour minimum wage. (Labor Notes site article) (see Mar 29)
Postal worker strike
March 18, 1970: the first strike against the U.S. government and the first mass work stoppage in the 195-year history of the Postal Service began with a walkout of letter carriers in Brooklyn and Manhattan who demanded better wages.
Ultimately, 210,000 (in 30 cities) of the nation's 750,000 postal employees participated in the wildcat strike. With mail service virtually paralyzed in New York, Detroit, and Philadelphia, Pres. Nixon declared a state of national emergency and assigned military units to New York City post offices. The stand-off ended one week later.
Congress voted a six percent raise for the workers retroactive to December. (see Mar 23)
March 18 Peace Love Art Activism
Japanese Internment Camps
War Relocation Authority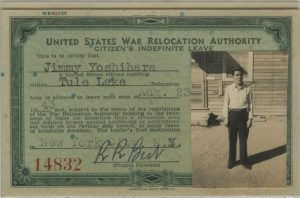 March 18, 1942: the federal government created the War Relocation Authority to "Take all people of Japanese descent into custody, surround them with troops, prevent them from buying land, and return them to their former homes at the close of the war."
While the government interned roughly 2,000 people of German and Italian ancestry during this period, 120,000 men, women, and children of Japanese ancestry were rounded up on the West Coast. There were three categories of internees: Nisei (native U.S. citizens of Japanese immigrant parents), Issei (Japanese immigrants), and Kibei (native U.S. citizens educated largely in Japan). The government transported  internees to one of 10 relocation centers in California, Utah, Arkansas, Arizona, Idaho, Colorado, and Wyoming. (see Japanese Internment for expanded story)
March 18 Peace Love Art Activism
Clarence Earl Gideon
March 18, 1963: Gideon v. Wainwright. The US Supreme Court stated that, The Sixth Amendment right to counsel is a fundamental right applied to the states via the Fourteenth Amendment's due process clause, and requires that indigent criminal defendants be provided counsel at trial. Supreme Court of Florida reversed.
In other words, the US Supreme Court unanimously ruled that those accused of a crime have a constitutional right to a lawyer whether or not they can afford one.
About 2,000 convicted people in Florida alone were freed as a result of the Gideon decision; Gideon himself was not freed. He instead got another trial. (next JM, see June 22, 1964; see Gideon for expanded story)
March 18 Peace Love Art Activism
Space Race
Voskhod 2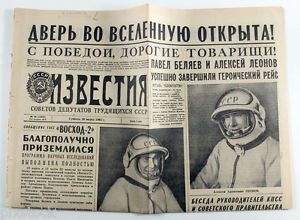 March 18, 1965: Voskhod 2 carried Pavel Belyayev and Alexei Leonov into orbit. Leonov left the spacecraft for 20 minutes on the first "spacewalk." (NASA article) (see Mar 23)
March 18 Peace Love Art Activism
March 18 Music et al
The Beatles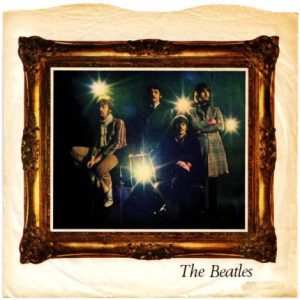 March 18 – 24, 1967, The Beatles after live performances: "Penny Lane" #1 on the Billboard Hot 100. (see Penny Lane for expanded story; next Beatles, see Mar 23)
FREE SPEECH
March 18, 1970:  Country Joe McDonald was convicted of obscenity and fined $500 for leading a crowd in his infamous Fish Cheer ("Gimme an F !") at a concert in Massachusetts. (see Mar 31)
Roots of Rock
March 18, 2017: Chuck Berry died. He was 90. First responders were called out to a home 12:40 p.m. and found a man later identified as Berry unresponsive "and immediately administered lifesaving techniques," a statement read. They were unable to revive him and he was pronounced dead at 1:26 p.m. (NY Times obit)
March 18 Peace Love Art Activism
Vietnam
My Lai Massacre
March 18, 1968: Warrant officer Hugh Thompson called in to report to a Colonel Henderson, and Thompson described  unnecessary killing of civilians. Henderson's investigation report, submitted on April 24, stated that 20 civilians had been killed and Thompson's allegations were false. (see My Lai for expanded story; next Vietnam, see March 19 – 23)
Operation Breakfast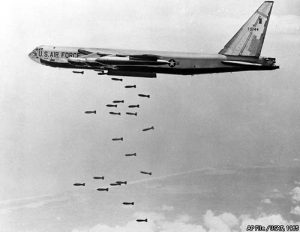 March 18, 1969:  U.S. B-52 bombers were secretly diverted from their targets in South Vietnam to attack suspected communist base camps and supply areas in neutral Cambodia for the first time in the war. President Nixon approved the mission–formally designated Operation Breakfast–at a meeting of the National Security Council on March 15. This mission and subsequent B-52 strikes inside Cambodia became known as the "Menu" bombings. A total of 3,630 flights over Cambodia dropped 110,000 tons of bombs during a 14-month period through April 1970. The Pentagon established an intricate reporting system to prevent disclosure of the bombing. (PBS Frontline article) (see March 25 – 31)
March 18 Peace Love Art Activism
Oil embargo
March 18, 1974, Arab oil ministers announced the end of the embargo against the United States, all except Libya.
March 18 Peace Love Art Activism
CLINTON IMPEACHMENT
Julie Steele
March 18, 1998: Julie Steele's affidavit released. In it she said she lied when she claimed Kathleen Willey had come to her house the night of the encounter and told her about it. 
Susan McDougal trial
March 18, 1999: Deputy Independent Counsel Hickman Ewing testified at the Susan McDougal trial that he had written a "rough draft indictment" of first lady Hillary Rodham Clinton after he doubted her truthfulness in a deposition. (see Clinton for expanded story)
March 18 Peace Love Art Activism
Terri Schiavo
March 18 2005, Courts again allowed the removal of Terri Schiavo's feeding tube. (see Mar 31)
March 18 Peace Love Art Activism
DEATH PENALTY
New Mexico
March 18, 2009 : New Mexico Gov Bill Richardson, who had supported capital punishment, signed legislation to repeal New Mexico's death penalty, calling it the 'most difficult decision in my political life.' The new law replaced lethal injection with a sentence of life in prison without the possibility of parole. The repeal took effect on July 1, and applied only to crimes committed after that date. 'Regardless of my personal opinion about the death penalty, I do not have confidence in the criminal justice system as it currently operates to be the final arbiter when it comes to who lives and who dies for their crime,' Richardson said. (see  September 30, 2009)
March 18 Peace Love Art Activism