Beatles Visit Penny Lane
Penny Lane hit the #1 spot in the Billboard singles chart on
March 18, 1967
---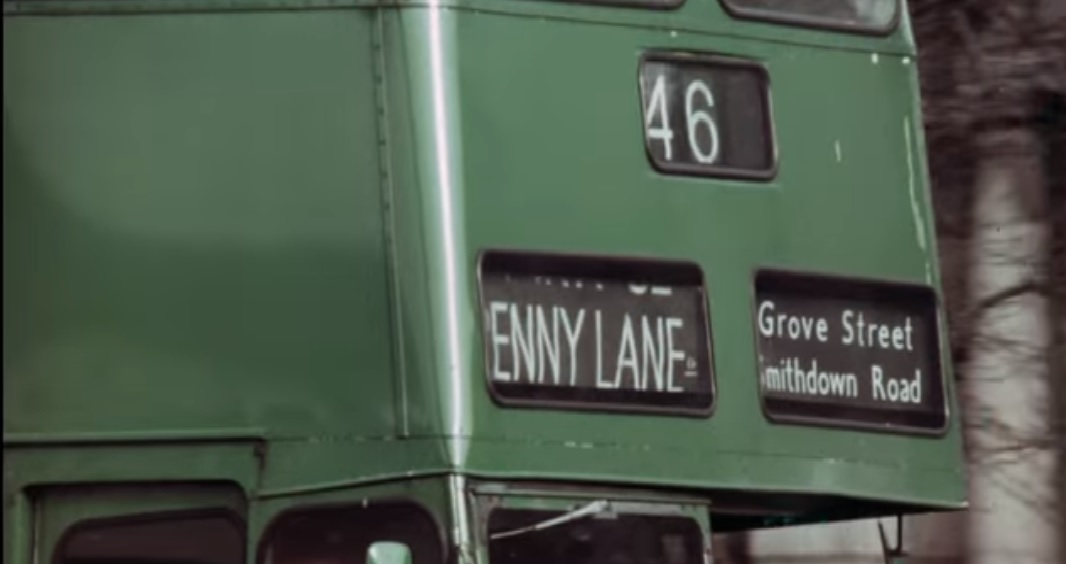 Some have argued that much of what the Beatles did wasn't really Rock and Roll. Even Ringo at the Beatles' induction into the Rock and Roll Hall of Fame in 1988 said, "…the Rock and Roll Hall of Fame…I love…they always called us a pop group."
Whether "Penny Lane" is rock and roll is perhaps the wrong question, because it is a rare Beatle fan who thinks it isn't a great song. Some say that it and the flip side, "Strawberry Fields Forever" represent the greatest single ever released. Hard to disagree.
The Beatles recorded the song in late December 1966 and early January 1967. They were off the public stage (where they no longer wanted to be) and in the studio (where they loved being).
Of the song's inspiration, Paul McCartney said in Anthology, "A lot of our formative years were spent walking around those places. Penny Lane was the depot I had to change buses at to get from my house to John's and to a lot of my friends. It was a big bus terminal which we all knew very well. I sang in the choir at St Barnabas Church opposite."
It is a Paul McCartney song, though John Lennon helped out a bit particularly with the line with the line following Paul's refrain, Penny Lane is in my ears and in my eyes with A four of fish and finger pies.
John! Always willing stretch the limits and slide in what some would easily recognize as slang.
The song had its US release on February 17, 1967.
Beatles Visit Penny Lane
Penny Lane
Like anything having to do with the Beatles, critics and fans have thoroughly analyzed "Penny Lane." The person who has broken down Beatle songs more thoroughly than anyone is an Alan W Pollack.  Here is the link to his amazing site.
His examination of Beatle music is from a musical viewpoint and if you are interested there is more there than enough there for even several sittings.
For example, one of his observations about Penny Lane states, "The rhythmic pulse is march-like with an undercurrent of fast triplets and localized syncopations that emphasize, rather than challenge, the rigidity of the four-in-the-bar meter. " And that is just one of  four comments under the heading "Style and Form."
Beatles Visit Penny Lane
Penny Lane video 
Also notable about the song is its video. It was filmed by Peter Goldmann. You can view it here and you will notice that the Beatles aren't singing in the song, but are simply part of the scene. That is because the Musicians Union banned miming–or what we Americans would call lip-syncing.
Beatles Visit Penny Lane
 The Hook!
And if there is a piece of Penny Lane that is THE hook, for me it is that piccolo trumpet solo in the middle. Thank you George Martin. And thank you David Mason, the man who played that solo.
Beatles Visit Penny Lane
David Mason
Here is a video in which Mason describes how Paul contacted him and his memorable part in the song that he recorded on January 17, 1967. Mason died in 2011.
Beatles Visit Penny Lane
Here are the credits for the song's instrumentation:
Paul McCartney: vocals, piano, bass, harmonium, tambourine, percussion

John Lennon: backing vocals, piano, guitar, congas, handclaps

George Harrison: backing vocals, guitar

Ringo Starr: drums, handbell

George Martin: piano

Ray Swinfield, P Goody, Manny Winters, Dennis Walton: flutes, piccolos

David Mason, Leon Calvert, Freddy Clayton, Bert Courtley, Duncan Campbell: trumpets, flugelhorn

Dick Morgan, Mike Winfield: oboes, cor anglais

Frank Clarke: double bass
Beatles Visit Penny Lane