Ruby Romantics Day Will Come
Our Day Will Come
by
Ruby & the Romantics
Ruby Romantics Day Will Come
Ruby Romantics Day Will Come
March 23, 1963
Our Day Will Come became #1 on Billboard on March 23, 1963, just one day after the release of the Beatles' first album, Please Please Me, in England. The Beatles had released the single "Please Please Me" in America on February 25, but it failed to make an impact.
Ruby Romantics Day Will Come
American pop music meandered along
The week before, Walk Like a Man by the Four Seasons was number one.  The following week the Chiffons' He's So Fine would take over.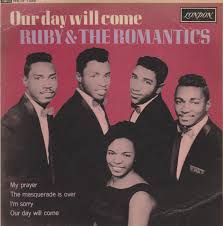 "Our Day Will Come" was also number one on the R & B chart. Lead vocalist Ruby Nash Curtis, Ed Roberts, George Lee, and Leroy Fann were the original members when they began in Akron, Ohio in 1961.
The personnel on the original recording include Leroy Glover on organ, Vinnie Bell, Al Gorgoni and Kenny Burrell on guitar, Russ Savakus on bass, Gary Chester on drums and George Devens on percussion.
The song was nominated for Song of the Year in 1963, but "The Days of Wine and Roses" won.
They never had another #1 hit, but did have success with such songs as  "When You're Young and in Love," "Our Everlasting Love," and "Baby Come Home."
By 1966, they completely changed their personnel, with Curtis the only holdover. She then joined Richard Pryor, Vincent McLeod, Robert Lewis, Ronald Jackson, and Bill Evans.
Ruby & the Romantics became an all-female group in 1968, with Denise Lewis and Cheryl Thomas backing Ruby.
Ruby Romantics Day Will Come
Disbanded in 1971
They were inducted into the Vocal Group Hall of Fame [Sharon, PA] in 2007. In August 2013, Ruby & The Romantics were inducted into the very first class of the Rhythm & Blues Hall of Fame in Cleveland, Ohio.
Only Ruby survives today. Here she is singing the hit from a 2002 show in front of a mainly white audience a few of whom are enthusiastically nodding and smiling along to the song.
Ruby and the Romantics influenced other groups. For one, they influenced The Temptations early harmonies.  And many covered the hit song, such as  Frankie Valli, Cher, Donny and Marie Osmond, Bobby Darin, Patti Page, Dee Dee Sharp, Pat Boone, Nancy Wilson, Trini Lopez, The Supremes, Cliff Richard, and James Brown.
The most famous cover is likely Amy Winehouse's from 2011.
Ruby Romantics Day Will Come