Harvey Snake Mandel
Blues guitarist
Woodstock alum
Happy birthday to you.
March 11, 1945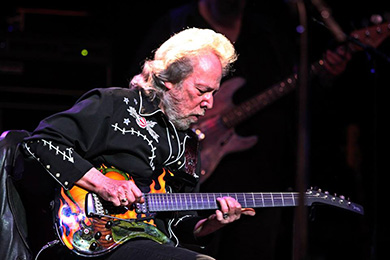 Harvey Mandel's participation at the Woodstock Music and Art Fair was accidental.  Playing at the Fillmore West, Canned Heat's guitarist Henry Vestine suddenly left the group. Canned Heat asked Mandel  to sit in for one half and Mike Bloomfield the other half (not bad replacements!).
Afterwards, the Heat offered Mandel the guitar spot. He accepted and before he knew it he was on his was on his way to Bethel, NY.
Can't see him a whole lot, but here's a piece of the Snake from Woodstock.
Harvey Snake Mandel
Detroit
Harvey Mandel was born in Detroit, raised in Chicago, and in 1966 played on his first album, Charlie Musselwhite's  Stand Back! Here Comes Charley Musselwhite's Southside Band.
He moved to San Francisco and began sitting in at the Matrix. His abilities were immediately noticed and in 1968 he released his first album, Christo Redentor, which contained his classic "k" (written by James W. Alexander & Sam Cooke).
Harvey Snake Mandel
John Mayall
Later Mandel joined John Mayall's band and in 1972. He helped  formed the band Pure Food and Drug Act, which released one album, Choice Cuts.
He continued to release solo albums and in 2009 he  reunited with Canned Heat's Larry Taylor and  Fito de la Parra to perform certain shows on the Canned Heat tour.
As the bio at his site concludes, "Harvey Mandel, "The King Of Sustain", has been cited as a major influence by many of today's music superstars. The critics call him "an unsung hero," "a hugely influential but almost forgotten giant of instrumental rock" and "the best known unknown in pop guitar." As roots music has gained prominence through the 90's, purists such as Mandel have had the opportunity to forge a path of musical integrity and expose new audiences to the original Harvey Mandel sound!"
Here's the full version of "Wade in the Water" that you heard at the top of this entry.  It is from Lucille's Restaurant' on April 17, 2013.
In March 2017, Mandel was a guest on the NPR show World Cafe with David Dye.  Give the show a listen.