Canned Heat Adolfo Fito de la Parra
born February 8, 1946
Happy birthday
[Tommy Johnson – Canned Heat Blues (1928) – where the band got its name]
Canned Heat began its set at the Woodstock Music and Art Fair on Saturday evening around 7:30 after the Incredible String Band and before Mountain.
Canned Heat Adolfo Fito de la Parra
Nickname band
I suppose we could call them the nickname band:
Their set is not one of the most talked about sets that weekend. Unless you were there. And then you wonder why their performance isn't ranked up next to all the many super sets.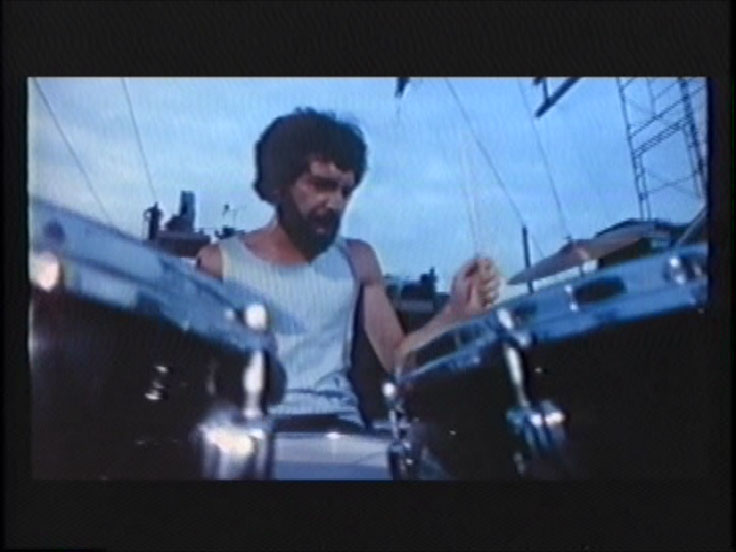 Canned Heat Adolfo Fito de la Parra
More
Here's 10 minutes and 46 seconds of great music by a great band: On the Road Again. 
Unfortunately for Canned Heat, death dealt them a horrible hand. Just 13 months later, Wilson died. Hite died in 1981.
Canned Heat Adolfo Fito de la Parra
Mexico
The band continued and Adolfo de la Parra continued on drums. Born in Mexico, he had played in several bands there before moving to Los Angeles in 1966. Fito's first gig was December 1967 and he's never left.
In recent years he was the only member of the 1960s Canned Heat line-up that toured with the group, although in 2010 (and for most shows in 2009) Larry Taylor and Harvey Mandel rejoined the group and together with Fito. Currently Mandel is having medical issues and the band isn't touring.
Canned Heat Adolfo Fito de la Parra
Livin' the Blues
In 2000, de la Parra published Livin' the Blues a book that (according to the site) …is the true story of the Canned Heat Band's psychedelic hippie days as lived by Adolfo "Fito" De La Parra, a man who never forgot how to boogie and still escaped with his life! This is his story, journaling four decades on the road with boogie-blues music legends CANNED HEAT. This is a saga of hit records, world tours, drugs, sex, outrageous behavior, and death. From the heights of their world-wide fame during the Woodstock era, to the bands rebirth in the '90s and thier continued success today ,this is the real story of the wild and excessive lifestyles of the music world!
Visit the Canned Heat site to see what is new and how you can help Harvey Mandel.
Canned Heat Adolfo Fito de la Parra