Remembering Alan Blind Owl Wilson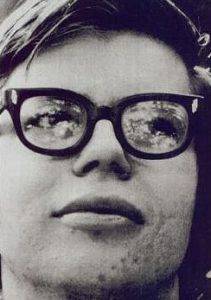 Alan "Blind Owl" Wilson
Born July 4, 1943
On my Museum tours at Bethel Woods Center for the Arts, when guest find out I was at the Woodstock Music and Art Fair they often ask, "Who was your favorite group?"
Remembering Alan Blind Owl Wilson
Favorite?
My answer is that "It depends." At the time of the concert, the Who had just released Tommy  and their performance at Woodstock included nearly their entire rock opera. The Who ended a long night of amazing music that greeted a sunrise which introduced the Jefferson Airplane. I loved all.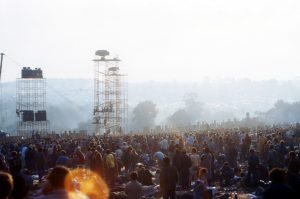 Remembering Alan Blind Owl Wilson
Emerging favorites
Since I regularly listen to music from the festival, I now can hear and appreciate groups that at the time I didn't notice as much.
Nowadays, my answer is Canned Heat: Bob Bear Hite rambling around the stage, Larry Mole Taylor on bass, Harvey Mandel just joining band on guitar, Adolfo de la Parra on drums, and Alan Blind Owl Wilson on guitar. A great line-up banging away with a great groove.
Remembering Alan Blind Owl Wilson
Massachusetts-born
Alan Wilson was born on July 4, 1943 in Arlington, Massachusetts. Early on he developed a love not just of music (jazz in particular), but how music worked.
Like some other white kids of the 50s and 60s, Wilson also discovered the blues.  American norms had long-relegated the blues to the Jim Crow back roads of American society, whose arbitrary cultural mores considered it too rude and crude for "polite" society. The civil rights movement and the evolution of rhythm & blues into rock and roll exposed the blues to teenage white youth open to new views.
More interesting is that some British youth, like Mick Jagger, Keith Richards, and Eric Burdon, had done the same thing and formed bands to expand that discovery.
Remembering Alan Blind Owl Wilson
Blues
Not only did Alan Wilson develop a love of the blues, he began to develop relationships with blues legends as they came to Cambridge, Massachusetts where Wilson lived.  Skip James (whose vocal style Wilson imitated) and Son House in particular.
Remembering Alan Blind Owl Wilson
John Fahey
Wilson also met John Fahey, a young white kid with an equal love of acoustic blues. Fahey convinced Wilson to  move to Los Angeles where Fahey was working on his master's thesis. It was Fahey who lovingly gave Wilson the nickname "Blind Owl" because of Wilson's extremely poor eyesight.
While in Los Angeles, Alan "Blind Owl" Wilson met Bob Hite. His collection of blues recordings immediately bonded them. They formed Canned Heat, a name  from Tommy Johnson's 1928 "Canned Heat Blues." Where else?!
Remembering Alan Blind Owl Wilson
Festivals
Canned Heat played two of the most iconic festivals in American rock history: the Monterey International Pop Festival and the Woodstock Music and Art Fair. Their recording of "Goin' to the Country" became part of Woodstock film's soundtrack.
Remembering Alan Blind Owl Wilson
Love of Nature
Alan Wilson loved Nature, but Alan Wilson suffered from one of Nature's worst illnesses: depression. Canned Heat was readying for a fall 1970 European tour when he did not show up for the flight.
On September 3, they found Wilson dead in Bob Hite's Topanga Canyon backyard where Alan lived in a tent.
From the Wilson site: "We will never know what Alan Wilson was thinking that night, as he unrolled his sleeping bag and looked up at the stars one last time. What we do know is that he was a talented musician and musicologist who promoted the revival of early Delta blues and left his own permanent mark on the blues and the music of the late 1960s. …We hope that this web site is a fitting tribute to his life."
Wilson was 27 and sadly became part of what now we refer to as the 27 Club.
Remembering Alan Blind Owl Wilson
Remembering Alan Wilson, Remembering Alan Wilson, Remembering Alan Wilson