Bumpier Day Wallkill Woodstock
July 8, 1969
Woodstock Ventures
Those of you who have followed this blog (thank you!) already know that despite the notion that Woodstock was the only rock festival in 1969, that year was a very busy for festivals. By July 8, 21 festivals had happened with 25 more  to go before the end of the year.
Woodstock Ventures was simply another one on that long list. Four more guys who decided to put on festival.
Bumpier Day Wallkill Woodstock
The Bumpy Road to Wallkill
In April, Howard Mills had agreed to rent a piece of property to Woodstock Ventures and the Town of Wallkill granted the necessary permits.
There are many accounts of the Woodstock Festival. Each has its unique perspective. Nevertheless, it is important to keep in mind that thoroughly organizing such an event is far more important than someone taking notes on everyday's every conversation and keeping a written record of the moment to moment happenings.
Bumpier Day Wallkill Woodstock
Bob Spitz, Barefoot in Babylon
Many consider Bob Spitz's Barefoot in Babylon (originally published in 1979; re-released in 1989) one of the better accounts of the days leading up to the famous Fair. Having said that, Spitz relates conversations the organizers had as if he or someone had recorded them. They were not. Based on his research, though, July 8, 1969 was a big day on the road to Bethel and the Woodstock festival.
Bumpier Day Wallkill Woodstock
8 July 1969
Providing food for attendees an obvious priority. Woodstock Ventures had problems finding people or a group to do that job. At a point, the Ventures had arranged for Nathan's hot dogs to provide their food, but on this date the Middletown Fire Department unanimously turned down a proposal to supply personnel to run Nathan's food concessions.
The fire companies' membership objected to the long hours Nathan's had required. Middletown is next to Wallkill, the planned site of the event.  Peter Goodrich, assigned the task,  continued to try to find companies for the festival's food concession stands.
Bumpier Day Wallkill Woodstock
Fire protection
On the same day, Wes Pomeroy (security) and Don Ganoung (general assistant) met with the Wallkill fire advisory board to discuss the festival's fire protection needs. Instead of evaluating the festival's requirements and coming to an informal arrangement, the advisory board decided not to act on the proposed plans until the town board asked it do so.
Bumpier Day Wallkill Woodstock
Another Wallkill!
On the same day, Joel Rosenman,  one of the four Woodstock Venture organizers, received a letter from Margaret Y Tremper, the deputy town clerk from the Town of Shawangunk, NY. The letter informed the festival organizers that the festival address used on advertising was misleading as Wallkill, NY (about 30 minutes away in Ulster County) was not the same as the Town of Wallkill (Orange county), where the festival actually was. She requested that they correct their advertising to avoid having thousands of attendees mistakenly arriving at her location and not theirs.
Bumpier Day Wallkill Woodstock
Outside worries
On that day, a Smoky Robinson and the Miracles concert in Boston resulted in scattered incidents of stone throwing and window breaking after the sound system has problems. The last thing the organizers needed was additional reasons for Wallkill to kill their event.
Bumpier Day Wallkill Woodstock
Legal changes
Miles Lourie resigned as counsel for Woodstock Ventures because of the recent appointment of Peter Marshall as an additional counsel.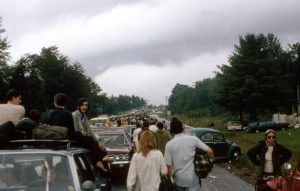 All these things made July 8, 1969 a busy day for those on the bumpy road to a Bethel, NY. Unbeknownst to its residents, in 5 weeks a festival called Woodstock would make history there.
And little did anyone know that this apparent mountain of a day was simply a molehill!
Bumpier Day Wallkill Woodstock