1969 Newport Jazz Festival
1969 festival #19
July 3 – 6
Newport, Rhode Island
I have limited my list of 1969 festivals to rock festivals. Why include a jazz festival?
The Newport Jazz Festival began in 1954 and, not surprisingly, was simply that: a jazz festival. Of course, the variety of styles within jazz are wide and varied. Any jazz festival can simply showcase one genre, or several.
1969 Newport Jazz Festival
Blurred borders
By 1969, the borders between both styles had blurred: some jazz artists crossed over to rock and visa versa. It made sense for a jazz festival, even one as established as Newport, to expand its lineup and include rock. In 1969, that is exactly what it did.
Looking at the lineup below, one of the first things to note is the inclusion of the Joshua Light Show. The Joshua Light Show formed in 1967 and is associated mainly with enhancing the concert atmosphere at Bill Graham's Fillmore East.  Including the Joshua Light Show definitely brought a new vibe to a jazz festival.
1969 Newport Jazz Festival
Thursday all jazz
Thursday was all jazz, but reflected the jazz's aforementioned variety . Simply looking at the opening act, George Benson, and the closing act, Sun Ra, demonstrates that range.
1969 Newport Jazz Festival
Friday changes
Even Friday afternoon is jazz, but things change for Friday night: Jethro Tull, Ten Years After, Blood, Sweat and Tears, and Jeff Beck loudly reminded the crowd that this wasn't your ordinary jazz festival.
The unexpected
The idea of enhancing a jazz festival with rock was a great idea on paper and likely looked toward the ledger as well, but as Woodstock Ventures found out a month later, locals may not be as receptive to large numbers of youth excited and anxious to hear their music.
Friday night's overflow created such tensions and fears that event organizer George Wein "cancelled" Led Zeppelin for Sunday in an attempt to dissuade the rock fans from staying. It worked to a degree. Zeppelin performed despite the announced cancellation.
"

Mayhem

"
A Newport newspaper article describes the mayhem: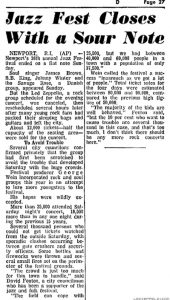 In August, Johnny Winter, Ten Years After, Sly Stone, and Blood, Sweat and Tears experienced something even bigger but more peaceful in Bethel, New York.
The far more serene Newport Folk Festival and a moon walk awaited in the wings.
1969 Newport Jazz Festival
Next 1969 festival: Saugatuck Pop Festival