Canned Heat release Canned Heat
July 1967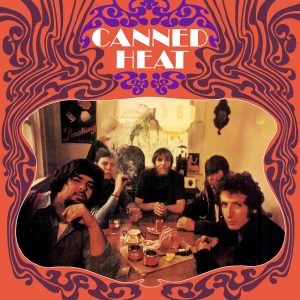 Canned Heat release Canned Heat
Canned Heat released
I have done other blogs on the members of Canned Heat who were at the Woodstock Music and Art Fair on their birthdates. If you'd like to read about  Alan Wilson, Bob Bear Hite, Harvey Mandel, Larry Mole Taylor, or Adolfo de la Parra, please click on their name/link.
Canned Heat release Canned Heat
The album Canned Heat
The band released Canned Heat the album in July 1967, shortly after their appearance at the Monterey International Pop Festival. The personnel on the album differs slightly from the band that appeared at Woodstock.
In 1966, the band had recorded another album, but their label did not release it. In 1970, Janus Records released that album as Vintage Heat.
On the 1969 album, Henry Vestine is the lead guitarist. He will be that until August 1969 when Mandel replaced him. The band's drummer at the time was Frank Cook and his time with the band was even shorter than Vestine's. de la Parra replace Cook shortly after the album's release.
Canned Heat release Canned Heat
Tracks
The members of the band loved the blues as their name, a nickname for the poisonous but alcohol-based Sterno, implies.  Old bluesman Tommy Johnson had a song in 1928 called "Canned Heat Blues." It told he sad story of an alcoholic desperately drinking Sterno, nicknamed "canned heat." Here's the opening track of their first album…a song that Johnny Winter also loved to cover.
Side one
"Rollin' and Tumblin'" (Muddy Waters, Hambone Willie Newbern) 
"Bullfrog Blues" (Canned Heat) 
"Evil Is Going On" (Willie Dixon)
"Goin' Down Slow" (James Oden) 
"Catfish Blues" (Robert Petway) 
Side two
"Dust My Broom" (Robert Johnson, Elmore James)
"Help Me" (Sonny Boy Williamson II) 
"Big Road Blues" (Tommy Johnson) 
"The Story of My Life" (Guitar Slim)
"The Road Song" (Floyd Jones)
"Rich Woman" (Dorothy LaBostrie, McKinley Millet) 
As you can see, all but one of the tracks was a cover and from a variety of writers.
Canned Heat release Canned Heat
The Blues
For the typical suburban white teenage baby boomer, of whom there were thousands, discovering Canned Heat might have been cause for an epiphany. Such music was not heard on AM Top Ten formats. This music luckily found a place on the playlists of the emerging so-called "underground" FM rock stations that allowed their DJs the freedom to play more styles than typically heard. (All Music review)
Canned Heat release Canned Heat
Future Heat…
Where the band went following this first worthwhile effort is a story that sounds like many other band stories. Personnel changes. Substance abuse. Premature deaths. Reunions with surviving members.
Nowadays only de la Parra is the only original member in the group who are:
Adolfo "Fito" de la Parra — drums, vocals (1967–present)
John Paulus — guitar (2000–2006, 2013, 2014–present)
Dale Wesley Spalding — guitar, harmonica, bass, vocals (2008–present)
Rick Reed — bass (2019–present)
Jimmy Vivino – Lead Guitar (2019 to Present)
Canned Heat release Canned Heat