Meeting Santana Carlos Santana
Happy birthday
July 20, 1947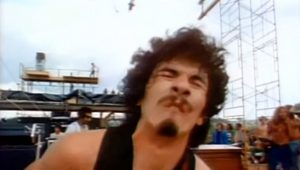 Before Soul Sacrifice
Before Carlos Santana and his band performed at the Woodstock Music and Art Fair on that sunny Saturday 16 August 1969, a few other things happened:
Meeting Santana Carlos Santana
8 miles…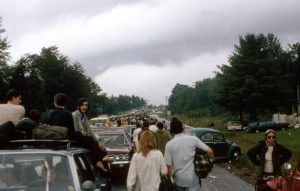 Friend Tony T and I had walked 8 miles from where we'd left his car on the side of the road. We didn't know we'd walked 8 miles–only decades later when I clocked it with a car that could drive down Rt 17B without stopping, up Hurd Road without another car on the road, and to the Field.
Meeting Santana Carlos Santana
Quill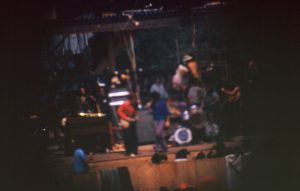 We put our sleeping bags down to claim our spot, sat down, and waited. Quill opened that day. A Boston band hired by Woodstock Ventures to play free locally to residents of Bethel. Hopefully helping soothe the locals' anger  who weren't too enthused about the upcoming festival.
Few of us had heard of Quill. Few know them today despite their Woodstock appearance. No album appearance nor movie appearance.
Meeting Santana Carlos Santana
Country Joe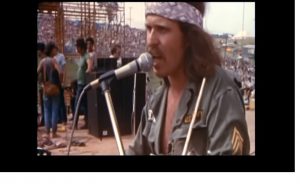 In an attempt to keep things moving, Michael Lang drafted Country Joe McDonald to play and fill in while the crew set up next band's equipment.
Joe said he had no guitar. Someone found one for him. Joe said the guitar had no strap. Someone found a piece of rope.
Gimme' an F!
Meeting Santana Carlos Santana
Big Grassy Bowl
When Max Yasgur showed Michael Lang his field, Michael realized he'd found exactly what was needed both literally and figuratively: a big grassy bowl.
After Country Joe finished his surprise and historic set, the guy sitting in front of us offered a toke to Tony and me. We straight suburban white Catholic-educated rising college sophomores (literally and figuratively redux) politely demurred.  He then asked us if we'd heard of the next band just announced? We said we hadn't. He said we'd really like them.
Meeting Santana Carlos Santana
We did
The next band was Santana and we sophomoric white kids were blown away. Never had we heard such percussion-filled music and an electric lead guitar that felt like Carlos Santana was playing personally to each of our 400,000 friends.
Meeting Santana Carlos Santana
Carlos Santana
Carlos Santana entered the ethos of myth that afternoon. And while his band mates went in different directions after he had, too, he has remained a beacon of musical nourishment for nearly 50 years.
And of course Carlos continues to inspire us with his music today.
Meeting Santana Carlos Santana
Many happy returns Carlos!
We Boomers owe more than that big grassy bowl to Carlos. Thank you from all of us. I hope that thunderous standing ovation in 1969 meant as much to you as its continued memory means to us today.
Meeting Santana Carlos Santana