Jimi Hendrix Quits Monkee Tour
July 17, 1967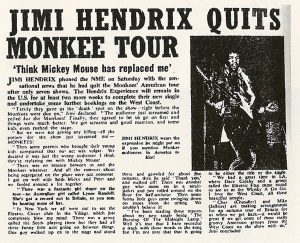 Jimi Hendrix Quits Monkee Tour
Everyone Loves Hendrix?
Young visitors to the Museum at Bethel Woods Center for the Arts (where Woodstock was, not where Woodstock is), often bemoan the fact that they weren't born for that famous festival. That they would have done anything to attend.
I don't disagree with their wish, but I will point out that despite his fame today, Jimi Hendrix was not beloved by every young person when he initially appeared on the American scene.
Hendrix first became famous, at least in a small corner of America, at the Monterey International Pop Festival in June 1967 when the next day's headlines read: Hendrix Sets Monterey Afire.
Jimi Hendrix Quits Monkee Tour
Of course the Monkees
To say that the Monkees were very popular in 1967 is an understatement. The Colgems label had released their debut album, The Monkees, on October 10, 1966. It became Billboard's #1 album on November 12. It remained there  until February 10, 1967! 124 days. What replaced it? Their second album, More of the Monkees, which remained the number one album until June 16…126 more days! Those numbers exceed the Beatles' opening days in 1964.
Mike Jeffery was Hendrix's manager and wanted to capitalize on that popularity with his emerging star. How better to do that than hitch Hendrix onto Comet Monkees?
While the Monkees may have been an assembled act whose members were actors more than musicians, that didn't mean those members didn't like music. Micky Dolenz, the Monkees' drummer, had first heard about Jimi Hendrix and seen him in the Village before Hendrix even went to the UK under the aegis of Animal bassist Chas Chandler.
Jimi Hendrix Quits Monkee Tour
The idea is hatched
Dolenz and fellow Monkee Peter Tork saw Hendrix at Monterey. Tork wasn't impressed…
…but Dolenz was and he recommended the two groups get together on the Monkees upcoming  28-city tour.
Jimi Hendrix Quits Monkee Tour
Quit
It didn't go well because, as I've said, not every young person in 1967 was ready for or wanted to experience Jimi Hendrix. Had the Jefferson Airplane, the Who, or Joan Baez opened for the Monkees, the results would have been the same: kids repeatedly yelling "We want the Monkees!"
Hendrix's presence thrilled the Monkees, but eight shows into the tour, Hendrix left.
Obviously the Experience didn't make the date announced in the above radio spot.
Jimi Hendrix Quits Monkee Tour