Miles Davis Sketches Spain
Released July 18, 1960
Miles Davis Sketches Spain
Third Stream
It was not new for jazz artists to take a classical composition and adapt it to their style. Third Stream was a description of such an adaptation in that it was a fusion of jazz, classical European, and world music.
In Sketches of Spain Miles Davis used some of Joaquin Rodrigo's Concierto de Aranjuez (1939) as well as a song called "Will o' the Wisp", from Manuel de Falla's ballet El amor brujo.
George Kanzler described Sketches of Spain as, "…the least jazzy album they [Davis and Gil Evans] made. Suffused with the melancholic, repressed passion of flamenco and shimmering with the brooding modal minimalism of that music, Sketches of Spain is a triumph of moody impressionism."
1960
Popular music and 10-year-old Baby Boomers were still four years away from Beatlemania and the British Invasion with its reinterpretation of American pop. And popular music was five years away from the touchstone year of 1965 when Bob Dylan went electric, the Beatles went Rubber Soul, and Brian Wilson decided to Pet Sounds.
Jazz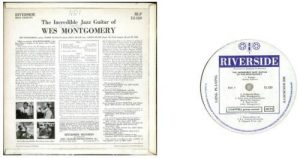 Jazz musicians had often been more willing to push the limits of their style. In 1960 John Coltrane released Giant Steps, an album whose tracks continue to inspire today's  saxophonists. Wes Montgomery did the same for guitar with The Incredible Jazz Guitar of Wes Montgomery.
Charles Mingus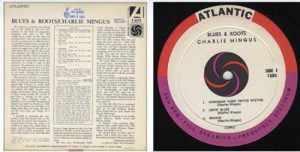 That same year, bassist Charles Mingus released Blues and Roots. In the album's liner notes, Mingus wrote, "This record is unusual—it presents only one part of my musical world, the blues. A year ago, Nesuhi Ertegün suggested that I record an entire blues album in the style of Haitian Fight Song (in Atlantic LP 1260), because some people, particularly critics, were saying I didn't swing enough. He wanted to give them a barrage of soul music: churchy, blues, swinging, earthy. I thought it over. I was born swinging and clapped my hands in church as a little boy, but I've grown up and I like to do things other than just swing. But blues can do more than just swing. So I agreed."
Miles Davis Sketches Spain
Sketches of Spain
All Music has a wonderful review. Each of reviewer Thom Jurek's sentences seems to top the previous one in its praise for each track.
While the Beatles were still crafting their skills and trying to decide what name they should stick with, Miles Davis was creating some of the most classic music ever recorded.
Miles Davis Sketches Spain