KKK Murders Chaney Goodman Schwerner
Growing up as Americans, we were taught to expect liberty and justice for all. Like many things that we absorb, we later learned that that expectation is a goal, but not necessarily a reality.
James E. Chaney, 21, Andrew Goodman, 21, and Michael Schwerner, 24, believed that an active involvement in the civil rights movement was more important than simply calling for change. The three men were in Mississippi as part of the Freedom Summer project to help register the disenfranchised black voters.
On June 20, 1964, The NY Times reported that "Night riders struck Neshoba County in north-central Mississippi Tuesday when a Negro church was surrounded by armed white men, most of them masked. Three Negroes attending a church board meeting were beaten and were chased away. A short time later the church went up in flames."
KKK Murders Chaney Goodman Schwerner
KKK Killings
On June 21,  Chaney, Goodman, and Schwerner went to investigate the burning.
Police arrested them on speeding charges, incarcerated them for several hours, and then released them after dark into the hands of the Ku Klux Klan, who murdered them near Philadelphia, Mississippi.
June 23, 1964: the Neshoba Democrat reported that: "The car driven by three integrationists who disappeared after being arrested last Sunday night here has been found by Federal Bureau of Investigation officers about 13 miles from Philadelphia, in the northeast corner of Neshoba County. The car, a 1963 or 1964 Ford station wagon, was located in heavy sweetgum growth on Highway 21, about 100 feet from the Bogue Chitto creek and about 100 feet off the highway. The station wagon had been burned."
June 29, 1964: the FBI issued poster of missing workers.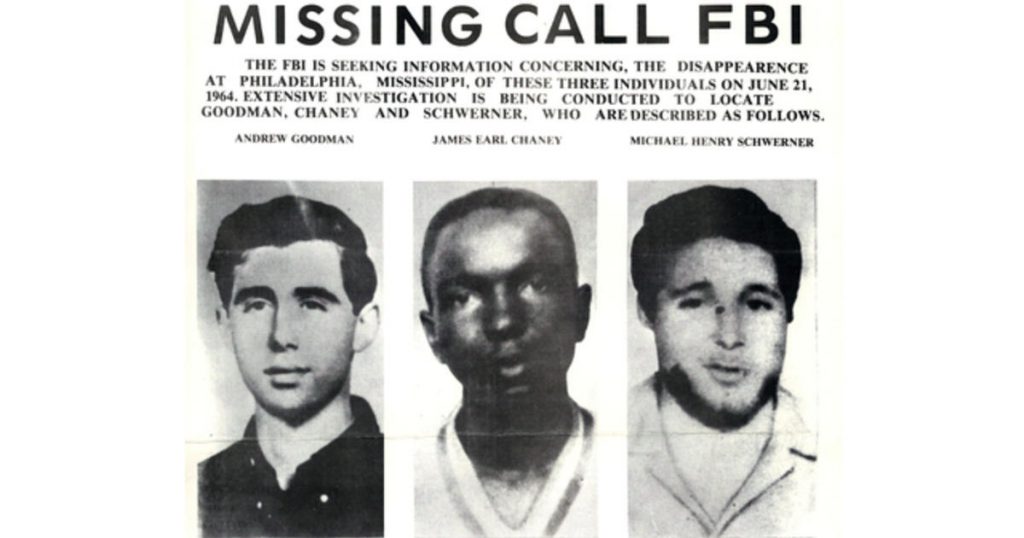 Chaney Goodman Schwerner murdered
July – August 1964
July 12, 1964: while looking for the bodies of  the three missing civil rights workers  searchers discover the disarticulated lower torso of Charles Moore in the river south of Tallulah, Louisiana. Moore's body was identified by the draft card he had in his possession at the time of his death.
August 4, 1964 six weeks into a federal investigation backed by President Johnson, Chaney, Goodman, and Schwerner's bodies were found in an earthen dam.
Chaney Goodman Schwerner murdered
Arrests
December 4, 1964: FBI agents arrested 19 Mississippi men on federal conspiracy charges in connection with the slayings.
December 18, 1964: eighteen of the 21 Mississippians implicated in the murder were arraigned before a US commissioner in Meridan, MS.
Defendant Lawrence Rainey, Neshoba county sheriff, said, "Hey, let's have some Red Man" –and bit off a cheek-filling plug. His deputy (and co-defendant) Cecil Price smiled and other defendants and spectators laughed.
KKK Murders Chaney Goodman Schwerner
Racist Judge Cox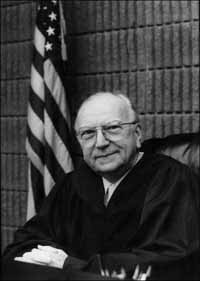 February 24, 1965: Federal Judge William Harold Cox, an ardent segregationist, threw out the indictments against all conspirators other than Rainey and Price on the ground that the other seventeen were not acting "under color of state law."
KKK Murders Chaney Goodman Schwerner
The Andrew Goodman Foundation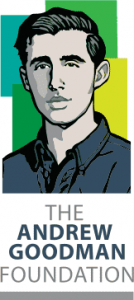 In 1966, Robert and Carolyn Goodman, Andrew's parents, started The Andrew Goodman Foundation to carry on the spirit and purpose of their son's life.
Their mission statement is: "We are witness to the rise of a diverse and connected new citizenry, one that can forever transform our society and our world for the better. Our ability to spark their passion — today — will result in change, tomorrow. Through Vote Everywhere, a national movement of student leaders and university administrators, we partner with America's colleges and universities to create dynamic hubs of student participation."
KKK Murders Chaney Goodman Schwerner
Cox overruled
March 28, 1966: in U. S. vs. Price et al, the Supreme Court overruled Federal Judge Cox and reinstated the indictments.
October 7, 1967: trial in the case of United States versus Cecil Price et al. began in the Meridian courtroom of Judge William Cox.  Chief Prosecutor John Doar and other government attorneys had reason to be concerned about Cox.  Cox, appointed as an effort to appease powerful Judiciary Committee Chairman (and former roommate of Cox at Ole Miss) Senator James Eastland, had been a constant source of problems for Justice Department lawyers (especially John Doar) who were seeking to enforce civil rights laws in Mississippi.  In one incident, Judge Cox referred to a group of African Americans set to testify in a voting rights case as "a bunch of chimpanzees."
A jury of seven white men and five white women, ranging in ages from 34 to 67, was selected. Defense attorneys exercised peremptory challenges against all seventeen potential black jurors.  A white man, who admitted under questioning by Robert Hauberg, the U.S. Attorney for Mississippi, that he had been a member of the KKK "a couple of years ago," was challenged for cause.  Judge Cox denied the challenge.
KKK Murders Chaney Goodman Schwerner
Convictions
October 20, 1967: the all-white jury convicted seven conspirators [Cecil Price, Samuel Bowers, Alton Wayne Roberts, Jimmy Snowden, Billy Wayne Posey, Horace Barnett, and Jimmy Arledge]  and acquitted eight others.
For three men, including Edgar Rice Killen, the trial ended in a hung jury, with the jurors deadlocked 11–1 in favor of conviction. The lone holdout said that she could not convict a preacher. The prosecution decided not to retry Killen and he was released. None of the men found guilty would serve more than six years in prison.
December 29, 1967: Judge Cox imposed sentences.  Roberts and Bowers got ten years, Posey and Price got six years, and the other three convicted defendants got four.  Cox said of his sentences, "They killed one nigger, one Jew, and a white man– I gave them all what I thought they deserved."
KKK Murders Chaney Goodman Schwerner
Movie 
December 2, 1988: release of Mississippi Burning film. Chris Gerolmo wrote the story and Alan Parker directed it. It was loosely based on FBI's investigation of the Chaney, Goodman and Schwerner murders.
A Wikipedia entry states: "Following its release, Mississippi Burning became embroiled in controversy over its fictionalization of events; it was heavily criticized by African-American activists who were involved in the Civil Rights Movement, as well as the families of Goodman, Chaney and Schwerner. Coretta Scott King, widow of Martin Luther King, Jr., boycotted the film, stating, "How long will we have to wait before Hollywood finds the courage and the integrity to tell the stories of some of the many thousands of black men, women and children who put their lives on the line for equality?" Myrlie Evers-Williams, the wife of slain civil rights activist Medgar Evers, said of the film, "It was unfortunate that it was so narrow in scope that it did not show one black role model that today's youth who look at the movie could remember."
KKK Murders Chaney Goodman Schwerner
Price dies
May 6, 2001: Cecil R. Price, who as a deputy sheriff arrested the three civil rights workers and was eventually found guilty of delivering them into the hands of their killers, died  in Jackson, Miss. He was 63.
The cause was a recent skull fracture that Price, a truck driver, suffered when he fell from a lift at an equipment rental store in Philadelphia, Miss. He died at the University of Mississippi Medical Center, the same hospital where in 1964 he helped to transport the bodies of the three victims for autopsies. (NYT article)
KKK Murders Chaney Goodman Schwerner
Killen re-tried
January 6, 2005: the State of Mississippi charged Killen (now 79-years-old) with the murders.  Police arrested Killen at his home following a grand jury session, according to Neshoba County Sheriff Larry Myers.  Convicted Klan conspirator Billy Wayne Posey expressed anger at Killen's arrest: "After 40 years to come back and do something like this is ridiculous…like a nightmare."  Carolyn Goodman, the 89-year-old mother of victim Andrew Goodman was pleased with the news.  She hoped the killers would someday be "behind bars and think about what they've done." (NYT article)
June 21, 2005: a jury found Edgar Ray Killen, an 80-year-old former Ku Klux Klansman, guilty of manslaughter 41 years to the day of the murders. (NYT article)
June 23, 2005: Edgar Ray Killen was sentenced to 60 years in prison. (NYT article)
August 12, 2005: Judge Marcus Gordon of Circuit Court granted bail to Edgar Ray Killen pending an appeal. The release raised the possibility that Killen, 80 and in poor health, wouldl die a free man after serving barely six weeks of his sentence. Gordon said he he had little choice but to set bond while Mr. Killen appealed his conviction since the state had not proved that Mr. Killen, who uses a wheelchair, was a flight risk or threat. (NYT article)
September 9, 2005: judge Marcus Gordon sent Killen back to prison saying Killen had deceived the court about his health when he asked to be released on bond. The hearing was called after Mr. Killen, who was granted bail after testifying that he was confined to a wheelchair, was seen up and walking by sheriff's deputies. (NYT article)
KKK Murders Chaney Goodman Schwerner
Story continues
July 14, 2006: Mississippi Circuit Court judge Marcus D. Gordon refused to let Killen out of prison while he appealed his conviction. Killen, 81, had asked to be freed on bond because of poor health. (NYT article)
April 13, 2007: the Mississippi Supreme Court upheld the manslaughter convictions of Edgar Ray Killen.
In his appeal, Killen had argued that in the 1960s he would not have been convicted by a jury of his peers of any crime under the evidence presented in 2005. (NYT article)
August 13, 2009: 73-year-old Billy Wayne Posey died.  In a 2000 statement, Posey had told investigators there were "a lot of persons involved in the murders that did not go to jail."
He did not name those people. (NMissCommentator article)
KKK Murders Chaney Goodman Schwerner
Killen continues to appeal
February 25, 2010: Killen filed a federal lawsuit seeking millions of dollars in damages and a declaration that the FBI violated his rights  when it allegedly used a gangster during its investigation. Killen claimed the FBI conspired to suppress his rights to "defend his society and culture." (NYT article)
October 15, 2013: the U.S. Supreme Court said it would consider arguments from  Killen who  said he was denied constitutional rights in his Mississippi trial, the same argument he had made in 2012. The Mississippi attorney general's office said that it had notified the Supreme Court that no response to Killen's petition would be filed.
November 4, 2013: the U.S. Supreme Court rejected a Killen's appeal. The decision meant that the justices would not review lower-court rulings that had found no violations of Killen's constitutional rights during his trial in Mississippi.
KKK Murders Chaney Goodman Schwerner
Supreme Court denial
January 4, 2014: Edgar Ray Killen, convicted in 2005 for the 1964 slayings of three civil rights workers in Mississippi, asked the U.S. Supreme Court to look again at his motion for a new trial.
January 13, 2014: the U.S. Supreme Court denied the rehearing request. The justices issued the order without comment.
November 10, 2014: President Barack Obama announced 19 recipients of the Presidential Medal of Freedom, including James Chaney, Andrew Goodman and Michael Schwerner.
He presented those awards on November 24 to family members of the three men. In his remarks, the President said:
"From activists who fought for change to artists who explored the furthest reaches of our imagination; from scientists who kept America on the cutting edge to public servants who help write new chapters in our American story, these citizens have made extraordinary contributions to our country and the world," he said.
Here is the link to the video of the presentation. Slide up to the 21 minute 40 second mark to hear President Obama's remarks on the three murdered civil rights workers and to 29:20 for the actual presentations:
KKK Murders Chaney Goodman Schwerner
Killen interviewed
December 22, 2014: the Associated Press interviewed Edgar Ray Killen inside the Mississippi State Penitentiary, his first interview since his 2005 conviction. He refused to discuss the "Freedom Summer" slayings. He said he remained a segregationist who does not believe in race equality but contends he bears no ill will toward blacks.
Killen had first contacted an AP reporter 18 months ago. In his first letter on March 3, 2013, he made clear that no conversation with a reporter would result in a confession.
"That is not where I am coming from after 50 years of silence," Killen wrote. "I have never discussed the 1964 case with anyone — an attorney, the FBI, local law nor friend — and those who say so are lying." (The Times-Picayunne article)
KKK Murders Chaney Goodman Schwerner
Story ends
May 26, 2016: retired Circuit Judge Marcus D. Gordon died. Gordon had sentenced Edgar Ray Killen to life in prison in 2005 Gordon had retired on March 4, 2016, from the Eighth District Circuit Court. (NYT obit)
June 21, 2016: Mississippi Attorney General Jim Hood announced an end to the active federal and state investigation into the 1964 killings.
"There's nothing else that can be done," he said in a news conference. "The FBI, my office and other law enforcement agencies have spent decades chasing leads, searching for evidence and fighting for justice for the three young men who were senselessly murdered on June 21, 1964," he said. "It has been a thorough and complete investigation. I am convinced that during the last 52 years, investigators have done everything possible under the law to find those responsible and hold them accountable; however, We have determined that there is no likelihood of any additional convictions. Absent any new information presented to the FBI or my office, this case will be closed."  (Clarion-Ledger article and video)
KKK Murders Chaney Goodman Schwerner
Killer dies in prison
January 11, 2018: Edgar Ray Killen, the former Klansman who was sentenced to a 60-year prison term in 2005 for arranging the murders of three young civil rights workers outside Philadelphia, Miss., in 1964 during the Freedom Summer drive to register Southern black voters, died in prison in Parchman, Miss. He was 92. (BBC news article)
KKK Murders Chaney Goodman Schwerner