Brassy Barbara Dane
"One must participate in the emerging struggle around them in order to make art that reflects it.
"If you're an artist, you've already got tools. If you don't know what to write about, remember that truth and reality is what we're after. You have to know reality to tell the truth about it. You got to get out and be a part of it."
Born May 12, 1927
Brassy: shamelessly bold
Barbara Dane: Writers would call me a brassy blonde, I thought they meant that I was bleaching my hair, which I was, but they meant personality-wise, that it was brassy because I was opinionated in their way of looking at it.
In 2011, I volunteered to do a short presentation on 1960s protest music. Without realizing it, I had stepped into a deep warren and soon realized that what I knew about protest music was a page in an multi-volume encyclopedia.
Since then, I have continued to find new names and songs that fell into the category, but more than a decade I (again sophomorically) thought that there weren't any new names to discover. Wrong.
Brassy Barbara Dane
Barbara Dane
Detroit
Barbara Dane grew up in Detroit.  Even as a teenager in the 1940s she was an activist singing at demonstrations for racial equality and economic justice. Her voice was strong and promoters began to offer her chances to turn professional. She turned them down to "sing at factory gates and in union halls."  
Brassy Barbara Dane
Prague
In 1947, she flew to Europe to attend the "The Prague World Youth Festival." It was  a gathering that brought together about 20,000 students, from several dozen countries. The idea was to allow leftist oriented young people to discuss (and play) music, folk song,  as well as sports and entertainment.
She said of it, "That '47 festival was my introduction to a whole world of music and musicians and a reason for singing…that I had never imagined was out there. [I]…met a great variety of singers and got the sense that what I was trying to do in my little old way in Detroit was connected to a worldwide impulse of putting your musical abilities at the service of a worldwide movement toward peace and understanding, and you know just the linking up the good guys in the world through their songs."
San Francisco
Dane moved to San Francisco in 1949. She continued singing and found gigs on the radio and early TV.  She also found the blues.
Why the blues? "Because they speak from the heart to the heart. The blues were born out of the worst conditions one people can force upon another —out of slavery and exploitation—and were given to the world in the spirit of turning madness into sanity, pain into joy, bondage into freedom, and enmity into unity.  This is music for survivors, and this spirit is something to be learned from, shared and spread as far as it will go!  No matter what the words say, no matter who I'm singing to, this is always what I'm singing about."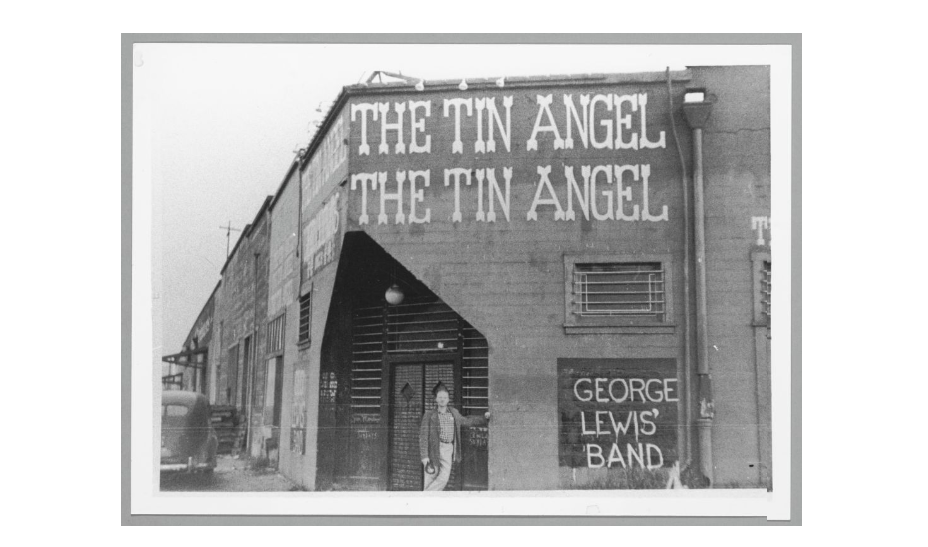 Her first professional jazz job was with Turk Murphy at the old Tin Angel in l956.
Hoot-N-Anny Records
In the early 1950s,  Dane started a record label called Hoot-N-Anny Records. Just 78 rpms. In the mid Fifties, the label published "Hoot-N-Anny Tonight," the first LP of a live folk music concert.
In 1958 she started to work for Folkways Records founder, Moses Asch. Asch did the actual recording and she was responsible for the rest of a record's production.
Luis Armstrong
Dane continued to sing and Louis Armstrong had told Time magazine readers, "Do you get that chick? She's a gasser!" Dane appeared with Armstrong's band on January 7, 1959 on the Timex All-Star Show hosted by Jackie Gleason.
Here's the performance. Dane's is great, but of course the whole band is outstanding.
Brassy Barbara Dane
Ebony magazine

In a November 1959 issue of Ebony magazine, it said that Dane was "startlingly blonde, especially when that powerful dusky alto voice begins to moan of trouble, two-timing men and freedom … with stubborn determination, enthusiasm and a basic love for the underdog, [she is] making a name for herself … aided and abetted by some of the oldest names in jazz who helped give birth to the blues."
I highly recommend following the link above to see (as well as read) the article. Some of the advertising  is startling.
Brassy Barbara Dane
Sugar Hill: Home of the Blues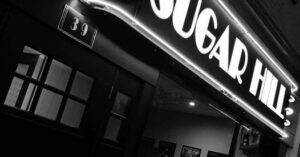 Barbara Dane married a World War II veteran who had been a prisoner of war.  Living in San Francisco, they had three children together, but his war experience had left him dysfunctional.
Despite her difficulties, she decided to open a club.
From her site: In 1961 Barbara opened her own club, Sugar Hill: Home of the Blues, on San Francisco's Broadway, with the idea of creating a respectful venue for the music  right on the tourist rialto where a wider audience could come in contact with it. There Dane performed regularly with her two most constant musical companions:  Kenny "Good News" Whitson on piano and cornet, and Wellman Braud, former Ellington bassist. Among her guest artists were Jimmy Rushing, Mose Allison, Mama Yancey, Tampa Red, Lonnie Johnson, Big Mama Thornton, Lightnin' Hopkins, T-Bone Walker, Brownie McGhee and Sonny Terry, as well as the many jazz musicians who came regularly to sit in. 
Though her success as a blues singer continued to expand, she also continued her singing with activists.  The club , despite its popularity, did not succeed.
Meaningful music that might change the world for the better was what mattered.  "Why would I want to stand in front of a band with a low-cut dress singing stupid words when I could be singing for workers who are on strike?  It didn't seem like a good bargain to me."
Brassy Barbara Dane
1966 Cuba Encuentro
In  1966, the now-divorced Dane was living in New York City with the still-married Irwin Silber. He had three children from his marriage. Keep in mind that in October 1962 the US and USSR had  had its nearly catastrophic nuclear standoff  over missiles in Cuba, so when her friend, broadcaster, and filmmaker Estela Bravo invited Barbara to Cuba to perform at the height of the Cold War, it was a huge risk.
From the Smithsonian SideDoor podcast: Officially, it was the "Encuentro Internacional de la Canción Protesta." In English, that becomes the "International Gathering of Protest Music." The idea was to have a friendly get-together, where singers, poets and left wing revolutionaries of all kinds could share ideas about how to push forward political movements through music. Kind of a "Here's what works in my country, how would you approach it?" There were a few other Americans, but also Australians, Brits, Italians, Angolans, Vietnamese, as well as performers from all over Latin America."
Afterwards, Dane wrote: "When we came, at last, to the world-famous beach resort of Varadero… we made a head-long dash into the soft blue waves. Small laughing heroines of the NLF [Vietnam's National Liberation Front] splashed water on the big serious Argentine, the Australian girl was dunked by a Uruguayan boy, and for the moment, Europeans and Americans, Asians and Africans with such serious work at hand were indistinguishable from any group of rowdy tourists—with the difference that we were all conscious of the tremendous struggles waged to secure our right as peoples of all races and from the lower economic classes…"
Fidel Castro himself even showed up at one point and played basketball with some of the youth.
Brassy Barbara Dane
Paredon Records
One of Dane's takeaways from the Encuentro was the need for a record label that others with the same views as hers could have to release music.
She was not preoccupied with financial success or fame. Albert Grossman, Bob Dylan's (and many other artists) manager told her to call him when she "got her priorities straight."
In 1970 she  and Irwin Silber founded Paredon Records, committed to publishing liberation movement music . The label produced 45 albums, including three of her own, over a 12 year period.
Side note: Silber also founder and was the longtime editor of the folk-music magazine Sing Out! 
The first Paradon release was Cancion Protesta: Protest Song of Latin America.  and all of the songs had been recorded during the Encuentro
The first track–just 18 seconds —was Fidel Castro talking about the power of art to win people over to your cause.
Brassy Barbara Dane
Asian-Americans
Not simply an outlet for musicians outside the United States, in 1973, Paradon released A Grain of Sand: Music for the Struggle by Asians in America.
In 1981, Barbara turned the label over to a collective as she wanted to pursue her singing more. The collective could only keep Paradon afloat for a few more years and in 1985, after releasing 50 albums, showcasing protest and anti-colonial movements on six continents, Paredon was over.
The label was recently incorporated into Smithsonian-Folkways, a label of the Smithsonian Institution, and is available through their catalog.
From a NYT article: "Paredon didn't put out music about politics. They put out music of politics," said Josh MacPhee, the author of "An Encyclopedia of Political Record Labels" and a founder of the Brooklyn-based Interference Archive, which chronicles the cultural production of social movements. "These are not artists commenting on political issues. These were sounds that were produced by people in motion trying to transform their lives."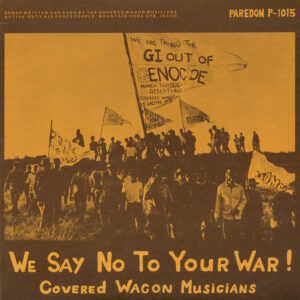 From the same article: The catalog included musicians steeped in social movements at home, like Bernice Johnson Reagon — a founding member of the Student Nonviolent Coordinating Committee's Freedom Singers, and later of the a cappella ensemble Sweet Honey in the Rock — whose solo album, "Give Your Hands to Struggle" from 1975, was filled with rhapsodic self-harmonizing. It also included the Covered Wagon Musicians, a group of subversive active-duty Air Force men who sang out from their Idaho base, "We say no to your war!"
Nowadays
In the summer of 2016 Barbara released a new recording "Throw It Away…" with a trio led by pianist Tammy Hall which was launched with two sold-out shows at Yoshi's in Oakland. 
In 2017 se was awarded a Cubadisco to honor her early efforts disseminating the political music known as nueva trova on her label and in celebration of her 90th birthday, Barbara did concerts at SFJAZZ, UCLA's Royce Hall, Berkeley's Freight & Salvage and Joe's Pub in NYC.
In February 2018 Smithsonian Folkways released a 2-CD retrospective with selections from their catalog along with never-released archival gems including her historic folkways LP "Barbara Dane and the Chambers Brothers"
In October 2022, Heyday publishers released Dane's autobiography, This Bell Still Rings: My Life of Defiance and Song.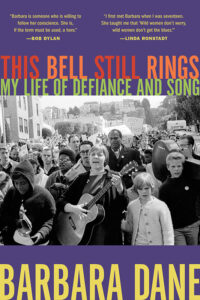 From Heyday's site: Dane's memoir charts her trajectory from singing in union halls and at factory gates in World War II–era Detroit, to her rise as a respected blues and jazz singer, to her prominence as a folk musician frequently performing at and participating in civil rights and peace demonstrations across the US and abroad—from post-revolutionary Cuba to wartime Vietnam. This Bell Still Rings illuminates "one of the true unsung heroes of American music" (Boston Globe), and it offers a wealth of inspiration for artists, activists, and anyone seeking a life defined by courage and integrity.
The Nine Lives of Barbara Dane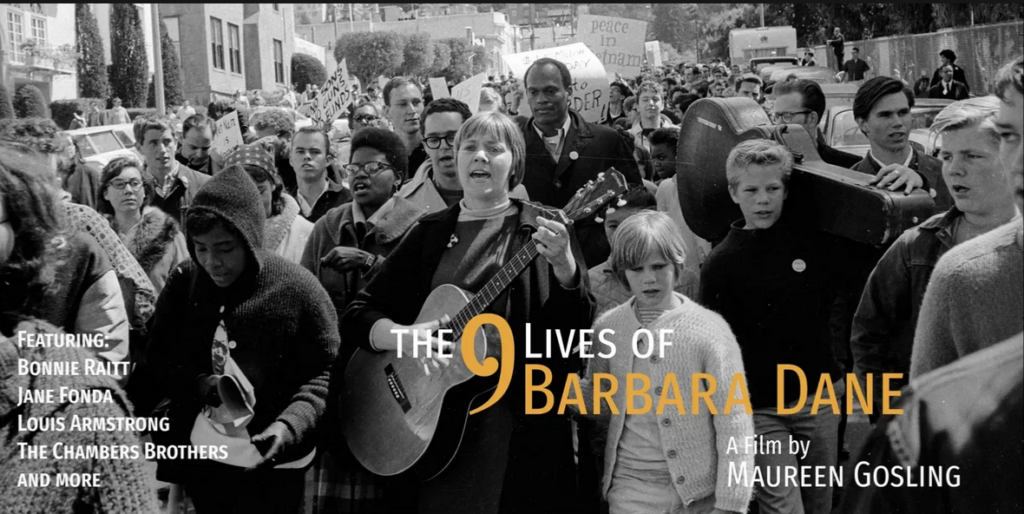 And in 2023, Maureen Gosling, Jed Riffe and Nina Menendez released a full-length documentary called The Nine Lives of Barbara Dane.
References:
Brassy Barbara Dane,  Brassy Barbara Dane, Brassy Barbara Dane, Brassy Barbara Dane, Brassy Barbara Dane, Brassy Barbara Dane