May 31 Peace Love Art Activism
Cultural Milestones
Dr. John Harvey Kellogg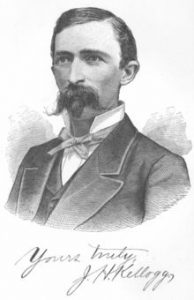 May 31, 1884: Dr. John Harvey Kellogg applied for a patent for "flaked cereal."  He was trying to improve the vegetarian diet of his hospital patients, by searching for a digestible bread-substitute by the process of boiling wheat. Kellogg accidentally left a pot of boiled wheat to stand and it become tempered. When it was put through a rolling process, each grain of wheat emerged as a large, thin flake. When the flakes were baked, they became crisp and light, creating an easy to prepare breakfast when milk was added. [Forbes article]  (CM see February 18, 1885; Kellogg, see February 19, 1906)
Seinfeld
May 31, 1990: the sitcom "Seinfeld" premiered on NBC (see December 22, 1992)
May 31 Peace Love Art Activism
BLACK HISTORY
Tulsa Race Riot/Lynching
May 31 and June 1, 1921: The Tulsa Race Riot was a large-scale racially motivated conflict in which whites attacked the Tulsa, Oklahoma black community of the Greenwood District, also known as 'the Black Wall Street' and the wealthiest African-American community in the United States, being burned to the ground. During the 16 hours of the assault, over 800 people were admitted to local hospitals with injuries, and more than 6,000 Greenwood residents were arrested and detained.
An estimated 10,000 blacks were left homeless, and 35 city blocks composed of 1,256 residences were destroyed by fire.
At least 51 blacks were killed. [Tulsa History article] (next BH, Tulsa, and lynching, see June 1)
Detroit Packard Motor Car Co
May 31, 1943: some 25,000 white autoworkers walked off the job at a Detroit Packard Motor Car Co. plant, heavily involved in wartime production, when Packard promoted three black workers to work on a previously all-white assembly line. The black workers were relocated and the whites returned. [images] (BH see June 15; Labor, see June 25)
Brown II case
May 31, 1955: Brown v. Board of Education of Topeka (the so-called Brown II case) In Brown II the US Supreme Court delegated the task of carrying out the desegregation to district courts with orders that desegregation occur "with all deliberate speed." School districts would use the "deliberate speed" phrase to delay or postpone indefinitely school desegregation. [Oyez article] (BH, see June 29; SD, see March 12, 1956)
James H Meredith
May 31, 1961: the NAACP Legal Defense and Educational Fund filed suit in the U.S. District Court, alleging that the university had rejected Meredith only because of the color of his skin, as he had a highly successful record. (BH, see, June 12; Meredith, see July 28, 1962)
Michael Schwerner & Earl Chaney speak
May 31, 1964: Michael Henry Schwerner (24, New York) and James Earl Chaney (21, Meridian, Mississippi) speak at the Mt. Zion United Methodist Church in the Longdale community, just west of Philadelphia in Neshoba County. They and church members were making plans for the church to house a Freedom School. (BH, see June 1; Schwerner,  see June 21)
May 31 Peace Love Art Activism
Vietnam
May 31, 1946: Ho Chi Minh left for Paris to iron out the reality of Vietnam as an autonomous state only to find that the French will not specify what is actually meant. During the four months that Minh was in France, his General Vo Nguyen Giap conducted a merciless purge killing landlords and moneylenders and members of rival parties. He imprisoned thousands of others. (see In November)
May 31 Peace Love Art Activism
Jimi Hendrix enlists
May 31, 1961: Hendrix (19 years old) enlisted in the Army after  being caught for a second time riding in stolen cars and given a choice between spending two years in prison or joining the Army. After completing basic training, he was assigned to the 101st Airborne Division and stationed in Fort Campbell, Kentucky.
Hendrix discharged
May 31, 1962: paperwork was filled recommending a discharge for Hendrix.  (see Hendrix for expanded military chronology)
White album begins
May 31, 1968: began recording the so-called "White Album." Sessions will span 4+ months, ending on Oct 14. (see July 17)
Grateful Dead
May 31, 2017: Jerry Garcia's famous Wolf guitar sold at auction for over $1.9 million. "Wolf" was Garcia's go-to instrument for over two decades. The Grateful Dead singer-guitarist first wielded the instrument during a 1973 show for the Hell's Angels in New York City.
Timothy Leary
May 31, 1996: Timothy Leary died. (see November 10, 2001)
May 31 Peace Love Art Activism
Native Americans
Alcatraz Takeover
May 31, 1970: the federal government shut off power and stopped fresh water supplies on its property. Hundreds of Indians flock to the island to protest the government's plan to turn the island into a park. (see June 2)
May 31 Peace Love Art Activism
US Labor History
W. A. Boyle
May 31, 1985: Boyle, the powerful leader of the nation's coal miners until he was convicted of embezzlement and of ordering the murder of union rival Joseph Yablonski and his family, died at Wilkes-Barre General Hospital in Wilkes-Barre, Pa. He was 83 years old. [Native Village article] (see June 27)
May 31 Peace Love Art Activism
The Cold War
Nuclear/Chemical News
May 31, 1994: President Bill Clinton pledged continued cooperation with Russia in a New World Order, declaring that the U.S. would no longer point nuclear missiles at Russia, ending the antagonism and fear of mutually assured destruction that characterized the half-century-long Cold War between the two superpowers.. (NN, see January 25, 1995; CW, see Aug 18)
May 31 Peace Love Art Activism
Women's Health
Eric Rudolph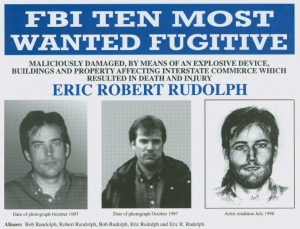 May 31, 2003: police arrested Eric Rudolph, suspected in bombings at a Birmingham. Ala., abortion clinic and at the Atlanta Olympics, outside a grocery store in Murphy, N.C. (see April 8,  2005)
Scott Roeder
May 31, 2009: Scott Roeder assassinated women's health care provider Dr George Tiller.  (Terrorism, see Dec 25; BC, see January 29, 2010)
May 31 Peace Love Art Activism
Watergate Scandal
Deep Throat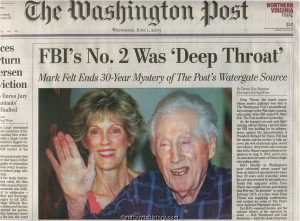 May 31, 2005: W. Mark Felt's family ended 30 years of speculation, identifying Felt, the former FBI assistant director, as "Deep Throat," the secret source who helped unravel the Watergate scandal. The Felt family's admission, made in an article in Vanity Fair magazine, took legendary reporters Bob Woodward and Carl Bernstein, who had promised to keep their source's identity a secret until his death, by surprise. Tapes show that Nixon himself had speculated that Felt was the secret informant as early as 1973. [Felt's 2008 NYT obit](see Watergate for expanded story)
May 31 Peace Love Art Activism
Stop and Frisk Policy
May 31, 2011: NYPD data showed that in the first quarter of 2011, stop-and-frisk hit an all-time high. There were 183,326 stop-and-frisks between January and March 2011. (see Aug 31)
May 31 Peace Love Art Activism
Cannabis
May 31, 2012:  Connecticut became the 17th state to legalize medical marijuana. (see Nov 6 or see CC for expanded chronology)
May 31 Peace Love Art Activism
LGBTQ
May 31, 2012: a federal appeals court ruled unanimously that the Defense of Marriage Act [DOMA] passed by Congress in 1996, discriminated against married same-sex couples by denying them the same federal benefits afforded to heterosexual couples. [NYT article] (DOMA, see October 18; LGBTQ, see June 2)
May 31 Peace Love Art Activism