June 7 Peace Love Art Activism
BLACK HISTORY
Peter Crosby
June 7, 1875:  Peter Crosby, an African-American sheriff in Vicksburg, Miss., was killed in the wake of the Vicksburg Massacre (see December 7, 1874) in which armed White Leagues overthrew the Reconstruction government, killing as many as 300 African Americans they regarded as a threat, including some of Crosby's deputies. President Ulysses S. Grant had sent troops to quell the violence and enable the sheriff's safe return. After Crosby returned, he was shot in the head by a white deputy. The event became part of the first Mississippi Plan — whites using violence, terror and corruption to retake power. Grant decided against sending in any more troops. It was the beginning of the end of Reconstruction. [EJI article] (see Sept 4)
Homer Plessy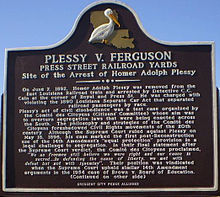 June 7, 1892: Homer Plessy (age 29) boarded the "white" car of the East Louisiana Railroad. Plessy was a shoemaker in New Orleans who was considered seven-eighths white and one-eighth black. When on the railway car he identified himself as black (his light complexion made his race "not discernible", he said), he was arrested, just as the Citizens Committee had planned. Plessy was found guilty in November of violating the act, and the Citizens Committee appealed. The Supreme Court of Louisiana upheld the decision, and the case eventually moved to the U.S. Supreme Court, with Plessy's side arguing that the Separate Car Act violated the 13th and 14th Amendments. [Black Past article] (next BH, see  Oct 13); Plessy, see May 18, 1896)
KKK Membership Drive
June 7, 1920: William Simmons, a white Ku Klux Klan leader, hired publicists to grow membership for the white supremacist organization.
The "100 Percent Americanism" campaign promoted the Klan as defenders of the white American nation from defilement by Black people, Catholics, Jewish people, foreigners, and "moral offenders."
This "neat package of hatred" caught attention quickly, and within 16 months, nearly 100,000 new members had joined. [EJI article] (next BH, see June 15)
White Knights of the Ku Klux Klan
June 7, 1964: Samuel Bowers, leader of the White Knights of the Ku Klux Klan spoke at a meeting: "This summer, within a very few days, the enemy will launch his final push for victory here in Mississippi. This offensive will consist of two basic salients…:
One. Massive street demonstrations by blacks used by communists…designed to provoke whites into counter-demonstrations and open, pitched street battles…to provide an excuse for:
Two. A decree from subversive authorities in charge of the national government…declaring martial law…
When the first waves of blacks hit our streets this summer, we must avoid open daylight conflict with them…we must reveal their leaders as the immoral hypocrites they are."
Weaving religion into the mix, he further declared "As Christians we are disposed to kindness, generosity, affection, and humility in our dealings with others. As militants we are disposed to use physical force against our enemies. How can we reconcile these two apparently contradictory philosophies? The answer of course, is to purge malice, bitterness, and vengeance from our hearts." (BH, see June 10; Bowers, see January 10, 1966)
James H Meredith
June 7, 1966: three major Black groups' leaders, Martin Luther King of the Southern Christian Leadership Conference, Floyd McKissick of the Congress of Racial Equality, and Stokely Carmichael of the Student Non-Violent Coordinating Committee, announced that they would resume Meredith's march (see June 6). Mississippi State Troopers  shoved  King, Jr and from the pavement to the shoulder of the highway. (BH & MLK, see June 10; Carmichael, see June 16; Meredith, see June 25)
James Byrd, Jr
June 7, 1998:  after they wrapped a heavy logging chain around the ankles of James Byrd, Jr,  Shawn Berry, Lawrence Brewer, and John King dragged him behind a pick-up truck along an asphalt road for about three miles  They then dumped his body  in front of an African-American cemetery in Jasper, TX. (BH, see Aug 21; Byrd, see February 23, 1999)
137 SHOTS
June 7, 2015: authorities charged Cleveland police officer Michael Brelo with assaulting his brother. (see 137 for expanded story)
FEMA Bias
June 7, 2021: the NY Times reported that a growing body of research showed that FEMA, the government agency responsible for helping Americans recover from disasters, often helped white disaster victims more than people of color, even when the amount of damage is the same. Not only did individual white Americans often receive more aid from FEMA; so did the communities in which they live, according to several studies based on federal data.
Leaders at FEMA contended with the complicated question of why these disparities exist — and what to do about them. The problem seemed to stem from complex systemic factors, like a real estate market that often places higher values on properties in communities with many white residents, or the difficulty of navigating the federal bureaucracy, which tends to favor people and communities that have more resources from the beginning.
The impact from this disparity was long-lasting. White people in counties with significant disaster damage that received FEMA help saw their personal wealth jump years later while Black residents lost wealth, research published in 2018 shows. (next BH, see June 14)
June 7 Peace Love Art Activism
LGBTQ
Alan Turing
June 7, 1954: Turing the mathematical genius and person credited with developing computers, committed suicide. Turing's top-secret work during World War II enabled the British to break the German code and likely ended the war years sooner. In 1952 he was convicted of homosexuality and sentenced to a choice of prison or chemical castration. He chose the latter.
"Almost every computer produced by Apple and its rivals has been modeled on a machine built [by Turing] at Princeton University during the late 1940s and early 1950s" (NYT, 2012-03-25) (Turing, see September 10, 2009; LGBTQ, see in October 1954)
Anita Bryant
June 7, 1977: singer and conservative Southern Baptist Anita Bryant led a successful campaign with the "Save Our Children" Crusade to repeal a gay rights ordinance in Dade County, Florida. Bryant faced severe backlash from gay rights supporters across the U.S. The gay rights ordinance would not be reinstated in Dade County until December 1, 1998, more than 20 years later. (see June 18)
Alabama
June 7, 2016: U.S. District Judge Callie Granade permanently barred Alabama from enforcing state laws to block gay marriage. Granade of Mobile issued the order in litigation that followed the U.S. Supreme Court decision that effectively legalized same-sex weddings nationwide.
The judge wrote that the order is needed because state laws against same-sex marriage remained on the books. She said the Alabama Supreme Court's willingness to issue decisions conflicting with the U.S. Supreme Court demonstrated the need for permanent action.
Granade noted that while same-sex opponent Roy Moore was currently suspended from the office of chief justice, other state justices had indicated they believed laws banning gay marriages were constitutional. (LGBTQ, see June 24; Moore, see Sept 30)
June 7 Peace Love Art Activism
June 7 Music et al
Come On
June 7, 1963,  the Rolling Stones first single "Come On" was released in the UK. It reached #21. Chuck Berry wrote and released Come On in 1961.
The Road to Bethel
June 7, 1969: after the festival site received many threatening calls, Mel Lawrence called workers together to warn them about behavior, particularly drug use, as there might be a narcotic agent planted in the group. (see Chronology for expanded story)
June 7 Peace Love Art Activism
FREE SPEECH
June 7, 1965: Cameron Et Al. v. Johnson, Governor Of Mississippi, Et Al.  the Supreme Court issued a 5-4 decision stating that the case should be vacated and remanded and upholding the law in question as constitutional. The judgment rested on the Court's authority over lower federal or state courts. It was decided by a per curiam (no oral argument)  (see March 9, 1966)
June 7 Peace Love Art Activism
Women's Health
June 7, 1965: in Griswold v. Connecticut, the Supreme Court struck down the one remaining state law prohibiting the use of contraceptives by married couples. [Oyez article]  (see Nov 2)
June 7 Peace Love Art Activism
Vietnam
More troops requested
June 7, 1965: General Westmoreland requested a total of 35 battalions of combat troops, with another nine in reserve. This gave rise to the "44 battalion" debate within the Johnson administration, a discussion of how many U.S. combat troops to commit to the war. Westmoreland felt that the South Vietnamese could not defeat the communists alone and he wanted U.S. combat troops to go on the offensive against the enemy. His plan was to secure the coastlines, block infiltration of North Vietnamese troops into the south, and then wage a war of attrition with "search and destroy" missions into the countryside, using helicopters for rapid deployment and evacuation. Despite some opposition, Johnson acquiesced to Westmoreland's request. (see June 14)
Cohen v. California
June 7, 1971: the US Supreme court by a vote of 5-4 overturned the appellate court's ruling.
First, Justice John Marshall Harlan II began by emphasizing that this case concerned "speech," and not "conduct," as was at issue in United States v. O'Brien (May 27, 1968). Harlan then stated that any attempt by California to abridge the content of Cohen's speech would be no doubt unconstitutional except in a few instances, like, for example, if California was regulating the time, place, or manner of Cohen's speech independent from the content of the speech.
Second, Harlan also expressed the concern of the Court that section 415 was vague and did not put citizens on notice as to what behavior was unlawful. Indeed, the words "offensive conduct" alone cannot "be said sufficiently to inform the ordinary person that distinctions between certain locations are thereby created."
Third, the mere use of an untoward four-letter word did not place the speech into a category of speech that has traditionally been subject to greater regulations by the government, as in Roth v. United States (June 24, 1957), for example. Similarly, Harlan and the Court refused to categorize the speech at issue as a "fighting word" under Chaplinsky v New Hampshire (March 9, 1942) because no "individual actually or likely to be present could reasonably have regarded the words on appellant's jacket as a direct personal insult."
Finally, the Court was unwilling to give credence to the idea that the government could suppress the type of speech at issue here in order to protect the public at large. [Oyez article] (V, see June 13; FS, see June 26, 1972)
June 7 Peace Love Art Activism
Symbionese Liberation Army
June 7, 1974: Patty Hearst released a tape eulogizing the slain SLA members and stating her continued support for the SLA (see PH for expanded story)
June 7 Peace Love Art Activism
Nuclear/Chemical News
Israel bombs Iraq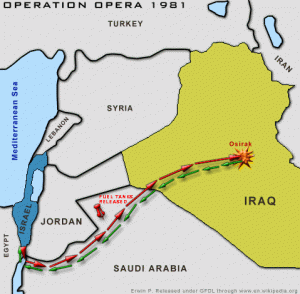 June 7, 1981: Israel bombed Iraqi Osirak nuclear plant near Baghdad. [2016 Times of Israel article] (NN, see Nov 30; Iraq, see August 12, 1982)
June 7 Peace Love Art Activism
Iraq War II
June 7, 2007:  ABC World News host Charles Gibson took a moment to note "a sad milestone in Iraq," as the announcement of 6 more U.S. casualties in Iraq, ratcheted the total toll of the war to 3,500 troops who had died in Iraq since the war began. [ABC News, 6/7/2007] (see July 8)
June 7 Peace Love Art Activism
Feminism
June 7, 2016: with primary victories in NJ, CA, and NM, Hillary Clinton became the presumptive Presidential nominee for the Democratic party, the first woman from a major party. (NYT article) (see June 27)
June 7 Peace Love Art Activism
Environmental Issues
June 7, 2021: scientists said that the amount of carbon dioxide piling up in Earth's atmosphere set a record in May 2021, once again reaching the highest levels in human history despite a temporary dip in the burning of fossil fuels worldwide caused by the coronavirus pandemic.
Scientific instruments atop the Mauna Loa volcano in Hawaii showed that levels of carbon dioxide in the air averaged 419 parts per million in May, the annual peak, according to two separate analyses from the Scripps Institution of Oceanography and the National Oceanic and Atmospheric Administration.
Those readings were about half a percent higher than the previous high of 417 parts per million, set in May 2020. Carbon dioxide is the most important greenhouse gas driving global warming and researchers have estimated that there hasn't been this much of it in the atmosphere for millions of years.  [NYT article] (next EI, see June 9)
June 7 Peace Love Art Activism