June 29 Peace Love Art Activism
The Red Scare and the Cold War
FREE SPEECH
June 29, 1940: President Roosevelt signed the Alien Registration Act of 1940, usually called the Smith Act, which made it illegal to assist any groups "who teach, advocate, or encourage the overthrow or destruction of the government of the United States by force or violence." Hundreds of American Communists would later be charged for violations of the Smith Act. (Free Speech, see late November 1941; Red Scare, see February 10, 1944; arrests, see July 20, 1948)
Hollywood Ten
June 29, 1950: the remaining eight men of the Hollywood Ten were convicted of contempt of Congress and six were immediately taken to jail. Maltz, Cole, Lardner, and Bessie were sentenced to serve one year and pay $1,000 fines. Dmytryk and Biberman were sentenced to six-month terms and pay $1.000 fines. Adrian Scott was ill and his sentencing postponed. Samual Ornitz's term was also postponed for health reasons. (see July 29)
Protected Speech

June 29, 2023: U.S. District Judge Terry Doughty of Louisiana prohibited several federal agencies and officials of the Biden administration from working with social media companies about "protected speech," a decision called "a blow to censorship" by one of the Republican officials whose lawsuit prompted the ruling.
Doughty granted the injunction in response to a 2022 lawsuit brought by attorneys general in Louisiana and Missouri. Their lawsuit alleged that the federal government overstepped in its efforts to convince social media companies to address postings that could result in vaccine hesitancy during the COVID-19 pandemic or affect elections.
Doughty cited "substantial evidence" of a far-reaching censorship campaign. He wrote that the "evidence produced thus far depicts an almost dystopian scenario. During the COVID-19 pandemic, a period perhaps best characterized by widespread doubt and uncertainty, the United States Government seems to have assumed a role similar to an Orwellian 'Ministry of Truth.' "  [AP article] (next Free Speech, see Aug 11)
June 29 Peace Love Art Activism
BLACK HISTORY
June 29, 1947: President Harry Truman was the first president to address the NAACP, the nation's leading civil rights organization. Delivered at the Lincoln Memorial, his speech on this day was broadcast to a national radio audience. Eleanor Roosevelt, Supreme Court Justice Hugo Black, and Chief Justice Fred M. Vinson sat with the president on the dais, and their presence undoubtedly added to the political and legal significance of the president's remarks. [audio link)  (Oct 23)
Autherine Lucy and Pollie Ann Meyers
June 29, 1955: the NAACP secured a court order preventing the University of Alabama from rejecting the admission applications of Autherine Lucy and Pollie Ann Meyers  based upon their race. Days later, the court amended the order to apply to all other African-American students seeking admission. (BH, see July; U of A, see Oct 10)
Bethel Street Baptist Church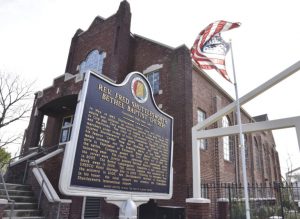 June 29, 1958: early in the morning a bomb exploded outside Bethel Street Baptist Church in Birmingham, Alabama, located on the north side of town in one of the segregated city's African American neighborhoods. The church's pastor, Reverend Fred Shuttlesworth, was a civil rights activist working to eliminate segregation in Birmingham.
The church had been bombed before, on December 25, 1956, and since that date several volunteers had kept watch over the neighborhood every night. Around 1:30 a.m., Will Hall, who was on watch that night, was alerted to smoke coming from the church. He discovered a paint can containing dynamite near the church wall and carried it into the street before taking cover as it exploded.
The can contained between fifteen and twenty sticks of dynamite. The blast blew a two-foot hole in the street and broke the windows of houses in the vicinity as well as the stained glass windows of the church, which were still being repaired from the previous bombing. Police said there were few clues as to the culprit's identity, but a passerby reported seeing a car full of white men pass by shortly before the bomb was discovered.
Rev. Shuttlesworth praised Mr. Hall for his brave actions, saying that if he had not moved the dynamite, it probably would have destroyed the entire church. "This shows that America has a long way to go before it can try be called democratic," he said. [article about church]  (BH, see June 30; Bethel, see December 13, 1962; CB, see September 9, 1962)
Chaney, Goodman, and Schwerner
June 29, 1964: the FBI issued poster of missing workers. (see Murders for expanded story; BH, see July 9)
University of Texas at Austin
June 29, 2015: the Supreme Court agreed to take a second look at a challenge to the use of race in admissions decisions by the University of Texas at Austin, reviving a potent challenge to affirmative action in higher education. When the court last considered the case in 2013, supporters of affirmative action were nervous. But the court kicked the can down the road in what appeared to be a compromise decision. In returning to the case, the court signaled that it might be prepared to issue a major decision on the role race may play in government decision making.
In 2013, Justice Anthony M. Kennedy, writing for the majority, said the appeals court had been insufficiently skeptical of the program, which has unusual features. The appeals court then endorsed the program for a second time.  [NYT article] (BH, see June 30; Affirmative Action, see June 23, 2016)
BLACK & SHOT
June 29, 2017: a new report revealed that there was never a reason for officer Roy Oliver to shoot and kill Jordan Edwards . The report revealed that there was never even a reason for authorities to be at the party the teen was attending.
No teens were drinking or doing illicit drugs at a house party in suburban Dallas where Edwards, 15, was killed on April 29, a law enforcement official told the Dallas Morning News this week.
A newly released autopsy report also revealed that Edwards was not under the influence when Oliver shot him. The officer was responding to a reports that teens had been drinking at a party. [CNN article] (see July 18)
Emmett Till
June 29, 2022: an arrest warrant for kidnapping tied to the killing of Emmett Till was discovered.
The warrant was for Carolyn Bryant Donham — listed at the time as "Mrs. Roy Bryant" — was issued on August 29, 1955, but never served. She was the 21-year-old white woman who said Till had harassed her in her country store in Money, Miss.
In addition to the murder charges against Roy Bryant and J.W. Milam, the two men and Carolyn Bryant were investigated for kidnapping. However, cops did not pursue the case. They didn't want to "bother" Carolyn Bryant because she had two young children to care for. [NY Daily News article] (next BH, see Aug 6; next ET, see Aug 9 or see Emmett Till for full chronology )
SCOTUS/Affirmative Action
June 29, 2023: The Supreme Court rejected affirmative action at colleges and universities around the nation, declaring that the race-conscious admissions programs at Harvard and the University of North Carolina were unlawful and sharply curtailing a policy that had long been a pillar of higher education.
The vote was 6 to 3, with the court's liberal members in dissent.
"The Harvard and U.N.C. admissions programs cannot be reconciled with the guarantees of the equal protection clause," Chief Justice John G. Roberts Jr. wrote for the majority. "Both programs lack sufficiently focused and measurable objectives warranting the use of race, unavoidably employ race in a negative manner, involve racial stereotyping and lack meaningful end points." [NYT  article] (next BH, see July 25)
June 29 Peace Love Art Activism
June 29 Music et al
Jimi Hendrix
June 29, 1962: received an honorable discharge on the basis of "unsuitability" (see Hendrix military for expanded chronology)
Bookends  again
June 29 – July 26, 1968: Simon and Garfunkel's Bookends  again the Billboard #1 album.
The [bumpy] Road to Bethel
June 29, 1969: Wes Pomeroy met with the Tri-County Citizen Band Radio Club and they agreed to assist with the Festival.
Around the same time, John Fabri spoke with NYC Chief Inspector George P McManus and McManus promised cooperation with getting NYC police officers to work at the festival. (see Chronology for expanded story)
June 29 Peace Love Art Activism
Vietnam
Bombing Hanoi
June 29, 1966: U.S. planes begin bombing Hanoi and Haiphong.  [video report] (see June 30)
Daniel Ellsberg/Pentagon Papers
June 29, 1971: Alaska Senator Mike Gravel convened a hearing of the Subcommittee on Public Buildings and Grounds in the middle of the night (and only he attends). He reads the Pentagon Papers aloud for three hours, officially entering them into the Senate record. (see DE/PP for expanded story)
June 29 Peace Love Art Activism
DEATH PENALTY
Furman v. Georgia
June 29, 1972: the U.S. Supreme Court ruled by a vote of 5-4 that capital punishment, as it was currently employed on the state and federal level, is unconstitutional. The majority held that, in violation of the Eighth Amendment to the Constitution, the death penalty qualified as "cruel and unusual punishment," primarily because states employed execution in "arbitrary and capricious ways," especially in regard to race. It was the first time that the nation's highest court had ruled against capital punishment. However, because the Supreme Court suggested new legislation that could make death sentences constitutional again, such as the development of standardized guidelines for juries that decide sentences, it was not an outright victory for opponents of the death penalty. [Oyez article] (see November 21, 1974)
Coker v. Georgia
June 29, 1977: shortly after it revived state death penalty schemes in Gregg v. Georgia (1976), the U.S. Supreme Court was asked [in Coker v. Georgia] to determine whether the Eighth Amendment's ban on cruel and unusual punishments prohibited the death penalty for rape. Justice Bryon White's plurality opinion for the Supreme Court [in a 7-2 vote] reversed the sentence, finding the death penalty disproportionate to the crime of raping an adult woman.  [Oyez article] (see July 2, 1982)
Thompson v. Oklahoma
June 29, 1988: the main issue the Supreme Court considered in Thompson v. Oklahoma was whether it was constitutional to execute a person who was a 'child' at the time they committed the offense. Thompson's attorneys argued that he should not be executed because this would violate Thompson's rights, as a 'child,' under the Eighth Amendment, which forbids 'cruel and unusual punishment. The U.S. Supreme Court ruled, in a 5-3 majority decision, to vacate the order to excute Thompson. The majority opinion by Justice John Paul Stevens noted that "evolving standards of decency that mark the progress of a maturing society' compelled the conclusion that it would be unconstitutional under the Eighth Amendment of the Constitution to execute a person for a crime committed as a fifteen-year-old." [Justia article] (see June 26, 1989)
Glossip v Gross
June 29, 2015: in Glossip v Gross, the US Supreme Court ruled 5 – 4 against three death row inmates who had sought to bar the use of an execution drug they said risked causing excruciating pain. In the process, two dissenting members of the court — Justices Stephen G. Breyer and Ruth Bader Ginsburg — came very close to announcing that they were ready to rule the death penalty unconstitutional. This gave rise to slashing debate with Justices Antonin Scalia and Clarence Thomas about the reliability and effectiveness of the punishment, a dispute that overshadowed the core issue in the case. [NYT article] (see July 15)
Federal Executions
June 29 2020: the Supreme Court let stand an appeals court ruling allowing the Trump administration to resume executions in federal death penalty cases after a 17-year hiatus. The court's order cleared the way for the executions of four men in the coming months.
Justices Ruth Bader Ginsburg and Sonia Sotomayor said they would have heard the case. [NYT article] (next DP, see July 14)
June 29 Peace Love Art Activism
INDEPENDENCE DAY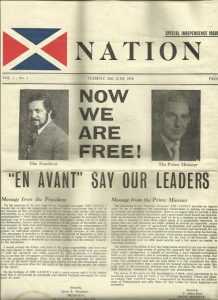 June 29, 1976: Seychelles independent of United Kingdom. (see June 27, 1977)
June 29 Peace Love Art Activism
Religion and Public Education
June 29, 1983: in Mueller v. Allen, the US Supreme Court decided that a Minnesota tax deduction for school tuition, transportation, books, and supplies is allowable because both public and private school parents can benefit. The Court acknowledged that tuition-paying parents of religious school children reap the largest benefits, but the Court held that "whatever unequal effect may be attributed to the statutory classification can fairly be regarded as a rough return for the benefits . . . provided to the State and all taxpayers by parents sending their children to parochial schools." [Oyez article] (see August 11, 1984)
June 29 Peace Love Art Activism
US Labor History
June 29, 1988: the U.S. Supreme Court ruled in CWA v. Beck that, in a union security agreement, a union can collect as dues from non-members only that money necessary to perform its duties as a collective bargaining representative. [Justia article] (see March 22, 1990)
June 29 Peace Love Art Activism
Fair Housing & Native Americans
June 29, 1988: Indian Housing Act gave HUD new responsibilities for housing needs of Native Americans and Alaskan Indians. Housing and Community Development Act allowed sale of public housing to resident management corporations. Fair Housing Amendments Act made it easier for victims of discrimination to sue, stiffened penalties for offenders. [Gov Track article] (FH, see November 28, 1990; NA, see Oct 17)
June 29, 2022: on July 9, 2020, Native Americans in Oklahoma rejoiced when the Supreme Court ruled that the eastern half of Oklahoma is on tribal land, and that the state could not bring criminal prosecutions for crimes on Indian land without the consent of the Indian tribes, but on this date, the court narrowed that decision.
In the aftermath of the 2020 decision, the state was no longer empowered to prosecute those accused of committing crimes on Indian territory. Only the tribal courts, or the federal government, could do that, and the tribal courts were generally not authorized to prosecute non-Indians. According to the federal government, effect of that decision was a 400% increase in federal prosecutions from 2020 to 2021, with many people either not held accountable or receiving lighter sentences in plea deals.
In light of that, Oklahoma's governor and attorney general asked the Supreme Court to reverse its earlier decision. The high court refused, but on this date it issued a more limited decision, declaring that the state may prosecute crimes committed against Native American victims by non-Indians in Indian country. Bottom line: power to prosecute would most likely now shift back to the state, and away from the federal government. [NPR article] (next NA, see July 15)
June 29 Peace Love Art Activism
Feminism
Women's Health
June 29, 1992: in Planned Parenthood v. Casey, the Court upheld four restrictions on abortion in a Pennsylvania law, invalidated one, but preserved the basic right to an abortion. The decision surprised many observers, who thought the Court would very likely use the case as an opportunity to overturn Roe v. Wade (January 22, 1973). The coalition of Justices Sandra Day O'Connor, David Souter and Anthony Kennedy established a new standard for evaluating abortion restrictions, holding that they could not place an "undue burden" on access to abortions.  [Oyez article] (F, see Nov 3; BC, see March 10, 1993)
Malala Yousafzai
June 29, 2014: it was announced that Malala Yousufzai, shot and severely wounded  by the Taliban because she advocated education for girls, won the Liberty Medal from the National Constitution Center in Philadelphia. "It's an honour to be awarded the Liberty Medal," Yousufzai, 17 said. "I accept this award on behalf of all the children around the world who are struggling to get education." The medal has been awarded annually since 1989. [article] (see Sept 12)
Women's Health
June 29, 2015: the U.S. Supreme Court agreed to temporarily block parts of a strict new Texas abortion law. The court granted a request by women's health providers, which had asked the court to temporarily put on hold a 5th U.S. Circuit Court of Appeals ruling from June 9. The groups asked the high court to put the provisions on hold until they can file a formal petition asking the justices to take the case. [Reuters article](BC, see July 14; Texas, see June 27, 2016)
Iowa Supreme Court
June 29, 2018: the Iowa Supreme Court blocked a law requiring a 72-hour waiting period before a woman can get an abortion. The court ruled that the law violated the Iowa Constitution, siding with a lawsuit filed by Planned Parenthood of Iowa and the American Civil Liberties Union of Iowa. The organizations sued the state over the law approved by lawmakers last year. (next WH, see Nov 20)
Medical Services v. Russo
June 29, 2020: in Medical Services v. Russo, the Supreme Court struck down a Louisiana law that could have left the state with a single abortion clinic.
The vote was 5 to 4, with Chief Justice John G. Roberts Jr. voting with the court's four-member liberal wing but not adopting its reasoning. The chief justice said respect for precedent compelled him to vote with the majority.
The case was the court's first on abortion since President Trump's appointments of two justices shifted the court to the right.
The Louisiana law, which was enacted in 2014, required doctors performing abortions to have admitting privileges at nearby hospitals. [NYT article] (next WH, see July 8)
June 29 Peace Love Art Activism
CLINTON IMPEACHMENT
June 29, 1998: Attorneys for Dale Young confirm that the Lewinsky family friend testified before the grand jury that Monica Lewinsky spoke to her of an intimate relationship between herself and President Clinton. According to Young's testimony, Lewinsky confided in her in 1996, detailing the limitations and rules Clinton had placed upon their relationship. (see Clinton for expanded story)
Crime and Punishment
June 29, 2006: the Supreme Court ruled 5-3 that President George W. Bush's plan to try Guantanamo Bay detainees in military tribunals violated U.S. and international law. [NYT article] (T, see April 11, 2007; C&P, see May 17, 2010)
June 29 Peace Love Art Activism
Technological Milestone
June 29, 2007: the first-generation Apple iPhone went on sale in the US. Masses of consumers lined up in advance of the phone's release, camping out on city streets outside Apple stores and retailers. Seventy four days after its market release, Apple recorded one million iPhones sold. (see Nov 19)
June 29 Peace Love Art Activism
Environmental Issues
June 29, 2015: the US Supreme Court blocked one of the Obama administration's most ambitious environmental initiatives, an Environmental Protection Agency regulation meant to limit emissions of mercury and other toxic pollutants from coal-fired power plants.
Industry groups and some 20 states had challenged the E.P.A.'s decision to regulate the emissions, saying the agency had failed to take into account the punishing costs its rule would impose.
The Clean Air Act required the regulation to be "appropriate and necessary." The challengers said the agency had run afoul of that law by  deciding to regulate the emissions without first undertaking a cost-benefit analysis. Writing for the majority, Justice Antonin Scalia wrote: "It is not rational, never mind 'appropriate,' to impose billions of dollars in economic costs in return for a few dollars in health or environmental benefits. Statutory context supports this reading." [NYT article] (see July 2)
June 29 Peace Love Art Activism
Voting Rights
June 29, 2015: in Arizona State Legislature v. Arizona Independent Redistricting Commission, the Supreme Court ruled 5-4  that a voter-approved independent redistricting commission in Arizona was constitutional. The conservative wing of the court was in the minority.
In response to complaints that the state legislature was engaging in partisan gerrymandering of congressional districts, Arizona voters approved an independent commission to draw district lines in a 2000 ballot initiative. The commission has two Republicans and two Democrats, who  legislative leaders choose from a list composed by the state's Commission on Appellate Court Appointments, in addition to a chairman who may not  be a member of either party. Republican legislators sued after the 2012 election, arguing that they shouldn't be completely cut out of the district-drawing process. The case hinged on one word: "legislature." It arose out of a debate over the Constitution's elections clause, which dictates that the  "times, places, and manner" of federal elections "shall be prescribed in each state by the legislature thereof." (see Aug 5)
June 29 Peace Love Art Activism
LGBTQ
June 29, 2015: Jeff Amyx, who owned Amyx Hardware & Roofing Supplies in Grainger County, Tennessee decided to express his beliefs following the Supreme Court's ruling allowing same-sex marriage by putting up a sign that reads, "No Gays Allowed." Amyx added the sign because gay and lesbian couples were against his religion.
Amyx, who was also a baptist minister, said he realized that LGBTQ people are not afraid to stand for what they believe in. He said it showed him that Christian people should be brave enough to stand for what they believe in.
"They gladly stand for what they believe in, why can't I? They believe their way is right, I believe it's wrong. But yet I'm going to take more persecution than them because I'm standing for what I believe in," Amyx said. [Advocate article] (see June 30)
June 29 Peace Love Art Activis
June 29 Peace Love Art Activism,  June 29 Peace Love Art Activism,
June 29 Peace Love Art Activism, June 29 Peace Love Art Activism