June 11 Peace Love Art Activism
US Labor History
United Fruit Co
June 11, 1913: police shot at maritime workers striking United Fruit Co. in New Orleans; one killed, two wounded. (see July 18)
Hill v. Florida
June 11, 1945: the U.S. Supreme Court invalidated two sections of a Florida law: one required state licensing of paid union business agents, the other required registration with the state of all unions and their officers. [Justia article] (see Aug 22)
June 11 Peace Love Art Activism
INDEPENDENCE DAY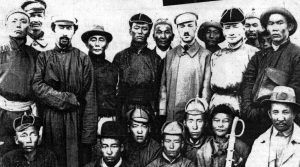 June 11, 1921: Mongolia independent from White Russia. [Facts and Details article] (see December 11, 1931)
June 11 Peace Love Art Activism
Cold War
Cole v. Young
June 11, 1956: Kendrick Cole had been dismissed from his job with the Food and Drug Administration (FDA) under the terms of the federal Loyalty Program (created by President Harry Truman on March 21, 1947). He appealed, and in Cole v. Young the Supreme Court ruled that his dismissal was improper because his job as a food and drug inspector with the Department of Health, Education and Welfare did not involve sensitive national security matters.
The Court: "The term 'national security' is not defined in that [1950] Act, but it is clear from the statute as a whole that it was intended to comprehend only those activities of the Government that are directly concerned with the protection of the Nation from internal subversion or foreign aggression, and not those which contribute to the strength of the Nation only through their impact on the general welfare."  [Oyez article] (see June 21)
June 11 Peace Love Art Activism
June 11 Music et al
Beatles Tommy Moore
June 11, 1960: drummer Tommy Moore quit The Beatles and returned to his job of driving a forklift at Garston bottle works. Norman Chapman briefly replaced Moore, but Chapman was called into National Service after only three gigs. (see Aug 6)
Beatles on "Here We Go"
June 11, 1962: The Beatles recorded a BBC radio program, "Here We Go", at the Playhouse Theatre in Manchester, in front of a studio audience composed largely of loyal Cavern fans. This was the last recording on which Pete Best played drums. (see June 21)
Paint It Black
June 11 – June 24, 1966: "Paint It Black" by the Rolling Stones #1 on the Billboard Hot 100.
The Road to Bethel
June 11, 1969: in an attempt to counterbalance negative local feelings about festival, Stanley Goldstein contacted the Times Herald Record and provided information about festival. (see Chronology for expanded story)
June 11 Peace Love Art Activism
Vietnam
see 

Quang Duc

for the full story
South Vietnam Leadership
June 11, 1963: Buddhist monk Quang Duc publicly burned himself to death in a plea for President Ngo Dinh Diem to show "charity and compassion" to all religions. Diem, a Catholic who had been oppressing the Buddhist majority, remained stubborn despite continued Buddhist protests and repeated U.S. requests to liberalize his government's policies. More Buddhist monks immolated themselves during ensuing weeks. Madame Nhu, the president's sister-in-law, referred to the burnings as "barbecues" and offered to supply matches. (Vietnam & SLV, see June 16)
June 11 Peace Love Art Activism
Black History
James Hood and Vivian Malone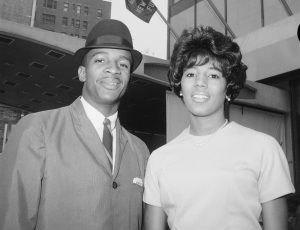 June 11, 1963: James Hood and Vivian Malone attempted to register for classes at the University of Alabama. Governor Wallace stood in front of the Foster Auditorium and delivered a short speech in support of state sovereignty. Hood and Malone were accompanied by US Deputy Attorney General Nicholas Katzenbach. Wallace, backed by state troopers, refused them entry. President John F. Kennedy federalized the Alabama National Guard later the same day, which put them under the command of the President, rather than the Governor of Alabama. Guardsmen escorted Malone and Hood back to the auditorium, where Wallace moved aside at the request of General Henry Graham. Malone and Hood then entered the building.
Later that day, President Kennedy introduced Civil Rights Act. The bill that he later submitted to Congress was ultimately passed as the Civil Rights Act of 1964. [Kennedy announcement referenced the admittance of Hood and Malone] (U of A, see Aug 11)
Martin Luther King, Jr arrested
June 11, 1963: police arrested King in Florida for trying to integrate restaurants. (BH, see June 12; MLK, see June 22)
NAACP
June 11, 1966: despite the passage of the 1964 Civil Rights Act, which prohibited discrimination in employment based on race, sex, religion, and national origin, African Americans were continuously relegated to low-paying, unskilled jobs. Many industries refused to train or promote African Americans, only permitting white employees to compete for supervisory positions.
During the summer of 1966, the National Association for the Advancement of Colored People (NAACP) branches in Birmingham and Pittsburgh held peaceful protests outside of the US Steel Corporation to bring awareness to issues of employment discrimination.
On June 11, 1966, dozens participated in an NAACP-organized march demanding an end to discriminatory labor practices at US Steel in Birmingham. The NAACP also filed more than 200 complaints with the U.S. Equal Employment Opportunity Commission on behalf of US Steel's African-American employees alleging unfair hiring and promoting practices. Complaints included allegations that the company promoted white workers over more senior Afric (BH, see June 13; Labor, see December 15, 1967)
Martin Chambers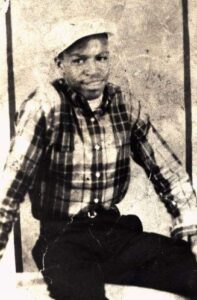 June 11, 1967: Officer James Calvert shot unarmed Martin Chambers, 19, in the back, killing him and setting off three days of riots in Tampa, Florida.
Police pursued Martin Chambers that day because they suspected that he and two other young men had robbed a local photo supply store. While chasing Chambers, a white officer, James Calvert, shot the teenager in the back, killing him. According to newspaper accounts, Calvert shot Chambers as a last resort when the teen would not stop running, and aimed for his shoulder but missed. Chambers died later that day, shortly after arriving at the hospital.
News of the shooting spread quickly throughout Tampa's African American neighborhoods. That night, citizens began a three day riot, burning and looting businesses in the Central Avenue area. State Attorney Paul Antinori heard testimony from Calvert and three young African American men who witnessed the shooting. The young men reported that Calvert shot Chambers after he had stopped running and had his hands up against a chain link fence. Calvert testified that Chambers was still running when shot, and said he feared that if he did not shoot, Chambers would escape.
Just two days after Chambers was killed, Antinori ruled the shooting was justified. In his remarks, Antinori argued that Calvert's shot was necessary because Chambers was a felon fleeing apprehension. Without acknowledging that Chambers had not been convicted of a crime, Antinori explained that people who broke the law accepted the risk that law enforcement might have to use force to do their jobs. City officials and African American community leaders feared that the disappointing verdict would incite more violence but the riots ended. In 1990, a Florida Department of Law Enforcement review also found the shooting justified. [Black Then article] (BH, see June 12; RR, see June 27)
Tamir Rice
June 11, 2015: Judge Ronald B. Adrine, presiding judge of the Municipal Court in Cleveland ruled that probable cause existed to charge two Cleveland police officers in the death of 12-year-old Tamir Rice, but the judge also said he did not have the power to order arrests without a complaint being filed by a prosecutor.
In his ruling, Adrine found probable cause to charge Officer Timothy Loehmann, who fired the fatal shot, with murder, involuntary manslaughter, reckless homicide, and dereliction of duty. He also found probable cause to charge Officer Loehmann's partner, Officer Frank Garmback, with negligent homicide and dereliction of duty.
"This court determines that complaints should be filed by the prosecutor of the City of Cleveland and/or the Cuyahoga County prosecutor," Judge Adrine wrote. [NYT article] (B & S and Rice, see June 12)
June 11 Peace Love Art Activism
Feminism
Elizabeth Hoisington and Anna Mae McCabe Hays
June 11, 1970:  Elizabeth Hoisington and Anna Mae McCabe Hays promoted on the same day to become the first female Generals in the U.S. Army. Hoisington served with the Women's Army Corps and Hays with the Army Nurse Corps. [Hays obit] [Hoisington obit] (see Aug 10)
Thornburgh v. American College of Obstetricians and Gynecologists
June 11, 1986:  with a 5-4 verdict the Supreme Court ruled that several provisions of the 1982 Pennsylvania Abortion Control Act were unconstitutional because they obstructed a woman's right to an abortion. [Oyez article] (F, see June 19; WH, see February 26, 1992)
June 11 Peace Love Art Activism
FREE SPEECH
L.B. Sullivan
June 11, 1977: L.B. Sullivan, a former Alabama public safety director and prison commissioner who was a key figure in a famous Supreme Court libel ruling (see March 29, 1960) , suffered a fatal heart attack at his home on Lake Martin near Tallassee, AL. He was 56. [NYT obit](see June 22)
United States v. Eichman
June 11, 1990: the US Supreme Court invalidated a federal law against flag desecration as violative of free speech under the First Amendment to the Constitution. It was argued together with the case United States v. Haggerty. It built on the opinion handed down in the Court's 1989 decision in Texas v. Johnson, which invalidated, on First Amendment grounds, a Texas state statute banning flag-burning.
The Supreme Court held that the government cannot prosecute a person for burning a United States flag, because to do so would be inconsistent with the First Amendment. The Government conceded that flag-burning constitutes expressive conduct and enjoys the First Amendment's full protection.
"It is clear that the Government's asserted interest in protecting the "physical integrity" of a privately owned flag in order to preserve the flag's status as a symbol of the Nation and certain national ideals, is related to the suppression, and concerned with the content of free expression."  [Cornell article] (see June 21)
Wisconsin v. Mitchell
June 11, 1993: the US Supreme Court ruled that a state may consider whether a crime was committed or initially considered due to an intended victim's status in a protected class, i.e., enhanced sentencing for bias-motivated crimes does not violate a defendant's First Amendment rights. The Wisconsin Supreme Court decision was reversed and remanded. [law dot jrank article] (see March 7, 1994)
June 11 Peace Love Art Activism
Falklands War
June 11 – 12, 1982: missile attack badly damaged British destroyer HMS Glamorgan. British forces took Mount Longdon, Two Sisters, and Mount Harriet. Three Falkland civilians killed in British naval bombardment. (see June 13 – 14)
June 11 Peace Love Art Activism
Karen Ann Quinlan
June 11, 1985: Karen Ann Quinlan died nearly 10 years after being removed from ventilator. [NYT obituary]
June 11 Peace Love Art Activism
Oklahoma City Explosion
Timothy McVeigh
June 11, 2001: Timothy McVeigh executed by lethal injection at the U.S. Federal Penitentiary in Terre Haute, Indiana, He was the first federal prisoner to be executed in 38 years. [ABC News article] (OCE, see May 26, 2003; Death Penalty, see June 20, 2002)
Terry Nichols
June 11, 2004: Terry Nichols spared the death penalty by an Oklahoma state court on murder charges stemming from the 1995 Oklahoma City bombing. The decision cames on the third anniversary of the execution of his co-defendant, Timothy McVeigh, in Terre Haute, Indiana. [CNN article] (see August 6, 2010)
June 11 Peace Love Art Activism
Deepwater Horizon Oil Spill
June 11, 2010: Flow Rate Technical Group said the leak could be 20,000 to 40,000 barrels (840,000 to 1,700,000 US gallons) of oil a day. (see July 15)
June 11 Peace Love Art Activism
LGBTQ
June 11, 2015: a measure allowing some court officials to refuse to perform gay marriage responsibilities because of their religious beliefs became law in North Carolina with the state House voting to override the governor's veto of the bill. The Senate had voted to do the same with Republican Gov. Pat McCrory's veto a week ago. The law meant some register of deeds workers who assemble licenses and magistrates to solemnize civil marriages could decide to stop performing all marriages if they hold a "sincerely held religious objection."
The law "protects sincerely held religious beliefs while also ensuring that magistrates are available in all jurisdictions to perform lawful marriages," House Speaker Tim Moore, R-Cleveland, said in a statement.
Gay rights groups and Democrats who opposed the bill said after the vote that litigation challenging the law was likely to come soon. Republicans supporting the measure said federal laws provided religious accommodations to government officials, in keeping with the U.S. and state constitutions. [ABC News article] (see June 17)
June 11 Peace Love Art Activism
Voting Rights
June 11, 2018: in Husted v. A. Philip Randolph Institute, the Supreme Court rejected a challenge to one of the practices used by Ohio to remove voters from the state's voter rolls.
By a vote of 5-4, the justices agreed that the practice under question – which cancels the registration of voters who do not go to the polls and who then fail to respond to a notice – did not violate federal laws governing voter registration. (see June 18)
June 11 Peace Love Art Activism
Native Americans
June 11, 2018:  in Washington v US, the US Supreme Court in a 4 – 4 decision, let stand a lower court's order and ruled that the State of Washington make billions of dollars worth of repairs to roads that had damaged the state's salmon habitats and contributed to population loss.
"This ruling gives us hope that the treaty we signed was not meaningless, and the state does have a duty to protect this most beautiful resource," said tribal community chairman, Brian Cladoosby.
The case involved the Stevens Treaties, a series of agreements in 1854 – 55 in which tribes in Washington State gave up millions of acres of land in exchange for "the right to take fish." In the 1970s, the state sought to control where Native Americans could fish, and tribal members asserted their treaty rights through acts of civil disobedience (some called the protests "The Fish Wars") and litigation. (see Nov 6)
June 11 Peace Love Art Activism
Immigration History/Japanese Internment Camps
June 11, 2019: the Office of Refugee Resettlement  announced it had chosen a military base as a temporary shelter: Fort Sill in Oklahoma, which was used during World War II as an internment camp for Japanese Americans and Japanese immigrants. Before that, it was the longtime prison for Apache leader Geronimo. (next IH, see July 2; next JIC, see  February 20, 2020)
June 11 Peace Love Art Activism
Sexual Abuse of Children
June 11, 2019: leaders of the Southern Baptist Convention opened their annual meeting vowing to focus on an issue that many pastors had long resisted: how to address sexual abuse at their churches.
Thousands of pastors voted to address the problem in a concerted way for the first time, enacting two new measures they say were a first step to reform.
Outside the arena victims and their families protested what they considered an inadequate response.
The pastors voted to create a centralized committee that would evaluate allegations against churches accused of mishandling abuse. They also approved an amendment to their constitution that would allow such churches to be expelled from the convention if the allegations were substantiated. (see Sept 5)
June 11 Peace Love Art Activism