June 12 Peace Love Art Activism
BLACK HISTORY
Feminism
June 12 – June 23, 1840: the World's Antislavery Convention was held in London. The British and Foreign Antislavery Society sponsoring the convention refused to seat women delegates from American antislavery societies. Forced to sit in the gallery, the women, including Elizabeth Cady Stanton and Lucretia Mott, discussed the need to hold a convention to discuss women's status in society. This conversation led to the first women's rights convention in Seneca Falls, New York in 1848. [Historians Against Slavery article] (BH, see March 9, 1841; Feminism, see April 7, 1848)
Chicken wire
June 12, 1928: from June 12th to the 15th, the Democratic National Convention was held in Houston, Texas. One hundred black delegates were segregated from the white delegates by chicken wire. (see Sept 16)
Scottsboro calamity
June 12, 1934: Judge Horton, who had faced no opposition in his previous race, was defeated in his bid for re-election. (see Scottsboro for expanded story)
Niecey Brown murdered
June 12, 1945: Niecey Brown, a 74-year-old Black woman, died from injuries after an off-duty white police officer named George Booker forcibly entered her house and beat her to death with a bottle in Selma, Alabama.
Officer Booker was arrested and charged with murder. During his trial in September 1945, his lawyer cautioned the all-white jury, "[I]f we convict this brave man who is upholding the banner of white supremacy by his actions, then we may as well give all our guns to the niggers and let them run the Black Belt." The jury heeded this advice, ignoring eyewitness testimony and deliberating for only a few minutes before acquitting Officer Booker of all charges.  [EJI article] (next BH, see Sept 18)
Freedom Riders
June 12, 1961: riders were transferred to Mississippi's notorious Parchman State Prison Farm. Segregationist authorities attempt to break their spirits by removing mattresses from the cells. New Freedom Riders will continue to arrive in Jackson, MS and be jailed throughout summer. (see June 13)
Medgar Evers
June 12, 1963: Byron De La Beckwith assassinated NAACP civil rights leader Medgar Evers [37 years old] outside Evers' home in Jackson, Mississippi. [Time photos from funeral] (BH, see June 14; see Evers for expanded chronology)
Nelson Mandela
June 12, 1964: Mandela and seven others were convicted and sentenced to life in prison. Mandela was sent to Robben Island prison, seven miles off the coast of Cape Town. He will spend the next 18 years there. [Black Then article] (SA/A, see August 18, 1964; see Mandela for expanded chronology)
Loving v. Virginia
June 12, 1967: the Supreme Court ruled that prohibiting interracial marriage was unconstitutional. Sixteen states that still banned interracial marriage at the time were forced to revise their laws. [ACLU article] (see June 15)
Clifford Glover
June 12, 1974: a jury acquitted Thomas Shea in the Clifford Glover killing (April 28, 1973). Hundreds of people rioted; cars upturned; windows broken; and cash registers stolen.  Two police officers were injured. (BH, see June 30; RR, see November 12, 1976)
South African state-of-emergency
June 12, 1986: the South African government declared a nationwide state of emergency, granting itself sweeping powers, including authorization for the police to use force against protesters and to impose curfews. The decree bans the promotion of unlawful strikes, boycotts and protests and puts tight restrictions on the press. More than 1,000 activists are detained.  (see Sept 7)
Missouri v. Jenkins
June 12, 1995: in Missouri v. Jenkins the US Supreme Court sets a new goal for desegregation plans: the return of schools to local control. It emphasized again that judicial remedies were intended to be "limited in time and extent." [Cornell law article] (BH, see June 21; SD, see July 14, 1999)
Cross-burning
June 12, 2014: Pamela Morris, a former secretary of the Ku Klux Klan chapter in Ozark, pleaded guilty to committing perjury before a federal grand jury. Morris admitted she lied during an investigation into the burning of a cross in Ozark by her son, Steven Joshua Dinkle. Morris admitted that she was an officer of the KKK and that her testimony denying any connection to the organization was false according to the office of U.S. Attorney George Beck. The prosecutor said Morris admitted she knew Dinkle committed the cross burning. (see Aug 21)
137 SHOTS
June 12, 2014: the city of Cleveland announced that former Sgt. Michael Donegan would return July 11 as a patrol officer and will receive back pay since his termination in June 2013. He will return to the rank of sergeant. Officials said Donegan had "disengaged himself" from the chase even though he recognized the enormous scope of the situation.
Two other supervisors — Paul Wilson and Ulrich Zouhar – demoted for violating various protocols, would also return in July to their previous ranks as a result of arbitration. (see 137 for expanded story)
Tamir Rice
June 12, 2015: Cuyahoga County prosecutor Tim McGinty said the case of two white policemen involved in the shooting death of 12-year-old Tamir Rice holding a pellet gun would go to a grand jury. (B & S, see September 8; Rice, see Dec 27)
Church burnings
June 12, 2019: U.S. Attorney David C. Joseph for the Western District of Louisiana and Assistant Attorney General Eric Dreiband for the Department of Justice's Civil Rights Division announced that a federal grand jury indicted Holden James Matthews for setting fire to and destroying three churches in St. Landry Parish.
According to the six-count indictment, in a span of 10 days, Matthews intentionally set fire to St. Mary Baptist Church in Port Barre, Louisiana, on March 26, Greater Union Baptist Church in Opelousas, Louisian, on April 2, and Mount Pleasant Baptist Church in Opelousas on April 4.  The indictment alleged that he was motivated to set the fires because of the religious character of these properties.  Matthews was charged with three counts of intentional damage to religious property, hate crime charges that fall under the Church Arson Prevention Act, and with three counts of using fire to commit a felony. (next BH, see July 15; next CB, see Oct  8); see February 10, 2020 for next Holden Matthews)
June 12 Peace Love Art Activism
LSD
Susi Ramstein
June 12, 1943: everyone on Hoffmann's team made at least one self-experiment with LSD. Ms. Susi Ramstein did three, the first on June 12, 1943, at the age of twenty-one. She was the first woman to take LSD and the youngest experimental subject at Sandoz. The dosage of her first trial was 100 micrograms, and she found the effects mild and pleasant. She had beautiful visions in which the surrounding world began to shine and in her own words, it was "a good experience." Unlike Hoffmann, she decided to take a tram home.  When she bought the ticket on board from a ticket agent, she thought his nose overly long and the other passengers looked comical. Ms. Ramstein felt steady, was not confused, and found her way home without problem. To be of help in establishing standards for the medical use of LSD, she repeated the experiment twice. The tests were conducted in the lab—at least they began there. All experiences and observations were noted. Susi Ramstein was intent on contributing to the advancement of science and determining the clinical usefulness of LSD. One year after her last trial, she married and left Sandoz.
Dr Max Rinkel 
In 1949 : Boston psychiatrist Max Rinkel obtained LSD from Sandoz and initiated work on it at Harvard. Hungarian psychiatrist Nicholas Bercel commenced LSD research in Los Angeles. [Harvard Crimson article] (see April 20, 1950)
Dock Ellis
June 12, 1970: Dock Ellis threw a no-hitter for the Pittsburgh Pirates against the San Diego Padres.
According to Ellis, he he had visited a friend in Los Angeles the day before his start, took some LSD and stayed up late into the night. He lost track of which day it was and awoke up thinking he was supposed to pitch the next day, so took acid again.
His friend told him that he was supposed to be on the mound against the Padres that evening in San Diego. Ellis got on a plane an hour later and made it to the park 90 minutes before first pitch.
He recounted of his start in 1984 and said that he was unable to feel the ball or see his catcher. "I started having a crazy idea in the fourth inning that Richard Nixon was the home plate umpire, and once I thought I was pitching a baseball to Jimi Hendrix, who to me was holding a guitar and swinging it over the plate," , when he first told the world of his trip. "I remember diving out of the way of a ball I thought was a line drive. I jumped, but the ball wasn't hit hard and never reached me." (see Oct 27)
June 12 Peace Love Art Activism
June 12 Music et al
Camelot
June 12 – July 23, 1961, the original Broadway cast album from Camelot  Billboard's #1.
Medgar Evers songs
June 12, 1963: following Byron De La Beckwith's assassination of NAACP civil rights leader Medgar Evers, musicians wrote several songs about the incident.
Ballad of Medgar Evers, by Phil Ochs
Only a Pawn in Their Game, by Bob Dylan
Mississippi Goddam, by Nina Simone
Back in My Arms, Again
June 12 – 18, 1965: "Back in My Arms, Again" by The Supremes #1 on the Billboard Hot 100.
The Family Way soundtrack
June 12, 1967: US release of The Family Way soundtrack album by Paul McCartney. (see June 19)
The Road to Bethel
June 12, 1969: Stanley Goldstein and Don Ganoung (minister and head of community relations) attended public meeting in Wallkill Town Hall in an attempt to allay antagonism toward festival.  Though town supervisor Jack Schlosser was against the event, he attempted to provide a fair hearing. (see Chronology for expanded story)
June 12, 1972: John Lennon released Some Time in New York City, his third solo album. It was a highly political album that most critics panned. (next Beatles, see August 30)
Nuclear/Chemical News
June 12, 1982:  Bruce Springsteen, James Taylor, Jackson Browne, Linda Ronstadt and Gary 'US' Bonds all appeared at a rally for nuclear disarmament in Central Park, New York to over 450,000 fans. An international convocation at The Cathedral of St. John the Divine featured prominent peace activists from around the world. (see Dec 2)
June 12 Peace Love Art Activism
Native Americans
Alcatraz Takeover ends
June 12, 1971: a government force of 35 marshals recaptured Alcatraz Island without resistance, removing 15 Indian holdouts remaining from an occupation that had begun on November 20, 1969. [California digital article] (see July 4)
Marlon Brando
June 12, 1973: Marlon Brando appeared on the Dick Cavett Show and reiterated his stance that American cinema and the entertainment industry in general had misrepresented Native Americans, as well as all minority groups. (see February 13, 1974)
Wounded Knee II
1973 – 1976: Native American activists referred to the three years following Wounded Knee II as the "Reign of Terror." They stated that the FBI carried out intensive local surveillance, made repeated arrests, harassed local tribal members, and instituted legal proceedings against AIM leaders and supporters on the Pine Ridge reservation.  (see February 13, 1974)
June 12 Peace Love Art Activism
US Labor History
Baseball strike
June 12, 1981: Major League Baseball players strike. Team owners wanted to restore their own prerogatives by requiring a team to pay compensation to another when hiring a free agent. Players fought the move in a strike that wiped out almost 40% of the season before being settled by compromise in August, just in time to save the World Series from cancellation. [Baseball reference article] (see Aug 3)
June 12 Peace Love Art Activism
The Cold War
"tear down this wall"
June 12, 1987: during a speech in Berlin, the Ronald Reagan urged his Soviet counterpart, Mikhail Gorbachev, to "tear down this wall" (see November 24, 1987)
Dissolution of Yugoslavia
June 12, 1999: NATO peacekeeping forces entered the province of Kosovo in Yugoslavia. (see DoY for expanded chronology)
June 12 Peace Love Art Activism
Jack Kevorkian
June 12, 1997: in Kevorkian's fourth trial, a judge declares a mistrial. The case was later dropped. (see JK for expanded story)
June 12 Peace Love Art Activism
Candidate George W Bush
June 12, 1999: Texas Gov George W. Bush announced he would seek the Republican Party nomination for President.
June 12 Peace Love Art Activism
Technological Milestone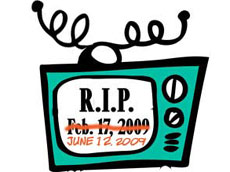 June 12, 2009:  analog television broadcasts ended in the United States, as the Federal Communications Commission required all full power stations to send their signals digitally. (see January 4, 2010)
June 12 Peace Love Art Activism
SEPARATION OF CHURCH AND STATE
June 12, 2015: in Iknorr Singh v Jon McHugh et al, the US District Court for the District of Columbia rule that Iknorr Singh, a Hofstra University student and a Sikh, should be allowed to enter the ROTC program at the University and is permitted religious accommodation of not cutting his hair or beard and wearing a turban. (see June 30)
June 12 Peace Love Art Activism
Immigration History
Trump's travel ban
June 12, 2017:  a second federal appeals court, the US Court of Appeals for the Ninth Circuit, in San Francisco ruled against President Trump's revised travel ban. The decision was the latest in a string of court rulings rejecting the administration's efforts to limit travel from several predominantly Muslim countries.
The administration had already sought a Supreme Court review of a similar decision issued last month by the United States Court of Appeals for the Fourth Circuit, in Richmond, Va.
The new ruling affirmed a March 29 decision from Judge Derrick K. Watson, of the Federal District Court in Hawaii. Judge Watson blocked major parts of the revised order, saying they violated the Constitution's ban on a government establishment of religion. Judge Watson wrote that the statements of Mr. Trump and his advisers made clear that his executive order amounted to an attempt to disfavor Muslims.
"A reasonable, objective observer — enlightened by the specific historical context, contemporaneous public statements and specific sequence of events leading to its issuance — would conclude that the executive order was issued with a purpose to disfavor a particular religion," Judge Watson wrote. [NYT article] (travel ban, see June 26)
Sessions v. Morales-Santana
June 12, 2017: in Sessions v. Morales-Santana, No. 15-1191, the US Supreme Court ruled that unwed mothers and fathers may not be treated differently in determining whether their children may claim American citizenship. "The gender line Congress drew is incompatible with the requirement that the government accord to all persons 'the equal protection of the laws,'" Justice Ruth Bader Ginsburg wrote for the majority.
The case concerned Luis Ramon Morales-Santana, who was born in 1962 in the Dominican Republic. His father was an American citizen, but his mother was not. His parents were unwed but later married.
The family moved to the United States when Mr. Morales-Santana was 13, and he lived in this country for decades. After convictions for robbery, attempted murder and other crimes, federal authorities sought to deport him.
He resisted, claiming American citizenship. But the law in effect when he was born allowed unwed fathers of children born abroad to transmit citizenship to them only if the fathers had lived in the United States before the child was born for a total of 10 years, five of them after age 14. Mr. Morales-Santana's father fell just short of satisfying that requirement.
The United States Court of Appeals for the Second Circuit, in New York, ruled for Mr. Morales-Santana, saying that the differing treatment of mothers and fathers was unconstitutional sex discrimination. The appeals court declared him a citizen.
Justice Ginsburg agreed that the law was based on stereotypes that violated equal protection principles. The law, she wrote, was built on a faulty assumption "that unwed fathers care little about, indeed are strangers to, their children."
"Lump characterization of that kind, however, no longer passes equal protection inspection," Justice Ginsburg wrote.  [Oyez article] (see June 21)
June 12 Peace Love Art Activism
Nuclear/Chemical News
June 12, 2018: President Trump concluded an historic meeting with North Korea's leader, Kim Jong-un saying that denuclearization on the Korean Peninsula would begin "very quickly."
The two leaders signed a joint statement that Trump called "comprehensive." In the statement, Trump "committed to provide security guarantees" to North Korea, and Kim "reaffirmed his firm and unwavering commitment to complete denuclearization of the Korean Peninsula."
The statement was short on details and was not immediately released to reporters, but it was legible in a photo of Trump holding it up at the ceremony.
Asked if Mr. Kim had agreed to denuclearize, Trump said, "We're starting that process very quickly — very, very quickly — absolutely." (next N/C News, see July 23); Trump/N Korea, see February 28, 2019)
June 12 Peace Love Art Activism
Cannabis
June 12, 2019: according to a new study researchers identified strains of cannabis burned in mortuary rituals as early as 500 B.C. deep in the Pamir mountains in western China. The residue had chemical signatures indicating high levels of tetrahydrocannabinol (THC), the plant's most psychoactive, or mood-altering, compound. (see Cannabis for expanded Cannabis history)
June 12 Peace Love Art Activism
LGBTQ
Transgender Health Protections Reversed
June 12, 2020:  NPR reported that the Trump administration finalized a rule that would remove nondiscrimination protections for LGBTQ people when it comes to health care and health insurance.
"HHS respects the dignity of every human being, and as we have shown in our response to the pandemic, we vigorously protect and enforce the civil rights of all to the fullest extent permitted by our laws as passed by Congress," said Roger Severino, who directs the Office for Civil Rights in the Department of Health and Human Services, in a written statement announcing that the HHS rule had become final. The rule is set to go into effect by mid-August.
It was one of many rules and regulations put forward by the Trump administration that defined "sex discrimination" as only applying when someone faced discrimination for being male or female, and did not protect people from discrimination on the basis of sexual orientation or gender identity. (next LGBTQ, see June 15)
June 12 Peace Love Art Activism
FREE SPEECH
June 12, 2023: the US Supreme Court said it won't review North Carolina's decision to stop issuing specialty license plates with the Confederate flag.
As is typical, the court did not comment in declining to hear the case, which challenged the state's decision. The case was similar to one originating in Texas that the court heard in 2015, when it ruled the license plates are state property.
The current dispute stemmed from North Carolina's 2021 decision to stop issuing specialty license plates bearing the insignia of the North Carolina chapter of the Sons of Confederate Veterans. The chapter sued, claiming that the state's decision violated state and federal law. A lower court dismissed the case, and a federal appeals court agreed with that decision. [AP article] (next FS, see June 29)