September 18 Peace Love Art Activism
BLACK HISTORY
Fugitive Slave Act
September 18, 1850: Congress passed the Fugitive Slave Law or Fugitive Slave Act as part of the Compromise of 1850 between Southern slave-holding interests and Northern Free-Soilers. This was one of the most controversial acts of the 1850 compromise and heightened Northern fears of a "slave power conspiracy". It declared that all runaway slaves were, upon capture, to be returned to their masters. Abolitionists nicknamed it the "Bloodhound Law" for the dogs that were used to track down runaway slaves. (Britanica article) (Slave Revolts and Black History, see Apr 3)
School Desegregation
September 18, 1945: in Gary, Indiana, mounting pressure from civic groups such as the League of Women Voters, YWCA, and Gary Teacher's Union to desegregate schools pushed district officials to make another attempt (see September, 1927) at integration. Again, white students took to the streets en masse in an effort to curb integration. [NPR story re Frank Sinatra and Gary desegregation] (BH & SD, see Nov 1)
September 18 Peace Love Art Activism
Feminism
September 18, 1950:  Harvard Law School admitted women for the first time. Thirteen female students were admitted. [Harvard Law article]
Jo Ann Robinson
In 1953: Jo Ann Robinson (of Montgomery's Women's Political Council) and other local black leaders met with the three commissioners of Montgomery. Robinson's group complained that the city did not hire any black bus drivers, said that segregation of seating was unjust, and that bus stops in black neighborhoods were farther apart than in white ones, although blacks were the majority of the riders. The commissioners refused to change anything. Robinson and other WPC members met with bus company officials on their own. The segregation issue was deflected, as bus company officials said that segregation was city and state law. The WPC achieved a small victory, as the bus company officials agreed to have the buses stop at every corner in black neighborhoods, as was the practice in white neighborhoods. [Black Past article]  (BH, see June 8; Feminism, see May 18, 1954; Montgomery, see March 2, 1955)
September 18 Peace Love Art Activism
September 18 Music et al
Bobby Vee
September 18 – October 8, 1961:  "Take Good Care of My Baby" by Bobby Vee #1 Billboard Hot 100.
Judy Garland
September 18 – December 17, 1961: Judy Garland's Judy at Carnegie Hall Billboard #1 album.
Jimi Hendrix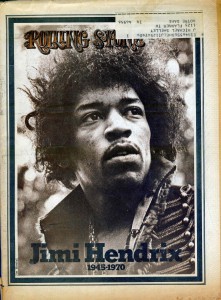 September 18, 1970: Hendrix, age 27, died in London. (NYT article) (see Oct 4)
September 18 Peace Love Art Activism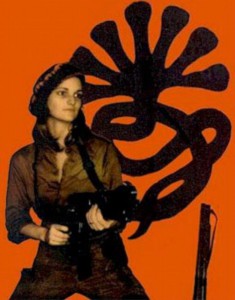 September 18, 1975: S.L.A. members Patty Hearst, Bill and Emily Harris and Wendy Yoshimura arrested in San Francisco. When asked for her occupation while being booked, Hearst says, "urban guerrilla." [FBI report] (see March 11, 1976)
September 18 Peace Love Art Activism
CLINTON IMPEACHMENT
September 18, 1998: over Democrats' objections, the House Judiciary Committee agreed to release President Clinton's videotaped grand jury testimony and more than 3,000 pages of supporting material from the Starr report, including sexually explicit testimony from Monica Lewinsky. (see Clinton for expanded story)
September 18 Peace Love Art Activism
TERRORISM
September 18 2001: the 2001 anthrax attacks commenced as letters containing anthrax spores are mailed from Princeton, New Jersey to ABC News, CBS News, NBC News, the New York Post, and the National Enquirer. 22 in total are exposed; 5 of them die. [NPR story] (Terrorism, see Oct 26; Anthrax, see April 11, 2007)
September 18 Peace Love Art Activism
US Labor History
September 18, 2012: the Chicago Teachers Union agreed to end its strike allowing 350,000 children to return to classes. The terms, which appeared to provide some victories for both sides, gave annual raises to teachers, lengthened the school day,  and allow ed teachers to be evaluated, in part, with student test scores. The school system would also aim to guide laid-off teachers with strong ratings into at least half of any new job openings in the schools. [NYT article] (see January 26, 2014)
September 18 Peace Love Art Activism
SEPARATION OF CHURCH AND STATE
September 18, 2014: the US Air Force reversed its policy requiring new recruits and those reenlisting to conclude a swearing-in oath with "So help me God."
The trouble for the Air Force had started when a Tech. Sgt. at Creech Air Force Base in Nevada with 10 years' service wanted to reenlist. As an atheist, he didn't see why he had to swear an oath to a deity he didn't believe in. It seemed to violate the religious establishment clause of the US Constitution. No other branches of the US military required it, nor did the honor code at the US Air Force Academy.
The sergeant had scratched out that last line in the Air Force enlistment/reenlistment document, which read in full: "I, [insert name], do solemnly swear (or affirm) that I will support and defend the Constitution of the United States against all enemies, foreign and domestic; that I will bear true faith and allegiance to the same; and that I will obey the orders of the President of the United States and the orders of the officers appointed over me, according to regulations and the Uniform Code of Military Justice. So help me God."  [Guardian article] (see Oct 6)
September 18 Peace Love Art Activism
 FREE SPEECH & Colin Kaepernick
September 18, 2016: more San Francisco 49ers joined Kaepernick, Dolphins continued protest
Kaepernick's teammates Antoine Bethea, Eli Harold, Jaquiski Tartt and Rashard Robinson joined in protesting during the national anthem by raising their right fists ahead of San Francisco's game vs. the Carolina Panthers.
Meanwhile in Foxboro three of the same Miami Dolphins players continued their protest. Arian Foster, safety Michael Thomas and wide receiver Kenny Stills all kneeled during the anthem. [USA Today article] (FS & CK, see Sept 19)
September 18 Peace Love Art Activism
LGBTQ
September 18, 2018: a district court in Minnesota issued a ruling that said, "The marriage is declared to be in all respects valid."
"The ruling was a long time coming, but I knew the courts would eventually rule in our favor," said Baker. "Over the years, many legal scholars have reviewed our case and concluded that the law was on our side." (next LGBTQ, see Oct 4; Baker/McConnell, see February 16, 2019)
September 18 Peace Love Art Activism
Please follow and like us: