September 27 Peace Love Art Activism
US Labor History
Feminism
September 27, 1909: New York shirtwaist strike of 1909, also known as the Uprising of the 20,000, was a labor strike primarily involving Jewish women working in New York shirtwaist factories. Led by Clara Lemlich and supported by the National Women's Trade Union League of America (NWTUL). [JWA article] (Labor, see Nov 22; Feminism see Jan 2, 1910)
Change to Win
September 27, 2005: the Service Employees International Union (SEIU), the Teamsters, and other activist unions leave the AFL-CIO to form a new labor coalition called Change to Win. The move represents a new emphasis on organizing workers to bring them into a labor movement starved for members. (January 2, 2006)
September 27 Peace Love Art Activism
Emma Goldman
September 27, 1919: Goldman posted bond and was released from federal prison. She left for Rochester, NY, knowing she would soon receive deportation orders. [NYT article] (see Goldman for expanded story)
September 27 Peace Love Art Activism
BLACK HISTORY
Gary Indiana School Desegregation
September 27, 1927: in Gary Indiana, the crowd swelled to about 800 students. Superintendent Wirt hedged his bets by telling the angry crowd that "possibly when a new black school was erected on the east side, Emerson would be again segregated." (see Sept 28)
A Philip Randolph
September 27, 1940:  civil rights leader A. Philip Randolph met with President Franklin D. Roosevelt in the White House to demand racial integration of the U.S. Armed forces. Congress had created a draft in response to the outbreak of war in Europe, which was to take effect on October 16, 1940. The law contained a provision prohibiting race discrimination, but Randolph felt the military was not honoring it. The meeting with Roosevelt did not go well, and afterwards the administration issued a false report that Randolph had accepted the president's plan, for which it quickly had to apologize.
U.S. armed forces remained segregated during World War II. Winfred Lynn's challenge to the segregated draft was unsuccessful (Armed services, see December 4, 1942 &  February 3, 1944). (next BH, see Nov 13)
School Desegregation
SEPTEMBER 27, 1958: following the Supreme Court's 1954 Brown v. Board of Education decision, school boards across the country were ordered to draft desegregation plans. The school board in Little Rock, Arkansas, drafted a plan and agreed to implement it during the 1957-1958 school year. When nine black students, known as the Little Rock Nine, made their way to Central High School as part of Arkansas's gradual desegregation plan, they were met by angry crowds and the Arkansas National Guard blocking their entry. Arkansas Governor Orval Faubus encouraged the protesters and did everything in his power to hinder integration. Eventually, President Dwight Eisenhower deployed federal troops to Arkansas and commanded the Arkansas National Guard to escort the students to school.
Not yet through with his attempts to thwart integration, Faubus devised another plan. Following the 1957-1958 school year, the Little Rock School Board petitioned for a delay in the implementation of its desegregation plan. A federal district judge granted a delay until 1961, which the NAACP promptly appealed. The case made its way to the Supreme Court where, on September 12, 1958, the Court ordered immediate integration.
By that time, the Arkansas Legislature had passed a law allowing Governor Faubus to close public schools and later hold a special election to determine public support. Immediately after the Supreme Court released its decision, the governor ordered all four public high schools closed pending a public vote. On September 27, 1958, the people of Arkansas voted overwhelmingly (19,470 to 7561) to keep the schools closed rather than integrate. The schools would remain closed for the entire 1958-1959 academic term, known as "the lost year." (BH, see Oct 14; SD, see Oct 25)
James H Meredith
September 27, 1962: a fourth attempt to enroll. Meredith in the University of Mississippi was canceled after it became evident that his life would be endangered. (see September 28, 1962)
Medgar Evers
September 27, 1973: New Orleans police arrested Byron De La Beckwith who had a bomb and several rifles in his car. He stated he had come to New Orleans to sell china. Police stated that De La Beckwith intended to blow up the home of A I Botnick, head of the New Orleans chapter of B'nai B'rith. It was the first day of Rosh Hashanah. Botnick had moved his family out of New Orleans several days earlier after receiving threatening calls. (see Oct 11)
Matthew Shepard and James Byrd, Jr. Hate Crimes Prevention Act
September 27, 2007: the Senate passed the Matthew Shepard and James Byrd, Jr. Hate Crimes Prevention Act  as an amendment to another bill. President George W Bush indicated he would veto the legislation if it reached his desk. The amendment was dropped by the Democratic leadership because of opposition from conservative groups and President George Bush, and due to the measure being attached to a defense bill there was a lack of support from antiwar Democrats. (LGBTQ, see Nov 8; BH, see March 26, 2008; Shepard, see April 2, 2009)
September 27 Peace Love Art Activism
Religion and Public Education
September 27, 1948: Circuit Judge Grover Watson ordered the Champaign school board to stop all religious education in all public school buildings. NYT article (see November 20, 1948)
Environmental Issues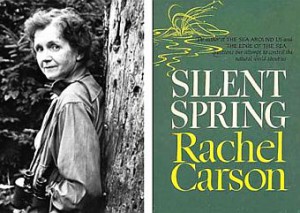 September 27, 1962: Rachel Carson's Silent Spring published. The book is widely credited with helping to launch the contemporary American environmental movement. The New Yorker magazine had started serializing Silent Spring in June 1962. Rachel Carson was already a well-known writer on natural history, but had not previously been a social critic. The book was widely read—especially after its selection by the Book-of-the-Month Club and the New York Times best-seller list—and inspired widespread public concerns with pesticides and pollution of the environment. Silent Spring facilitated the ban of the pesticide DDT[3] for agricultural use in 1972 in the United States. NYT article (see Dec 7)
September 27 Peace Love Art Activism
The Cold War  & Nuclear/Chemical News
September 27, 1962: Soviet Union above ground nuclear test. 10 – 30 megaton. (CW, see Oct 7; NN, see Oct 22)
September 27 Peace Love Art Activism
JFK Assassination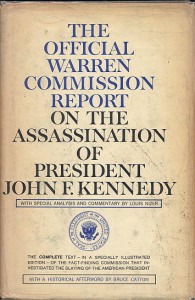 September 27, 1964: the report of the Warren Commission chaired by Chief Justice Earl Warren on the Kennedy assassination was released. The report essentially concluded that Lee Harvey Oswald had acted alone. [text of report] (see October 5, 1966)
September 27 Peace Love Art Activism
Vietnam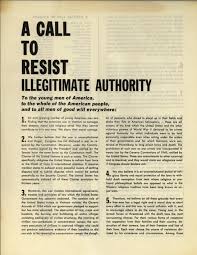 September 27, 1967: an advertisement headed "A Call To Resist Illegitimate Authority," signed by over 320 influential people (professors, writers, ministers, and other professional people), appeared in the New Republic and the New York Review of Books, asking for funds to help youths resist the draft.
"A Call to Resist Illegitimate Authority" was one of the most powerful and important indictments of the Vietnam War by the anti-war movement. It declared that "the war is unconstitutional and illegal. Congress has not declared a war as required by the Constitution." Additionally, "this war violates international agreements, treaties and principles of law which the United States Government has solemnly endorsed." The Call was published in the New York Review of Books, The Nation, and other publications. [text] (see Sept 29)
September 27 Peace Love Art Activism
Sexual Abuse of Children
September 27, 2004: Bishop Thomas Dupre was indicted on child rape charges, becoming the first bishop to face charges in the church sex abuse scandal. Dupree was the head of the Springfield, Mass., diocese, but resigned in February after the allegations came to light. His two alleged victims have said Dupre sexually abused them for years in the 1970s and asked them to keep quiet about the abuse when he was made auxiliary bishop in 1990. (NYT article) (see Nov 15)
September 27 Peace Love Art Activism
Affordable Care Act
September 27, 2017
US Senators Cory Booker, Brian Schatz, Chris Murphy, and Elizabeth Warren wrote to Seema Verma, the Administrator for the Centers for Medicare and Medicaid Services. In the letter they expressed concern for the Trump administration's decision to shut down the Affordable Care Act website for 12 hours nearly every Sunday during the upcoming open enrollment. [Star Advertiser article]
the Department of Health and Human Services told stated that for the first time it would not be sending its regional directors to help states with planning for the upcoming open enrollment period. [BuzzFeed article]  (see Dec 21)
September 27 Peace Love Art Activism
Please follow and like us: