September 9 Peace Love Art Activism
BLACK HISTORY
Slave Revolts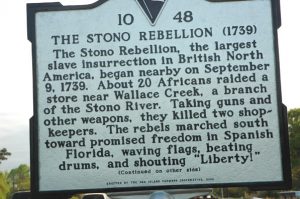 September 9, 1739: early on the morning of the 9th, a Sunday, about twenty slaves gathered near the Stono River in St. Paul's Parish, less than twenty miles from Charlestown. SC. The slaves went to a shop that sold firearms and ammunition, armed themselves, then killed the two shopkeepers who were manning the shop. From there the band walked to the house of a Mr. Godfrey, where they burned the house and killed Godfrey and his son and daughter. They headed south. It was not yet dawn when they reached Wallace's Tavern. Because the innkeeper at the tavern was kind to his slaves, his life was spared. The white inhabitants of the next six or so houses they reach were not so lucky — all were killed. The slaves belonging to Thomas Rose successfully hid their master, but they were forced to join the rebellion. (They would later be rewarded. See Report re. Stono Rebellion Slave-Catchers.) Other slaves willingly joined the rebellion. By eleven in the morning, the group was about 50 strong. The few whites whom they now encountered were chased and killed, though one individual, Lieutenant Governor Bull, eluded the rebels and rode to spread the alarm.
The slaves stopped in a large field late that afternoon, just before reaching the Edisto River. They had marched over ten miles and killed between twenty and twenty-five whites.
Around four in the afternoon, somewhere between twenty and 100 whites had set out in armed pursuit. When they approached the rebels, the slaves fired two shots. The whites returned fire, bringing down fourteen of the slaves. By dusk, about thirty slaves were dead and at least thirty had escaped. Most were captured over the next month, then executed; the rest were captured over the following six months — all except one who remained a fugitive for three years. [PBS article] (BH, see May 10, 1740; SR, see March and April 1741)
Dr. Ossian Sweet
September 9, 1925: Dr. Ossian Sweet, an African-American, bought a house in an all-white neighborhood in Detroit and moved in with his family. On this day, a white mob attacked the house, throwing stones and breaking upstairs windows. Dr. Sweet had asked nine other men to be in the house for protection, and some of them brought guns. Guns were fired at the mob, killing one man and wounding another. Sweet and his friends were arrested and tried for murder. The first trial ended in a hung jury. When Henry Sweet, Ossian's brother, was acquitted in the second trial, the prosecutor dismissed the charges against the other defendants.
The trial involved two famous or soon-to-be-famous individuals. The judge was Frank Murphy, who later became Governor of Michigan, U.S. Attorney General, and a Supreme Court Justice (January 18, 1940). The defense attorney was Clarence Darrow, who had just finished handling the famous Scopes "Monkey Trial" that had begun on July 10, 1925. [JSTOR article] (see February 7, 1926)
Voting Rights
Civil Rights Act of 1957
September 9, 1957: the the Civil Rights Act of 1957 was enacted. It was a voting rights bill and the first civil rights legislation enacted by the US Congress since Reconstruction. The bill passed the House with a vote of 285 to 126 (Republicans 167 yea – 19 nay, Democrats 118 yea -107 nay) and the Senate 72 to 18 (Republicans 43-0 yea, Democrats 29 yea -18 nay) [see Civil Rights Digital Library article]
Agricultural Workers Association
In 1960:  Dolores Huerta co-founded the Agricultural Workers Association to set up voter registration drives and pressed local governments for housing improvements. [UTexas article] (Chavez, see see March 31, 1962; Voting Rights, see May 6)
School Desegregation, Tennessee
September 9, 1957: in September 1957 the public schools of Nashville, Tennessee, implemented a "stairstep plan" that began with a select group of first-graders and added one grade a year until all twelve grades were desegregated. Nineteen black first-graders enrolled in eight previously all-white schools. Organized white protesters, led by NJ segregationist John Kasper, appeared at most of the schools, but there was no violence.
On September 9, the night after desegregation began, a dynamite explosion destroyed a wing of Hattie Cotton Elementary School, where one black child had enrolled.. A local Klansman surrendered to the FBI a few days later and he told Nashville police that he and Kasper had hidden dynamite in an abandoned house the night before the Hattie Cotton attack and that the explosives had gone missing. There was not enough evidence to hold any suspects. [Tennessean article] (BH, see Sept 17; SD, see Sept 23)
Church Burning
September 9, 1962: terrorists burned two African-American churches used by the Student Nonviolent Coordinating Committee for voter registration meetings in Sasser, Ga. (BH, see Sept 12; CB, see Dec 14)
School desegregation, Alabama
September 9, 1963: segregationist Governor George Wallace of Alabama angrily defended the "rights of whites" on this day, arguing that the presence of African-American students in public schools would be "disruptive." He issued an executive order barring African-American students from all-white public schools in Birmingham, Tuskegee, and Mobile, Alabama. (see Sept 10)
School Desegregation, Virginia
September 9, 1964: public schools in Prince Edward County, Virginia, reopened after being closed for five years by officials attempting to prevent court-ordered racial desegregation.[Virginia History article] (BH, see Sept 11; SD, see May 13, 1966)
School desegregation, Michigan
September 9, 1971: police arrested Robert Miles and the four other Klansmen for the August 30, 1971 bus bombing. (SD, see March 14, 1972; Miles, see April 1973)
Attica Prison Riot
September 9, 1971: prisoners in the New York State Attica Correctional Facility began a rebellion with about 1,000 prisoners seizing 42 prison employees as hostages. The prisoners' grievances included many items of basic human decency: an end to serious overcrowding (the prison was built to hold 1,200 inmates but then held 2,225); being allowed only one shower per week; one roll of toilet paper per person per month. After four days of negotiation, New York officials had agreed to 28 of the inmates' 42 demands, but refused to grant amnesty to the rebelling prisoners. [2016 NY Post article] (see Sept 13)
Murders of Chaney, Goodman,  and Schwerner
September 9, 2005: judge Marcus Gordon sent Edgar Ray Killen, the former Klansman convicted of the 1964 killing of three civil rights workers in Mississippi, back to prison saying Killen had deceived the court about his health when he asked to be released on bond. The hearing was called after Mr. Killen, who was granted bail after testifying that he was confined to a wheelchair, was seen up and walking by sheriff's deputies. (BH, see Sept 28; see Murders for expanded story]
Dee/Moore Murders
September 9, 2008: a panel of the Fifth Circuit Court of Appeals overturned the kidnapping conviction of James Seale. (BH, see Oct 7; D/M Murders, see June 5, 2009)
Trayvon Martin Shooting
September 9, 2013: police questioned George Zimmerman after his wife, Shellie, reported that he had punched her father and threatened them with a gun. Afterward, Shellie Zimmerman and her father declined to press charges and Ms. Zimmerman later said she had not seen a gun. The police said they still had not decided whether to press charges against Mr. Zimmerman. (see Oct 29)
Botham Shem Jean
September 9, 2018: Dallas police officer Amber Guyger was indicted on a manslaughter charge re the shooting death of Jean. (B & S, see Sept 13; BSJ, see Nov 30)
September 9 Peace Love Art Activism
Immigration History
US Labor History
September 9, 1885: U.S. troops escorted the surviving Chinese back into the town where many of them returned to work. Eventually the Union Pacific fired 45 of the white miners for their roles in the September 2 massacre, but no effective legal action was ever taken against any of the participants. (LH, see April 25, 1886; IH, see February 25, 1886)
Seeking asylum 
September 9, 2019:  Judge Jon S. Tigar of the United States District Court for the Northern District of California issued a nationwide order barring a Trump administration policy that denied asylum to migrants crossing the border unless they have already tried and failed to obtain asylum in another country along the way, a rule that effectively bans claims for most Central Americans fleeing persecution and poverty.
Tigar reinstated a nationwide injunction preventing implementation of the new asylum policy in response to a federal appeals court ruling that had limited his original ruling's scope to border states in the West.
Tigar made findings, as outlined by the appellate judges, that applying the injunction across the country was necessary to maintain a "uniform immigration policy" and prevent "uneven enforcement." Under the previous ruling by the United States Court of Appeals for the Ninth Circuit, the administration had been prohibited from applying the new asylum limitations in California and Arizona, but not in New Mexico and Texas. (next IH, see Sept 10; asylum, see Sept 11)
September 9 Peace Love Art Activism
Vietnam
September 9, 1945: the advanced guard of 150,000-man Nationalist Chinese occupation army marched into Hanoi. On their way they evicted Viet Minh committees from power and replaced them with members of the anticommunist Nationalist Party. After Allied troops landed to disarm Japanese forces, the British went into southern Indochina below the 16th parallel. The now-liberated-France's Charles de Gaulle, ordered French soldiers to re-establish colonial rule. The British allowed the French to dislodge the Viet Minh from Saigon, triggering war below the 16th parallel. (see Sept 24)
September 9 Peace Love Art Activism
INDEPENDENCE DAYS
North Korea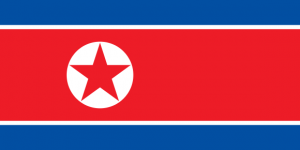 September 9, 1948:  Day of the Foundation of the Republic North Korea. (see December 24, 1951)
Dissolution of the USSR, Tajikistan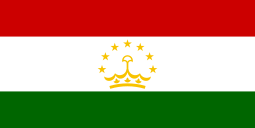 September 9, 1991: Tajikistan declared its independence from the Soviet Union. (see Sept 21)
September 9 Peace Love Art Activism
September 9 Music et al
Roots of Rock & Fear of Rock
September 9, 1956: Elvis Presley made his first appearance on the The Ed Sullivan Show.  Actor Charles Laughton hosted as Sullivan himself had recently been in a very serious car accident that left him in the hospital.
Elvis was not on location in New York for the broadcast since he was in Los Angeles for the filming of Love Me Tender. When it came time for Elvis' appearance, Laughton introduced him and then cut to the stage in Hollywood with Elvis.
Elvis appeared with large, artistic guitars as decoration. Wearing a plaid jacket and holding his guitar, Elvis thanked Mr. Laughton and then said, "This is probably the greatest honor that I've ever had in my life." Elvis then sang, "Don't Be Cruel" with his four back-up singers (the Jordanaires) followed by "Love Me Tender," which was the not-yet-released title track from his new movie.
Although the cameras stayed mostly from the waist up on Elvis' first set on the show, the second set he appeared the camera widened out and the TV audience was able to see Elvis' gyrations. Elvis sang "Ready Teddy" and then ended with a portion of "Hound Dog."
Elvis' appearance on The Ed Sullivan Show was a major success. Over 60 million people, both young and old, watched the show and many people believe it helped bridge the generation gap for Elvis' acceptance into the mainstream. (Elvis, see July 6, 1957; RoR, see February 5, 1957)
Fear of Rock
In 1958: the Mutual Broadcasting System (radio) dropped all rock from its network music programs, calling it "distorted, monotonous, noisy music."
To coincide with the ban, the network changed the title of its 21 hours of music programming from "Top 50" to "Pop 50." Songs removed from play included "Splish Splash" by Bobby Darin and Elvis Presley's "Hard Headed Woman." (Rock is Dead source) (see January 12, 1958)
The Road to Bethel
September 9, 1969: the New York Times ran article that described the likely breakup of the Woodstock Ventures partners. Michael Lang and Artie Kornfeld agree to a buyout of $31,750 each. (see Chronology for expanded story)
Imagine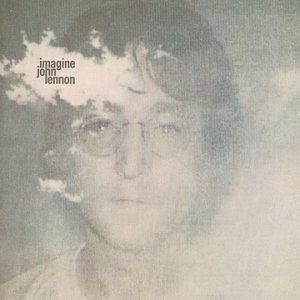 September 9, 1971: John Lennon's second solo album, Imagine, released. The follow-up to  John Lennon/Plastic Ono Band was a critical and commercial success and was Lennon's peak as a solo artist. [Rolling Stone review] (see Dec 10)
September 9 Peace Love Art Activism
Fair Housing
September 9, 1965: President Johnson signed legislation establishing the U.S. Department of Housing and Urban Development. [NYT article] (see January 18, 1966)
September 9 Peace Love Art Activism
Consumer Protection
September 9, 1966: President Lyndon Johnson signed the National Traffic and Motor Vehicle Safety Act into law. Immediately afterward, he signed the Highway Safety Act. The two bills made the federal government responsible for setting and enforcing safety standards for cars and roads. Unsafe highways, Johnson argued, were a menace to public health: "In this century," Johnson said before he signed the bills, "more than 1,500,000 of our fellow citizens have died on our streets and highways; nearly three times as many Americans as we have lost in all our wars." It was a genuine crisis, and one that the automakers had proven themselves unwilling or unable to resolve. "Safety is no luxury item," the President declared, "no optional extra; it must be a normal cost of doing business." [text of remarks] (see May 29, 1968)
September 9 Peace Love Art Activism
Vietnam
Chicago 8
September 9, 1968: a Federal grand jury was impaneled to consider criminal charges against anyone who had organized the Chicago protests at the Democratic Convention. President Johnson's Attorney General, Ramsey Clark, discouraged an indictment, believing that the violence during the convention was primarily caused by actions of the Chicago police. [2008 Chicago Tribune article]  (Vietnam, see Sept 29; Chi8, see March 20, 1969)
Daniel Ellsberg/Pentagon Papers
September 9, 1971: The White House "plumbers" unit – named for their orders to plug leaks in the administration – burglarized a psychiatrist's office to find files on Daniel Ellsberg, the former defense analyst who leaked the Pentagon Papers. (see Watergate for expanded story; next Vietnam, see Oct 29; see DE/PP for expanded story)
September 9 Peace Love Art Activism
LGBTQ
September 9, 1980: a Federal district judge, ruling that the military had confusing standards for dealing with homosexual service personnel, ordered the Air Force to reinstate Leonard Matlovich five years after he was dismissed from the service for admitting his homosexuality. The Air Force offered Matlovich a financial settlement instead.  Matlovich accepted. [Matlovich site] (LGBTQ, see July 3, 1981; Matlovich, see June 22, 1988)
September 9 Peace Love Art Activism
AIDS
September 9, 1983: CDC identified all major routes of HIV transmission—and ruled out transmission by casual contact, food, water, air, or environmental surfaces. [CDC timeline for HIV] (see Dec 6)
September 9 Peace Love Art Activism
Jack Kevorkian
September 9, 1993: hours after a judge ordered him to stand trial in Thomas Hyde's death, Kevorkian is present at the death of cancer patient Donald O'Keefe, 73, in Redford Township, Michigan. (see Kevorkian for expanded story)
September 9 Peace Love Art Activism
Irish Troubles
September 9, 1997:  Sinn Fein, the Irish Republican Army's political ally, formally renounced violence as it took its place in talks on Northern Ireland's future. (see Troubles for expanded story)
September 9 Peace Love Art Activism
CLINTON IMPEACHMENT
September 9, 1998: independent Counsel Ken Starr submitted his report and 18 boxes of supporting documents to the House of Representatives. (see Clinton for expanded story)
September 9 Peace Love Art Activism
Sexual Abuse of Children
September 9, 2003: in the largest known payout by a U.S. diocese to settle molestation charges, the Boston Archdiocese agreed to pay $85 million to settle more than 500 lawsuits from people who claim priests abused them. Victims will receive awards ranging from $80,000 to $300,000. David Clohessy, national director of the Survivors Network of those Abused by Priests, says of the deal, "For many victims, some kind of official, public acknowledgment that 'We were harmed' can be a real step toward healing." [NYT article] (next SAoC, see Nov 21)
BSA
September 9, 2022: federal judge Laurie Selber Silverstein  gave final approval to the Boy Scouts of America's plan to exit bankruptcy, marking an end to the largest sexual abuse case against a single organization in American history.
Silverstein confirmed the plan a little more than a month after signaling she would do so in a 300-plus page opinion that found a trust at the heart of Scouts' proposal would be adequate to compensate victims of abuse.
Silverstein had rejected one portion of the plan in her July opinion: A $250 million settlement with the Church of Jesus Christ of Latter Day Saints, which she said would protect the church from claims of abuse that weren't directly tied to Scouting. Scouts subsequently scrapped the settlement, leaving victims with claims against the church free to pursue them outside the bankruptcy.
Central to the bankruptcy plan was a $2.46 billion trust fund for survivors — down from $2.7 billion without the contribution from the Mormon church. In return, the Boy Scouts of America and local councils, troops' sponsors and insurance companies that contributed to the fund can no longer be sued for past abuse. Abuse victims will be able to file separate claims against the Mormon church and insurance companies who did not settle. [CNN article] (next BSA, see ; next SAoC, see April 5, 2023)
September 9 Peace Love Art Activism
Hurricane Katrina
September 9, 2005: U.S. Army Lieutenant General Russel L. Honoré and New Orleans Director of Homeland Security Terry Ebbert announced a "zero access" policy with regards to the media, in order to prevent members of the media from reporting on the recovery of dead bodies in New Orleans. CNN filed a lawsuit, then obtained a temporary restraining order to prevent government agencies from interfering with news coverage of recovery efforts. (see Katrina for expanded story)
September 9 Peace Love Art Activism
Iraq War II
September 9, 2008: President Bush announced that about 8,000 US troops would be withdrawn from Iraq by February – with 4,500 being sent to Afghanistan. (see Nov 27)
Terry Jones
September 9, 2010:  Jones said, "As of right now, we are not convinced that backing down is the right thing." That evening, President Obama calls Koran burning a "stunt," and urges Jones not to go through with his plans. In a press conference with Musri, Jones says he will cancel the Koran burning event. During the conference Jones claims an agreement has been reached with Imam Feisal Abdul Rauf to move the mosque near Ground Zero and that a meeting has been planned with Jones and Imam Rauf on Sept. 11. Later reports quote Jones as saying, "We felt that that would be a sign that God would want us to do it…The American people do not want the mosque there and, of course, Muslims do not want us to burn the Quran." Jones also states he is against any other groups burning Korans.
After Jones's announcement, AP reported that Imam Feisal Abdul Rauf said no agreement had been reached to move the mosque and the plans to build the mosque near Ground Zero would go forward as planned. Musri also says there was no agreement to move the mosque and that the only agreement reached was for Jones to meet with the imam overseeing the mosque on Sept. 11. Jones insists Musri promised him the mosque would be moved and that he would be "very, very disappointed" if it was not. (see Sept 10)
September 9 Peace Love Art Activism
FREE SPEECH & Colin Kaepernick
September 9, 2016: Denver Broncos linebacker Brandon Marshall took a knee during the national anthem at the NFL regular season opener.
Marshall became the first player to take a knee or sit during the anthem prior to a regular season game. He was a college teammate of Kaepernick at the University of Nevada. Like Kaepernick, Marshall said it was about social change.
"I'm not against the military. I'm not against the police or America," Marshall said, according to the Denver Post. "I'm against social injustice. [NFL article] (FS & CK, see Sept 11)
September 9 Peace Love Art Activism