May 13 Peace Love Art Activism
Environmental Issues
President Theodore Roosevelt
May 13, 1908,: President Theodore Roosevelt delivered the opening address, "Conservation as a National Duty," at the outset of a three-day meeting billed as the Governors' Conference on the Conservation of Natural Resources. He explained to the attendees that "the occasion for the meeting lies in the fact that the natural resources of our country are in danger of exhaustion if we permit the old wasteful methods of exploiting them longer to continue." The conference propelled conservation issues into the forefront of public consciousness and stimulated a large number of private and state-level conservation initiatives. (Text of speech) (see August 25, 1916)
May 13

Peace Love Art Activism
BLACK HISTORY
Annette Butler
Near dawn on May 13, 1956 (Mother's Day), Ernest Dillon, his brother Ollie, and their cousins Olen and Durora Duncan set out looking for "colored women." When they found the Butler home where Annette Butler was staying with her mother, Ernest claimed he was a police officer and told Ms. Butler she was under arrest. Ernest then forced her into the car, while another of the four men kept a gun trained on her mother. The men then drove Ms. Butler to the nearby Bogue Chitto swamp and took turns raping her. When the men were finished they left her alone and half-dressed in the woods. She sought help from a group of black fishermen working nearby and they notified the police.
When the men were apprehended, the district attorney charged them with "forcible ravishment and kidnap." Upon his arrest, Olen Duncan signed a statement admitting his guilt. Judge Tom Brady, a known white supremacist, presided over the trials and appointed Mississippi's best lawyers to represent the men. The defense attempted to reduce sympathy toward Ms. Butler by accusing her of being a prostitute and presented white witnesses to testify she had a poor reputation.
At that time in Mississippi, the crime of rape was punishable by death or life imprisonment. In order to avoid either of those fates, on March 26, 1957, Ernest Dillon pleaded guilty to assault and later received a sentence of twenty years imprisonment. At sentencing, Judge Brady, a staunch opponent of interracial sexual relations whether consensual or forced, expressed no concern about the crime's impact on young Ms. Butler but castigated Mr. Dillon for committing a crime that "had brought bitter condemnation on the State of Mississippi."
None of the other three attackers received prison time for the rape of Annette Butler: Ollie Dillon was permitted to plead solely to a kidnapping charge; Olen Duncan pleaded not guilty despite his confession and was acquitted by an all-white jury; and charges against Durora Duncan, who pleaded not guilty, were thrown out after his trial resulted in a hung jury. (next BH , see May 16)
Jackie Robinson
May 13, 1958: baseball great Jackie Robinson, who integrated major league baseball wrote a letter to President Dwight Eisenhower criticizing his failure to vigorously support civil rights. Robinson was a Republican, and was generally non-political in public, so his comments were widely regarded as a significant event.
Robinson to Eisenhower (excerpt):
"I respectfully remind you sir, that we have been the most patient of all people. When you said we must have self-respect, I wondered how we could have self-respect and remain patient considering the treatment accorded us through the years.
 "17 million Negroes cannot do as you suggest and wait for the hearts of men to change. We want to enjoy now the rights that we feel we are entitled to as Americans. This we cannot do unless we pursue aggressively goals which all other Americans achieved over 150 years ago.
"As the chief executive of our nation, I respectfully suggest that you unwittingly crush the spirit of freedom in Negroes by constantly urging forbearance and give hope to those pro-segregation leaders like Governor Faubus who would take from us even those freedoms we now enjoy. Your own experience with Governor Faubus is proof enough that forbearance and not eventual integration is the goal the pro-segregation leaders seek." (see June 23)
Freedom Riders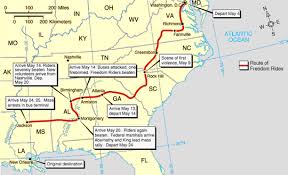 May 13, 1961: the CORE Freedom Riders arrive in Atlanta, GA, where Martin Luther King, Jr. warns them of violence ahead.  (BH & FR, see May 14; MLK, see May 21)
US and ICC v the City of Jackson, Miss.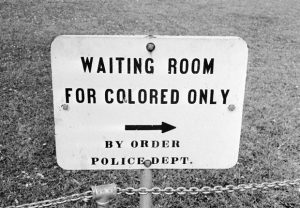 May 13, 1963: the 5th U.S. Circuit Court of Appeals ruled unlawful the city's attempt to circumvent laws desegregating interstate transportation facilities by posting sidewalk signs outside bus and railroad terminals reading "Waiting Room for White Only — By Order Police Department" and "Waiting Room for Colored Only — By Order Police Department." (Court Listener article) (see May 28)
George Whitmore/Death Penalty
May 13, 1965: the New York Senate by a vote of forty-seven to nine approved a bill abolishing the death penalty for all murders except those of peace officers or prison guards and murders committed during an escape. (see Whitmore for expanded story; Death Penalty, see June 1)
School Desegregation
May 13, 1966: the US federal government took its first action against violators of the desegregation guidelines of the 1964 Civil Rights Act by denying federal education funding for 12 segregated Southern school districts. (BH, see May 14; SD, see Aug 31)
MOVE
May 13, 1985: MOVE was a mostly black group whose members all adopted the surname Africa, advocated a 'back-to-nature' lifestyle and preached against technology. Philadelphia Mayor Wilson Goode ordered police to storm the group's headquarters to end a stand-off regarding an attempt to enforce outstanding arrest warrants for four members. Police, after evacuating people from their Osage Avenue homes, dropped an explosive device from a helicopter onto the headquarters to blow up tactical bunkers constructed by MOVE on the roof of their residence.
The explosion started an uncontrolled fire and as a result, 53 houses burned and 240 people were left homeless Police, killed eleven MOVE members. (2013 NPR story)(see January 20, 1986)
School Desegregation
May 13, 2016: the U.S. District Court for the Northern District of Mississippi ordered Cleveland, Miss to consolidate its junior high and high schools in order to fully desegregate its school system after a 50-year battle the town had waged with the U.S. Department of Justice.
Black students and white students were largely separated into two high schools, one mostly white and one mostly black. The situation was similar with the town's middle school and junior high – one has mostly black students, and the other is historically white.
As a result of the order the Cleveland School District would combine the two high schools together, as well as join the junior high and middle school into one, desegregating the secondary schools for the first time in the district's 100-year history. (DoJ article) (BH, see May 26)
May 13

Peace Love Art Activism
Cold War
May 13, 1958: during a goodwill trip through Latin America, an angry crowd  attacked Vice President Richard Nixon's car and nearly overturned it. Nixon was traveling through Caracas, Venezuela. The incident was the dramatic highlight of trip characterized by Latin American anger over some of America's Cold War policies. (2014 Politico article) (see Dec 9)
May 13

Peace Love Art Activism
Vietnam
May 13, 1967: in New York City, 70,000 march in support of the war. (see May 20)
May 13

Peace Love Art Activism
May 13 Music et al
Supremes
May 13 – 19, 1967: "The Happening" by the Supremes #1 on the Billboard Hot 100.
May 13

Peace Love Art Activism
Stop and Frisk Policy
Center for Constitutional Rights
May 13, 2010: a report by The Center for Constitutional Rights found that minorities are much more likely to be frisked by NYPD. (NY Times article) (see May 19)
Statistics increase again
May 13, 2012: as in past years, NYPD data showed that stop-and-frisks were up in the first three months of the year. Between January and March 2012 officers made 203.500 stops. (see May 15)
May 13

Peace Love Art Activism
CLINTON IMPEACHMENT
May 13, 1998: Ken Starr sought contempt charges against David Kendall, the president's personal attorney. Starr accused Kendall of leaking grand jury testimony. (see Clinton for expanded story)
May 13

Peace Love Art Activism
Deepwater Horizon Oil Spill
May 13, 2010: BP executive Tony Hayward called the oil spill "relatively tiny" in comparison with the size of the "ocean." [BP announced on 27 July 2010 that Hayward would be replaced by Bob Dudley as the company's chief executive effective as of 1 October 2010. (see May 19)
May 13

Peace Love Art Activism
Cannabis
Delaware medical marijuana
May 13, 2011:  Delaware became the 16th state to legalize medical marijuana when Governor Jack Markell (D) signed SB 17 into law. The law allowed adults in Delaware with certain debilitating conditions to possess up to six ounces of marijuana with a doctor's recommendation. (Reuters article) (see July 8 or see CC for expanded chronology)
Crime & Punishment
May 13, 2018: a New York Times analysis across New York City found that police arrested black people on low-level marijuana charges at eight times the rate of white, non-Hispanic people over the past three years. The Times also found that police arrested  Hispanic people at five times the rate of white people. In Manhattan, the gap was even starker: Black people there were arrested at 15 times the rate of white people.
A police official had testified to lawmakers that the reason for the racial imbalance was that more residents in predominantly black and Hispanic neighborhoods called to complain about marijuana, but the Times analysis found that fact did not fully explain the racial disparity. Instead, among neighborhoods where people called about marijuana at the same rate, the police almost always made arrests at a higher rate in the area with more black residents. For example, in Canarsie's Rockaway Parkway area there were four times as many arrests for marijuana in the precinct that includes Canarsie, which was 85 percent black, compared to Greenpoint, which is largely white, even though residents call 311 and 911 to complain about marijuana at about the same rate, an analysis by The New York Times found.
Government surveys had shown that black and white people use marijuana at roughly the same rate. [NYT article]
May 13

Peace Love Art Activism
LGBTQ
May 13, 2016: the Obama administration issued a sweeping directive telling every public school district in the country to allow transgender students to use the bathrooms that match their gender identity.
The letter to school districts— signed by Justice and Education department officials —described what schools should do to ensure that none of their students were discriminated against. (Washington Post article) (see June 7)
May 13

Peace Love Art Activism
DEATH PENALTY
May 13, 2016: the pharmaceutical company Pfizer announced that it had imposed sweeping controls on the distribution of its products to ensure that none were used in lethal injections, a step that closed off the last remaining open-market source of drugs used in executions.
More than 20 American and European drug companies had already adopted such restrictions, citing either moral or business reasons. Nonetheless, the decision from one of the world's leading pharmaceutical manufacturers was seen as a milestone.
"With Pfizer's announcement, all F.D.A.-approved manufacturers of any potential execution drug have now blocked their sale for this purpose," said Maya Foa, who tracked drug companies for Reprieve, a London-based human rights advocacy group. "Executing states must now go underground if they want to get hold of medicines for use in lethal injection."
It did not have the force of law, but it contained an implicit threat: Schools that do not abide by the Obama administration's interpretation of the law could face lawsuits or a loss of federal aid.  (NY Times article) (see Nov 9)
May 13

Peace Love Art Activism
Gerry Adams's prison escape convictions overturned
May 13, 2020: the Irish Times reported that former Sinn Féin president Gerry Adams welcomed a British Supreme Court ruling that that his convictions for attempting to escape from the Maze Prison in the 1970s were unlawful.
Adams had claimed his two 1975 convictions for escaping from internment were unsafe because his detention was not "personally considered" by a senior government minister.
As lawyers consider the import of the Supreme Court decision Adams said, "There is an onus on the British government to identify and inform other internees whose Internment may also have been unlawful."
In 2009, the Pat Finucane Centre in Derry had uncovered information that gave Adams strong grounds to take his successful case.
The Centre found communications from July 1974 where the then British Director of Public Prosecutions had provided a memorandum to the British Attorney General saying that Adams "and other detainees" were held under orders which were not signed by the secretary of state and that they have been "unlawfully detained."  [BBC article] (next Troubles, see April 26, 2021. or see IT for a much expanded chronology)
May 13

Peace Love Art Activism