May 30 Music et al
The Kingston Trio
May 30 – July 31, 1960: The Kingston Trio's Sold Out album returned to the Billboard #1 spot after a one week absence.
May 30 Music et al
 Love Me Do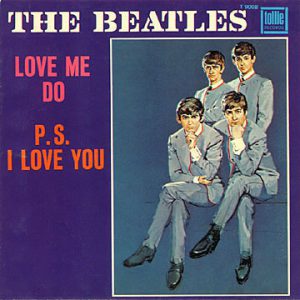 May 30 – June 5, 1964: from Beatles Bible site:
Eighteen months after it was released in the United Kingdom, The Beatles' single Love Me Do/PS I Love You was issued in America.
The single was released on the short-lived Tollie label, with the serial number 9008. Tollie was a subsidiary to Vee-Jay, which had the rights to a number of early Beatles songs initially rejected by Capitol Records.
On 30 May 1964 the single topped the Billboard Hot 100 chart, remaining there for just one week before being displaced by Chapel Of Love by The Dixie Cups. (see July 27)
May 30 Music et al
1969 Festival #9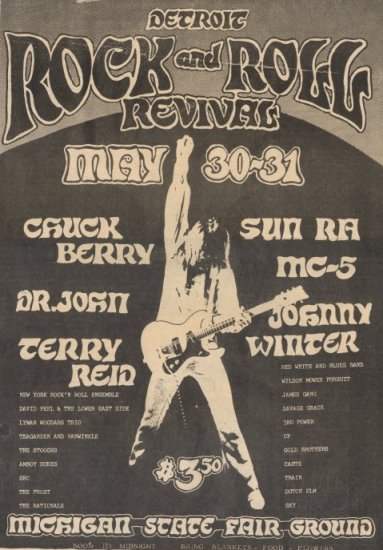 May 30 – 31, 1969: The MC5 ("Motor City 5") were the "big" name and their song "Kick Out the Jams" typified their far left in-your-face pre-punk sound. Under the "management" of John Sinclair. Sinclair was the founder of the White Panthers and was sentenced to ten years in prison in 1969 after giving two joints to an undercover narcotics officer. Sinclair was infamously referred to by Abbie Hoffman at the Woodstock Music and Art Fair that August during the Who set. Pete Townshend was not happy about it.
See First Annual Detroit Rock & Roll Revival for much more.
May 30 Music et al
Living In the Material World
May 30, 1973: George Harrison released "Living In the Material World" album (in the US), his fourth solo release and second since the Beatles' breakup.
Stephen Holden wrote in Rolling Stone: At last it's here, beautifully-packaged with symbolic hand-print covers and the dedication, "All Glories to Sri Krsna." Even if Living in the Material World were as trivial and regressive as McCartney's Red Rose Speedway, there would be many who would dub it a pop classic. Happily, the album is not just a commercial event, it is the most concise, universally conceived work by a former Beatle since John Lennon/Plastic Ono Band. (see June 27)
May 30 Music et al