Cannabis Acceptance Continues
This is the third post I've done on the history of cannabis and mainly that history in the United State.
See Cannabis Contrails and Cannabis Contrails Continued for those two.
2021
The 21st century was already 20 years old and the acceptance of recreational and medicinal cannabis continued apace. New Jersey's Governor Phil Murphy had been elected in  2017 and he had promised if elected to legalize marijuana within his first 100 days in office.
It was 1134 days later, but much had happened. By early 2021 several other state governments–including NJ neighbors New York, Connecticut, and Pennsylvania–were paving the way to the same legalization.
Some authorities warned that its legal use would lead to much abuse and associated law-breaking. Others had no worries.
All remained to be seen.
Reduced Opioid Issues
January 27, 2021:  a study published in the British Medical Association journal's BMJ concluded that increasing access to marijuana dispensaries was associated "…with reduced opioid related death rates, particularly deaths associated with synthetic opioids such as fentanyl,"
It was a finding that held "…for both medical and recreational dispensaries" the study said.
Researchers looked at opioid mortality and cannabis dispensary prevalence in 23 U.S.states from 2014 to 2018 and found that, overall, counties where the number of legal marijuana shops increased from one to two experienced a 17 percent reduction in opioid-related fatalities.
Increasing the dispensary count from two to three was linked to an additional 8.5 percent decrease in opioid deaths.
Further, the study found that this trend "appeared particularly strong for deaths associated with synthetic opioids other than methadone, with an estimated 21 percent reduction in mortality rates associated with an increase from one to two dispensaries."   [Marijuana Moment article]
Cannabis Acceptance Continues
NJ Finally Finalizes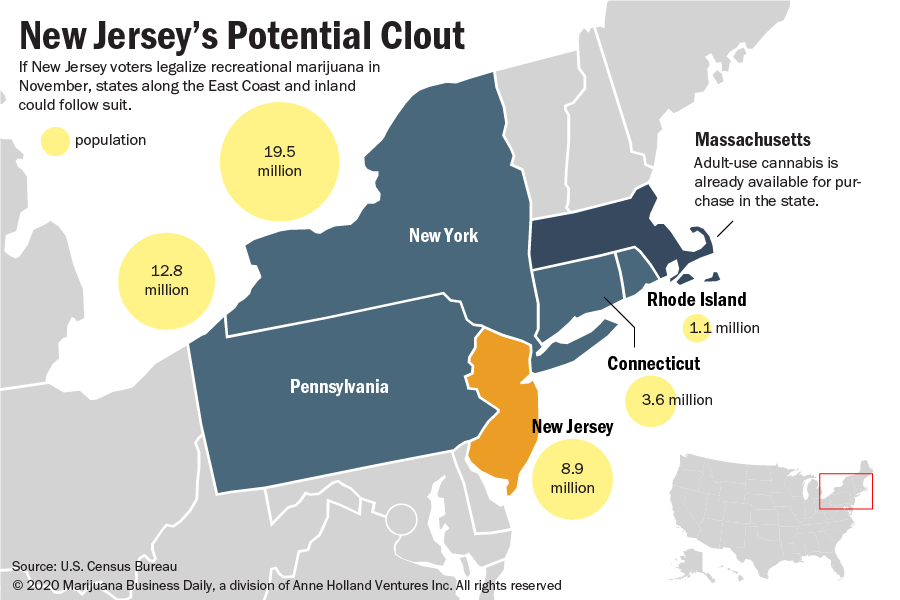 February 22, 2021: months after voters approved legalization and months of wrangling over legislative language, New Jersey finally became the 13th state to legalize marijuana.
It wasn't just the state's social justice activists, entrepreneurs and the state's most ardent weed enthusiasts waiting with bated breath. Legal weed advocates nationwide had kept a close eye on New Jersey, seen as a vital domino that could soon send the entire East Coast cascading toward marijuana legalization.
And, eventually, the rest of the country.
"New Jersey could be the game changer for the Northeast and for the Mid-Atlantic. It is a huge state, there will be a large market there and it will undoubtedly put pressure on surrounding states to rethink their positions and create momentum for cannabis reform," said Steve Hawkins, executive director of the Marijuana Policy Project, a national advocacy group for marijuana legalization.  [NYT article]
Cannabis Acceptance Continues
Three in a Week
NY State Legalization
March 31, 2021: from the NY Times: after years of stalled attempts, New York State legalized the use of recreational marijuana, enacting a robust program to reinvest millions of dollars in minority communities ravaged by the decades-long war on drugs.
Gov. Andrew M. Cuomo signed the cannabis legislation a day after the State Legislature passed the bill following hours of debate among lawmakers in Albany.
With his signature, New York became the 15th state to legalize the recreational use of cannabis, positioning itself to quickly become one of the largest markets of legal cannabis in the nation.
Virginia Legalization
April 7, 2021: the Virginia House of Delegates and Senate both accepted Gov. Ralph Northam's amendment to their respective versions of legislation to legalize marijuana in the state, including a revision that would push up the timeline to allow adults to possess and cultivate cannabis for personal use this summer instead of in 2024.
Northam had been strongly advocating for the reform, and lawmakers sent bills to legalize marijuana for adult use to his desk in February. Late last month, the governor formally submitted substitute language to the bills, and on this date, both chambers approved the proposed changes to their own versions, with the House accepting its revised measure, 53-44, and the Senate clearing its legislation by a vote of 21-20, with Lt. Gov. Justin Fairfax (D) breaking a tie.
Following those initial votes, both bodies then passed the opposite chamber's bill as amended, meaning the legislation is now enacted without need for any further gubernatorial action since Northam's revisions have been approved as submitted.  [MM article]
New Mexico Legalization
April 12, 2021: New Mexico Gov. Michelle Lujan Grisham (D) signed a bill to legalize marijuana in the state, as well as a separate measure to expunge records for people with prior, low-level cannabis convictions.
Grisham gave final approval to the legislation, a key accomplishment for her administration after she listed legalization as a 2021 priority. Although lawmakers failed to pass a legalization bill before the regular session's end last month, the governor convened a special session to ensure they got the job done.
"The legalization of adult-use cannabis paves the way for the creation of a new economic driver in our state with the promise of creating thousands of good paying jobs for years to come," the governor said in a press release. "We are going to increase consumer safety by creating a bona fide industry. We're going to start righting past wrongs of this country's failed war on drugs. And we're going to break new ground in an industry that may well transform New Mexico's economic future for the better." [MM article]
Cannabis Acceptance Continues
Study Shows Stoner Image Inaccurate
April 29, 2021:  a study published in the Harm Reduction Journal found that people who frequently use marijuana—particularly those aged 40 and older—spend more time engaging in physical activity than non-users do.
The nationally representative analysis of accelerometer-measured sedentary behavior and stated that its "…findings do not support the mainstream perception of cannabis users as living sedentary lifestyles."
In general, they found that "there's no significant differences between non-current cannabis users and light, moderate, or frequent cannabis users in minutes per day spent in [sedentary behavior]." The difference came down to the average minutes that each group spent in physical activity. [MM article]
Cannabis Acceptance Continues
High School Use Does Not Increase
May 27, 2021: a federal report by U.S. Department of Education's National Center for Education Statistics (NCES) analyzed youth surveys of high school students from 2009 to 2019. The report concluded that there had been "no measurable difference" in the percentage of those in grades 9-12 who reported consuming cannabis at least once in the past 30 days.
The report, which relied on data from the Youth Risk Behavior Surveillance System, also found that access remained stable during that time period, with no statistically significant changes in the percentage of youth who say they've been offered, sold or gifted illegal drugs on school grounds in the previous 30 days.
What makes the report notable is the timeline.
Cannabis reform opponents frequently argued that enacting adult-use legalization in states spur more underage people to use marijuana. There were no recreational markets in 2009, and that year, 21 percent of high school students reported past 30-day use. The first legal sales launched in Colorado in 2014—and five years after that, 22 percent of teens said they'd recently used marijuana. [MM article]
Cannabis Acceptance Continues
For previous chronologies, see Cannabis Contrails and Cannabis Contrails Continued.