Cannabis Acceptance Continues
This is the third post I've done on the history of cannabis and mainly that history in the United State.
See Cannabis Contrails and Cannabis Contrails Continued for those two.
2021
The 21st century was already 20 years old and the acceptance of recreational and medicinal cannabis continued apace. New Jersey's Governor Phil Murphy had been elected in  2017 and he had promised if elected to legalize marijuana within his first 100 days in office.
It was 1134 days later, but much had happened. By early 2021 several other state governments–including NJ neighbors New York, Connecticut, and Pennsylvania–were paving the way to the same legalization.
Some authorities warned that its legal use would lead to much abuse and associated law-breaking. Others had no worries.
All remained to be seen.
Reduced Opioid Issues
January 27, 2021:  a study published in the British Medical Association journal's BMJ concluded that increasing access to marijuana dispensaries was associated "…with reduced opioid related death rates, particularly deaths associated with synthetic opioids such as fentanyl,"
It was a finding that held "…for both medical and recreational dispensaries" the study said.
Researchers looked at opioid mortality and cannabis dispensary prevalence in 23 U.S.states from 2014 to 2018 and found that, overall, counties where the number of legal marijuana shops increased from one to two experienced a 17 percent reduction in opioid-related fatalities.
Increasing the dispensary count from two to three was linked to an additional 8.5 percent decrease in opioid deaths.
Further, the study found that this trend "appeared particularly strong for deaths associated with synthetic opioids other than methadone, with an estimated 21 percent reduction in mortality rates associated with an increase from one to two dispensaries."   [Marijuana Moment article]
Cannabis Acceptance Continues
NJ Finally Finalizes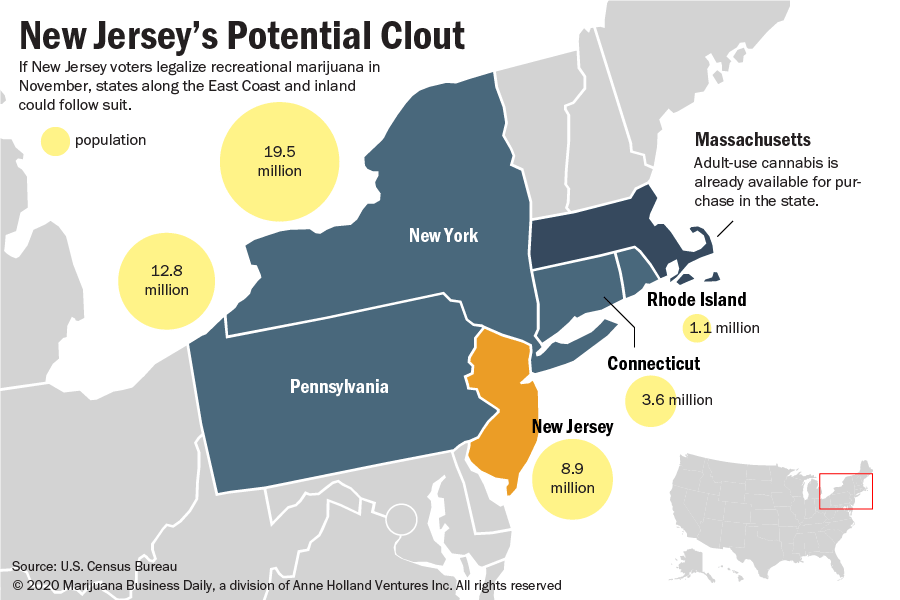 February 22, 2021: months after voters approved legalization and months of wrangling over legislative language, New Jersey finally became the 13th state to legalize marijuana.
It wasn't just the state's social justice activists, entrepreneurs and the state's most ardent weed enthusiasts waiting with bated breath. Legal weed advocates nationwide had kept a close eye on New Jersey, seen as a vital domino that could soon send the entire East Coast cascading toward marijuana legalization.
And, eventually, the rest of the country.
"New Jersey could be the game changer for the Northeast and for the Mid-Atlantic. It is a huge state, there will be a large market there and it will undoubtedly put pressure on surrounding states to rethink their positions and create momentum for cannabis reform," said Steve Hawkins, executive director of the Marijuana Policy Project, a national advocacy group for marijuana legalization.  [NYT article]
Cannabis Acceptance Continues
Three in a Week
NY State Legalization
March 31, 2021: from the NY Times: after years of stalled attempts, New York State legalized the use of recreational marijuana, enacting a robust program to reinvest millions of dollars in minority communities ravaged by the decades-long war on drugs.
Gov. Andrew M. Cuomo signed the cannabis legislation a day after the State Legislature passed the bill following hours of debate among lawmakers in Albany.
With his signature, New York became the 15th state to legalize the recreational use of cannabis, positioning itself to quickly become one of the largest markets of legal cannabis in the nation.
Virginia Legalization
April 7, 2021: the Virginia House of Delegates and Senate both accepted Gov. Ralph Northam's amendment to their respective versions of legislation to legalize marijuana in the state, including a revision that would push up the timeline to allow adults to possess and cultivate cannabis for personal use this summer instead of in 2024.
Northam had been strongly advocating for the reform, and lawmakers sent bills to legalize marijuana for adult use to his desk in February. Late last month, the governor formally submitted substitute language to the bills, and on this date, both chambers approved the proposed changes to their own versions, with the House accepting its revised measure, 53-44, and the Senate clearing its legislation by a vote of 21-20, with Lt. Gov. Justin Fairfax (D) breaking a tie.
Following those initial votes, both bodies then passed the opposite chamber's bill as amended, meaning the legislation is now enacted without need for any further gubernatorial action since Northam's revisions have been approved as submitted.  [MM article]
New Mexico Legalization
April 12, 2021: New Mexico Gov. Michelle Lujan Grisham (D) signed a bill to legalize marijuana in the state, as well as a separate measure to expunge records for people with prior, low-level cannabis convictions.
Grisham gave final approval to the legislation, a key accomplishment for her administration after she listed legalization as a 2021 priority. Although lawmakers failed to pass a legalization bill before the regular session's end last month, the governor convened a special session to ensure they got the job done.
"The legalization of adult-use cannabis paves the way for the creation of a new economic driver in our state with the promise of creating thousands of good paying jobs for years to come," the governor said in a press release. "We are going to increase consumer safety by creating a bona fide industry. We're going to start righting past wrongs of this country's failed war on drugs. And we're going to break new ground in an industry that may well transform New Mexico's economic future for the better." [MM article]
Cannabis Acceptance Continues
Study Shows Stoner Image Inaccurate
April 29, 2021:  a study published in the Harm Reduction Journal found that people who frequently use marijuana—particularly those aged 40 and older—spend more time engaging in physical activity than non-users do.
The nationally representative analysis of accelerometer-measured sedentary behavior and stated that its "…findings do not support the mainstream perception of cannabis users as living sedentary lifestyles."
In general, they found that "there's no significant differences between non-current cannabis users and light, moderate, or frequent cannabis users in minutes per day spent in [sedentary behavior]." The difference came down to the average minutes that each group spent in physical activity. [MM article]
Cannabis Acceptance Continues
High School Use Does Not Increase
May 27, 2021: a federal report by U.S. Department of Education's National Center for Education Statistics (NCES) analyzed youth surveys of high school students from 2009 to 2019. The report concluded that there had been "no measurable difference" in the percentage of those in grades 9-12 who reported consuming cannabis at least once in the past 30 days.
The report, which relied on data from the Youth Risk Behavior Surveillance System, also found that access remained stable during that time period, with no statistically significant changes in the percentage of youth who say they've been offered, sold or gifted illegal drugs on school grounds in the previous 30 days.
What makes the report notable is the timeline.
Cannabis reform opponents frequently argued that enacting adult-use legalization in states spur more underage people to use marijuana. There were no recreational markets in 2009, and that year, 21 percent of high school students reported past 30-day use. The first legal sales launched in Colorado in 2014—and five years after that, 22 percent of teens said they'd recently used marijuana. [MM article]
Cannabis Acceptance Continues
Connecticut
June 22, 2021: Connecticut Gov. Ned Lamont (D) signed a marijuana legalization bill. A top staffer said in an email to equity advocates that there's "still much work to be done" to ensure that the law upholds principles of social justice and ensures that disproportionately impacted communities are empowered to participate in the industry. [MM article]
Justice Clarence Thomas
June 28, 2021: Justice Clarence Thomas denounced the federal government's inconsistent approach to marijuana policy, suggesting that outright national prohibition may be unconstitutional.
While the court declined to take up a new case related to an Internal Revenue Service (IRS) investigation into tax deductions claimed by a Colorado marijuana dispensary, Thomas issued a statement that more broadly addressed the federal-state marijuana disconnect.
He specifically discussed a 2005 ruling in Gonzales v. Raich, wherein the court narrowly determined that the federal government could enforce prohibition against cannabis cultivation that took place wholly within California based on its authority to regulate interstate commerce.
"Whatever the merits of Raich when it was decided, federal policies of the past 16 years have greatly undermined its reasoning," Thomas wrote. "Once comprehensive, the Federal Government's current approach is a half-in, half-out regime that simultaneously tolerates and forbids local use of marijuana." [MM article]
Proposed Federal Decriminalization
July 14, 2021: Senator Chuck Schumer of New York proposed legislation to decriminalize marijuana at the federal level, putting his weight as majority leader behind the growing movement to unwind the decades-old war on drugs.
The draft bill, called the Cannabis Administration and Opportunity Act, would remove marijuana from the Controlled Substances Act and begin regulating and taxing it, placing federal rules on a burgeoning industry that has faced years of uncertainty. Though states would still be allowed to set their own marijuana laws, businesses and individuals in states that have legalized its use would be free for the first time to sell and consume it without the risk of federal punishment.
The proposal would also try to make recompense to communities of color and the poor for damage from years of restrictive federal drug policy. It calls for immediately expunging nonviolent marijuana-related arrests and convictions from federal records and would earmark new tax revenue for restorative justice programs intended to lift up communities affected by "the failed federal prohibition of cannabis."
The bill aimed to "finally turn the page on this dark chapter in American history and begin righting these wrongs," said Senator Cory Booker, Democrat of New Jersey, who wrote the bill with Mr. Schumer and Senator Ron Wyden, Democrat of Oregon and the chairman of the Finance Committee. [NYT article]
Schedule 1 Issues
October 25, 2021: the National Institute on Drug Abuse (NIDA) told Congress in a report that the Schedule I status of controlled substances like cannabis was preventing or discouraging research into their potential risks and benefits. It also said that current restrictions that block scientists from studying the actual cannabinoid products that consumers can purchase at dispensaries was impeding research to an extent that constitutes a public health concern.
"Researchers have reported that obtaining a new registration can take more than a year, that modifying a registration can also be time consuming, and that differing interpretations of the Schedule I registration requirements among local DEA field offices, research institutions, as well as distinct federal and state registration requirements, greatly complicate the process," the federal agency told lawmakers. "These challenges can impede critical research on Schedule I substances and deter or prevent scientists from pursuing such work."  [Marijuana Moment article]
South Dakota Invalidates Vote 
November 24, 2021: the South Dakota Supreme Court  ruled that a voter-approved marijuana legalization initiative was invalid on procedural grounds, a major setback for activists who have been awaiting the court's decision for months. That said, advocates would pursue a two-track plan to enact the reform next year.
In a 4-1 vote, the justices upheld a circuit court ruling that found the 2020 ballot measure violated the state's single subject rule for constitutional amendments, meaning it covered too much ground and was not narrowly focused enough to meet the electoral standard.
The lawsuit was officially brought by two law enforcement officers but was funded with taxpayer money supplied by the administration of Gov. Kristi Noem (R)  [MM article]
Malta Legalization
December 18, 2021: just days after Malta's Parliament approved a bill to legalize marijuana, President George Vella signed the legislation into law making Malta the first European country to enact the reform.
Under the legislation sponsored by MP Owen Bonnici, adults 18 and older will be allowed to possess up to seven grams of cannabis and cultivate as many as four plants for personal use. Up to 50 grams of homegrown marijuana can be stored at home.
While there won't be a commercial market per se, non-profit cooperatives will be able to cultivate marijuana and distribute it to members. [MM article]
Cannabis Acceptance Continues
2022
Rhode Island
May 25, 2022: Gov. Dan McKee (D), of Rhode Island signed a bill to legalize marijuana, making it the 19th state to end prohibition.
While it would be at least a few months until adult-use retail sales launched in the Ocean State, adults 21 and older could legally possess up to one ounce of cannabis and grow up to six plants for personal use, only three of which couldn be mature.
There had been months of negotiations between lawmakers, advocates, stakeholders and the governor's office before a revised version of the legislation was introduced earlier in May, but once the text was released, the identical companion bills in both chambers quickly advanced through committee and were approved on the floor on May 25. [Marijuana Moment article]
NIH Reports Increased Use
August 24, 2022: data collected by the National Institutes of Health from April 2021 through October 2021 indicated that the amount of people from ages 19 to 30 who reported using marijuana were at the highest rates since 1988 when the NIH first began the survey. The amount of young adults who said in 2021 that they used marijuana in the past year (43%), the past month (29%) or daily (11%) were at the highest levels ever recorded. Daily use — defined in the study as 20 or more times in 30 days — was up from 8% in 2016. The amount of young adults who said they used a marijuana vape in the past month reached pre-pandemic levels, after dropping off in 2020. It doubled from 6% in 2017 to 12% in 2021. [NPR article]
Presidential Pardon
October 6, 2022: President Biden pardoned thousands of people convicted of marijuana possession under federal law and said his administration would review whether marijuana should still be in the same legal category as drugs like heroin and LSD.
The pardons cleared everyone convicted on federal charges of simple possession since it became a crime in the 1970s. Officials said full data was not available but noted that about 6,500 people were convicted of simple possession between 1992 and 2021, not counting legal permanent residents. The pardons also affected people who were convicted under District of Columbia drug laws; officials estimated that number to be in the thousands.
The pardons would not apply to people convicted of selling or distributing marijuana. [NYT article]
Election Day 2022
November 8, 2022: Maryland approved recreational use of cannabis, while voters in Arkansas, North Dakota, and South Dakota defeated proposed legalization. [MM article]
Marijuana Research
November 23, 2022: President Joe Biden signed a bipartisan marijuana research bill. The Senate had approved the legislation under unanimous consent the previous week, two months after it cleared the House. It represented the first piece of cannabis reform legislation in U.S. history to be transmitted to the president.
The legislation, which would give the U.S. attorney general 60 days to either approve a given application or request supplemental information from the marijuana research applicant. It would also create a more efficient pathway for researchers who request larger quantities of cannabis.
2023
Adding Kentucky to the list
March 31, 2023 just one day after the Kentucky House approved the legislation from Sen. Stephen West (R), Gov. Andy Beshear (D) signed a bill to legalize medical marijuana, making the state the 38th in the U.S. to enact the reform.
The governor had rallied citizens to pressure their state representatives to pass the bill.
Far too many of our people face the obstacle of having chronic or terminal diseases like cancer, or those like our veterans suffering from PTSD or Kentuckians living with epilepsy, seizures, Parkinson's or more," Beshear said. "These folks want and deserve safe and effective methods of treatment." [MM article]
National Basketball Association
April 3, 2023: in addition to the National Basketball Association  removing marijuana from its banned substances list for players—it also planned to let  players promote and invest in cannabis companies.
That was the latest detail that surfaced in reporting on the new seven-year collective bargaining agreement which was also expected to remove drug testing requirements for marijuana.
With respect to league's broader marijuana reform, it would formally codify what has been the league's decision to temporarily suspend cannabis testing for the past three seasons. [MM article]
Delaware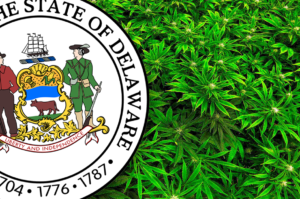 April 21, 2023: Gov. John Carney (D of Delaware said allowed a pair of bills to legalize marijuana possession and establish a regulated adult-use market become law without his signature.
Advocates were concerned that Carney would veto the proposals as he did in the last session, but in a welcome surprise to supporters, he said on Friday that he would let HB 1 and HB 2 go into effect—albeit without his active support.
That meant Delaware, which is nicknamed "The First State," will become the 22nd state in the U.S. to legalize recreational cannabis.  [MM article]
Decline in Youth Use
May 1, 2023: a new federal study from the Centers for Disease Control and Prevention showed that high school student marijuana use had trended up from 2009-2013—before legal cannabis dispensaries started opening—but had been on the decline since then. [MM article]
For previous chronologies, see Cannabis Contrails and Cannabis Contrails Continued.
Minnesota
May 30, 2023: Gov. Tim Walz (D) of Minnesota signed a bill to legalize marijuana, making it the 23rd state in the U.S. to end cannabis prohibition.
After months of committee hearings and floor votes, Walz signed off on HF 100, as he previously committed to doing.
"This has been a long journey with a lot of folks involved," Walz said. "What we know right now is prohibition does not work. We've criminalized a lot of folks who are going to start the expungement process on those records." [MM article]
July 21, 2023:  the new law legalizing the possession and personal cultivation of marijuana for adults in Luxembourg officially took effect.
Luxembourg
July 21, 2023:  the new law legalizing the possession and personal cultivation of marijuana for adults in Luxembourg officially took effect.
This came about a month after Luxembourg's Parliament passed a legalization bill, making it the second country in the European Union to end cannabis prohibition following Malta's vote to legalize in 2021. [MM article]
EBCI
September 7, 2023: the Eastern Band of Cherokee Indians (EBCI) passed a referendum in favor of legalizing marijuana, becoming the first jurisdiction within the borders of North Carolina—or any of its surrounding states—to commit to the policy change. But it would be a while before would-be customers could make a purchase.
According to unofficial results posted by the EBCI's Board of Elections, members approved the measure by a margin of 70 percent to 30 percent. Although the referendum does not legalize cannabis automatically, tribal leaders have said they'll follow voters' lead when they ultimately take up the issue. [MM article]