Trump Impeachment Redux
President Trump had survived his 2020 Senate impeachment trial  and his retaliatory behavior following that acquittal put on full display his righteous view of what it meant disloyalty to him meant.
Then came the November election. It took several days to complete the count, but in the end Joe Biden won despite the President's immediate and repeated false accusations of election fraud.
Save America March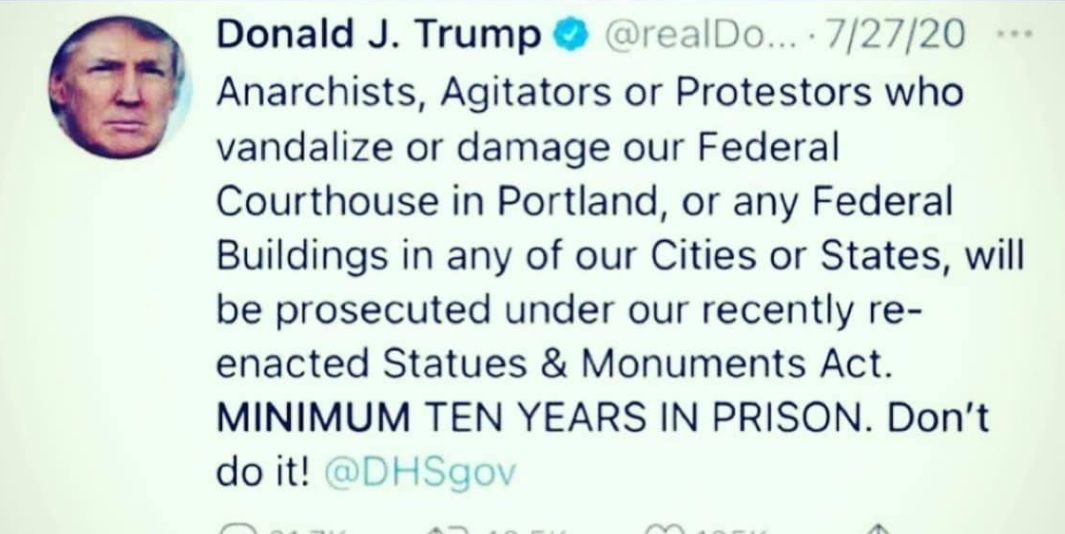 He declared a "Save America March" for January 6, 2021, the day that Congress formally and Constitutionally counts the electoral votes and officially declares the next President.
On that day, President Trump, Donald Trump, Jr, and Trump's personal lawyer Rudy Giuliani spoke to the crowd. Trump continued to prevaricate and repeat debunked claims of widespread election fraud. He incited the crowd with statements like, "We will never give up, we will never concede."
Only seven minutes into the 75 minute speech, the crowd chanted: Fight for Trump! Fight for Trump! Fight for Trump!
His inflammatory words pushed an already embittered and combative crowd to their successful, if temporary, violent takeover of the Capitol building forcing the members of Congress into hiding within. Dozens were injured and  five died, including a Capitol police officer.
Some Trump supporters said that Trump adversaries Antifa had surreptitiously incited the  insurrection. That it had lead the charge into the Capitol. FBI reports found no such evidence.
In the weeks following, dozens of insurrectionists were identified, arrested, and charged.
Calls for Trump's removal from office immediately followed, albeit mainly from the Democrats, but from some Republicans as well.
The irony of his July 27, 2020 tweet was not lost on those who saw the riot as the insurrection it was. Most Republicans stuck their head in the ground or up their….
Trump Impeachment Redux
Monday 11 January 2021
Monday 11 January: the New York Times reported that House Democrats  introduced an article of impeachment against President Trump for inciting the mob that attacked the Capitol, vowing to press the charge as Republicans blocked a separate move to formally call on Vice President Mike Pence to strip him of power under the 25th Amendment.
The dual actions came as Speaker Nancy Pelosi and her caucus sought to ratchet up pressure on Mr. Pence to intervene and push Trump to resign. If they did not, the Democrats promised immediate consequences for Trump's role in an attack that put the lives of the vice president, members of Congress and thousands of staff working on Capitol Hill at risk as officials met to formalize President-elect Joseph R. Biden Jr.'s victory.
"The president's threat to America is urgent, and so too will be our action," Pelosi said.
Trump Impeachment Redux
Pence Called Upon
Tuesday 12 January: the House voted to formally call on Vice President Mike Pence to use the 25th Amendment to strip President Trump of his powers after he incited a mob that attacked the Capitol, as lawmakers warned they would impeach the president the next day if Pence did not comply.
Pence sent a letter to Speaker Nancy Pelosi refusing to act.
Lawmakers, escorted by armed guards into a heavily fortified Capitol, adopted the nonbinding measure just before midnight largely along party lines. The final vote was 223 to 205 to implore Mr. Pence to declare Mr. Trump "incapable of executing the duties of his office and to immediately exercise powers as acting president." [NYT article]
Trump Impeachment Redux
Impeachment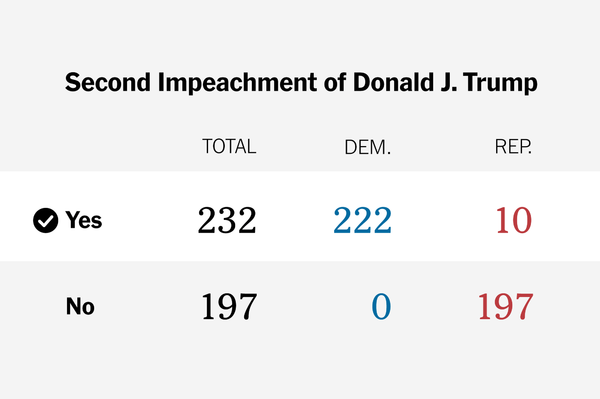 Wednesday 13 January: Democrats in the House of Representatives debated and voted on a single article of impeachment against President Trump, charging him with "incitement of insurrection" over last week's violence at the U.S. Capitol.
Though he said he would not re-convene the Senate until January 19, Senator Mitch McConnell of Kentucky, the Republican leader, was said to support the effort as a means of purging his party of Mr. Trump.
Trump Impeachment Redux
Giuliani Out
Monday 17 January: the New York Times reported a person close to President Trump said that Rudolph W. Giuliani, his personal lawyer, would not be taking part in the president's defense in the Senate trial.
Trump met with Giuliani the night of January 16 at the White House and the next day the president began telling people that Giuliani was not going to be part of the team. It was unclear who would be a defense lawyer for Trump, given that many attorneys had privately said they would not represent him.
Giuliani himself at first said he was taking part in the trial and then a day later said he would had no involvement.
He told ABC News on Sunday 17 January that he would not be part of the defense, noting that he was a potential witness since he gave a speech at the January 6 rally.
Trump Impeachment Redux
McConnell Admits Trump Provocation
January 19, 2021: Senator Mitch McConnell, the Republican leader, said  that the mob that stormed the Capitol on January 6 had been "provoked by the president and other powerful people," stating publicly for the first time that he holds President Trump at least partly responsible for the assault.
"The mob was fed lies," Mr. McConnell said, referring to attempts by Mr. Trump to overturn the election based on bogus claims of voter fraud.
"They were provoked by the president and other powerful people. And they tried to use fear and violence to stop a specific proceeding of the first branch of the federal government which they did not like." [NYT article]
McConnell Seeks delay
January 21, 2021: Senator Mitch McConnell, Republican of Kentucky and the minority leader, asked Democrats  to delay the impeachment trial until mid-February. His request complicated Democrats  hopes of reaching a swift agreement to prevent the proceeding from interfering with the crucial first weeks of President Biden's tenure. [NYT article]
Trump Impeachment Redux
Date Announced
January 22, 2021: Senate Majority Leader Chuck Schumer and House Speaker Nancy Pelosi said that House Democrats plan to send the article of impeachment to the Senate on Monday 25 January, triggering the start of the Senate's trial of former President Donald Trump on Friday 29 January.
Unless senators strike an agreement to delay the trial, it would begin on Tuesday at 1 p.m. ET. [CNN article]
Trump Impeachment Redux
Senator Patrick J. Leahy
Aides and other officials said that Senator Patrick J. Leahy, the Senate president pro tempore, was expected to preside over former President Donald J. Trump's impeachment trial, assuming a role filled last year by Chief Justice John G. Roberts Jr.
The Constitution states that the chief justice of the United States presides over any impeachment trial of the president or vice president. But it does not explicitly give guidance on who should oversee the proceeding for others, including former presidents, and it appeared that Chief Justice Roberts was uninterested in reprising a time consuming role that would insert him and the Supreme Court directly into the fractious political fight over Mr. Trump. [NYT article]
Trump Impeachment Redux
Article delivered/Senators Sworn In
January 25: at about 7 p.m. ET, U.S. House Clerk Cheryl Johnson, Rep. Jamie Raskin, and Rep. David Cicilline walked through the Capitol's Statuary Hall and delivered the article of impeachment for incitement of insurrection against former President Trump to the Senate floor. The prompted preparations for an historic trial.
January 26: U.S. senators, who act as jurors in an impeachment trial,  were sworn in.
The trial itself scheduled begin on February 9, giving the nine House impeachment managers and Trump's defense team two weeks to file briefs and finalize their legal preparations. [NPR article]
February 2…pretrial briefs filed
Democrats
In a meticulously detailed 80-page pretrial brief filed with the Senate, the nine House Democrats preparing to prosecute the case next week argued that Mr. Trump was "singularly responsible" for a violent attack on the democratic process, and would do anything to "reassert his grip on power" if he were allowed to seek election again.
The impeachment managers argued that the riot at the Capitol on January 6 was the direct result of a campaign by former President Donald J. Trump to undermine American democracy and overthrow the election at any cost.
They warned that acquitting him and failing to disqualify him from future office could do grave damage to the nation. [NYT article]
Republicans
Trump's lawyers filed an official response to the article of impeachment.
In their 14-page filing, the former president's attorneys largely ignored the factual assertions contained in the House document, denying the allegation without presenting evidence, and asserting that it is up to the House to prove its case.
They argued that Trump did not incite the crowd on Jan. 6 "to engage in destructive behavior." They focus much of their reply on the argument that the Constitution's impeachment provision does not apply to a president who is no longer in office. [NPR story]
Trump Impeachment Redux
Trial Begins
Tuesday 9 February
The Senate voted  to proceed with the impeachment trial of former President Donald J. Trump, rejecting his defense team's claim that it would be unconstitutional to prosecute a president after leaving office.
The 56-to-44 vote, with six Republicans joining all 50 Democrats, paved the way for the House Democrats trying the case to formally open their arguments on Feb 10 as they seek to prove that Mr. Trump incited an insurrection by encouraging supporters who stormed the Capitol last month and disrupted the counting of Electoral College votes.
The 44 Republicans who agreed with Trump's claim that a former president cannot be subject to an impeachment trial seemed to all but guarantee that he would have the 34 votes he needs on the final verdict to avoid conviction. [NYT article]
Trump Impeachment Redux
Wednesday 10 February
The House managers presented for nearly eight hours on , walking the jury — senators who were in the Capitol during the attack on January 6 — through footage of the riot and of former President Trump's speeches in the weeks leading up to it. Most of that had been publicly available and previously televised, but parts of their presentation — like security camera footage of staff members sheltering in offices and radio chatter from Capitol Police officers — had not been released before.
Trump's lawyers sought to avoid arguing the case on its merits, saying the trial itself was in violation of the Constitution. [NYT article, NPR article]
Trump Impeachment Redux
Thursday 11 February
The NY Times reported that House impeachment managers had wrapped up their incitement case against former President Donald J. Trump by warning that he remained a clear and present danger to American democracy and could foment still more violence if not barred from running for office again.
With the sounds of a rampaging mob still ringing in the Senate chamber, the managers sought to channel the shock and indignation rekindled by videos they showed of last month's attack on the Capitol into a bipartisan repudiation of the former president who inflamed his supporters with false claims of a stolen election.
"My dear colleagues, is there any political leader in this room who believes that if he's ever allowed by the Senate to get back into the Oval Office, Donald Trump would stop inciting violence to get his way?" Representative Jamie Raskin, Democrat of Maryland and the lead impeachment manager, asked the senators. "Would you bet the lives of more police officers on that? Would you bet the safety of your family on that? Would you bet the future of your democracy on that?"
Trump Impeachment Redux
Friday 12 February
The NY Times reported that lawyers for Donald J. Trump delivered an incendiary but brief defense of the former president , calling the House's charge that he incited an insurrection at the Capitol a "preposterous and monstrous lie" as they falsely equated his conduct to Democrats' own combative rhetoric.
Confident they have enough votes from Republicans to acquit Mr. Trump, the lawyers used only about three of their 16 allotted hours, allowing senators to proceed Friday afternoon to a period of questioning the prosecution and defense.
Earlier, the defense team had channeled the former president's own combative style and embrace of falsehoods to claim, contrary to facts, that Mr. Trump never glorified violence during his presidency and that he consistently called for peace as the rampage at the Capitol unfolded. Showing video clips of Democrats urging their supporters to "fight" and Mr. Trump venerating "law and order," they sought to rewrite not just the narrative of his campaign to overturn the election but that of his entire presidency.
"This trial is about far more than President Trump," said Bruce L. Castor Jr., one of the lawyers, as he closed the defense. "It is about silencing the speech the majority does not agree with. It is about canceling 75 million Trump voters and criminalizing political viewpoints."
Trump Impeachment Redux
Saturday 13 February
Mitch McConnell
Senator Mitch McConnell of Kentucky, privately told his colleagues he was ready to acquit Mr. Trump, confirming that an eventual conviction was exceedingly unlikely.

Acquittal
The voted on Saturday to acquit Donald J. Trump.
Voting 57-43, the Senate fell 10 votes short of the two-thirds necessary for conviction. Seven Republicans voted to find the former president guilty of "incitement of insurrection," with all 50 Democrats, the most bipartisan support for conviction in any of the four presidential impeachments in U.S. history. [NYT article]
Senator Schumer responds
After the acquittal,  Senate majority leader Charles Schumer spoke. His beginning remarks were:
The case of Donald Trump's second impeachment trial was open and shut. President Trump told a lie — a big lie — that the election was stolen, and that he was the rightful winner. He laid the groundwork for this big lie in the months before the election, he told the big lie on election night, and he repeated the big lie more than 100 times in the weeks afterwards. He summoned his supporters to Washington, assembled them on the Ellipse, whipped them into a frenzy, and directed them at the Capitol.
And then he watched, as the violence unfolded, and the Capitol was breached, and his own Vice President fled for his life—and President Trump did nothing.
None of the facts were up for debate. We saw it. We heard it. We lived it. This was the first presidential impeachment trial in history in which all Senators were not only judges and jurors, but witnesses to the constitutional crime that was committed.
The former president inspired, directed, and propelled a mob to violently prevent the peaceful transfer of power, subvert the will of the people, and illegally keep that president in power.
[see
text
for Schumer's complete remarks]
Senator Mitch McConnell responds
After Senator Schumer spoke, Senate minority leader McConnell spoke. He had voted to acquit because, he explained, Congress could not impeach and find guilty someone no longer President, but still condemned Trump.
January 6th was a disgrace.
American citizens attacked their own government. They used terrorism to try to stop a specific piece of democratic business they did not like.
Fellow Americans beat and bloodied our own police. They stormed the Senate floor. They tried to hunt down the Speaker of the House. They built a gallows and chanted about murdering the Vice President.
They did this because they had been fed wild falsehoods by the most powerful man on Earth — because he was angry he'd lost an election.
He added later:
There's no question — none — that President Trump is practically and morally responsible for provoking the events of the day. No question about it.
[see
text
for McConnell's complete remarks]
Trump responds
Later, former President Donald Trump thanked most of the Senate Republicans for his impeachment acquittal  adding that the political movement he began with his 2016 election has "only just begun."
"We have so much work ahead of us, and soon we will emerge with a vision for a bright, radiant, and limitless American future,"
While thanking GOP allies, Trump – who was considering another presidential run – attacked Democrats by saying "it is a sad commentary on our times that one political party in America is given a free pass to denigrate the rule of law." [NPR article]
Trump Impeachment Redux