Trump Impeachment Redux
President Trump survived the 2020 impeachment.  His retaliatory behavior following it put on full display his righteous view of what being disloyal to him meant.
Then came the November election. It took several days to complete the count, but in the end Joe Biden won despite the President's immediate and repeated false accusations of election fraud.
Save America March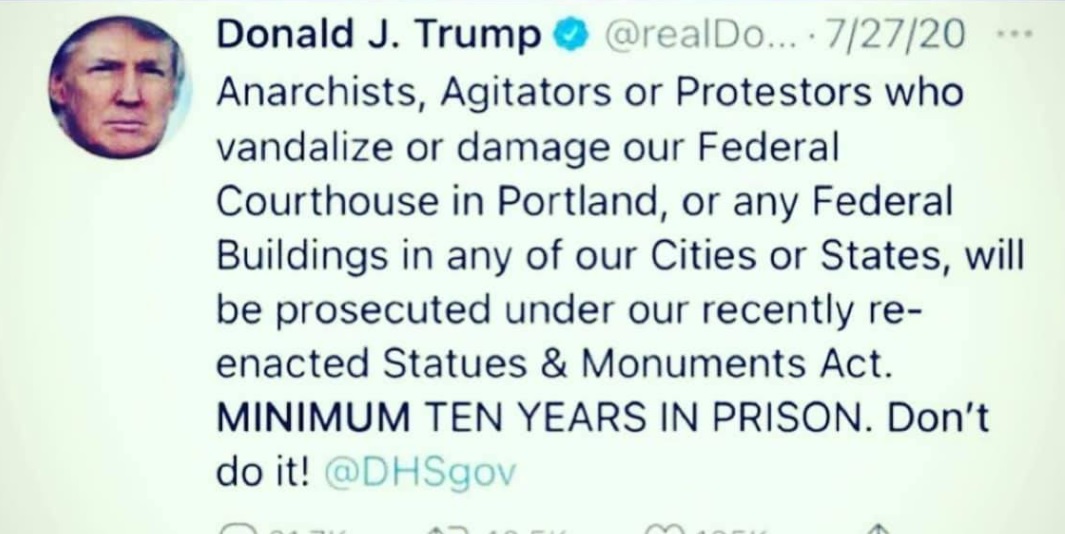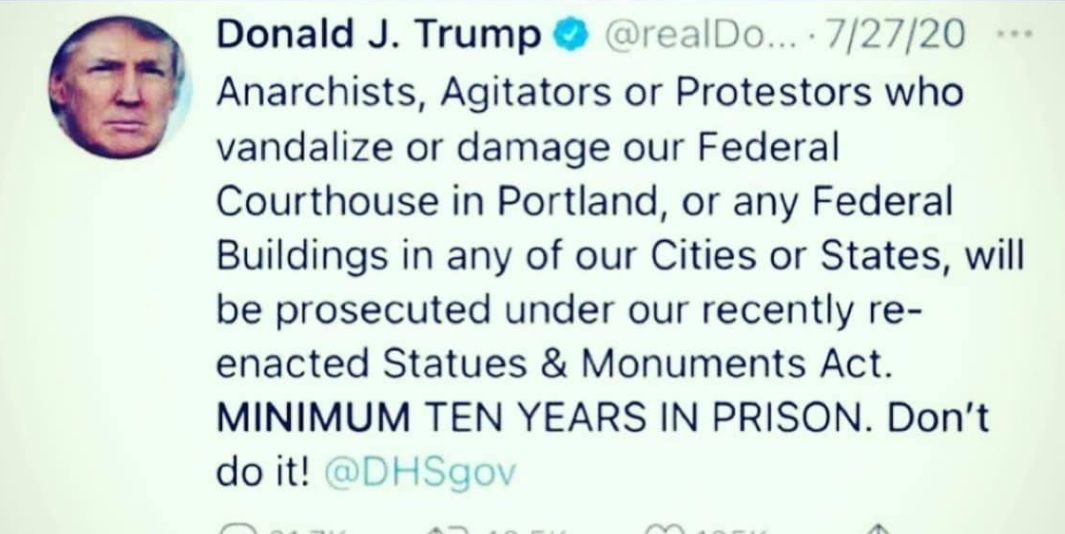 He declared a "Save America March" for January 6, 2021, the day that Congress would formally count the electoral votes and officially declare Joe Biden the next President.
On that day, President Trump, Donald Trump, Jr, and Trump's personal lawyer Rudy Giuliani spoke to the crowd. Trump continued to state his repeatedly debunked claims of widespread election fraud and riled up the crowd with statements like, "We will never give up, we will never concede."
Only seven minutes into the 75 minute speech, the crowd chanted: Fight for Trump! Fight for Trump! Fight for Trump! [full text of Trump speech]
His inflammatory words pushed an already embittered crowd to their successful, if temporary, violent takeover of the Capitol building forcing the members of Congress into hiding within. Five  people died, including a Capitol police officer.
Some Trump supporters said that Antifa, Trump adversaries, had been the reason for the insurrection. That it had lead the charge into the Capitol. FBI reports said no.
Calls for his removal from office immediately followed, albeit mainly from the Democrats, but from some Republicans as well.
The irony of his July 27, 2020 tweet was not lost on those who saw the riot as the insurrection it was. Most Republicans stuck their head in the ground or up their….
Trump Impeachment Redux
Article Introduced
Monday 11 January: the New York Times reported that House Democrats on  introduced an article of impeachment against President Trump for inciting a mob that attacked the Capitol, vowing to press the charge as Republicans blocked a separate move to formally call on Vice President Mike Pence to strip him of power under the 25th Amendment.
The dual actions came as Speaker Nancy Pelosi and her caucus sought to ratchet up pressure on Mr. Pence to intervene and push Trump to resign. If they did not, the Democrats promised immediate consequences for Trump's role in an attack that put the lives of the vice president, members of Congress and thousands of staff working on Capitol Hill at risk as officials met to formalize President-elect Joseph R. Biden Jr.'s victory.
"The president's threat to America is urgent, and so too will be our action," Pelosi said.
Trump Impeachment Redux
Pence Called Upon
Tuesday 12 January: the House voted to formally call on Vice President Mike Pence to use the 25th Amendment to strip President Trump of his powers after he incited a mob that attacked the Capitol, as lawmakers warned they would impeach the president the next day if Pence did not comply.
Pence sent a letter to Speaker Nancy Pelosi late Tuesday refusing to act.
Lawmakers, escorted by armed guards into a heavily fortified Capitol, adopted the nonbinding measure just before midnight largely along party lines. The final vote was 223 to 205 to implore Mr. Pence to declare Mr. Trump "incapable of executing the duties of his office and to immediately exercise powers as acting president." [NYT article]
Trump Impeachment Redux
Impeachment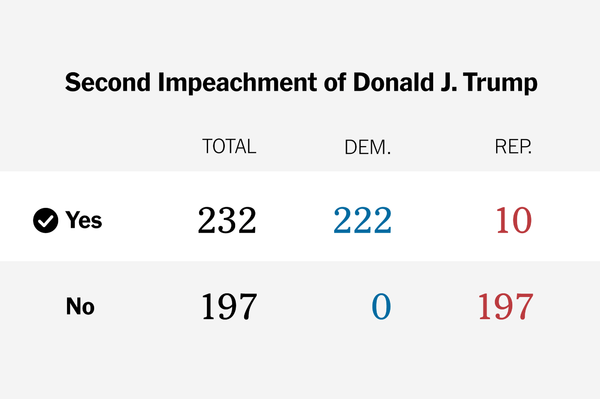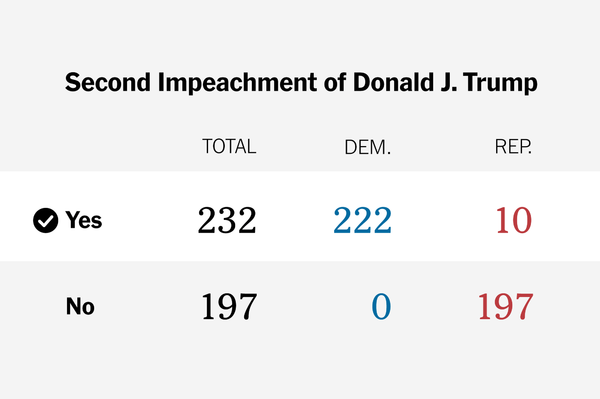 Wednesday 13 January: Democrats in the House of Representatives debated and voted on a single article of impeachment against President Trump, charging him with "incitement of insurrection" over last week's violence at the U.S. Capitol.
Though he said he would not re-convene the Senate until January 19, Senator Mitch McConnell of Kentucky, the Republican leader, was said to support the effort as a means of purging his party of Mr. Trump.
Trump Impeachment Redux
Giuliani Out
Monday 17 January: the New York Times reported a person close to President Trump said that Rudolph W. Giuliani, his personal lawyer, would not be taking part in the president's defense in the Senate trial.
Trump met with Giuliani on Saturday (January 16) night at the White House, and the next day the president began telling people that Giuliani was not going to be part of the team. It was unclear who would be a defense lawyer for Trump, given that many attorneys had privately said they won't represent him.
Giuliani himself at first said he was taking part in the trial and then a day later said he had no involvement.
He told ABC News on Sunday (January 17) that he would not be part of the defense, noting that he is a potential witness since he gave a speech at the January 6 rally.
Trump Impeachment Redux
McConnell Admits Trump Provocation
January 19, 2021: Senator Mitch McConnell, the Republican leader, said  that the mob that stormed the Capitol on January 6 had been "provoked by the president and other powerful people," stating publicly for the first time that he holds President Trump at least partly responsible for the assault.
"The mob was fed lies," Mr. McConnell said, referring to attempts by Mr. Trump to overturn the election based on bogus claims of voter fraud.
"They were provoked by the president and other powerful people. And they tried to use fear and violence to stop a specific proceeding of the first branch of the federal government which they did not like." [NYT article]
Trump Impeachment Redux