Richie Havens Woodstock
It took 50 years for most people to hear all the music from the Woodstock Music and Art Fair.  The rumors were that It was out there. Boxed. Stored. Warehoused.
Bootlegs of much existed, but where were the originals? We even found out that some of the cuts on the original 3-disc album weren't from Woodstock!
In 2005, producer Andy Zax found the  boxes. To use the word painstakingly is an understatement, but over the next 14 years Zax worked with the tapes and in 2019  Rhino Records released the 38-disc box entitled Woodstock – Back To The Garden:The Definitive 50th Anniversary Archive. Other somewhat smaller offerings were also available.
Over that half century, The Woodstock Music and Art Fair had became an iconic event not just musically, but socially as well, and as with any historic event, the story often took on a life of its own. "Woodstock Haze" is a phrase the late great alum Charlie Maloney coined to describe such inaccuracies.
Richie Havens Woodstock
Richie's Set
One of the more famous Woodstock stories is that to avoid further delays the fretting and anxious Woodstock Ventures organizers coerced Richie Havens to open.
Havens stepped onto the stage accompanied by Paul "Deano" Williams and Danielle Ben Zebulon.
Richie's recollection was always that after nearly 2 1/2 hours, singing every song he knew, he  left the stage in a state of sweat-soaked exhaustion. Sweat-soaked exhaustion? Yes. 2 1/2 hours no. 45 minutes.  Woodstock Haze.
Hello. How are you?
Before he began, the caring Richie speak to the crowd.
"Hello. How are you? How are you in the back?  Can 'ya hear? Groovy…wow…it's really beautiful to see so many people together. I know it might be a tiny bit uncomfortable, but so can sleeping…be…a tiny bit uncomfortable. "
His set was as follows:
From the Prison > Get Together > From the Prison
I'm a Stranger Here
High Flyin' Bird
I Can't Make It Anymore
With A Little Help from my Friends
Handsome Johnny
Strawberry Fields Forever
Motherless Child/Freedom
Richie Havens Woodstock
From the Prison
Richie Havens is well known for covering others' songs and at Woodstock he opened with Jerry Merrick's From the Prison with abit of Dino Valenti's Get Together in between.  From the Prison had appeared on Havens's 1968 Something Else album.
To be kind to the next door neighbor
To be kind to the jailhouse screw;
To be kind to a child, in the fantasy wild
Is the best thing you can do
Is the best thing you can do
As simple as Havens's presentations typically are, his guitar style combined with Williams's guitar and Ben Zebulon's percussion create a wonderfully effective and immediately engrossing moment.
From the Prison had appeared on Havens's 1968 Something Else Again album.
Richie Havens Woodstock
I Am a Stranger Here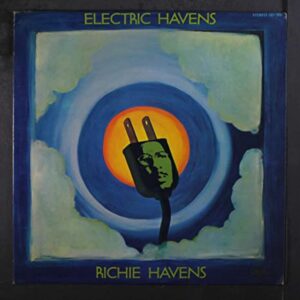 His second song is another has a familiar beginning which echoes his Motherless Child/Freedom encore.  The song had appeared on Electric Havens in 1968.
In the late '60s, as Havens rose to stardom, producer Alan Douglas of Douglas Music had taken some original solo demos and overdubbed them with electric instruments. He called the album Electric Havens and it was one of of two albums (the other being The Richie Havens Record) of similarly overdubbed solo demos probably recorded from sometime between 1963-1965 before Havens's first official release on Verve,  Mixed Bag  [from AllMusic. com].
I cannot find the person who wrote this song. Perhaps Havens himself.  Jerry Merrick did write a song with the same title, but it is not the song Havens sung at Woodstock.
Richie Havens Woodstock
High Flying Bird
There's a high flyin' bird, flying way up in the sky,
And I wonder if she looks down as she goes on by?
Well, she's flying so freely in the sky.
Lord, look at me here,
I'm rooted like a tree here,
Got those sit-down, can't cry,
Oh, Lord, gonna die blues.
Billy Edd Wheeler wrote the song. From a
Citizen Times article
: 
His songs have been recorded by a musical Who's Who: Elvis Presley, Conway Twitty and Loretta Lynn, Glen Campbell, Judy Collins, The Country Gentlemen, John Denver, Hazel Dickens, Richie Havens, The Kingston Trio, Tim O'Brien, Roy Clark, Tom T. Hall, Chet Atkins, Jerry Reed, Kenny Rogers, Hank Snow and others.
Richie Havens Woodstock
I Can't Make It Anymore
Written by Gordon Lightfoot, fans had fallen in love with this song already. It was also from Mixed Bag.
I get too low with no reason
You say its the moon or maybe the season
But something's not the same
And I won't let my mind believe
Baby, something's wrong
Or the feelings gone
I can't make it anymore
I can't make it anymore.
Richie Havens Woodstock
With A Little Help From My Friends
Obviously a Beatle song and as good as Havens's version it (and still is) will be Joe Cocker's cover on Sunday that will become the Woodstock cover of this song.
Interestingly, Richie Havens was still learning the lyrics as he asks the crowd to sing along and he sort of helps them and they sort of help him. The both sort of succeed.
Richie Havens Woodstock
Handsome Johnny
Havens' was rarely obviously political, but the song Handsome Johnny is an exception to that rule.  Louis Gossett, Jr co-wrote the song with Havens. At Richie Havens's memorial service held on August 15, 2013 at Bethel Woods Center for the Arts, Gossett told the story of how a letter arrived for him just he, a struggling Hollywood actor, was about to be evicted from his apartment.  Inside the letter was a check from Havens. The check was for royalties earned from Handsome Johnny.
Hey, what's the use of singing this song, some of you are not even listening.
Tell me what it is we've got to do: wait for our fields to start glistening,
Wait for the bullets to start whistling.
Here comes a hydrogen bomb, here comes a guided missile,
Here comes a hydrogen bomb: I can almost hear its whistle.
Richie Havens Woodstock
One Hundred Million Songs
After Handsome Johnny, Havens spoke to the crowd.
There's a hundred millions songs gonna' be sung here tonight. All of them gonna' be singing about the same thing which I hope everybody who came, came to hear…really…and it's all about you…actually. You, me, and everybody around the stage and everybody who hasn't gotten here and the people who are gonna' read about you tomorrow. Yes. And how really groovy you were.
He then went on to talk about the clogged roads and that the reason was because though promised at the 1939 World's Fair, the road construction had never happened. Why? Maybe we didn't vote.
Sage words even today.
Richie Havens Woodstock
Strawberry Fields Forever
While the Beatles themselves may not have attended Woodstock, their songs were. As he typically did, Havens made the song his own.
Let me take you down
'Cause I'm going to Strawberry Fields
Nothing is real
And nothing to get hung about
Strawberry Fields forever
Richie Havens Woodstock
Motherless Child/Freedom
He'd been on stage about 42 minutes by the end of Strawberry Fields and he walked away to Zebulon's percussion. MC John Morris. the crowd wanted more.
A MOMENT was about to happen. Havens began playing and repeating the word freedom.
Eight times.
He then moved into Motherless Child, traditional song that dated back to American slavery. A child torn from those they loved.
It would be a vast overstatement to say the primarily white male audience at Woodstock could relate to those lyrics, but enough alienation existed in 1969 among that audience that they felt like they knew.
The next performance was Sweetwater, though Sri Swami Satchidananda spoke to the crowd in between.
Richie Havens Woodstock