Woodstock Sri Swami Satchidananda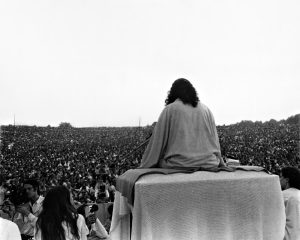 Remembering Sri Swami Satchidananda on his birthday
Woodstock Music and Art Fair
The discussion of the Woodstock Music and Art Fair rarely includes the presence of Sri Swami Satchidananda, but his presence helps describe the intent of Woodstock Ventures.
We know of Woodstock because of it's overwhelming size, it's original triple-album, and Oscar-winning film, but other things set it apart from the dozens of other festivals in 1969.
Of the four organizers, Michael Lang in particular wanted the festival's atmosphere to reflect the 60s zeitgeist. The town of Wallkill had offered the Orange County Fairgrounds as an alternate venue, but Lang envisioned a countryside filled with revelers, music, and art. Not an enclosure.
When Max Yasgur presented his big grassy bowl to Lang, his dreams became real.
Woodstock Sri Swami Satchidananda
The Beatles
The initial influence of Indian philosophy on American youth came about, not surprisingly, through the George Harrison's use of the sitar on Rubber Soul. Later when Beatles met Maharishi Mahesh Yogi and found his world view more comforting than the one they had grown up with, meditation and connectivity with the world around us gained acceptance.
Woodstock Sri Swami Satchidananda
Earthlight
Earthlight was a New Age theater company that founded by Allan Mann and Jane Richardson in April of 1969.
Those who have seen the movie "Taking Woodstock" will likely remember Earthlight.  Elliot Tiber, whose parents owned the El Monaco Motel,  gave theater space in a barn to Earthlight for free  in return for their renting a nearby six bedroom Victorian for $800 for the season.
Mann's and Elliot's agreement preceded the eviction of Woodstock Ventures from Wallkill, but once that eviction occurred Mann, who knew Stan Goldstein, the festival's Chief of Staff and Primary Recruiter/Headhunter.
There may be some confusion  about the connection between Woodstock Ventures, Mann, Elliot, Goldstein, and Max Yasgur, but in the end Woodstock Ventures came to Bethel and rented Max's field.
Woodstock Sri Swami Satchidananda
Muruga Booker
Muruga Booker performed percussion with Tim Hardin at Woodstock. It was there that he met Sri Swami Satchidananda.
For July 31, he posted the following on his Facebook page:
A Special Day! Precisely 56 years ago today, our Guru arrived in America–New York, to be exact–at the invitation of artist Peter Max. Young people were so eager to study his lifestyle and philosophy–Yoga–that money was collected to keep him here after what was supposed to have been a two-day visit.
That visit by Swami Satchidananda set off first the introduction, and then the mainstreaming, of Yoga in American culture. 56 years later, the benefits are innumerable and the lives changed, including mine, are beyond count.
And that is why July 31, 1966 has always been a sacred day to me. This date should also someday be recorded as an American Yoga birthdate of sorts. Others came before him, and others have since followed, but none have been so instrumental in spreading what today is known as Yoga.
Peace to all beings.
Woodstock and Earthlight
The connection between Mann and Goldstein also led to Woodstock Ventures hiring Earthlight to perform at the festival as well as participating at the Free Kitchen and at the "freakout" tents.
Mann and Richardson were disciples of Sri Swami Satchidananda and presented the idea of his opening the festival to Goldstein and Woodstock Ventures. (see Earthlight for more)
Including a swami as part of the first day's schedule made perfect sense to an event that included in its title, …an Aquarian Exposition.
It was not until decades later that Goldstein wrote a letter to Mann that confirmed his role in the Swami's appearance: To my knowledge you were never thanked for nor were you ever acknowledged as having been responsible for Swami Satchidananda's appearance and participation in the festival, though you and some other Earthlight  members were and are seen as his attendants in the Warner's film. (PDF of entire Goldstein letter)
Woodstock Sri Swami Satchidananda
C K Ramaswamy Gounder
C. K. Ramaswamy Gounder was born on December 22, 1914. From the time he was a little boy, Gounder (only later known as Swami Satchidananda) was deeply spiritual. Yet his adult life did not begin along the path of a Swami, but as a  businessman and a husband. After his wife's death, he decided to follow a spiritual path.
He traveled throughout India, meditating at holy shrines and studying with spiritual teachers. Years of study, sacrifice, and good deeds followed. In 1949, guru, Sivananda Saraswati,  ordained him and gave him the name Satchidananda Saraswati.
Woodstock Sri Swami Satchidananda
United States and Woodstock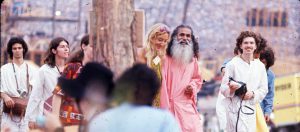 He first visited New York City in 1966 and soon after moved  to the US permanently and became a US citizen. He continued to teach service, ecumenism, and enlightenment.
His motto was: "Truth is One, Paths are Many." He believed that we are all one in Spirit and that throughout history great spiritual masters, such as Buddha, Moses, and Jesus, have come forward to teach the people of the world how to experience this spiritual oneness.
His presentation at the Woodstock Music and Art Fair reflected that belief. He began with:
I am overwhelmed with joy to see the entire youth of America gathered here in the name of the fine art of music. In fact, through the music, we can work wonders. Music is a celestial sound and it is the sound that controls the whole universe, not atomic vibrations. Sound energy, sound power, is much, much greater than any other power in this world. And, one thing I would very much wish you all to remember is that with sound, we can make—and at the same time, break. Even in the war-field, to make the tender heart an animal, sound is used. Without that war band, that terrific sound, man will not become animal to kill his own brethren. So, that proves that you can break with sound, and if we care, we can make also. (complete text)
Woodstock Sri Swami Satchidananda
Mahasamadhi
Satchidananda Saraswati left his body on August 19, 2002, after speaking at a peace conference in south India. His funeral took place in Buckingham, Virginia on August 22. (his site)
Woodstock Sri Swami Satchidananda